5 of the Best Ways to Use Trello for Nonprofit Success

Danica
Trello is a well-established organizational tool that can streamline nonprofit project management and help produce the best results for your mission statement. The less time you spend on project management e.g., organizing files, staff, and coordinating all related activities, the more time you have to focus on program development, fundraising and all the other activities that are core to your mission.
Are you wondering how to take full advantage of the available features? Well, we give you our best tips to making Trello a success within your organization, improving your organization and, in turn, revenue!
Here's what we'll cover:

What Is Trello?
Trello is an all-in-one online software program which specializes in project management. Using the Kanban method, a scheduling system designed to allow you to visualize your work as it moves through a defined process, Trello makes it easy for your nonprofit to organize a project using drag-and-drop cards and user designed production phases.
Pro Tip: Because of the ability to utilize Trello with your colleagues as well as folks outside your organization, the Springly team utilizes Trello to manage content and design projects with external freelancers.
Designed for collaborative work, the program has an intuitive user interface that employs shifting project cards along a customized timeline, during which any invited member of the staff can open, update, and modify them in real-time, moving the cards along that production timeline until they reach completion level.
For example, in the picture above, a nonprofit is organizing its blog articles. Projects begin in a planning phase through "Content Ideas." As they are further developed, they move to a draft phase, then to a review and approval phase, then a completion phase. Of course, you can organize and differentiate your cards and categories however you wish!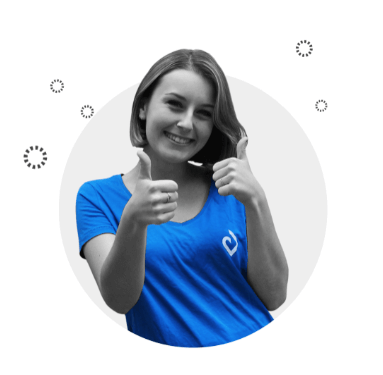 Eva loves the simplicity of Trello!
It's a versatile tool that is perfect to facilitate agile method project management, especially since it is easy to use.

Trello for Nonprofits
Nonprofit organizations have a lot of ongoing projects, whether they are related to your nonprofit business plan, an ongoing grant application, public relations, fundraising, membership drives, tax and financial documentation, social media, or story projects.
In short, your organization is busy and so are you. The more time you can cut down when managing projects, the more time you can spend making an impact!
Trello is a great organization software that is useful in any situation where a project is being developed, whether by a single staff member or a production team. It allows your team to:
Delegate tasks, thus improving organization

Manage volunteers and other third parties outside of your organization

Save time through defined processes and clear communication, allowing you to focus efforts on other important activities

Prepare campaigns well in advance of launch, which ultimately improves success rates
If used to manage your organization's legal and accounting requirements, it can help you ensure that all nonprofit reporting takes place within the required time window, which is crucial.
The free version itself is functional for most tasks, providing 10 separate workboards which can be used simultaneously to manage different projects. In addition to the 10 workboards per workspace, per Trello's pricing page, the free version also offers the following:
Unlimited cards

Unlimited Power-Ups per board

Unlimited storage (10MB/file)

250 Workspace command runs per month

Custom backgrounds & stickers

Unlimited activity log

Assignee and due dates

iOS and Android mobile apps

2-factor authentication
However, if you purchase Trello, the paid version provides improved automation and features, more boards, larger file sizes, and saved searches.
Other pros include "Power-Ups," which features the integration of popular applications and programs such as Clickup, Wrike, Basecamp, Ntask, Beesbusy, Monday.com, nTask, and Asana into Trello. These integrations can save you even more time, particularly if you already utilize some of these other tools.
Pro Tip: There is a Trello nonprofit discount for eligible organizations if you contact their sales team directly. Be sure to have your 501c3 documentation ready to prove that you are a tax-exempt nonprofit because the nonprofit discount can help you access upgraded features!

#1: Blog Workflow
If your nonprofit has a blog, Trello can become your best friend.
The format is perfect for planning the blog entry and publication process because you can establish a column structure indicating the stage of the production process for each blog article. Refer to our earlier example for a sample basic blog workflow.
The workboard allows all invited users to make comments, add notes and updates, tag other team members, receive notifications of changes, attach images, and transfer blog project cards from one phase to another.
The visual aspect grants you a quick and easy overview of what is in the works and their levels of completion, making it easy to assign tasks, approve changes, and meet deadlines.
Plus, using Trello software cuts down on excessive paper waste and since it provides an all-in-one service.

#2: Staff Task Management
Dashboard View allows you to get a birds-eye view of all projects and who is assigned to each. Similar to a gantt chart, this view allows you to quickly comprehend the workload of each staff member.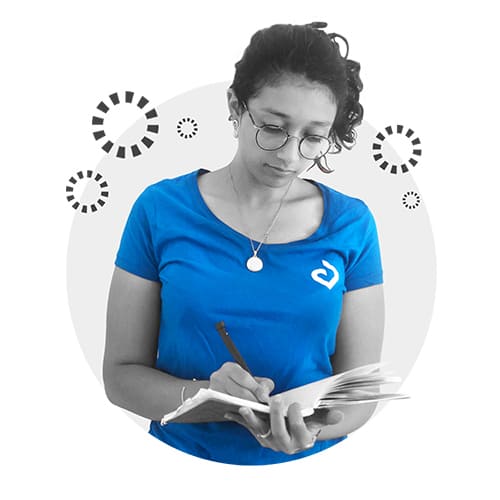 Salma is still writing down her staff's tasks...she could be using Trello!
That makes it easier to ensure that there is a balance and no one staff member is finding themselves overworked or facing burnout. Work can be reassigned as needed when staff have planned vacations, unplanned illnesses, or otherwise need support for trickier tasks. It also allows improved visibility to which tasks are being addressed to ensure nothing is "falling through the cracks."
Those organizations with a strong focus on teamwork will appreciate the ability to stay in contact with each team member, making sure everyone is on the same page, and see exactly what each member accomplishes and any updates they make. This provides you visibility without requiring you to constantly request updates and micromanage staff.
Despite the numerous pros to Trello, there is one notable con to the program. There are no time-tracking tools innately available. This ability would help with time-tracking when using freelancers or other third-party assistance.
If you have specific time tracking requirements, or other general information, guidelines, or resources to share with the team, there are areas where this information can be posted.

#3: Social Media Schedule
Along with your other project boards, a handy use of Trello for nonprofits is establishing a timeline and schedule for social media posts.
The ability to upload photos or videos content is very useful for managing different social media platforms. That means you can see the development of the posts as it passes through each phase and make editing suggestions along the way.
You can keep different categories of cards that relate to different social media platforms and even keep on track for posting schedules using the Timeline and Calendar features to establish a weekly or monthly set of deadlines, which are visible in totality from the Dashboard.
There are specific social media development software programs. However, depending on your needs, Trello may be sufficient to eliminate an unnecessary organizational expense, especially if you are a smaller nonprofit looking to consolidate tools.

#4: Brand Management
As you can store files using Trello, it is also a great tool for storing brand identity information components, including color schemes, graphics charters, or different logo types.
You could simply create a board with cards designating topics, then attach relevant files onto those cards with an explanation of what they are. For example, one card could be for brand logos. You could then attach all approved logos onto the card so that all staff can access the approved versions whenever needed.
Invited users will be able to access all of these materials, plus any others that you decide to include, such as project guidelines, procedures, strategies, policies, and other important documents.
This also eliminates the need to send paper copies or even a less secure google drive link, which saves valuable resources but facilitates easy access to needed information across devices.
Take advantage of this feature to create a hub of information and save even more time!

#5: Donor Management
The Timeline and Calendar features can be useful when ensuring that you have successfully sent "Thank You" messages, tax receipts, emails, and other correspondence to your donors within your scheduled time frame.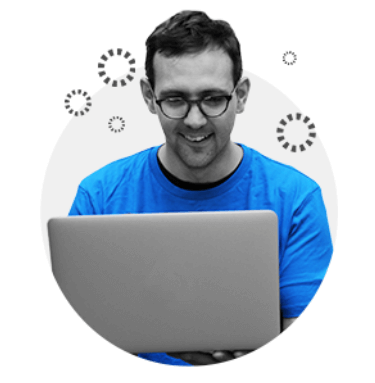 Matt is grateful to be able to coordinate donor management with Trello.
With the cards, you could create a series of different communications, which you intend to make for all donors and update each one as staff members complete the process to deliver the messages.
However, that is just one possible solution. The options are only limited by your team's creativity, time, and resources! You can also seek out nonprofit examples online to help generate new ideas and better ways to manage your donor notifications.
Updates, comments, and notes are easy with these cards, and the attachment option can allow you to place disclaimers or detailed instructions that relate to each type of correspondence.
Pro Tip: Donor management can take on a life of its own. Check out our blog for helpful tips and tricks on effective outreach techniques as well as various nonprofit templates that can further streamline your efforts.

Springly is trusted by over 20,000 nonprofits to help them run their organizations on a daily basis. Try it, test it, love it with a 14-day free trial!

Danica
Recommended articles
How To Use A CRM For Nonprofits For Better Daily Management
Trish
Communication
Social Media
Marketing
A Comprehensive Guide To Instagram For Nonprofits
Trish
How to Analyze Your Nonprofit Email Marketing Statistics

Danica