5 Unique Ways to Get the Most Out of the NCOA Database
Antoine
When current donors move to new addresses, sometimes they are so caught up with their new life that they forget to maintain contact with your nonprofit. When you mail them important information, it may be sent back as undeliverable.
Trying to locate the person can be difficult and time consuming. In addition, assuming you are successful you then need to resend the information resulting in increased mail costs due to paying the postage rate again for the correct address. Enter the National Change of Address (NCOA) database.
The NCOAlink database is the USPS solution to reducing undeliverables for our fellow americans. Users of the service, companies and nonprofits alike, are able to update member and donor databases through USPS address records.
Here are some unique ways in which you can further take advantage of the licensing agreement with the NCOA link database service to help your nonprofit's growth.

#1: Be Proactive When Someone Moves
While it's easy to view a donor's move as an inconvenience, instead think of the host of opportunities that can come with having a cherished donor transfer to a new community.
After all, they saw the value in your nonprofit. They were willing to generously donate to your cause and may turn out to be a recurring donor with a helpful reminder.
This is great news, as your donor can potentially help you promote your mission, and acquire new donors in the process.
In order to understand exactly what opportunities are available to you via your donor's relocation, you may benefit from learning more about why the person made the move. The easiest and most direct path is simply to contact the individuals directly.
While this may not be the proper technique for donors you don't know on a personal level, it can be beneficial to growing the organization as well as continuing to build on your existing relationship.
Pro Tip: While the move may open future doors for your organization, remember that one of your main objectives is keeping your donor's welfare at heart. Offer your congratulations first and be open about your desire to maintain your existing relationship.

#2: Identify Who Moved
Most people don't think about their donors moving until it comes time to contact them. Consider your records on donors and their households. If your updated mailing lists show that the composition of their household has changed, that will give you the tools you need to identify who has relocated. For example, perhaps a family of two at a given address in January is listed as five in September.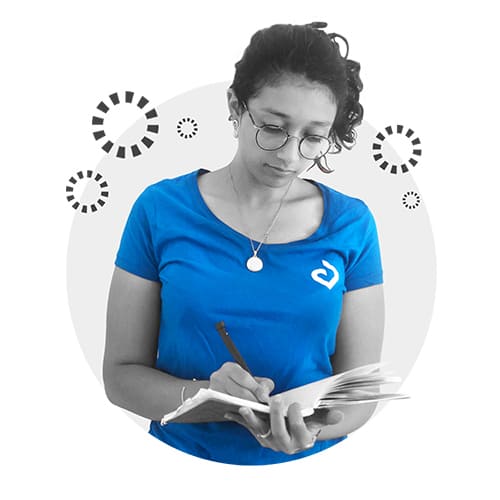 Salma is taking notes on her donor's moves for the future.
Perhaps your donor and their child moved in with a significant other and their two children in a different state. If so, you may have an opportunity to acquire new donors through your advocate's new workplace!
Just make sure to be tactful because you don't know yet whether the reasoning behind the move was the result of a positive or negative situation.
Pro Tip: Donors often provide indications that they have moved. However, they are not always noted properly, particularly if you are using a manual database system like Excel. This is why a full CRM system is so important, it updates contact information automatically (ex: if a donor updates their zip code) and can prompt you to dig a little deeper.

#3: Reprospect Your Donor
When looking for donors, fundraisers often research annual giving reports of similar organizations. Those who gave to a nonprofit similar to yours may want to support your mission and purpose as well.
After a donor moves, it may be time to reevaluate their prospect potential, as well as those in their new location.
Look at giving trends for locals in your donor's new area. Creating a detailed venn diagram of everyone your previous donor knows and people who have donated to a nonprofit to find the overlapping few in the middle is a bit unrealistic. However, a new community breeds new relationships. Oftentimes those relationships are with like-minded individuals who may just be interested in supporting your cause!
While the following are not requirements, some previous activities that may be an indicator of the desire and means of a prospective donor to consider while fundraising are:
Previous contributions

Local community activities

Contributions to new nonprofits

Real estate ownership

Stock ownership

Business affiliations

Community visibility

Participation in high society events
These are features that may indicate a potential donor, or one who may be willing to provide additional support down the line. Learn to detect this type of information so you can easily categorize your organization's best potential.

#4: Note Any Trends
When analyzing your NCOA processing list, if you notice a significant portion of your donors seem to be moving to a specific location, it's in your best interest to discover why.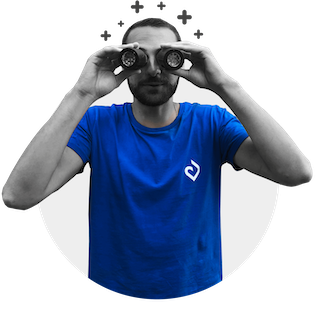 Ryan is taking a close look at some pertinent trends!
Research and make notes in your file as to which type of members are moving. Is it your most generous donors? Perhaps it is some of your younger members.
There's usually a specific reason and if you discover what that is, it might prove another opportunity for your organization. Chances are, other like-minded people are moving or living in the same area, and you may find yourself exposed to a whole new clientele that believes in your purpose. For example, perhaps your organization is an environmental organization and you realize that a number of your donors moved to California. Perhaps the moves are to be near like-minded people who might just be interested in supporting your organization.
Pro Tip: Always make a habit of investigating further as you notice trends or patterns. This can often lead to new discoveries and opportunities which you may have missed if you didn't take initiative. Perhaps there is a new country club in a given area which is attracting wealthy donor prospects. If you didn't investigate, you wouldn't know and would be unable to promote your organization to its members!

#5: Opt for CASS Screening
CASS stands for "Coding Accuracy Support System" and is available with your NCOA data registration for a nominal fee. This service verifies that you have an address listed correctly and if not, makes the modification. It provides great benefits with minimal process requirements.
That means if you had a typo in your database which could cause a mailing to prove undeliverable, the CASS service will match it against its database and correct any incorrect information, ensuring users a better chance to get information to your donors.
It's important to keep in mind that this particular service does not confirm that your donor actually lives at that address, just that the address is in fact valid and an eligible recipient for your deliverables.
This service requires a minimum amount of effort and money for licensees, but can pay great dividends by helping you maintain contact with your donors through accurate information, along with the USPS NCOA database which will make sure that you know when your members submit a change of address form.

Springly is trusted by over 20,000 nonprofits to help them run their organizations on a daily basis. Try it, test it, love it with a 14-day free trial!
Antoine
Recommended articles
How To Use A CRM For Nonprofits For Better Daily Management
Trish
Communication
Social Media
Marketing
A Comprehensive Guide To Instagram For Nonprofits
Trish
How to Analyze Your Nonprofit Email Marketing Statistics

Danica