>
6 Tips For A Work From Home Policy For Your Nonprofit
Emily
Since the Covid-19 crisis began, like many companies and organizations around the world, our team at Springly has been working from home.
Before the pandemic, our team already had a strong culture of working remotely. This flexibility of working from home empowered everyone to be goal-oriented and self-motivated.
However, this shift to the whole team working remotely has provided real challenges for all of us. After weeks of adapting and finding the right tools to help us be 100% efficient online, we have settled into a new work style.
We asked our team for what helped them to transition to working from home. This isn't a one-size-fits-all template, so feel free to try some of these tips to find your formula!
On the agenda:
Six tips in six minutes. Let's do this!
1. Dress for a Day at the Office
Patricia from our marketing team says, "Dressing like I'm going to the office helps me get into a working mood!"
Remember when you used to wake up, and get ready to leave your home? Putting on work clothes used to mark the beginning of a work day. When you work from home though, the boundary between home and work can become blurry.
Although you don't need to take public transit, bike, or drive to work, you can dress as usual for work to feel some normalcy.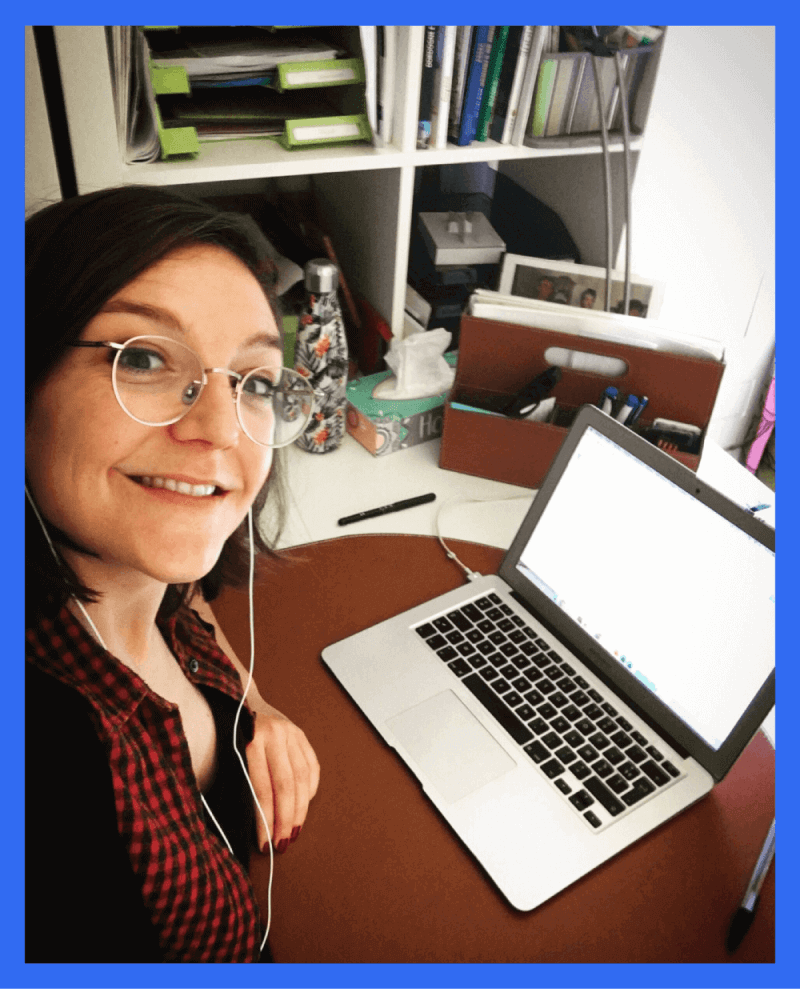 Dressed for work,
Corinne is ready to start her day!
Continuing this idea of setting up boundaries, you should set up a space dedicated to work. If you have a desk or space in your home to designate as a working space in your home, this can help your body and mind recognize when you're officially at work.
It doesn't have to be a permanent desk - you can convert any table or surface to an office desk, and clear it when you're done working for the day!
Pro Tip: If you have a work computer and personal computer, don't open the latter until your workday is done! Having only the tools you need for your workday out during business hours will help keep that separation.
2. Set Daily and Weekly Objectives
Some organizations are pausing or slowing their activities right now, to work on more strategic projects or long-term planning. Your pace of work may be slower too, as a result.
To keep moving forward with your work, try out what Sonia did:
"I created a to-do list with deadlines. It helps me remind myself that I really need to finish this task at this moment. It also helps me to dedicate blocks of time in my calendar to work on a specific task. Just like in school, when 10:00 a.m.-11:00 a.m. was math class, etc."
To feel motivated when your overall work schedule is at a slower pace, you can structure your days.
Plan your objectives for the week, and reserve certain timeframes to work on tasks that require more time. Once you've planned your week, it's up to you to follow your schedule.
There is more freedom when you're working at home, but if you have important deadlines such as finishing a grant application, updating your website, or creating a year-end report, planning ahead will save you headache later.
You can do this. We believe in you!
3. Turn Off Notifications
It's important to stay connected with your family and friends during these tough times. Every part of the world has been impacted by COVID-19, so it is natural to use this time to check in with family and friends. You might also have neighbors who need help picking up groceries and supplies.
There are times when the smartphone can chip away at your productivity though. If you get notifications on your phone about the news and updates from social media, this can be amplified when you're working from home.
One solution is to turn off notifications on your phone and computer, so that you can focus on the task at hand.
Of course, you can't be away from your phone all day long - your family and colleagues could be concerned by radio silence. The primary reason for doing this would be to carve out uninterrupted working hours for yourself.
Axel, a developer at Springly, does just that:
"In the first days of remote work, my phone kept ringing so it was impossible to concentrate! Since then, I've been placing my phone face down for 30 minutes at a time, and turned off most notifications."
Do you know about the "Pomodoro" method of working? Here is how it works:
Take a task from your to-do list.

Set a timer for 25 minutes.

Concentrate only on this task during this time and cut out everything else.

At the end of the timer, take a five-minute break.

After four sessions, allow yourself a longer break, between 15 and 30 minutes.
This method works if you are strongly motivated to stay disciplined during those 25 minutes of working without distractions. Try it out!
4. Take Regular Breaks
Although we recommended methods to increase full attention and focus, you could end up diving deeply into a task and not realize three hours have passed!
Yes, we know that is what happens when you're passionate about your work.
When working from home, you don't see colleagues who get up from their desks to take coffee breaks. Usually, someone might ask if you want to join them for coffee or a snack.
Magdalena, in charge of recruiting talent for the Springly team, shared her trick with us:
"I give myself breaks of 5 to 10 minutes, ideally every hour to get up, stretch, or just look out the window a little."
If you can't go outside, look out the window or close your eyes to clear your mind. There are plenty of ways to spend your break time: stand up and stretch, do a quick yoga sequence, meditate, listen to a song, or call a friend to say hello.
Eva on a break
in good company
Try to respect your natural rhythm. Observe when you begin to lose concentration, so that you can add breaks to your schedule ahead of time.
Listen to your body. It knows what it needs!
Another way to help your body adjust is to keep meal times (and bedtime) close to your previous schedule.
5. Stay Connected With Coworkers
This is one of the most important topics at the moment for organizations working remotely.
We need to distinguish two different ways of interactions: meetings and informal encounters.
When we all began to work remotely, we realized that meetings with large groups can feel a little chaotic without the right structure or roles.
We found some simple and effective solutions to keeping order in video calls:
Turn on video! You get to see your team's beautiful faces, but you'll also be able to express body language as though you were working in the same office.

Mute your microphone when you are not speaking. You minimize background noise, and everyone can listen to the person speaking with full concentration.

Assign one person to be the meeting facilitator or leader. We call this person the meeting "coach." This person helps to facilitate the conversation for a large group, so that everyone can speak.
Mosa, who works in our marketing team, was impressed by these meeting practices:
"During the video meetings, we really found the right formula. During presentations, we mute our microphones if we're not speaking, and send most of our reactions in writing or emojis."
Now that we're not all together at the office, we lose those moments of casual conversations in the kitchen, or while making coffee. To create those opportunities of informal chatting, we have regular coffee breaks together.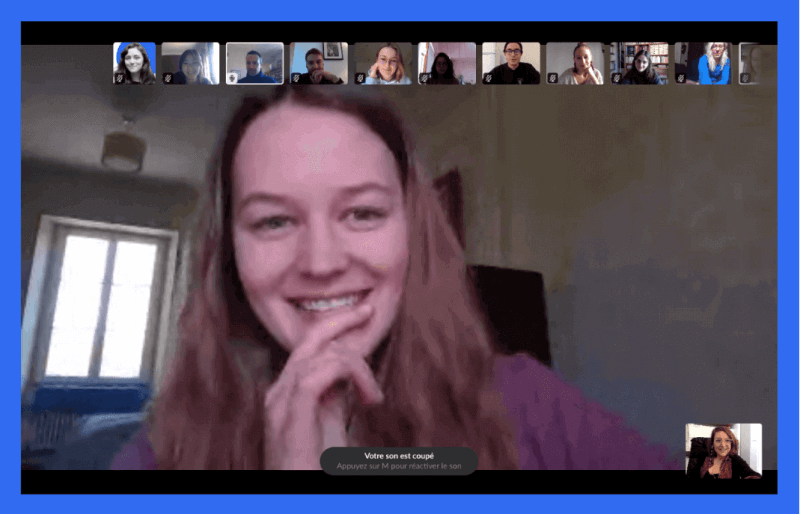 Emily with the marketing team
for morning coffee
For example, our marketing team meets every morning at 9:15 a.m. for breakfast, and at the end of the work day to decompress and share achievements.
Everyone is free to join these informal meetings. Some team members attend every single meeting, while others join when they can.
Setting up these two different kinds of meetings helps everyone at Springly to maintain and build strong team relationships. The spontaneous exchanges contribute to a more pleasant working environment, despite the physical distance.
6. Work Out Together (Remotely!)
When it's necessary to stay at home for public health reasons, we know it can be tough to stay active and exercise.

Regular exercise is important for the body - and the mind, of course!
There are many exercise apps and YouTube videos for you to exercise with. However, we noticed that it's much easier to stay motivated with a group. Your coworkers can keep you accountable when you're feeling slow and unmotivated one day to unroll your yoga mat!
Start a conversation with your coworkers on Google Meet, Slack, Messenger, or WhatsApp. Set some times to exercise together, and encourage each other to stick to the exercise schedule.
Our sporty Springly team meets three times per week in the morning to work out together.
Jeanne from the marketing team, says:
"Our group sports sessions allow me to set a pace and give me a big dose of motivation in the morning. It's also an opportunity to get to know my colleagues in a different way through their sporting activities!"
One final piece of advice: Don't be too hard on yourself. We are living in an exceptional time that requires a lot of empathy and understanding.
Adapting to change always takes time. Whether it's a new way of working, a new mission or a new tool, you'll need some time to adapt. These steps to adapt will look different for each person, so be kind to yourself and your colleagues.
Springly is trusted by over 15,000 nonprofit's to help them run their organizations on a daily basis. See if it could work for you with a free 30 day trial!