9 Crucial Questions to Ask Yourself Before Starting a Nonprofit Organization
Dan
Considering launching your own nonprofit organization? We applaud you for wanting to take on such a task to make the world a better place. Now, you may be wondering "how to do I start a nonprofit?"
Well, changing the world is amazing, but it certainly isn't easy! There are so many things to consider. Not only are there structural considerations like determining which of the various types of nonprofits to choose, submitting a 501c3 application to register your nonprofit, you need to consider legal aspects such as taxes and compliance documents as well as the day-to-day operations like human resources, fundraising, and program development. Whew!
Nobody said the road to social good would be easy, but if you believe you have what it takes (and we know you do), we want to help by providing you with the most important questions you should ask yourself before making the all-important final decision!
Here are the topics we will be covering:

#1: What Gets Me Out of Bed in the Morning?
The path to fulfilling your mission is long. While there will be challenges along the way, remember that the good outweighs the bad!
Pro Tip: Even the best, most successful entrepreneurs struggle with doubt. You too will likely have times where you question yourself and your organization when faced with adversity. In order to get through these difficult times, you must be completely invested in your nonprofit's mission.
So what is it that gets you out of bed in the morning?
What is your passion, your drive?

Do you enjoy challenges?

Is yours a personality of perseverance?

How strong is your desire to make a difference?

Can you think on your feet and find a creative strategy to deal with high-stakes complications?

Do you work well with others?

Are you ready to lead by example?
If the answer to most or all of those questions is "yes!" then you may just have the longevity to build a sustainable nonprofit that will continue to deliver an impact over time.
Remember that if you have the passion and drive to keep learning, everything else will follow!

#2: How Much Time Do I Have to Commit?
If you do not nurture and attend to a plant's needs, it will not thrive. The same is true for your nonprofit programs or charitable organizations. Don't forget to take time for self-care as well. Remember, the best way to care for others is to first invest in yourself.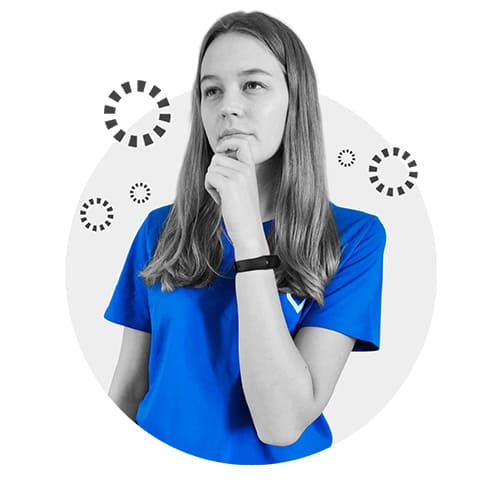 Emily is being mindful of how much time she'll be able to commit to a new nonprofit.
When you make your decision to start a project of this magnitude, it can be easy (and normal) to play down how much time a project may take.
Do your best to list all of the tasks that your organization will manage on a daily basis, assign a time amount, then double it (if not triple it). While prescribing doses of reality is not necessarily our favorite, we can attest that things typically take much longer than planned. We are all human. We get stuck, we get busy, we get tired, or we are learning how to do something for the first time.
As you create your task list, here are a few important items to ensure are represented:
Write Nonprofit Preliminary Documentation

Nonprofit bylaws (rules and regulations), which are both clear to readers and compliant

Articles of Incorporation
Pro Tip: Articles of incorporation are a detailed account of your entire nonprofit plan, which is necessary to become registered as a legitimate entity. Because drafting your articles of incorporation can be a lengthy process, consider utilizing an articles of incorporation worksheet to ensure you have the right information.
Maintain nonprofit financial documentation

Keep donor and donation transaction records

Organize membership campaigns

Prepare and manage fundraising activities

Interview, acquire, and manage volunteers, employees, and staff

Implement human resource documentation and policies

Establish a board of directors

Determine voting rights

Acquire insurance coverage
Pro Tip: You're going to need insurance protection. One accident can derail everything, so consider the types of protection you require in your initial planning stages. Here are a list of some types of insurance you will want to research and shop around to make sure that all your effort doesn't go to waste because of a preventable legal circumstance:

General Liability

Property Insurance

Professional Liability

Management Liability

Directors and Officers Liability

Automobile Insurance
You probably get the point.
Our purpose here is not to dissuade you from engaging on a mission that can provide help to those in need but to provide you with realistic insights on how a nonprofit can be a bit time-consuming, particularly in the early stages.
That being said, if you have enough help and support, there's no reason why you can't run a nonprofit on the side while maintaining a full-time job; just be prepared to work evenings and weekends!

#3: What Will My Mission Be?
Don't treat your mission statement lightly as it is arguably the most important part of creating your nonprofit organization.
Everything you do and your validation for all donations, income, and expenditures (transparency) will revolve around fulfilling this mission, so take the time to think it through and find the perfect inspirational and effective wording for your plan.
Remember, your mission forms the basis of your nonprofit's culture and values!
Pro Tip: Be clear and precise when designing your mission statement as it should serve as a constant reminder of your organization's core beliefs and values for years to come. Looking for some additional help in this area? Our article on developing a nonprofit vision statement may be helpful.

#4: Is a New Nonprofit Really Necessary?
There are a wide variety of charities out there and there may be one working to achieve something similar to the mission you want to achieve. Would it be better to get involved with an existing organization with a similar mission instead of starting your own?
A great way to answer that question is to perform a needs analysis. This will help you determine whether there is a need for someone to solve the problem you and your nonprofit wish to focus on.
If you determine after some due diligence that a solution to the problem is already out there, there is nothing wrong with considering working with those organizations or altering your focus to solve a slightly different problem that does exist. You can learn a lot from analyzing other, existing, organizations.
This in itself can form the basis for a highly impactful nonprofit of your own design!

#5: What Will I Name My Organization?
Developing your brand is important for attracting donors and supporters to your cause and organization. While it shouldn't greatly impact your activities, a solid and appealing name is worth some consideration. Like everything, search for a balance. Ensure you spend enough time to come up with something original and meaningful but don't let perfection be your enemy. Determining how to choose a name for your nonprofit organization should not take you weeks and weeks to complete.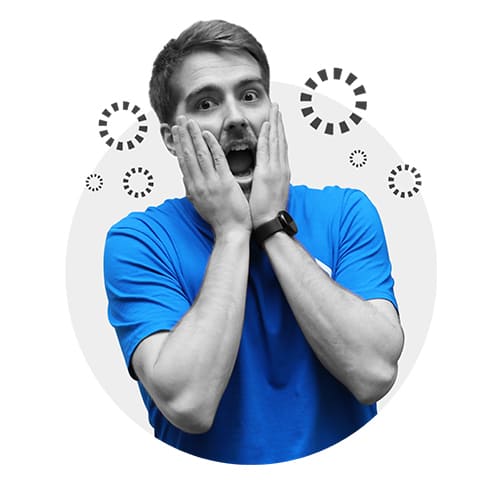 Anthony just thought of a fantastic name for his nonprofit!
Try to find a name that is generally well-respected and does not evoke any off-putting feelings. Once you've taken the pains to get established, realizing that you, your volunteers, and your members dislike your nonprofit's name can create a sour taste in your mouth down the line.
Pro Tip: Once you have a name in mind, consider using your chamber of commerce, local business owners or a nonprofit leaders group as a sounding board. Getting guidance and real-world feedback in advance of making a final decision is well worth the extra day or so of vetting.

#6: Where Will My Organization Be Located?
If you want to provide optimal effectiveness, you need to determine which market is going to serve as the best site for your mission. Take your time and research areas where there is a great need for your service and that you will find a willing donor base.
For example, if your organization is a sports club, your organization will be most impacted in a location within or near a residential area to find likely candidates to join.

#7: What Is the End Goal?
The best plans often work backward from the end goal. For example, if you want to have your nonprofit formulated with $10,000 in donations in x number of months, refer to your list of tasks you created as a part of section #2 above. Is your goal feasible? If so, determine whether it changes your self-imposed deadlines for the various tasks that you need to complete.
While it may seem unusual, envisioning your best-case scenario and how exactly your organization needs to perform gives you a vision, then you can chart the steps leading back to the beginning to ensure that every step along the way ultimately leads you to that successful dream.
Doing so will provide you with a road map so you can plan, prepare, and decide the best way to achieve your goal while hopefully locating your greatest weaknesses and greatest strengths.
Pro Tip: Also consider what resources you will need, whether that be you need to achieve your goals. Also consider what funding options are available. Careful contemplation will help you decide whether your goal setting is realistic.

#8: How Will My Activities Be Financed?
While it isn't the most enjoyable topic to contemplate when planning all the amazing work your organization can achieve, it is nonetheless crucial to consider what avenues are at your disposal to finance your organization.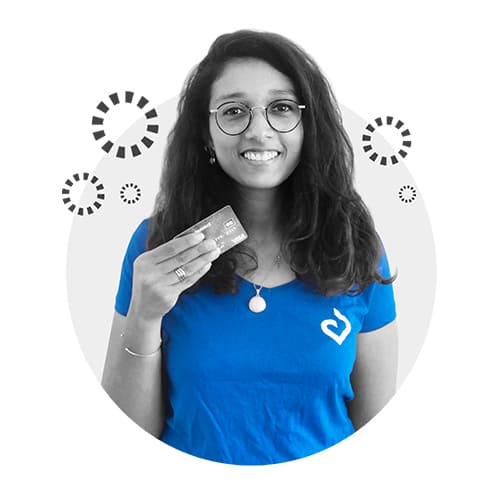 Salma is confident in her ability to finance a new nonprofit.
Without the appropriate funds and financial planning, you will not be able to ensure the future sustainability of your organization.
If you struggle with finances, consider getting the advice of an established advisor in the field.
Pro Tip: The Charity CFO is an excellent resource when it comes to nonprofit bookkeeping. Specialized in organizations with tax-exempt status, they are truly experts when it comes to financial planning, CFO consulting, and general nonprofit accounting.

#9: What Resources Do I Currently Have at My Disposal?
Take account of all income and assets that you have right now, as well as expenditures. Get used to this because if you succeed, you are going to be doing A LOT of recording, documenting, and budgeting.
For example, are you self-funding? Do you have a sponsor lined up or will you be looking to fundraise? Are you planning to set up a membership organization for like-minded individuals to participate and help fund the organization's efforts?
It's important to take into consideration the financial means available to you to help you plan for what you will need to acquire to fulfill your vision and map out the best plan for success.
Additionally, "resources" refers to more than just funding. How will you handle whatever work needs to be accomplished? Consider whether you are capable of running a one-person show (and if so, for how long) or how you will bring on volunteer or paid staff to support the required activities.
Having this information readily available will serve you well with planning and the all-important concept of time management.

Springly is trusted by over 20,000 nonprofits to help them run their organizations on a daily basis. Try it, test it, love it with a 14-day free trial!
Dan
Recommended articles
How To Use A CRM For Nonprofits For Better Daily Management
Trish
Communication
Social Media
Marketing
A Comprehensive Guide To Instagram For Nonprofits
Trish
How to Analyze Your Nonprofit Email Marketing Statistics

Danica