The 10 Best Association Management Software To Save Time
Trish
Time is money. While we generally hear this somewhat cliché expression regarding big businesses, it holds even more weight for tax-exempt organizations whose resources are often extremely limited. Organizations are often put into impossible situations where they are expected to change the world with little funding, time, or staff to do so.
Thankfully, in the last decade more affordable versions of association management software have been made available for organizations that can automate many time-consuming tasks, replace the usage of multiple tools, and even improve membership management for you and your members.
In this article we will discuss:
Let's go!
What is an AMS Software?
An association management software (AMS) is generally described as software that aids in the administrative management of organizations. Its major objective is to help automate small, time-consuming tasks, and lighten the managerial workload of your organization.
All-in-one Solution
While there are different types of AMS software, most boast an all-in-one service to help organizations save a maximum amount of time and resources, for a low monthly cost.
All of the tools and features communicate together automatically to avoid unnecessary copy and paste between different tools. While it may only take a few seconds, this time accumulates into several minutes, hours, or days per year.
Pro Tip: Don't forget that your time has monetary value. While we tend to think of our time as "free" because we give it willingly, calculating the value of your time can be a true indicator of where resources can be best optimized and utilized. To calculate how much an hour of your day costs, divide your monthly salary by the average number of hours worked per month.
Most all-in-one association management software comes with a standard set of tools or integrations:
CRM

Membership management tools

Payment processor

Donation management tools

Email marketing tools

Website builder

Event management

Accounting

Online store
Now you know what AMS system is, let's dive into what you need to know before investing in this value-adding software.
What To Look For When Buying
Finding the right software for your organization can be like perfecting a recipe - elusive, challenging, but thoroughly rewarding. Good software has the possibility to change the way your organization works and can certainly be a game-changer in boosting revenue and seeing positive results in membership engagement and retention.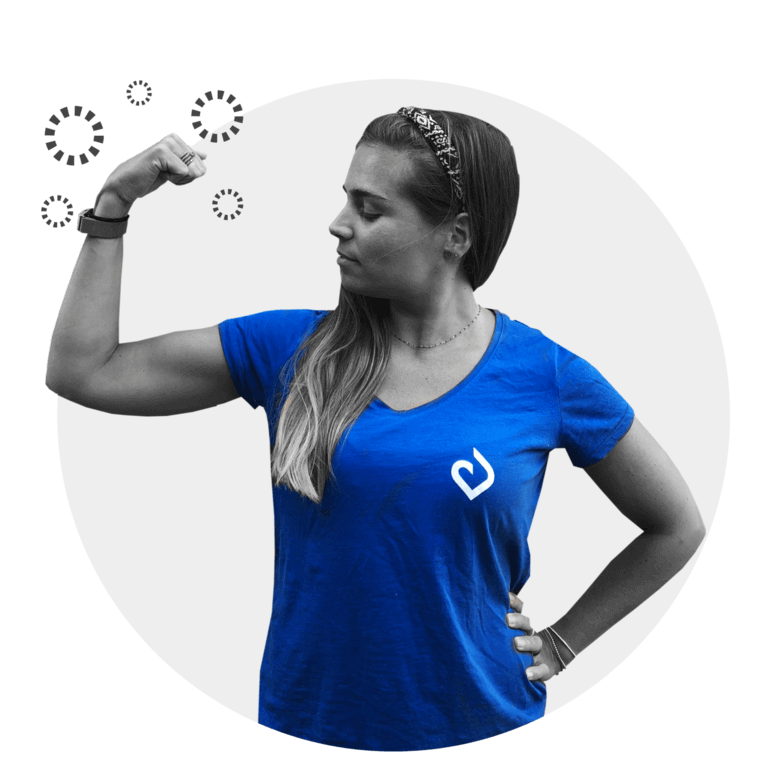 Mary is ready to adopt an AMS software!
Pro Tip: When beginning your search for association management software, we highly recommend choosing a project leader who has a global vision of what is going on in your organization. By choosing a person with a bird's eye view, they will be able to advocate for all departments and truly understand where time needs to be saved, what tasks can or cannot be automated, what policies need to be followed, what tools are currently being used, and more. If this person doesn't currently exist, a task-force of the different department heads is equally effective.
There are few criteria that should be systematically discussed during the selection process:
Transaction Fees
Transaction fees are a commission taken by the payment processor for processing your payment through their system. Transaction fees can vary from processor to processor, depending on their volume of transaction and oftentimes, their reputation and popularity in the market. This fee is also built to cover the expenses of different credit card types, which can come with different charges.
If you are looking to adopt an association membership management system particularly to transition from offline (cash or check) to online payment (credit or debit card), the transaction fee should certainly be a criteria to consider while shopping.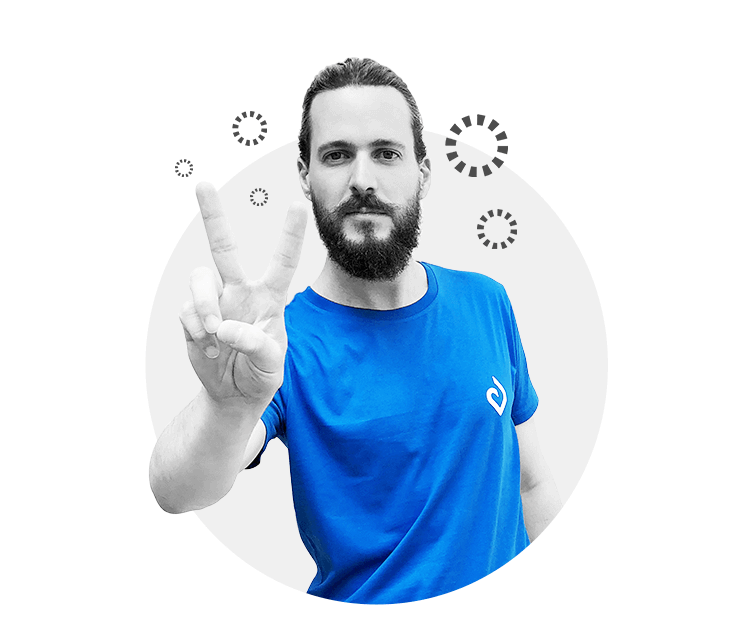 Alex is thrilled with his transition to online payment!
Transaction fees are often taken out after the payment but before arriving in your account so keep that in mind while crunching the numbers. With 84.5% of organizations accepting online payment, the return on investment is often ten-fold and increases your opportunity to attract a wider audience with less hassle.
Many software companies take an additional commission on your payment in addition to the transaction fee. While this may be an extra 1%-2%, this can add up to a significant reduction to your donations or membership fees over time. For example, Springly takes no extra fees on your transactions.
Pro Tip: This extra commission fee is often negotiable, particularly if you are paying for several months upfront or signing-up at the end of a quarter. Be sure to ask how flexible they are and if all else fails, negotiate a longer contract for a lower transaction fee.
Setup Fees
Depending on the size and need of your organization, you may be faced with setup and/or support fees during the migration process.
While less of a problem for smaller organizations with simple structures and fewer than 50k members, if you are a larger organization this is certainly something to take into consideration while looking for association management software.
Setup fees largely vary depending on the software company and based on several criteria:
Their data policy

The ease-of-use of their software

Their customer support policy

Their pricing structure

The integrations they propose
While there is no sector standard, be sure to ask what their setup fees are at the beginning of your conversations and be sure to give them all of the information they need to provide an accurate assessment of your needs:
How many members and/or contacts you want to import

The complexity of your data

If you manage any chapters

If you are part of a parent organization

If you have historical data to import (membership and/or donation history)

If you have any complex data (i.e. accounting or transaction history)
Check out our table at the end of this article to learn more about the setup fees for each AMS software we suggest.
Ease-of-Use
One of the most important criteria to analyze is ease-of-use. If you are going to make a financial investment, being able to use all aspects of the software is key.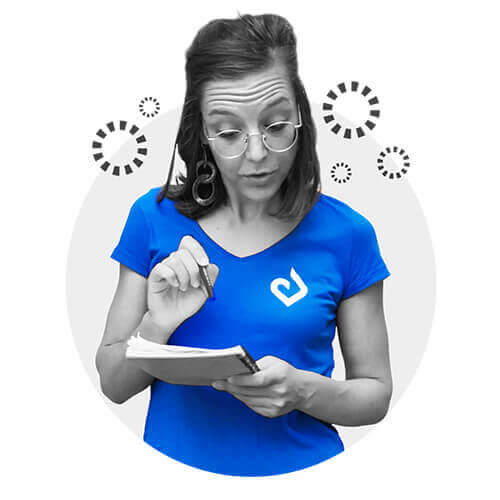 Corinne is looking for an AMS software that is easiest to use!
One of the major benefits of having an association management software is that it aids in knowledge management, and can be easily transferred from person to person, regardless of their technical skill level. The goal is that whenever someone new joins your team, whether it be a volunteer, intern, board member, or staff member, the onboarding process can be streamlined by only having to use - and learn - one tool for all tasks.
You will get a general feeling of the ease-of-use during the free trial (more on that later), but a few questions you can ask yourself are:
How long did the onboarding process take?

How long did it take me to feel comfortable using the software?

Do I have a general understanding of how all features in the software work?

Is the interface simple and clear?

Is the interface agreeable to look at?

Do I know how to accomplish all of my major daily tasks?

Are the steps taken to accomplish those tasks clearly indicated?

Do I know where to go if I need help?

Do I enjoy using the software?

Can I connect from different devices without any trouble?

Have other administrators tried the software?
Asking yourself these questions will provide a framework for your reflection on how easy or difficult the software is to use. In reality, simplicity is fairly subjective, so make sure you are testing your software with many of those who will be using it on a day-to-day basis.
Timeline
Circling back to our pro tip on project management, having a clear timeline of when you would like to be operational with your AMS software is key, and will provide structure to your benchmarking process.
Depending on the size of your organization and the particular needs you may have, a software implementation can take anywhere from a few days to several months.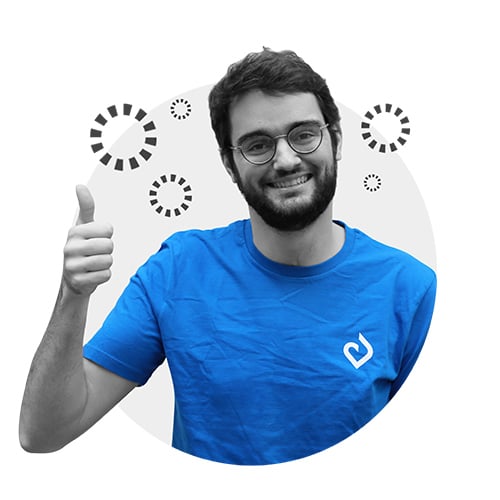 Tristan has a clear timeline to implement his AMS software!
If you are a small organization with few members and basic needs, a software adoption can be simple and easy, and often requires no outside help or interaction. On the other hand, if you are a parent organization that manages many local chapters, you should plan for the process to be longer, over a span of several months
Be sure to discuss the timeline and availability of the software's staff before signing a contract, or, if you're a smaller organization, set goals with your staff or volunteers to help the process along.
Pro Tip: If you are signing a physical contract (normally reserved for larger organizations), be sure to put milestone dates that are coupled with payment terms. With this system, it keeps you and the software company accountable, and is easier to manage the project when dealing with large amounts of data or complex structures.
Features
While it may seem obvious, knowing what features you need or won't need is more of a challenge than you may think. Oftentimes what happens is that an organization might not know where time can be saved, what all of the possibilities for automation are, what are necessary vs bonus features, and so on.
To put it plain and simple, your association management software should fit all of your needs, and most of your wants.
To know what those are, you can do this little exercise with your staff members (remember, they know their pain points best):
Step one: Make a list of all of the digital tools you are currently using.

Step two: Circle all the tools you need to have as part of your software.

Step three: Write down the process your staff takes for every major action in your organization, like membership sign-up. For example:

A member contacts your organization via email showing interest.

A volunteer takes this email and puts them into a prospect list.

The membership manager sends the potential member an email about the different offers and how they can subscribe via cash or check.

The membership manager has to go back into the list of potential members, copy all of the emails, and create a new email campaign to remind the members to pay.

The member sends in their check but with the incorrect amount.

The membership manager then has to go back into the spreadsheet to find their phone number (which is not always up-to-date) to ask for another form of payment, which is often wrong.

The membership manager then sends an email asking for another check and an updated phone number.

The member sends in the correct check 1 month later.

The membership manager sends them a thank you email and moves their name to the active members' spreadsheet.

The membership manager then copies and pastes the emails from the active membership list into another email marketing tool to send onboarding emails.

Step 4: Based on the staff processes, highlight where you and your members can save time.

Step 5: Brainstorm the goals you want to reach by using an AMS software.

Step 6: Anything that saves you concrete, measurable time is considered a need, and anything you don't consider something that will stop you from reaching your goals, is a want. For the example given above, have an integrated email marketing tool and CRM is clearly helpful and will save large amounts of time.
As you test more and more software, you will learn more about what is possible or not, and what your true needs are. The idea is to have an AMS software that actively has all of the features you need, that are easy to use.
Integrations
Many association management software come with a certain number of integrations as well as their in-house features.
Integrations are very helpful when it comes to relaying two tools together, particularly for tools that are widely used and hard to duplicate internally. A great example of this is Quickbooks for Nonprofits, which is the accounting market leader in the United States and is complex to recreate at the same caliber.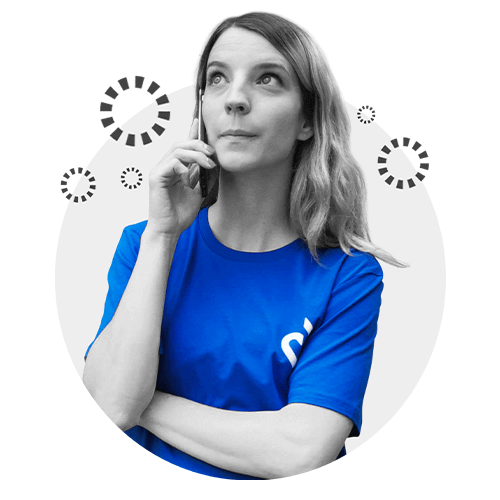 Matilda is checking to see what integrations she needs!
Integrations should be easy-to-use and streamlined with the rest of the software. When done correctly, they are excellent tools to have and can be extremely time-efficient, particularly when it comes to website and accounting integrations.
A word of caution: If you see an association management software that is made up only of integrations or the entire Zapier catalog, it is a red flag. It generally means that the software company does not have the man-power to develop their own features and that the integrations are very surface level that will save you little-to-no-time. Part of the benefits of having AMS software is that it is software made by those who know the challenges you face on a daily basis, those using 100% integrations aren't solving that problem.
Data Security
Data protection is a hot topic and rightfully so. Particularly an important issue for tax-exempt organizations who may be dealing with sensitive data, knowing the security policies for your association management software is paramount.
Here a few questions you can ask the software vendor to get a better understanding of their data security practices:
Where is our data stored?

What is your policy on storing sensitive data?

Where are your servers located?

What happens if our data is hacked?

How do you protect your data and the data of your customers?

Have you had previous issues with data security?

Are you compliant with the General Data Protection Regulation (GDPR)?

How can I recover lost data?

How can I access the backup of my data?
If the salesperson you are speaking with does not have all of the answers to these questions, don't hesitate to ask to be transferred to the appropriate party or have them answer your specific requests via email.
Customer Service
Many times customer service is considered the "cherry on top" but we have found that it is one of the largest reasons customers leave their current software.
Customer service can come in many forms:
Phone support

Email support

Ticketing system

Live chat

One-on-one support

Coaching

Forums

Blog

Online help center

Guides

Video tutorials

Webinars
Most association management software companies offer a variety of support to reach a wide range of clients, skill levels, and needs. Ask your sales representative what support methods from the list above they offer and how often they are consulted.
Many software companies offer more customer service for higher-paying customers, simply because they may have more complex needs. Be sure to fully understand what kind of support you are getting for free, what comes at an extra cost, and what kind of support you ideally need.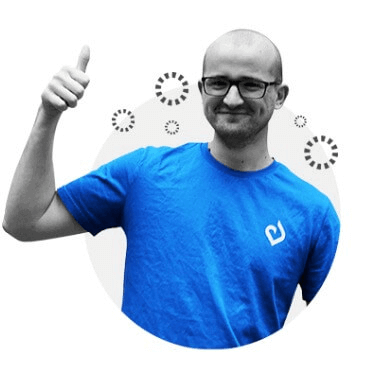 Matt is happy that all of his customer service needs are met!
Pro Tip: Take a look at the reviews section on Google or any other comparator website to get a better idea of what customer support looks like from a client perspective. Are the agents patient? How long is the delay for a problem to be solved? These are all important criteria to consider when looking for good customer service.
Free Trial
If an AMS software doesn't offer a free trial, run for the hills.
In order to fully understand the software, how it works, the ease-of-use, and the complexity of the features, someone needs to use it for at least a short amount of time before being able to make a proper decision. This is particularly important when it comes to software that, in theory, is going to replace several tools and streamline the management of your organization.
A free trial is also a great time to better understand the level of service you are given, the culture of the company you are working with, and a great time to ask any additional questions you may have after manipulating the software on your own.
Pro Tip: If you find that you have a significant list of questions accumulating about the software, ask for a question and answer session with one of the sales representatives. They will be able to answer all of your questions and even help guide you through some tricky tasks like data import.
Product Demonstration
With also (we hope) all association management software, you should be able to follow a product demonstration with a sales representative. While the demo isn't often required to start a free trial, it is highly suggested. Why?
A product demo with someone who knows the AMS software very well will be able to calibrate the product to show you exactly how it can fit your needs, and give you real-life examples of how their software can save you time and reach any other goals you may have.
Taking the 30 minutes will also give you an overview of everything the software can do, including some of those extra "wants" that may be on your wishlist.
Pro Tip: Come prepared with a list of questions, not just about the software in itself, but any other questions you may have on the company, their history, or other clients they may have in your sector.
The 10 Best Association Management Software
Now that you have the buying criteria in mind, there are a few popular association management softwares worth mentioning.
Springly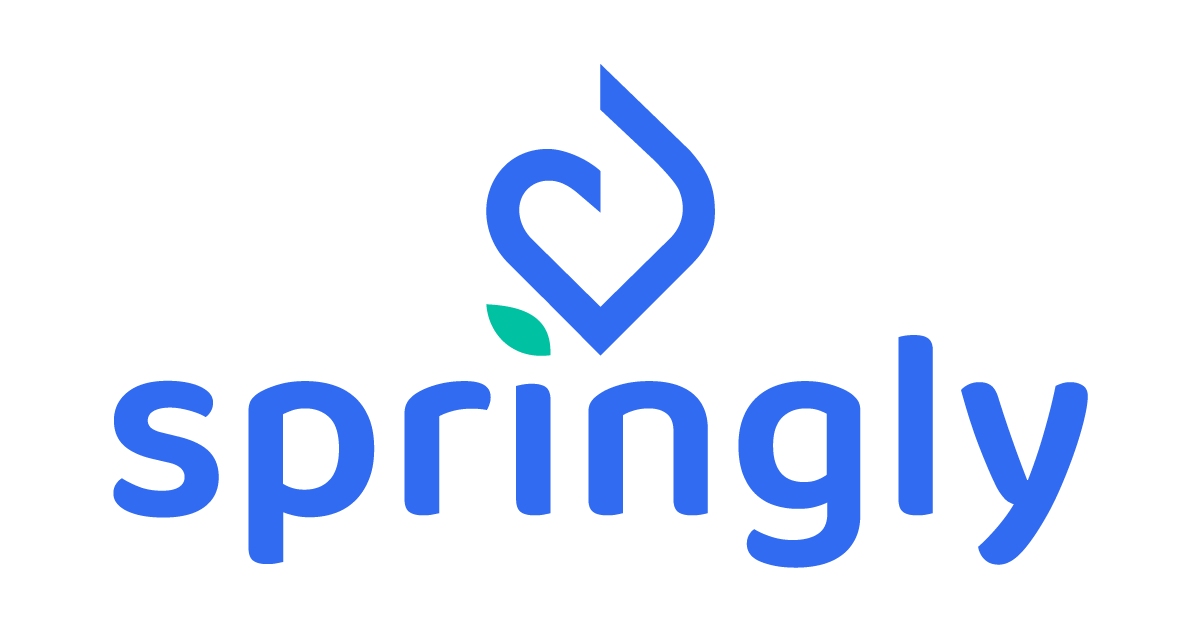 Springly serves more than 15,000 associations globally and is an all-in-one software that comes with all the features you need for a low monthly subscription. Complete with a powerful CRM, membership management tools, online payment, event planner, email marketing, website builder, and online store, there are over 50 features to serve associations' unique needs. One of our best selling features is multi-chapter management for parent organizations, where you can consolidate data on multiple levels while giving each chapter full autonomy.
The specs:
Pricing packages starting from $29/month

Free software for small organizations

2.9% + $0.35 transaction fee

30-day free trial

Free 30 minute product demonstration

Quickbooks integration

Free online customer support

Dedicated Account Manager
Join It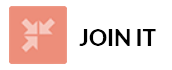 Join It is an international AMS software that serves associations around the world and specializes in multi-currency organizations. Fairly new on the software scene, Join It is a complete membership management system that includes features such as custom fields, online payment, multi-admin access, emailing, payment tracking, and more.
The specs:
Pricing packages starting from $29/month

3% service fee

30-day free trial

Many integrations

On-demand product demonstration

Online support
Personify Wild Apricot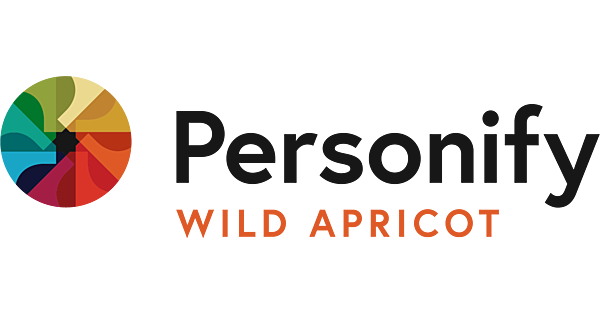 Wild apricot is an association member management system with features like a website builder, membership database, event planner, online payment processor, emailing, and mobile app. They serve not only associations, but nonprofit organizations, clubs, and councils.
The specs:
Pricing packages starting from $40/month

Free option for small organizations

30-day free trial

Undisclosed transaction fees

Free online support

Access to training webinars
Hivebrite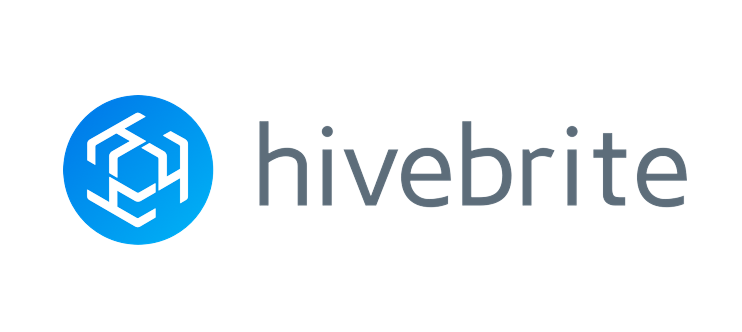 Hivebrite is a European community engagement platform that was founded in 2012 and is a practical AMS system that has a multitude of features and integrations. Mainly used for companies as well as tax-exempt organizations, the sales process is mainly done one-to-one. Some features included are a complete CRM, website builder, job board, fundraising management tools, membership management tools, and email marketing.
The specs:
Demo upon request

Price not provided by the vendor

Undisclosed transaction fee

Online and one-to-one support
MemberPlanet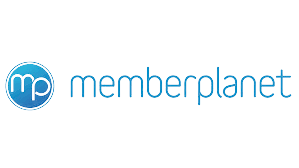 MemberPlanet is an association management software originally built for parent organizations and chapter management on every level, all the while offering a full suite of tools for both entities. They offer features such as website management, multi-chapter management, invoicing, online payment, surveys, and email marketing.
The specs:
Pricing packages starting from $50/month

3% + $0.30 transaction fee

Free option for small organizations

30-day free trial

Demo upon request

Free online support
MemberSuite

Membersuite is a modern AMS software with an open API, unlimited support, and a complete membership management system. They have features that include: CRM, membership drives, events, reporting, and online payment.
The specs:
Free trial

Price not provided by vendor

Undisclosed transaction fees

Demo upon request
Bitrix24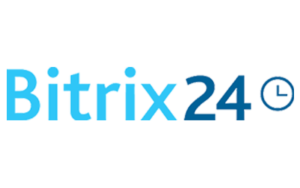 Founded in 1998, Bitrix24 is a platform to streamline management not only for associations but for different types of companies as well. With robust features like a CRM, task management, knowledge management tools, call recording, contact management, and content management, you will be hard pressed to find a tool that Bitrix24 doesn't have available.
The specs:
Pricing packages starting from $19/month

Undisclosed transaction fees

Free trial

Online support

Phone support
Raklet

Born 5 years ago, Raklet is an association management software that includes possible integrations with over 2k apps and created basic in-house features like a membership database, SMS system, event management, donation management, and custom form creator.
The specs:
Pricing packages starting from $49/month

4% + $0.60 transaction fee

Free 14-day trial

Free software for small organizations

Demo upon request

Online support
Bloomerang

Bloomerang is an association management software more geared towards those who have hearty fundraising needs. Complete with features like a fundraising thermometer, CRM, donation management, online payment, and email marketing, they are a one-stop-shop for donation-based organizations.
The specs:
Pricing packages starting from $19/month but only depending on annual revenue

Undisclosed transaction fees

Free trial

Free software for small organizations

On-demand product demo

Access to Bloomerang Academy
My Member Software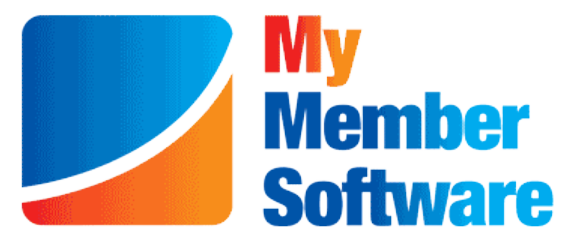 A little different, My Member Software is an open-source association management software that is a one-time-only payment. While not the prettiest software on the market, because it is open-source and inexpensive, it makes it a great option for those just starting out. With features like an online database, member intranet, and is mobile responsive, you have all the tools you need for basic management.
The specs:
One time $35 payment

Undisclosed transaction fees

Available in several languages

Online support
AMS Comparison Table & Feature Overview
While the general features were mentioned above, below is a detailed table that discusses what features and fees are associated with each AMS software.
Features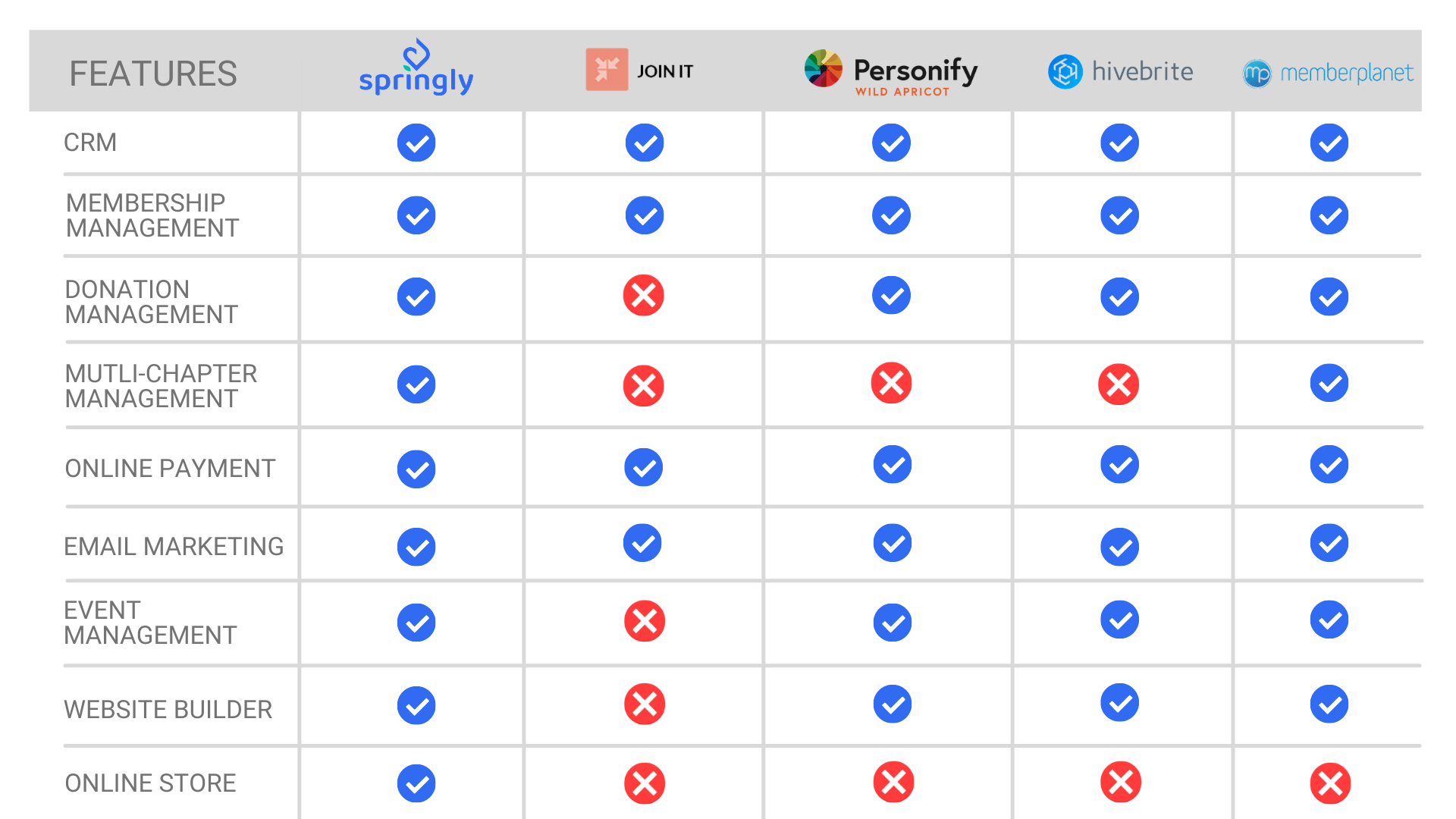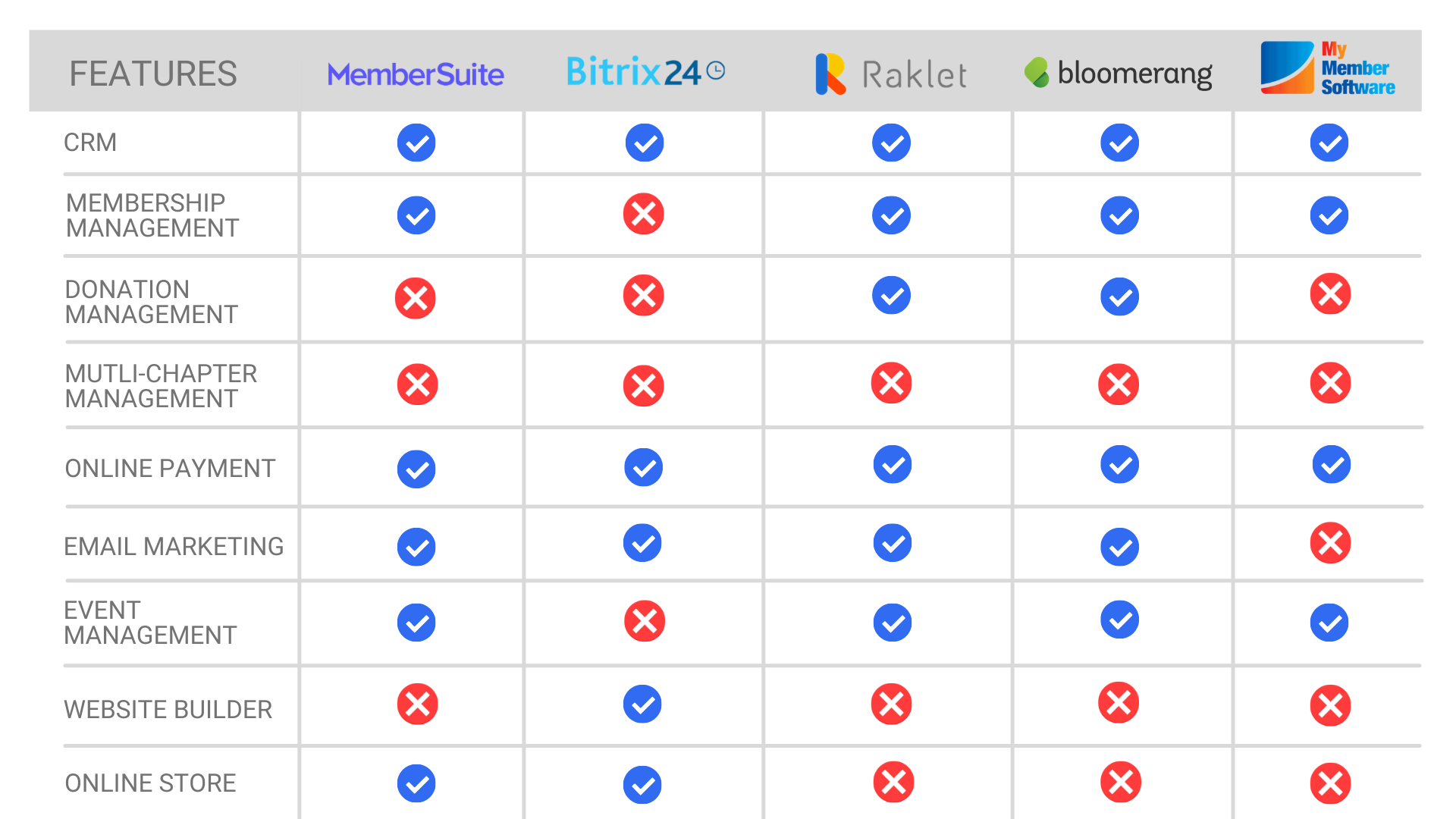 Fees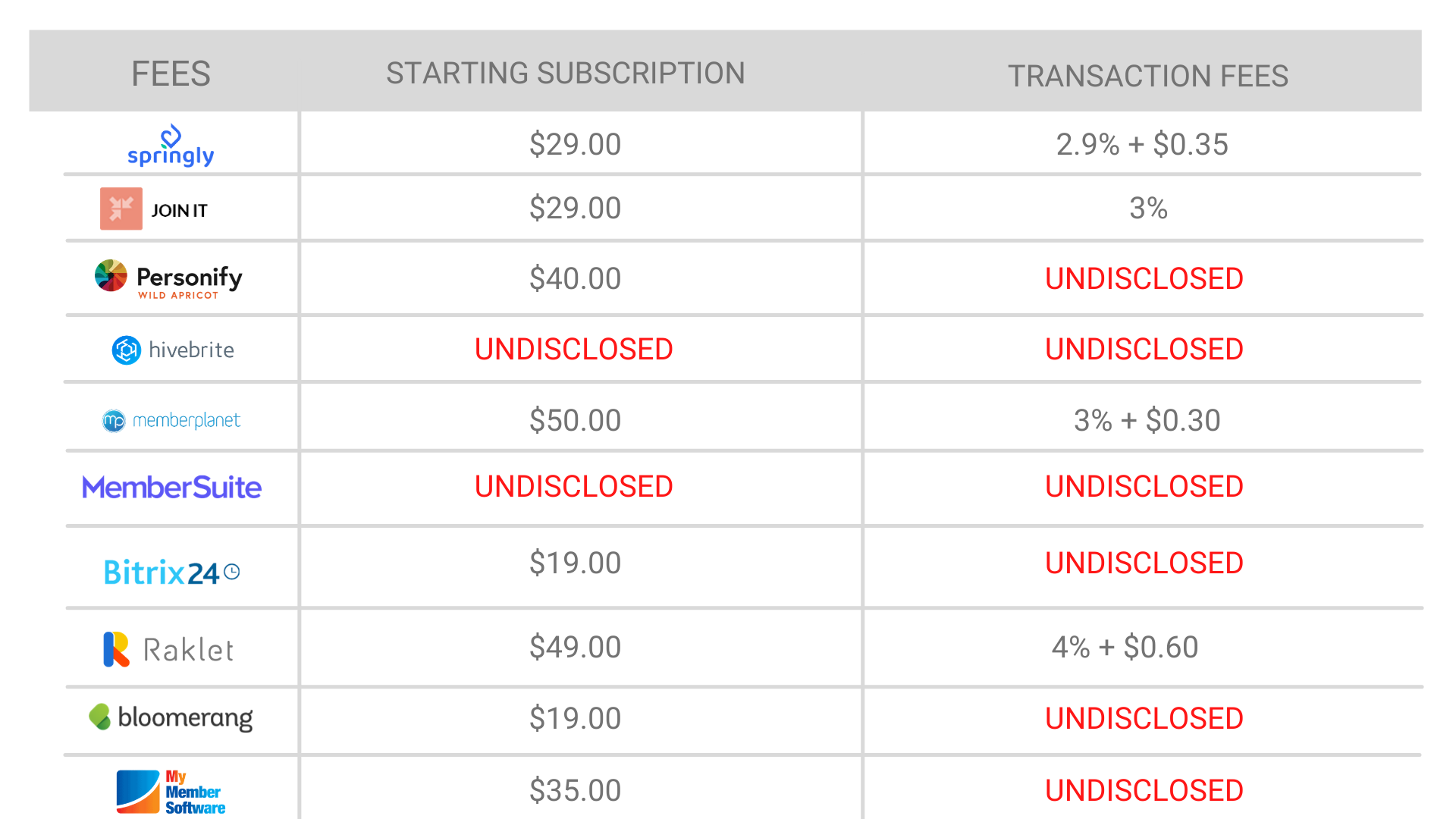 We hope this article has helped you to determine what association management software is best for your organization.
Springly is trusted by over 15,000 nonprofits to help them run their organizations on a daily basis. Try it, test it, love it with a 14-day free trial!
Trish
Recommended articles
How To Use A CRM For Nonprofits For Better Daily Management
Trish
Communication
Social Media
A Comprehensive Guide To Instagram For Nonprofits
Trish
How to Analyze Your Nonprofit Email Marketing Statistics

Danica