How To Manage Volunteers Successfully: A Detailed Guide

Danica
Many nonprofits tend to focus a majority of their human and financial resources on managing their members, donors and beneficiaries. While this is very common, it is missing one giant sector: volunteers!
Volunteers make up a huge part of nonprofit efforts in the US. In fact, there are about 63 million American volunteers who give 8 billion hours of their time, talent, and effort to improve and strengthen their communities! Devoting this amount of time means that these volunteers contribute approximately $203.4 billion to the US through volunteering with nonprofits.
Volunteers do all kinds of work for nonprofit organizations, notably food collection or distribution (24.2%), fundraising or selling items to raise money (23.9%), general labor or transportation (18.8%), and tutoring or teaching (17.9%).
As a nonprofit, it is important to understand how best to recruit and retain volunteers, from A-Z. Below is a visual of the average volunteer lifecycle that gives you a good idea of what this looks like.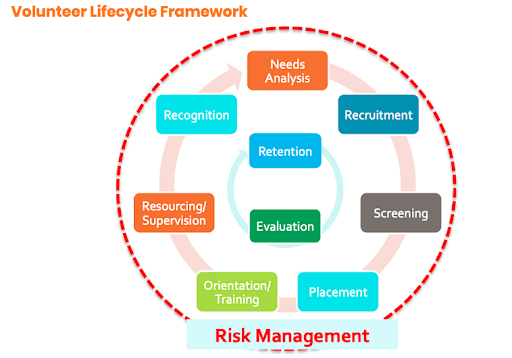 Source: VolunteerPro


To effectively achieve a successful volunteer lifecycle, it is important to focus on volunteer management. That is why we have written this basic guide to help you get started!
Follow the five principles below to effectively manage your volunteers:

Recruiting
The first building block in building a successful program is to recruit your volunteers! This is where you can really take the time to find the right individuals who will be committed to your mission and advocate for your cause. However, it is not always a simple process! There are a few things to consider before implementing a recruitment strategy.
Pro Tip: Check your existing database for potential volunteers! Do you have previous beneficiaries that have kept in touch? Members that are increasingly passionate about your mission? See who within your community is motivated to join your team before launching an external recruitment.
Define Your Needs
Do a needs analysis for your organization. This is important to do before you start recruiting volunteers because it will help you visualize exactly what your organization needs from your potential volunteers, and you can recruit accordingly.
Brainstorm the tasks that need to be completed and the roles that need to be filled and use this information to create team or position descriptions that you will use for the recruitment process.
For example: If you are recruiting volunteers for your annual 5k, clearly define what you need and what skills you are looking for. Are you looking for volunteers to help you secure a venue, organize the course, and set up water stations? Check your applications for anyone with event or project management backgrounds!
Prep Missions and Position Descriptions
Setting position descriptions is an important step to the recruitment process. It gives clear expectations of what you need from your volunteers and fosters open, clear communication. It also helps set boundaries between you and your volunteers. It will also help you screen, place, and evaluate volunteers because your needs are clearly defined.
You should include things like: time commitment, skills/experience required or desired, personal traits and qualities you are looking for, the support and supervision provided, and benefits for the volunteer in your position descriptions.
Prepping missions in advance is another great way to ensure your volunteers have a clear understanding of their roles and responsibilities. Laying out the foundation of what your volunteer will be working on and why will help you avoid any confusion or frustration.
Carrying out this step properly can help you not only recruit volunteers, but also retain them. Many times volunteers and donors stop giving or contributing to an organization because they do not feel seen or that their work is important. By explaining the assignment, skills needed to fulfill the role, training needed, and importance of the role will help volunteers understand and clearly see why their work is important. This will help prolong their life cycle with your organization!
Screening
Screening volunteers means you are taking a good look at their background to make sure they are not a risk to your organization and they are fit for the role you may place them in. Establishing a screening process will help reduce risk to your organization, your employees, volunteers, donors, and community. A great example of a basic screening tactic would be asking for a simple background check during the application process.
However, screening your potential volunteers is not only for risk management, but also for getting to know your volunteers! Understanding their skills, goals, and availability will give you an overview of what type of role they could fulfill and create a mutually beneficial relationship.
This is the last step before you place your volunteers in their new roles, so we suggest that you make the most of it. You can do this with things like:
Application Forms
Online or in-person application forms are an easy way to screen your potential volunteers because you will get to know who they are and what they could be looking for in a volunteer position.
While every organization is different and may need specific roles filled, we suggest you include basic questions that cover:
Contact information

Work and volunteer experience

Motivations for volunteering

Any notable skills

Interests

Academic experience

Availability

Any references that may be necessary
An application is a simple, preliminary way to get to know a potential volunteer, screen them, and simplify the placement process.
Interviews
Conducting interviews, usually after an application has been submitted, is a key part of the recruitment process because it allows not only you but the volunteer to ask questions, express wishes and expectations, and get to know each other on a deeper level. It also has the added benefit of screening them for placement and risk management.
A simple interview can also make a potential volunteer feel cared for and recognized, which is a huge part of volunteer retention! To get started, here are a few examples of good interview questions:
Why are they interested in volunteering for your organization?

What experiences or skills do they hope to gain from volunteering?

What types of professional or volunteer experiences do they have that may be relevant to their role?

How do they react to difficult situations?

What are the causes they feel most passionate about?

Do they prefer individual or group work?
Do they have any questions or concerns about the position or the organization as a whole?

Onboarding
Now that your volunteers are all signed up, it is important to make sure that you are setting them up for success. To do this, having a strong onboarding process in place will be key! This includes general orientation, training, and placement.

Your onboarding process should introduce your new volunteers to every aspect of your organization so they feel informed, comfortable, and prepared. You should also use the opportunity to record any relevant information into your volunteer database. This can be easily streamlined with a volunteer management software (like Springly!).
Orientation
Orientation should be a smooth, enjoyable, and instructive process for your volunteers. They should be introduced to your staff, other volunteers, and anyone else that may be working alongside them. In addition, you should answer any questions they may have and clearly explain your cause and values.
Your orientation process can cover things like:
Your organization's primary cause and mission

Your organization's values, principles, and image

Information about any tools or materials volunteers may be using

Any relevant contact information (volunteer managers, staff members, etc)

Rules and procedures that your organization follows

What kind of roles volunteers perform

Any important dates

Answer any frequently asked questions
Having this basic information, alongside any other information you think would be helpful, volunteers will know what they are trying to accomplish, why, and how they will succeed.
You want to make sure that your orientation goes beyond just teaching volunteers about your nonprofit, but make them feel that they truly are a part of your organization and its community. Offer t-shirts, pictures, certificates, or anything else that can help them feel a part of the team!
Training
Training your volunteers is a crucial step in volunteer management because it prepares your volunteers to take on their roles and responsibilities. Hosting a consistent and effective training program that includes not only the basics of your organization, but also role-specific training is crucial to make sure everyone is comfortable to tackle their future tasks.

Training should be a continuous process, not just a part of onboarding. You should continue training throughout your volunteer's career to make sure they are getting what they need to be successful.

Plan regular check-ups with your volunteers to give them feedback on what is working well and what could be improved. Give them credit for their hard work and make sure they are comfortable with their roles.
Don't hesitate to ask how they are feeling in their roles and if there is anything else they may be interested in learning! Some volunteers are looking for more responsibilities or to learn new skills and this is a great time for them to express that.
Placement
Once you have gathered all of the information about your volunteers and brought them through a fun and effective orientation process, you can properly place them in their new roles.

Make sure their skills, wishes, and availability are in coordination with the job descriptions you have prepared. You should double check with your volunteer to make sure they are comfortable with their position, and make any necessary changes if needed!

Motivating
Keeping your volunteers motivated and engaged will do wonders for your relationship with them. Many people volunteer to do good, find a sense of purpose, and see the positive impact of their work. If they feel like they are not accomplishing this, you risk losing them.
Volunteers do incredible and selfless work, and it is important to show your appreciation and make sure they are getting everything that they need from your organization to be successful.
Creating an engagement strategy or rewards program can be a great way to make sure you are fostering your relationship with your volunteers.
To show your appreciation, consider things like:
Hosting volunteer gatherings or thank-you events


Offer networking or other professional opportunities

Offer to write a letter of recommendation

Scheduling individual check-ins to make sure volunteers are happy and comfortable in their roles

Establishing an open door policy so any grievances may be heard
Did you know that 42% of volunteers say that the testimonies of the people who benefited from their help is their first source of motivation for volunteering? Another way to keep your volunteers engaged is to highlight the positive impact they have made for your cause. Sharing this information will motivate your volunteers to continue their important work.
We suggest you gather together testimonials, statistics, photos, fundraising efforts, and anything else you think may be relevant and share this information with your volunteers. Being open and transparent with your volunteer's about the result of their work helps foster lasting relationships.



Sustaining
Sustaining your volunteers is a long-term commitment that requires you to stay engaged, involved, and receptive with your volunteers. Volunteer retention is crucial to the success of many nonprofit programs.
High retention rates reflect a positive and healthy working environment. Unfortunately, more than a third of the volunteers who volunteer in one year fail to volunteer the next year. This is referred to as volunteer burnout.
We believe you can help prevent volunteer burnout by focusing on the following:
Clear and Frequent Communication
Like with most relationships, communication is key! Focusing on clear and frequent communication with your volunteers will help them understand what they need to do and the importance of their work.
Make sure all your volunteers are equipped with any contact information they may need so they never feel left in the dark. Having an updated directory or member space where they can access this information will be useful!
You can also do things like send out a weekly or monthly email to give any updates, schedule check-ins, and even offer a phone call to help establish healthy communication between you and your volunteers. Maybe even start a Facebook group dedicated to your volunteers!
Showing Appreciation and Positive Impact
Beyond thank you letters and volunteer events, creating an environment where gratitude and appreciation are the norm is a foundation for success. Providing positive feedback, showing thanks frequently, and just checking is a wonderful way to start.
Understanding and seeing first hand the positive impact shows volunteers the result that their hard work and commitment has had on beneficiaries and the cause as a whole. This reassures them that the time they are dedicating to your nonprofit is meaningful.
Sending impact reports, sharing testimonials, planning visits to any new project sites, or even just sharing photos and videos will help show the importance of the time and effort your volunteers give on a daily basis.
Recommendation Letters
Offering to write recommendation letters shows your appreciation for your volunteers and the importance of their work. If your volunteers have never asked for a letter of recommendation, do not hesitate to offer.
Many employers, academic supervisors, and other volunteer managers deeply appreciate and value a letter of recommendation and by writing one for your volunteers, you can help in their overall professional development.

Thriving
Keeping your volunteers engaged throughout their time (and maybe even after!) with your organization will help them thrive in their volunteer careers. By building long lasting relationships with your volunteers, you have the opportunity to further develop your mission.
Peer-to-Peer Fundraising
Peer-to-peer fundraising is a great example of a new way to involve your volunteers in your organization. It is a very popular fundraising strategy that turns your volunteers, donors, and community members into fundraising ambassadors! It can encourage deeper engagement between your organization, your volunteers, and your community as a whole.
Peer-to-peer fundraising is a type of crowdfunding that allows your volunteers to set up campaign pages that help raise money for your cause. Your volunteer shares their page with friends, family, coworkers, or anyone else they might know. Not only will you gain access to potential donors, your volunteers will become ambassadors for your organization!
Ambassadors for Your Brand
You have the opportunity to have life long ambassadors for your brand if you properly foster your relationship with your volunteers.

Your volunteers are a part of the image and reputation of your organization, and that is a great thing. If you manage volunteers correctly and make them feel cared for, appreciated, and valuable (as they are!) you have the benefit of having members of your community contribute to advocacy, public relations, marketing, and more.

During the onboarding process, you can give them tips on how to speak about your nonprofit in public, give them guidelines and advice on how to post about you on social media, and encourage them to spread the word about your cause.




Volunteer Management Software
Now that you have the overview of volunteer management, you may be wondering how best to implement these strategies. Using a volunteer management software will streamline this process because it will automate your processes, store contact information, and help you spread the word.
We suggest that you choose a software with a CRM feature that will give you deeper insight into the relationship between your volunteers and your organization. A CRM system will also automatically register all contact information on your volunteers to help you keep in touch!
For example, with Springly, you have a CRM built in to your so you can register your volunteers online and all of the contact information and volunteer history will automatically be added to your software and will be accessible anywhere, at any time.




We hope this basic guide for volunteer management will help you grow and sustain your nonprofit! At Springly, we are always looking for feedback. Let us know if we missed anything in the comments section!
Springly is trusted by over 15,000 nonprofits to help them run their organizations on a daily basis. Try it, test it, love it with a 14-day free trial!
Volunteering
Nonprofit Management

Danica
Recommended articles
How To Use A CRM For Nonprofits For Better Daily Management
Trish
Communication
Social Media
Marketing
A Comprehensive Guide To Instagram For Nonprofits
Trish
How to Analyze Your Nonprofit Email Marketing Statistics

Danica