The 30 Best Nonprofit Websites for a New Season Makeover

Briana
Just when we thought the world could not be more dependent on the internet, 2020 happened. With fundraising events, conferences, and meetings moving to online platforms, it is even more important that you have a strong website that attracts your target audience!
As the crisper air comes back, school starts, and more of your colleagues are coming back to work, we encourage you to use the change of season and extra energy for a website renovation. Here are our top 30 best nonprofit websites to inspire your makeover!
In this article, we will look at websites of:
Let's get started!

Large Nonprofits
These are nonprofit organizations that you have probably heard of somewhere because they have millions of supporters and beneficiaries. Don't be intimidated by these numbers, each of them has elements that you can use for your nonprofit's website, no matter what the size!
Pro Tip: If you are just creating your website, use these websites for inspiration! They will ensure your nonprofit's website starts off on the right foot.
1. Rotary International
We love Rotary International's website because of how interactive and human-centered it is. The first thing you see is a video showcasing their volunteers and beneficiaries. This gives you a human connection right off the bat. Then, the interactive design takes you through their impact, how many members they have, how many volunteer hours have been served, and what this all goes towards (the causes they are working on). At the bottom of their page, after telling the audience about the organization, they provide three call-to-actions to get involved, donate, or join. What a great way to give information and keep your audience engaged!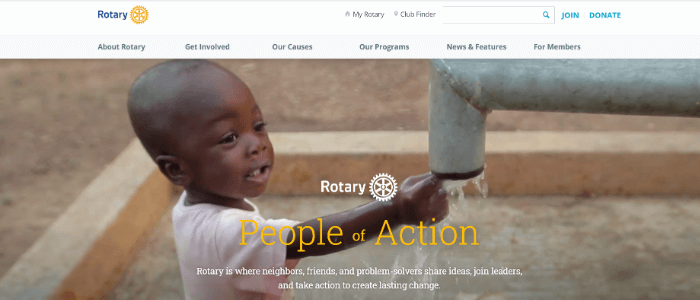 2. Charity: water
Charity: water has a very simple but appealing design. They start with an image to humanize the cause, and a link to their current campaign. Then they head in with stats to show what the problem is, and explain how they can help. They talk about their impact through a video, and a statement of how many people they have helped. To finish it off they have a form to "add impact to your inbox" by subscribing to their newsletter. Short, sweet, and effective! If you are looking for a clean and quality website, look here for inspiration.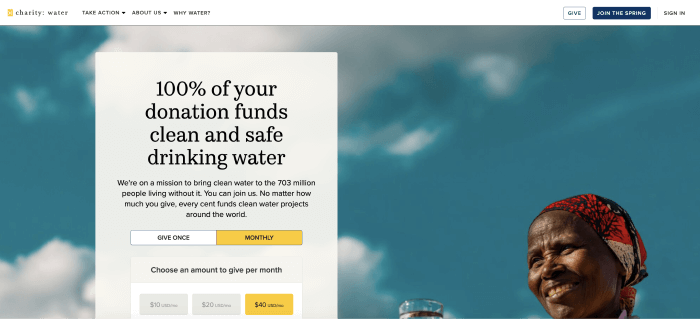 3. National Geographic Society
We love the National Geographic Society for its visuals (shocker, right). Of course, National Geographic has beautiful images and videos, but they also have designed them in an interesting way. We also love the interactive map that shows the projects they are currently funding. If your organization has spectacular photos and videos you want to showcase, check out this website for ideas.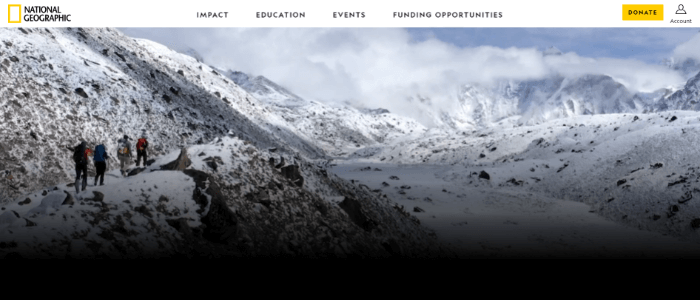 4. UNICEF USA
So far we have mentioned a lot about design and graphics, but website content is just as important! UNICEF USA uses smart verbiage on its website by creating a tab dedicated to "supporters", which consist of donors, volunteers, regional groups, organizations, and celebrities. This will make all of those individuals feel like they are part of UNICEF's impact. They also establish this connection with donors and volunteers by creating groups, and they even created a nickname for their volunteers (uniters). Take a look to get more ideas on how to make your audience feel involved in your organization!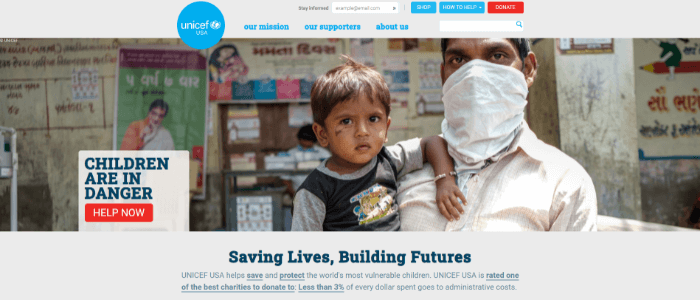 5. Landesa
Landesa did a great job of keeping a consistent design throughout their website. The tones and printed backgrounds are all matching with the logo, and agriculture theme. Even down to the shirt the woman is wearing in their header. Being consistent with your website is an excellent tool to add a feeling of security, and make the audience feel like they know your nonprofit better. By maintaining the same theme, your audience will be able to understand more of what you do without you actually having to explain it. Be sure to check it out, your inner designer will thank you.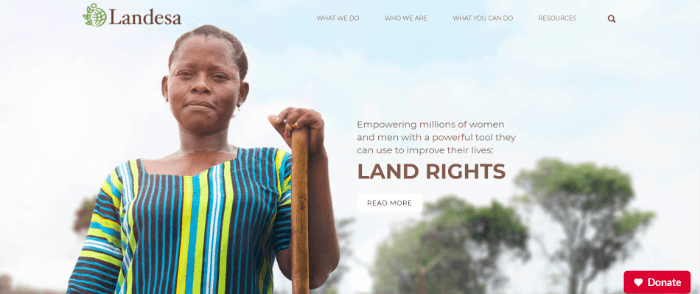 6. Action Against Hunger
Action Against Hunger makes sure to share their certifications from several sources, as well as their financial information. On their homepage, they have ratings from Charity Navigator, GuideStar, and Charity Watch. These are all reputable sources that will reassure donors of their credibility, and reassures them that they are tax compliant. This is a great technique to use when you want to establish credibility without actually saying "you can trust us". Use this website to get ideas for how your organization can showcase your credibility!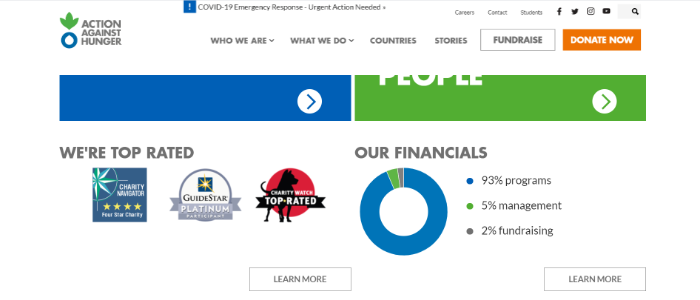 7. Rainforest Foundation US
Rainforest Foundation's website illustrates its mission with information on what they do, and how we can help them. Our favorite part of their website is the section "Act Now" that features ten things that we can do to act, with donating coming last. We can tell this team took the time to think about how someone may be able to give back to their cause without donating or volunteering. How can your community give back to your cause without donating or volunteering?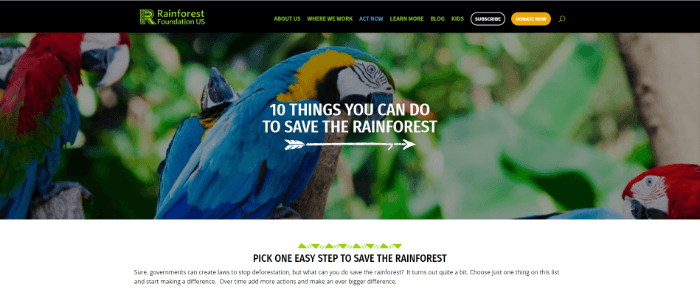 8. Ocean Conservancy
This website has Ocean Conservancy's mission in mind, as the main colors are blue, white, and coral. The design continues to excel with wavy prints that remind the audience of their mission. Their pictures and videos further their engagement with the audience, and again connect back to their mission. This is also another way to brand their nonprofit, as each design element ties back to what the organization does, and gives the audience a better idea of who they are as an organization. Check it out for ideas on how your mission should translate to your branding.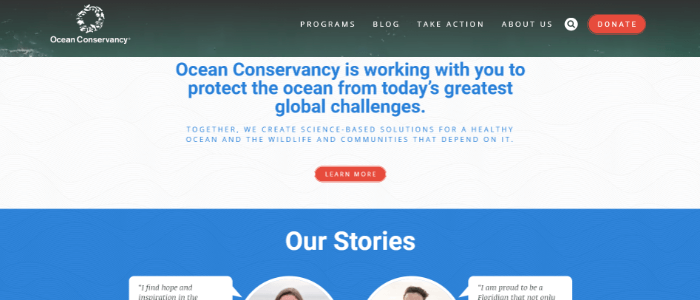 9. World Wildlife Fund (WWF)
WWF is a very large organization that works on a variety of subjects. We love how their website manages all of the information! They place their 6 key areas of work on the homepage, and then have separate tabs for each area. These sub-pages mention the overview of the subject, why it is important, what WWF is doing, and what you can do to help. Essentially all the information website visitors need to know! If your nonprofit has a lot of information to manage, and isn't sure how to break it down, head to the WWF website to get some ideas.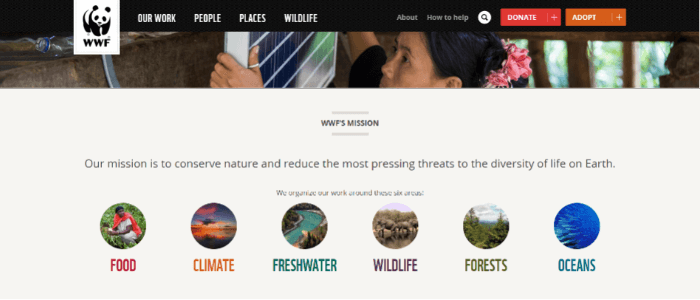 10. Greenpeace
Greenpeace is known for its bold actions, but they have done a good job of managing their website to be provocative and engaging. They publish the articles they are known for, but they incorporate design elements and other lighter articles to make their subject matter more appropriate for the larger public. These elements include things such as the interactive line on their homepage, and the printed background that they have used sparingly throughout the entire website. Keeping that in mind, we can also see that some of their content is a bit shocking, and that strategy works for them! They even have their website designed so you have to pass the donation page to see the rest of the website. If you want to use this bold strategy for your website, be sure to look at the Greenpeace website to see how they manage this.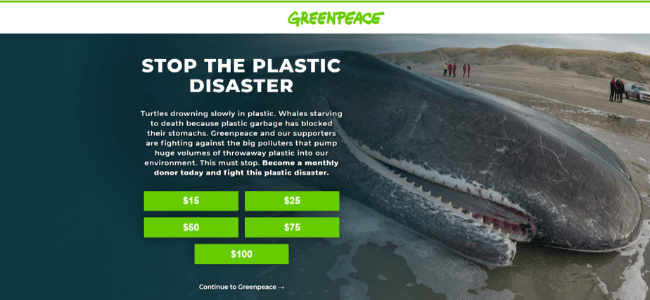 Medium-Sized Nonprofits
Medium-sized nonprofit organizations include those with supporters and beneficiaries in the thousands. These are great examples of how smaller budgets can be just as impactful with their websites as larger organizations. We recommend you to take a look at these websites and get inspiration from the aspects of them that are the most beneficial to your organization.
11. Equality Now
This website excels in leveraging internal knowledge to improve their online presence. Equality Now achieves this by having a tab of resources with original content. It is strategic for them to be experts about their cause because it establishes credibility. By creating their own content about equality for women and girls, they are showing that they know the current situation, and they want to improve it. This is also a great way to engage your audience, and inform them about problems related to your cause that they might not have been aware of before. How can your nonprofit use original content to engage your audience?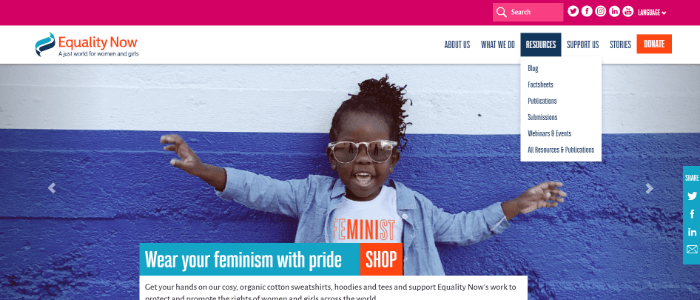 12. Bread for the World
Bread for the World has a noticeably coherent design. The homepage is the basis for the design, and all other tabs follow with a similar scheme. They also have a call-to-action in their footer that follows you throughout the website, so at any time you have the options to join, pray, or act. Be sure to take a look at this page for inspiration in creating a consistent design throughout your website!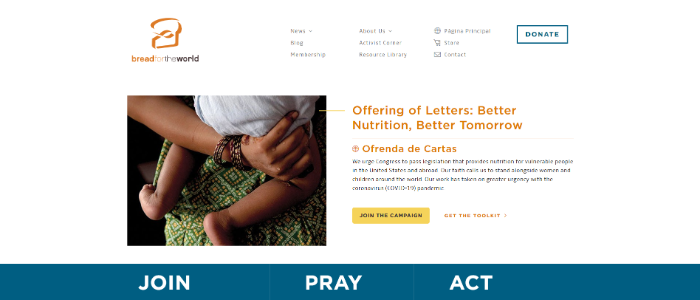 13. League of Women Voters (LWV)
This website catches your attention because of its design. The League of Women Voters has created a website that closely resembles an infographic, and includes features like split screens between images and text. They have a lot of information to get across, but they balance it very well with the layout and style of the pages. Take a peek to see how your nonprofit can include a lot of material without overwhelming your audience.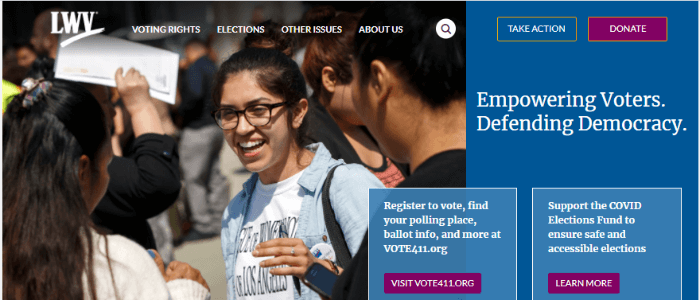 14. BRC
We love BRC's website for its clear statement of impact. Right on their homepage, you can see the data showing their impact over the last year. They also have a section dedicated to impact where they showcase even more of these statistics and a link to a video to "meet the clients of BRC". It is important to include this information on your nonprofit's website because it increases the engagement of your audience, and is of interest to potential donors and volunteers. Get inspiration for your website by checking out how BRC showcases their impact to engage their site visitors!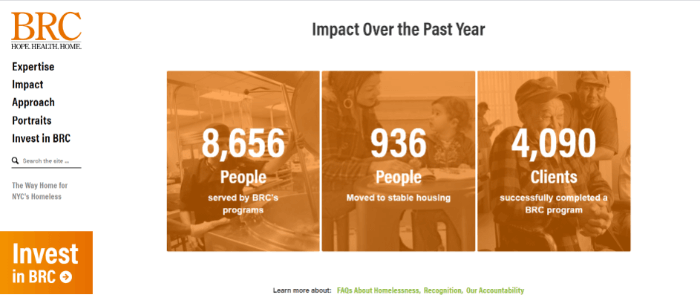 15. A Kid Again
A Kid Again is another nonprofit with a consistent design, and has one specific element that will help them to engage donors. Right on their homepage, and in many other pages of their website, they have a banner showing how much it costs to help one child with one "adventure", one child for a year of adventures, and one year for an entire family. This is an excellent way to show donors exactly where their money is going, and realize that you don't need much to make an impact (the most inexpensive option is just $35). If your nonprofit can demonstrate how much it costs to impact one beneficiary, you should! You can also see how they use a handwritten style font throughout their homepage that gives a personal touch and attracts families. Take a look at A Kid Again's website for some inspiration.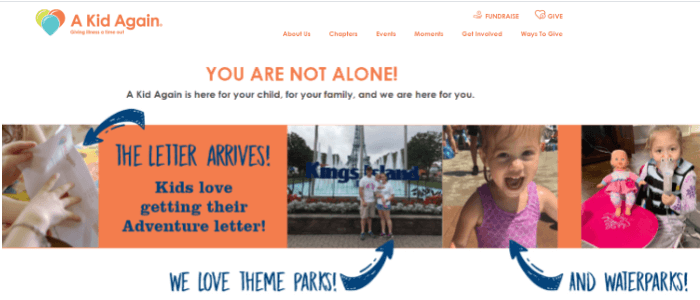 16. Unbound
Unbound is an exemplary website with excellent design, humanized effects, and a focus on impact. Our favorite part of this website is its efforts to gain trust with the audience. We have all heard horror stories of people that give donations and never know where their money goes. This organization wants to reassure potential donors that this is not the case for them, and has a chart on their homepage that breaks down how their expenses are being distributed. They back this up even further with a section dedicated to "sponsor with confidence" that showcases 5 different ratings they have gotten. We encourage you to incorporate trust within your nonprofit's website!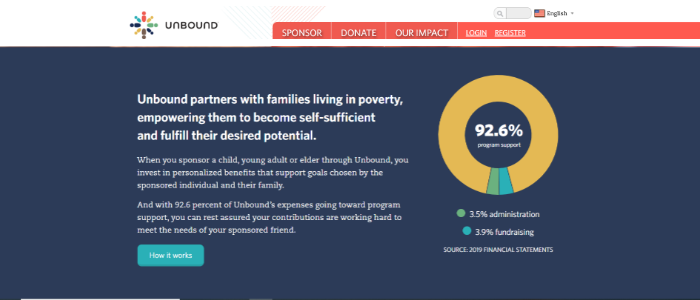 17. Table to Table
This is another website that connects one theme to their mission, and incorporates that theme throughout their website. Table to Table does this with a food and table theme, and has even been innovative with their call-to-action (CTA). At the end of almost every page, you see a banner stating "Come join us at our table and learn how we're changing lives every day" with a CTA immediately following saying "pull up a chair". This is an excellent way to engage your audience by getting them to click to support your cause. How can you use your nonprofit's mission to construct a creative CTA?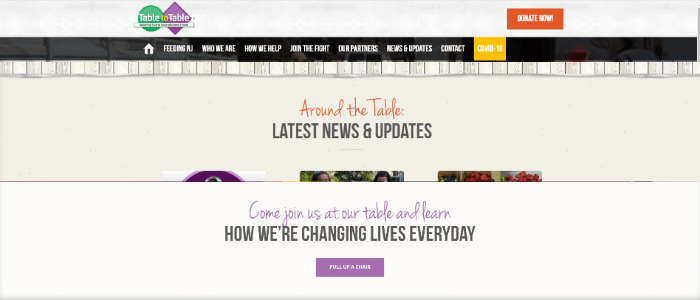 18. 10,000 Degrees
We like that 10,000 Degrees manages to speak to a variety of audiences. Because of the work they do, their website needs to have information for their beneficiaries as well as their target audience. 10,000 Degrees has executed this very well by clearly labeling a tab that is dedicated to students, as well as having several others for potential supporters. If your nonprofit needs to reach multiple audiences be sure to see how 10,000 Degrees manages this!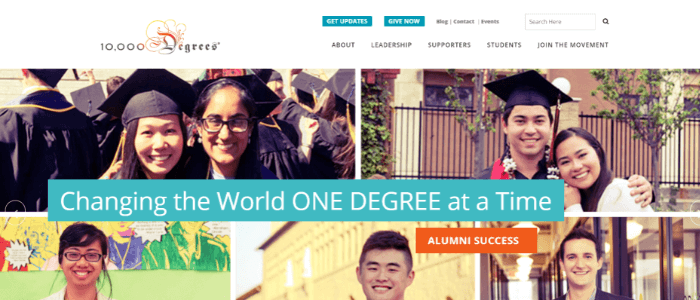 19. Florida Breast Cancer Foundation
People say it's all in the details, and the Florida Breast Cancer Foundation has taken that to heart! Their website is a hub of comprehensive information for supporters and beneficiaries. We can tell that they took time to go through information for each area that they serve, and ensure they place it in the right section of their website so the most number of people can benefit from it. If you plan on serving many areas and need to provide different information for each, check out the Florida Breast Cancer Foundation's website!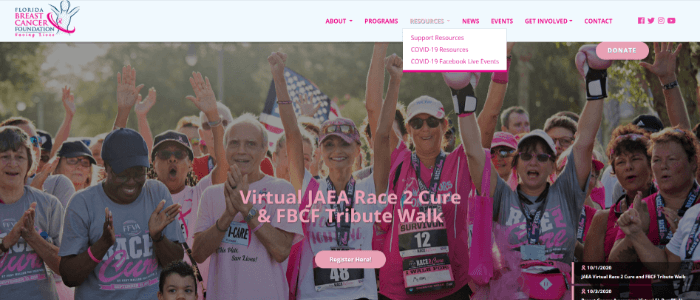 20. The Winston-Salem Foundation
The Winston-Salem Foundation is another example of a website that speaks to different audiences. As a foundation, this organization is giving many grants and scholarships, and therefore donations are one of their key operations. This is exhibited on their website, and furthermore, they go above and beyond to make a compelling case for why someone should donate to their organization. Each section under the "Donors" page either shows or explains why a donor should pick their foundation to donate to. Is your nonprofit organization dependent on donations? If so, you should consider using this same strategy with your website to engage donors.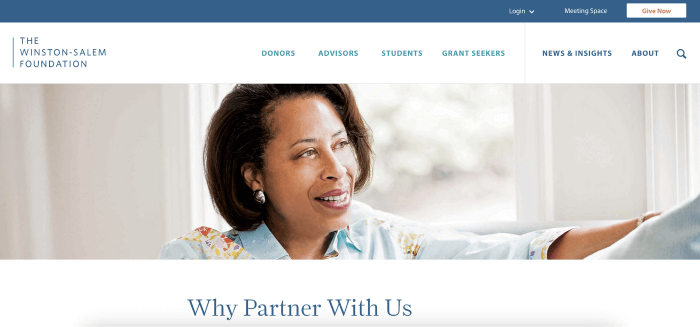 Small

Nonprofits

This section contains all of the nonprofit organizations that serve a niche of beneficiaries, or a specific community. Even though they are smaller nonprofits, their websites certainly do not lack in quality! Be sure to see what these nonprofits have done to engage their target audiences.
21. Milwaukee Ballet
This organization has a website that is worthy of a standing ovation. The star of the show is their homepage, your eyes just cannot look away. The folks at Milwaukee Ballet were paying attention when they were taught that first impressions are the most important, and this works out for them because it is true! What your audience sees first makes all the difference, and you should try to hook them from the start. If you are going to invest in your website, either with a designer or with high quality visuals, they need to go on your homepage. Keep this in mind when making over your nonprofit's website!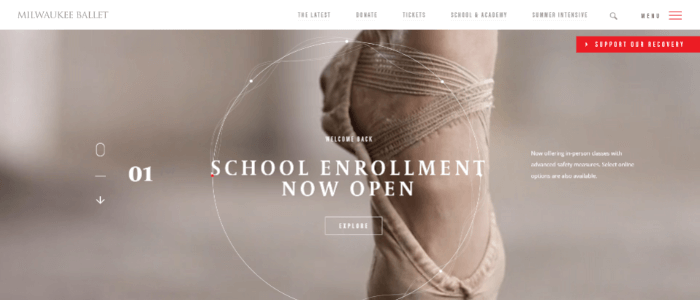 22. Angels of Hope
We know we have said it a thousand times already, but we are going to say it again, impact! Impact is the key to engagement, and Angels of Hope has unlocked this opportunity. They start the homepage of their website with their mission statement in the header, so there is no doubt about what they do. Right after that there is a statement showing where donation money goes, and continue through the rest of the page with important impact information like how much they have raised for their mission. In addition, they have an entire section relating to their impact, and they even show what families are currently in need, evoking emotion, and engaging donors. Take a look at Angels of Hope's website for inspiration on how to include impact on your nonprofit's website!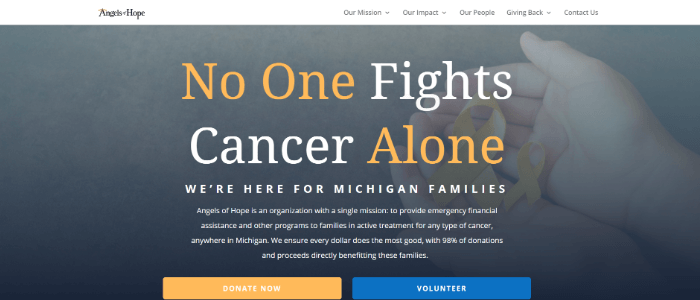 23. Zoo Tampa
Zoos are a horse of a different color in nonprofit terms. They have another form of funding coming from consumers, those who visit the zoo. This makes marketing crucial for them, and their websites must follow suit. Zoo Tampa pulls this off beautifully, with a website mostly designed for visitors, but with clear additions of important nonprofit information like their mission and where you can donate. Does your nonprofit rely on consumers for funding? If so be sure to use this website to see how you can appeal to these individuals and keep your nonprofit essentials.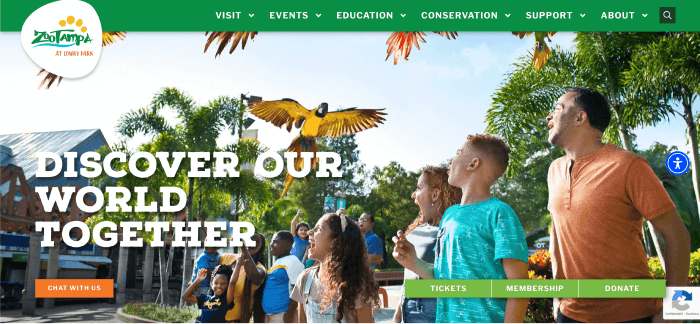 24. Washington Trails Association
Washington Trails Association is another example of how a website can appeal to a group of users. Their website does a particularly good job of helping their community of beneficiaries! They have an interactive hike finder map (complete with an option to show current wildfires), along with an entire section dedicated to potential hikers. They also have an option to log in where hikers can see their dashboard and write a trip report. What a great way to engage their audience! You can also see the CTA to log in is personalized, stating "My Backpack", which is aligned with the branding of their nonprofit. Little details like this can really set your nonprofit apart. If your nonprofit wants to have a separate area for members, look to this website for inspiration.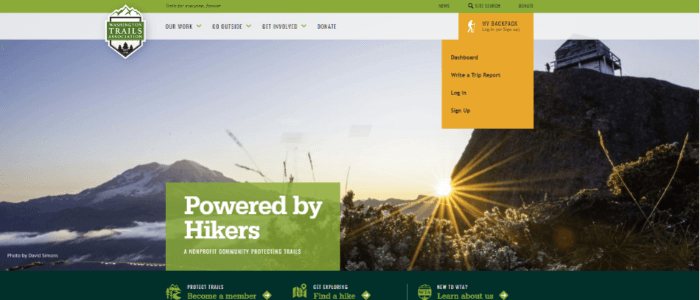 25. St. Matthew's House
The first thing you notice on a website is what is above the fold (what you don't need to scroll to see). In the case of St. Matthew's House one of the first things we see is colorful social media links. This is very important for nonprofits that have a strong social media presence, and want to show that. St. Matthew's house does a great job making their links stand out by making them in various colors, and making the icons a bit larger than they would normally be. Does your nonprofit organization have a strong social media community? Head to St. Matthew's House's website for inspiration on how to showcase your social media!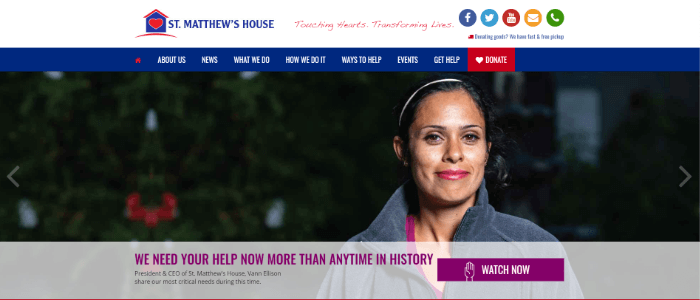 26. PATH Foundation
This website is a perfect example of how a small nonprofit can incorporate good designs on their website. PATH Foundation uses several good design elements including split screens, and large images and graphics to break up the text. This is exemplified in their "About" section when telling the story of their organization. You feel like you are being guided through the story because of the effect of the pictures and graphics. Be sure to check out PATH Foundation's website to inspire the designer in you!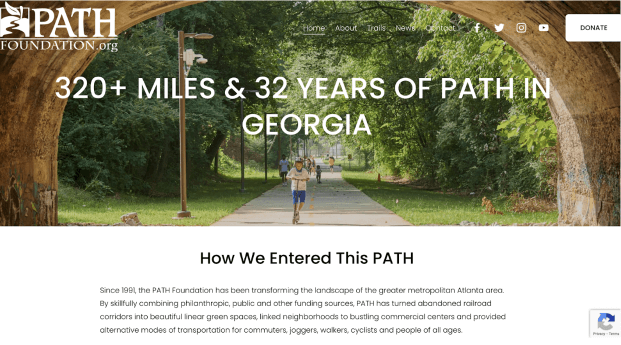 27. Boundless Roots
Boundless Roots is a great example of a small nonprofit that has succeeded in using the same website designs as a larger nonprofit. Earlier we mentioned that we like the way National Geographic Society uses its images, and we can say that about Boundless Roots as well! They have mastered the art of using a parallax, or an image that follows the direction you scroll in. Check out their website to see how your nonprofit can incorporate image effects on your website.
P.S. Website design doesn't have to be technical, Boundless Roots uses Springly's website builder tool without a developer on their team!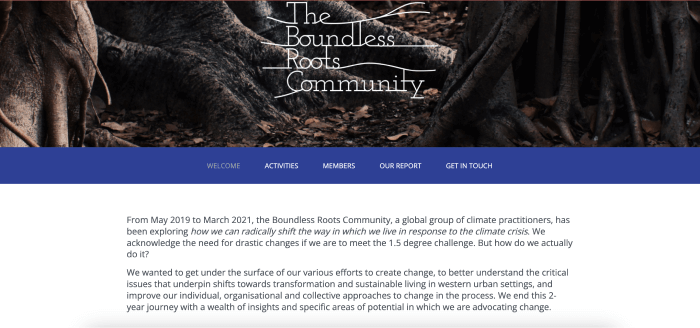 28. Saint Paul & Minnesota Foundation
Saint Paul & Minnesota Foundation has done something that a lot of websites have not yet mastered: the double menu. They have the main website menu with tabs for donors, professional advisors, nonprofits, who they are, and what they do. If you look above that you can see there is another menu with additional links to other areas of the website. This is really unique because they have found a way to have both of these menus that don't look overwhelming, and don't overlap. If you have a lot of website pages, and want to use a double menu, be sure to head here for inspiration for your nonprofit's website.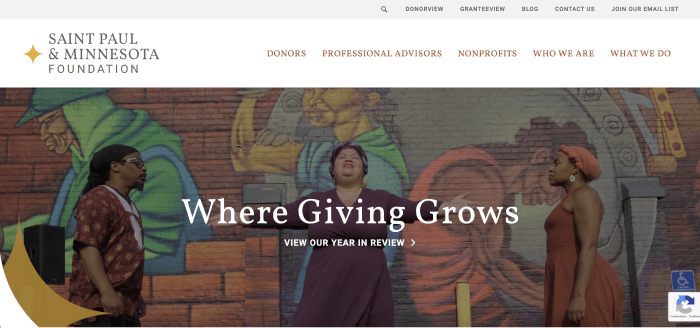 29. Adopt a Love Story
Right behind impact is emotion. Adopt a Love Story uses pathos, or emotional appeal, in their website to speak to their audience. They have mastered this by adding lots of humanizing effects and combining it with data. They connect this all back to their mission, and end up with a highly engaging website. Look no further than this website if you hope to engage your audience through an emotional appeal!
30. Boulder Shelter for the Homeless
This website excels in something simple, but overrated. Boulder Shelter for the Homeless recognizes and shows appreciation for their volunteers. We have talked a lot about how to attract your audience, but this is not the only thing you should focus on as a nonprofit! Be sure to recognize the people that make your organization possible, whether it be volunteers, donors, or sponsors. Not only will this keep your current supporters happy, but it will also convey this message to your audience, who could be potential supporters.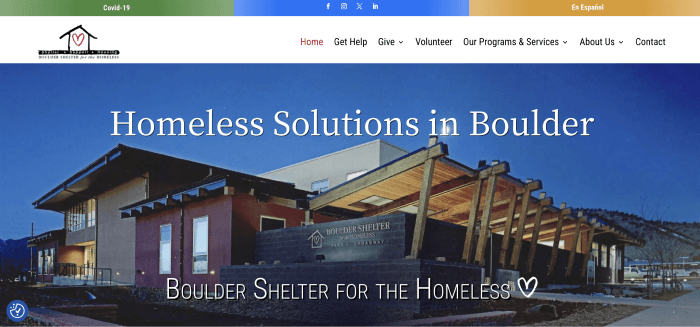 To summarize, we can say that there has been one main trend throughout these websites: engagement. Whether you are attracting new volunteers and donors, or trying to retain your existing ones, engagement is key!
Use these examples as a guide for your nonprofit's website makeover, and tell us which ones were your favorite!
For more website tips, check out our articles about website design, where to find free images for your site, and determining the purpose of your website.
Springly is trusted by over 15,000 nonprofits to help them run their organizations on a daily basis. Try it, test it, love it with a 14-day free trial!

Briana
Recommended articles
How To Use A CRM For Nonprofits For Better Daily Management
Trish
Communication
Social Media
A Comprehensive Guide To Instagram For Nonprofits
Trish
How to Analyze Your Nonprofit Email Marketing Statistics

Danica