>

Best Practices for Effective Nonprofit Board Meetings

Danica
Nonprofit board meetings are crucial to the success of an organization, but as many of us know, leading meetings is not always easy! Having board meetings that are informative, lively, and effective is key to better management.
These meetings can seem intimidating, especially if you are just starting your nonprofit. Don't fret, we have asked around and gathered some of the best practices to use for your next nonprofit board meeting:
Let's get started!


Prepare An Effective Agenda
Preparing an effective agenda for your board meeting will set the tone for the entire meeting and give you a foundation to work with.
Prepare in advance! Try having your agenda ready at least two weeks before the meeting, and make sure to send a copy by email to all participants. It is important to give your board members ample time to review it before your meeting.
When you send out the agenda, include any relevant documents you are planning to discuss (financial statements, reports, etc). This gives everyone a chance to understand the items they will be discussing beforehand. You will save time and help the meeting flow smoothly and efficiently.
This is especially helpful if you are reviewing the documents to register your nonprofit, as sending them in advance will allow you to jump right to questions and avoid having to break them down one-by-one.
When creating your agenda, try to keep things interesting and lively to keep your participants engaged. If there is a serious topic on your agenda that will take some time to discuss, try to mix in shorter, lighter topics before or after. By mixing up the content, you can avoid heavy and unproductive conversations.
Create a Strategic Agenda
It can be easy for your meeting to get off track or become a recap of items that have already been discussed. This is why it is important to create a strategic agenda that focuses on decision making rather than just updates.
When writing your agenda, put the important decisions and discussions at the heart of your meeting. This will be the "strategic" section of your meeting. From there, with the remaining time, you can plan the rest of the agenda.
Don't Forget Your Mission
As a nonprofit, it is all about the mission and cause! Members are most likely participating on your board and in your meetings because they believe in your cause and want to make a positive impact.
It is important to keep your board connected to your nonprofit's mission. You can do this by providing a time slot in your agenda for testimonials, updates, photos and videos, or even just to discuss the general status of your work.
By creating an agenda that is mission-focused, you help remind your board members of the importance of their time and effort.
Use a Consent Agenda to Save Time
At most board meetings, there are a few items that do not require discussion because they are routine procedures, or everybody already agrees upon them. A great practice to save time with these types of items is the use of a consent agenda. A consent agenda helps move routine decisions along quickly so you have time to focus on the more important issues.
A consent agenda allows you and your board to approve all of these items before your meeting. You can send out this agenda along with the proposed agenda of your upcoming meeting, so everyone has a chance to look it over and approve it before the big day.
Consent agendas usually include things like:
Approval of meeting minutes


Approval of committee or volunteer appointments


Approval of program or committee reports


Approval of any other appointments that require confirmation


Final approval of items that have already been discussed
Streamlining the approval of routine items or ones that have already been discussed frees up more time for your board members to discuss new or more pressing topics.


Listen to Your Board Members
One of our golden rules for meetings at Springly is to listen without interruption. This is a great practice to implement because board members are incredibly important parts of nonprofit organizations, and they usually have some great insights!
For this reason, your board members should be doing the majority of the talking during your meetings. They are donating their time to your organization, so it is important to listen to what they have to say and create a respectful environment where everyone's voices are heard.
Team Building
An important aspect of a respectful meeting where people are heard starts with creating a team-oriented environment. You should encourage everyone to share personal stories (personal connection to your cause, personal history, etc.), success, and ideas. This way, board members can get to know each other better. You can even spend some time (where appropriate) to do team building activities or exercises.
Organizing events is another way to encourage your board members to interact with each other!

Record the Minutes of Your Meeting
Recording the minutes of your meeting is a very useful practice because it will give you a detailed look at everything that happened during your board meeting. It is important to keep track of what is happening during the meeting so no important information is missed or forgotten.
Your minutes should include a summary of the points being made, motions, debates, and any other official actions.
Here are some helpful practices to take great meeting minutes:

Have the meeting's agenda handy. It can be a helpful reference tool.


Write the first draft of meeting minutes as soon as possible after the meeting. This will help ensure the information is still fresh in your mind.


Send out the final draft of the minutes to your board members as soon as possible.


Note decisions or notes on action items as soon as they happen. Doing this will help make sure you are recording them accurately.


Always ask for clarification or for someone to repeat themselves if it is necessary. It is better than missing information or recording it incorrectly!


Only describe the final action that has been taken. Brevity is key.


Be concise! Don't go into too many details in your notes. Your minutes should describe the results of decisions, not the discussions it took to get there.


Keep the meeting minutes stored in a safe place. You never know when you may want them! Many organizations also keep a digital copy on a dedicated area of their websites.
Taking minutes is not an exact science, and every organization may do it a little differently. Our best advice is to find a happy medium between being detailed and specific and being brief and concise.



Show Your Appreciation
Just like your volunteers or donors, showing your gratitude for your board members is a huge part of maintaining a positive relationship. Board members give time, money, and effort to your organization, and nonprofit leaders should give recognition and thanks any time they can!
As long as it is kept brief, showing your appreciation to your board members during a meeting is a great way to help them feel valued. You can also send a "thank you email" after each meeting to the board members that were in attendance. You can also consider doing things like:
Personal phone calls. While thank you emails are great, adding a personal touch can help further foster your relationship with your board members.


Acknowledge special occasions. Send cards for birthdays or give small gifts during the holiday season.


Recognize them publicly. Highlight their efforts and accomplishments on your website, social media platforms, or newsletter!
Doing small things like preparing coffee and snacks is another way to show you care and can set a positive tone for your meeting. It can help build up a social and team-oriented atmosphere that will be beneficial to your meetings, and relationship with your board in general.


Evaluate Your Meetings
We find that it is important to evaluate your meetings to measure its effectiveness. You can do this by offering a meeting evaluation sheet after each board meeting to get the feedback from your participants on whether the meeting successfully achieved its goals, was efficient, informative, etc. You can also have someone do quick check-ins to make sure all of your board members are satisfied.
At Springly, each of our meetings ends with a score from 0 to 5 from each participant. The objective is to continuously improve and ensure effective working meetings. People who have given very different scores can quickly explain why they gave a certain score.
Several elements of the meeting may be taken into account. Things like: discussions that went too quickly or too slowly, poor distribution of members who were able to speak, irrelevant topics, and so on.
We find it is a great way to do a quick evaluation after each meeting. Let us know in the comments if you give it a try!


Try Role Cards
When we have meetings in our offices, we use cards that we have created that give everyone responsibilities that rotate among the participants. This makes our meetings more fun and engaging.
While everyone has their own style of holding meetings, we thought we would include an overview of our role cards to give you some inspiration!
The Coach
The coach is the meeting leader. They are responsible for ensuring that the meeting is running smoothly and participants are engaged and setting a positive tone for the meeting. In a board meeting, this is usually the Board Chair. This person is usually outgoing and direct. In our meetings the coach acts as a mediator when it comes to decision making, debate, etc.
This is also the member that collects the evaluation from all members of the meeting.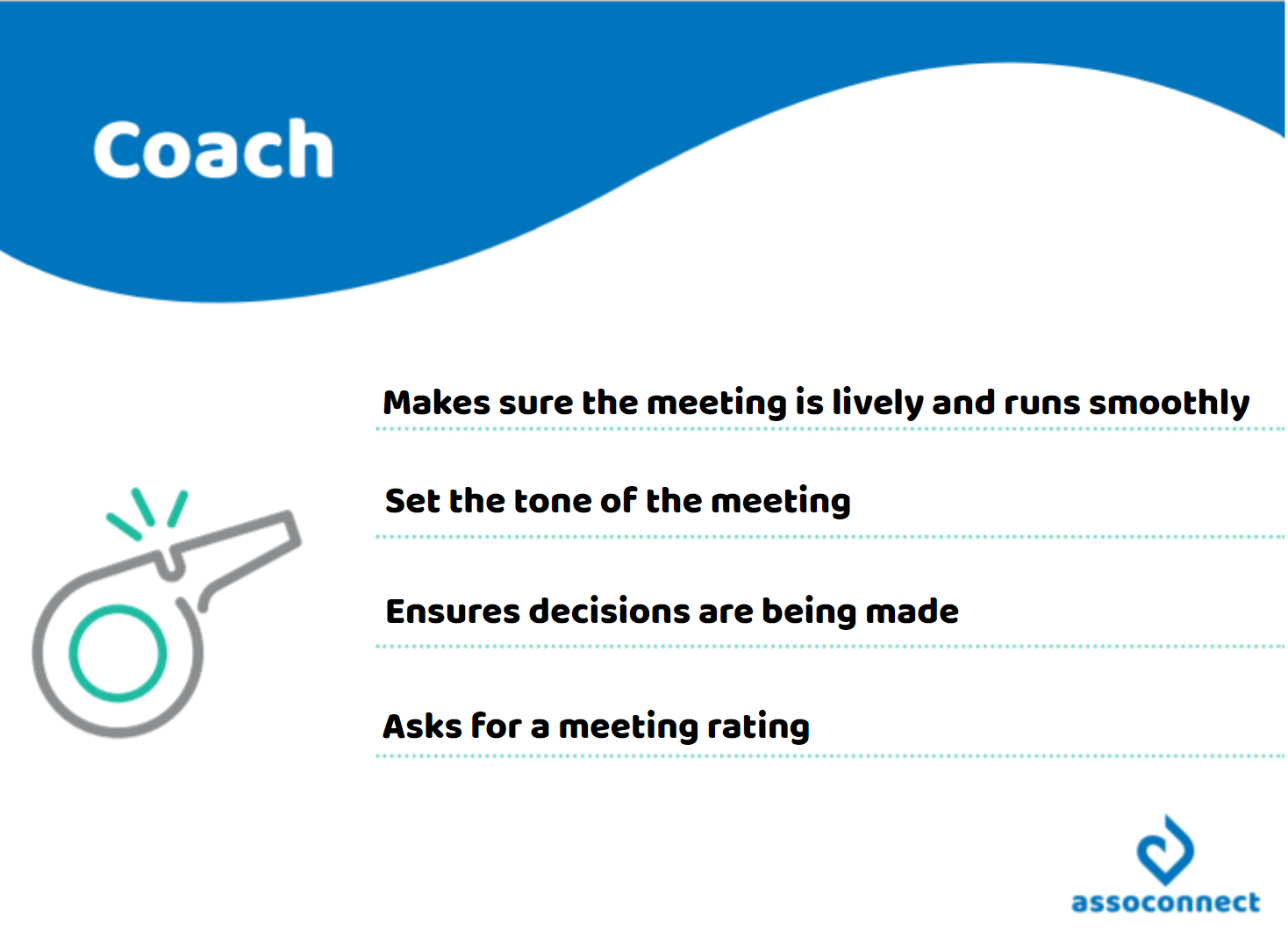 The Secretary or "Scribe"
The Secretary, or "Scribe" at Springly, is the person who will take the minutes of the meeting as well as noting main takeaways from the meeting and any upcoming action that needs to be taken. This person usually organizes the upcoming meetings or other further actions that are decided upon in the meeting.
The Scribe is also responsible for sending the minutes and any other relevant information to members before and after the meeting.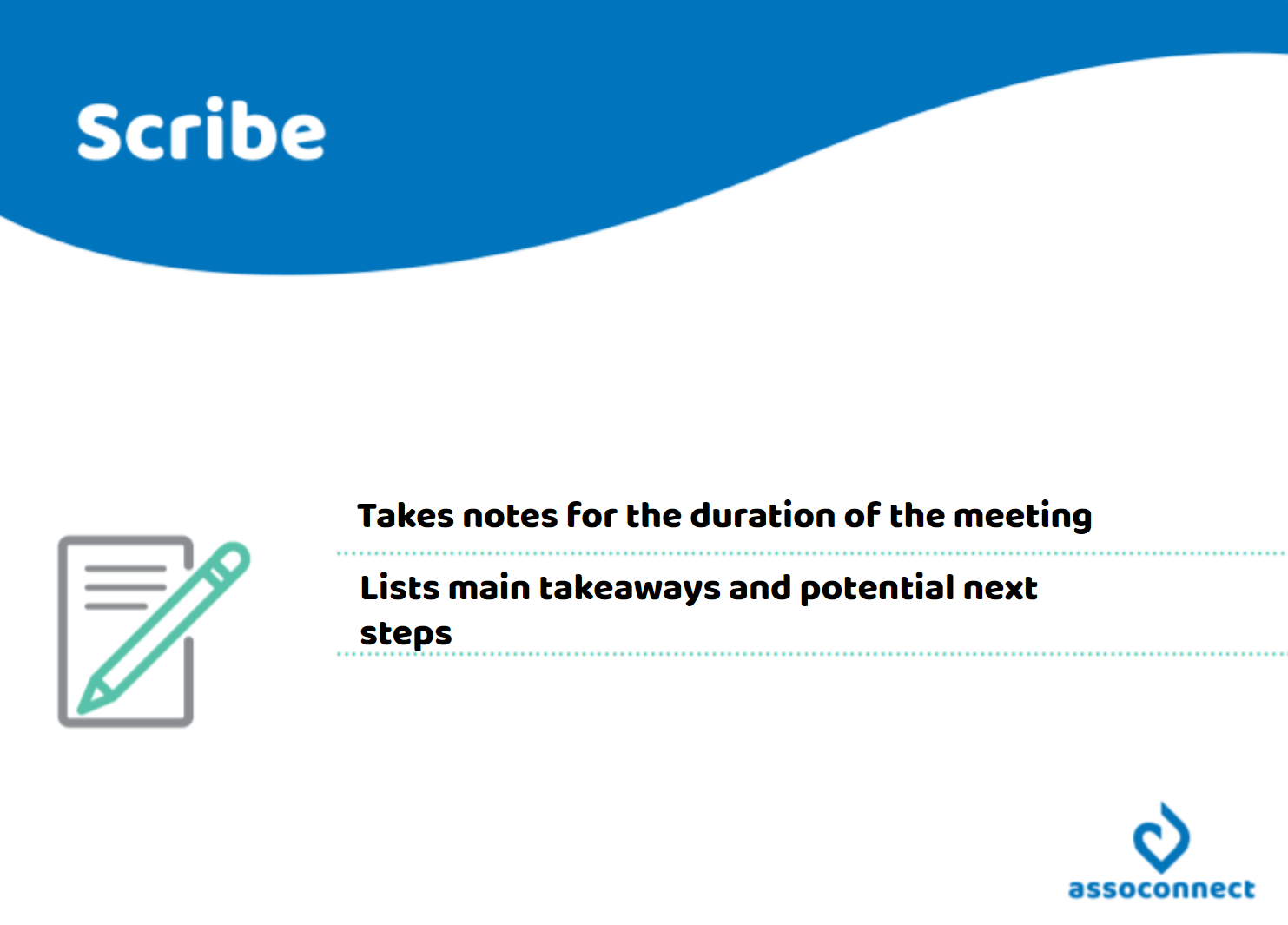 The Time Keeper
The time keeper is a crucial role because they help keep the whole meeting on track. This person usually has a timer that they reference to make sure nothing is going too quickly or slowly.
They will also have the prepared agenda to ensure the meeting is running smoothly.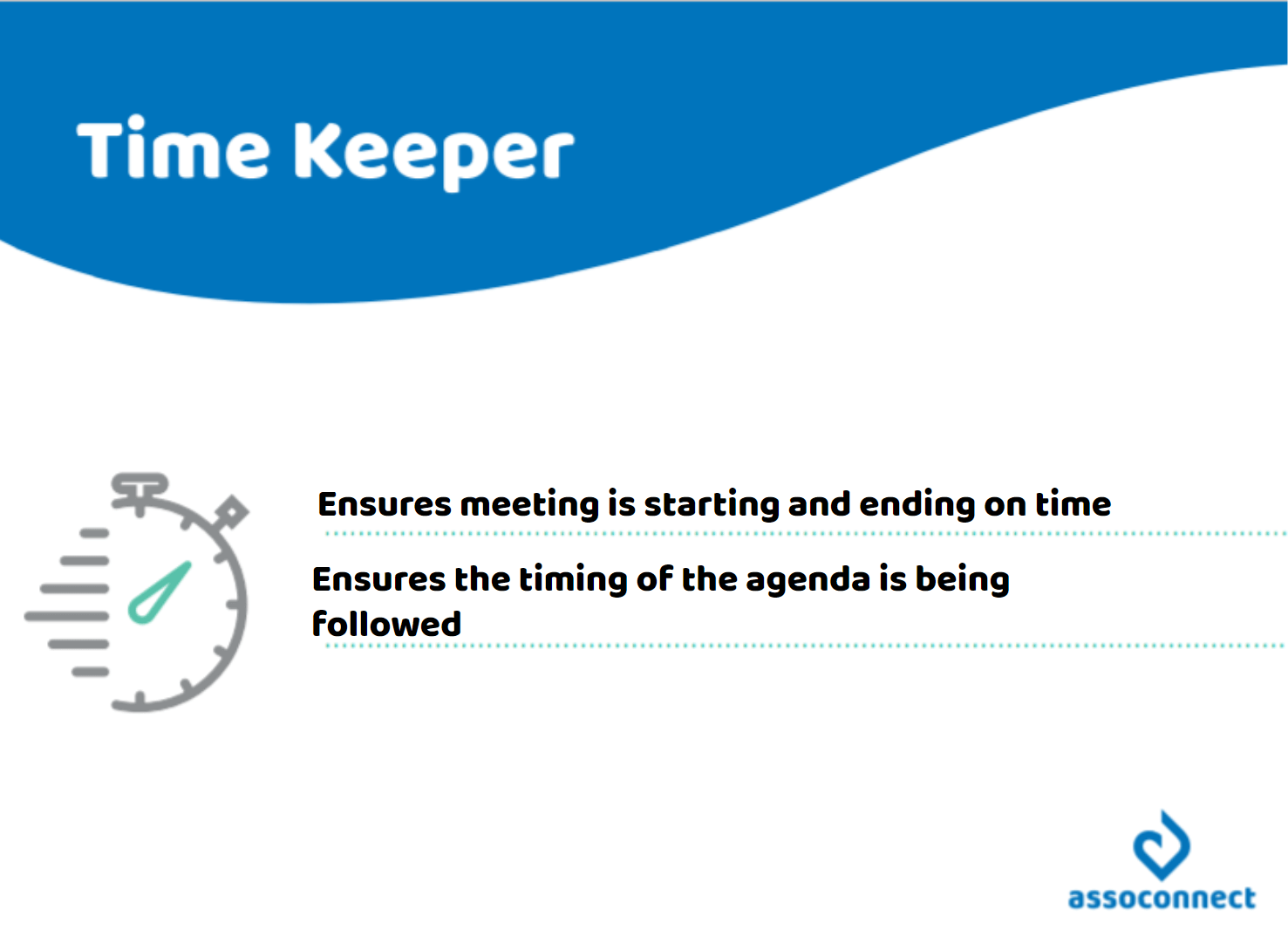 Bonus Cards
In addition to role cards, we have other useful cards that help a meeting run efficiently. While they are not essential, they can be useful, especially in lively or in-depth discussions.
These cards are available to all participants, and can be used (with respect) at any time during the meeting.
Parking card: The participant uses it to indicate to the group members that the subject is not relevant to this meeting. Then propose to put this topic on the agenda of a future meeting. In our meetings, a person can be put into the "parking lot", essentially a time-out if they continue to get off topic.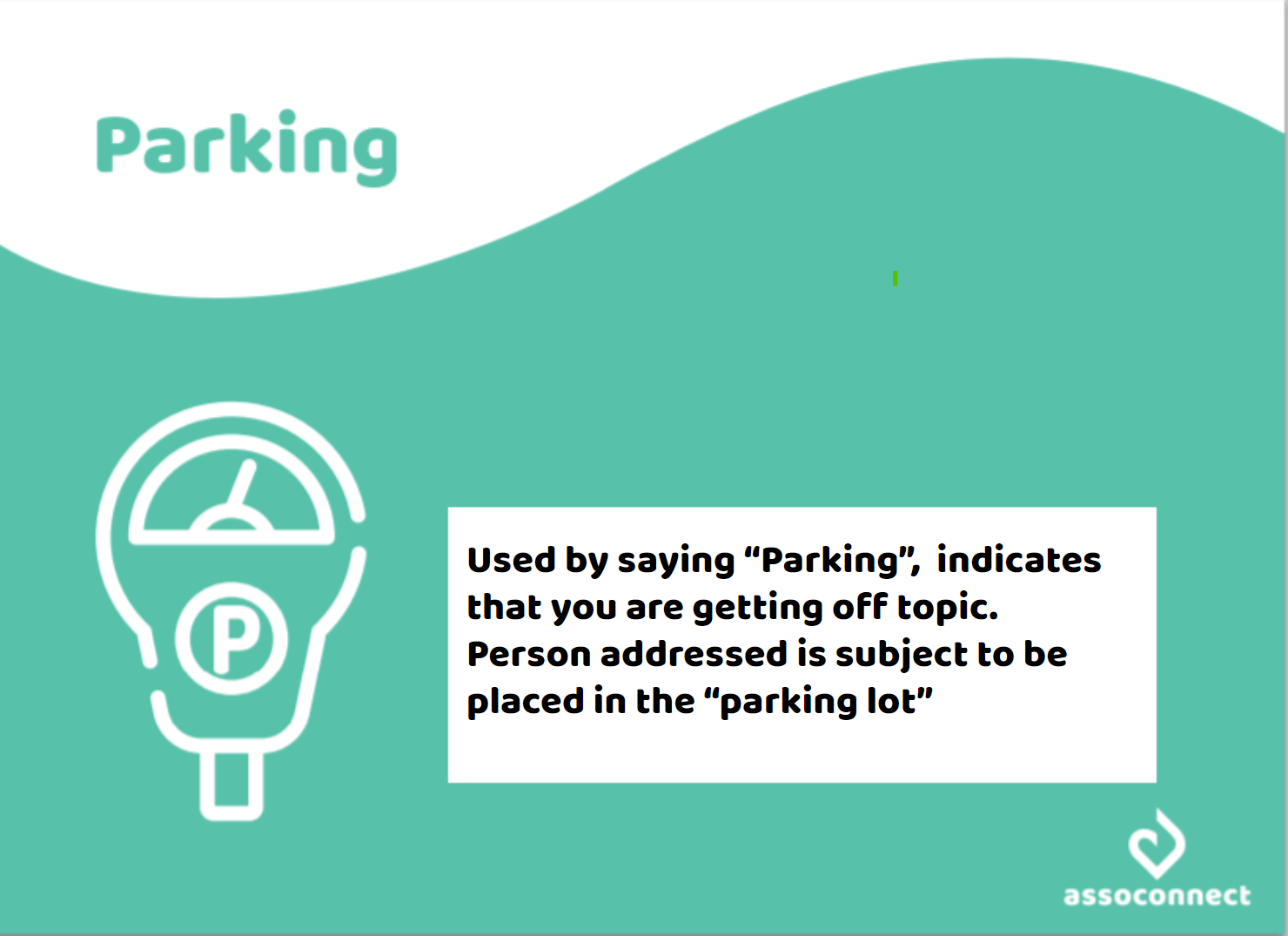 Too fast card: The participant uses this card to indicate that the discussion is going too fast and that the pace should be slowed down so no information is missed.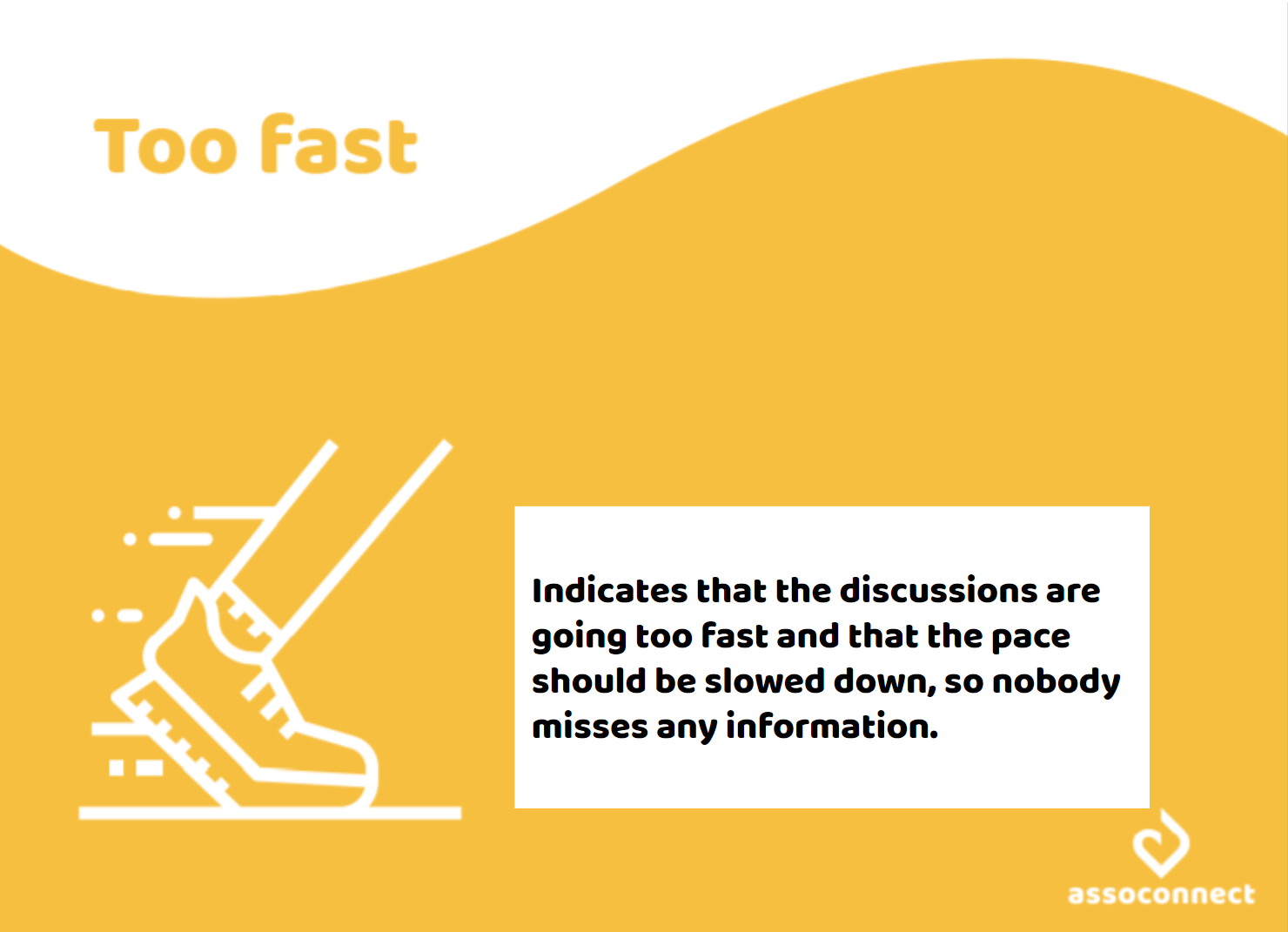 Too long card: The participant uses this card they feel that too much time is being spent on a topic.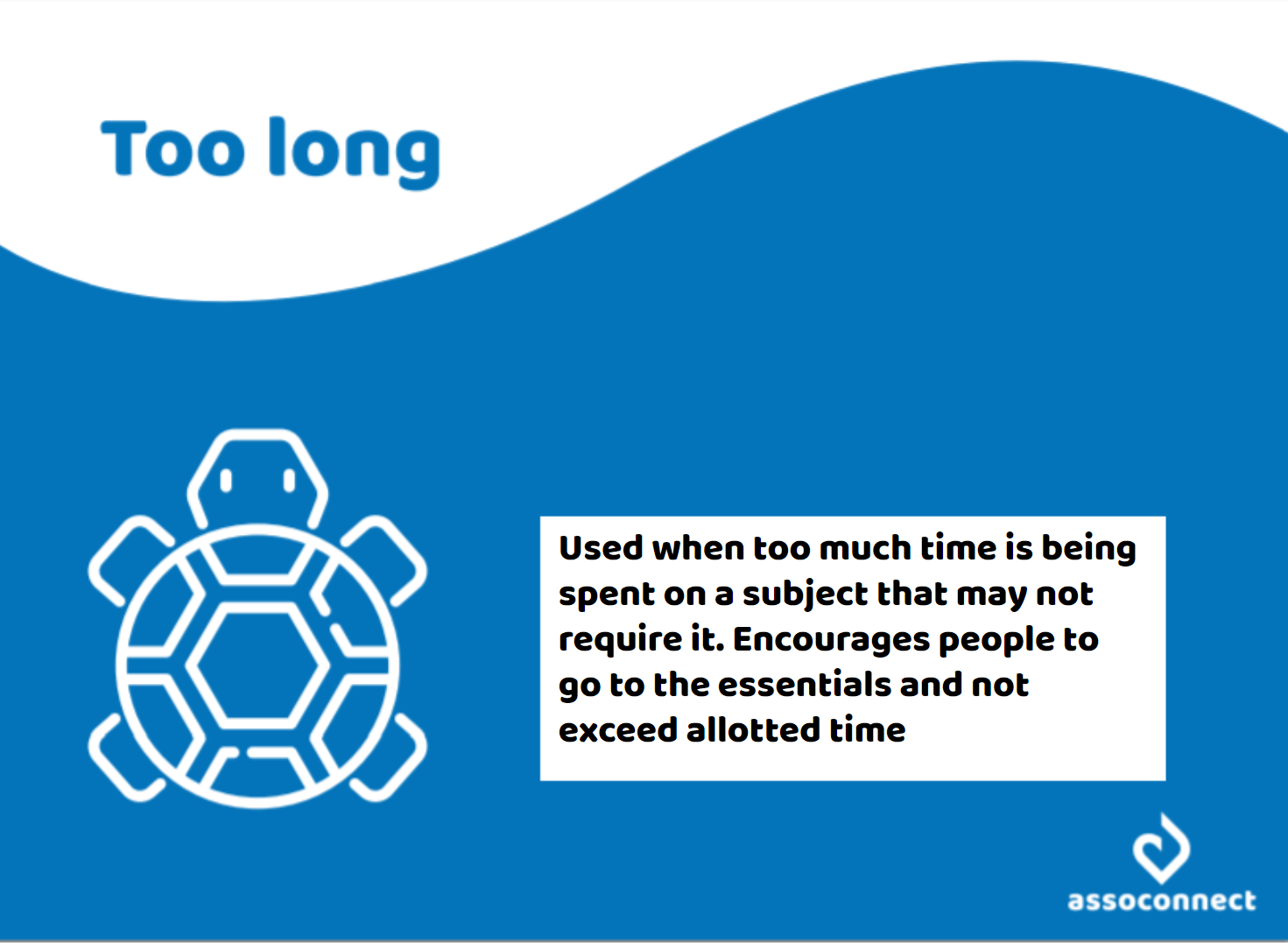 And, last but not least, our golden rules: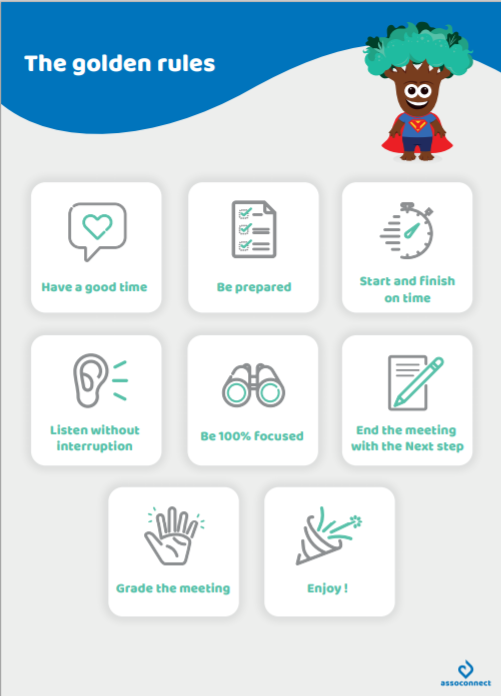 There you have it! We hope we have given you some inspiration for your next board meeting. Let us know if you tried out our role cards, and how it went, in the comments!
Springly is trusted by over 15,000 nonprofits daily to help them run their organizations. Find out why!