>
10 Universal Best Practices For Starting A Nonprofit Blog
Emily
Nonprofit blogs have become an increasingly popular communication tool, and for good reason! There are plenty of reasons why starting a nonprofit blog is a strategic move for your organization, and we are here to help guide you through the process.
In this article, we will cover these points:
Why Create a Blog for Your Nonprofit?
Nonprofits are above all people gathered together around projects, missions, and passion. Nonprofits also consist of photos, stories, achievements, and more. Shouldn't they be shared?
A blog is the ideal way to share them, and is also a great way to gain visibility for your organization. Show everyone what you are all about!
So what are the main advantages?
By reading your blog, your volunteers will be able to relive moments spent together within your nonprofit and see, firsthand, the value of their efforts.

Potential articles highlighting those who have benefited from your nonprofit will allow current and potential donors to see the impact of a donation to your organization.

Share your knowledge about your sector with others, and in turn increase the online visibility of your organization.
A blog is also a great resource to establish a dialogue with your audience. By enabling a comments section, you can engage in online conversations with your readers and get a deeper understanding of who they are and their thoughts about your organization.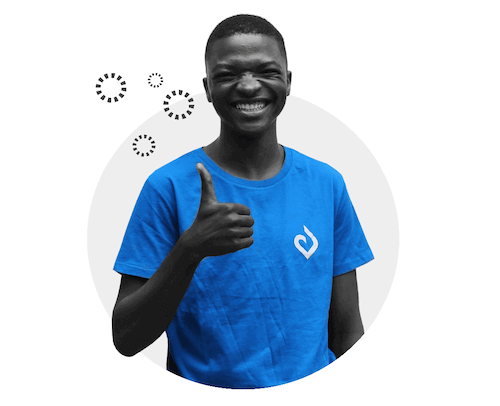 Fred is ready to enjoy the benefits
of creating a blog for his nonprofit!
By creating quality content that is unique to your organization (stories, photo galleries, events) search engines, like Google, will start to recognize your blog. How?
Your articles make your site more engaging for users, which signals to search engines that your website and blog is a reputable source for good information. This makes search engines happy and pushes them to promote your content by ranking it higher in search results.
The result of this better ranking is more clicks to your blog and therefore more visibility for your organization. Think of it like this: Happy user → happy search engine → improved visibility. It is a win-win situation!

Why Do I Need a Blog if I Already Use Social Media?
This is a valid question, so let us answer it for you.
Let's say that you have a Facebook page where you regularly post photos, videos, events, and news to keep your community updated. So why do this again on a blog?
Firstly, social media platforms like Facebook are generally not well suited for long content. Short, to-the-point publications are much more effective for these types of channels.
In addition, you probably have quite a bit of information to post on Facebook. Things like events you are planning, opening of membership registration, a call for donations, fundraising news, and more.
While these posts are important, they do not tell the story of daily life at your nonprofit. Posting articles or stories that would normally go on a blog, with everything else on your Facebook page, leads to a high probability of them getting lost in the mix.
If someone is viewing your Facebook page wants to get a better idea of the history of your nonprofit - and see examples of your achievements - they will have to do quite a bit of scrolling to find what they are looking for.
A blog is a great way to show a clear timeline of your nonprofit, and give a reader a better idea of what your organization is all about.
Lastly, inclusivity is key. While it may seem like it these days, not everyone has a social media account or checks their pages regularly. With a blog, a simple internet connection is enough.

10 Tips for Your Nonprofit's Blog
Now that we have gone over the why, let's get into the how. We have collected our top 10 tips for your nonprofit's blog, and they are as follows:
Relatability is key. This is the essence of blogging! Try to keep your tone relatable and comfortable to create an enjoyable experience for your readers.

Be transparent. Do not hesitate to clearly explain the purpose of your blog! This will have the double advantage of inspiring confidence in the reader, and allowing them to decide if your blog is what they are looking for.

Yes to inspiration, no to plagiarism. If you reference an article, journal, site, etc., don't forget to put it in quotation marks and to always quote your sources.

Always use spell check! You do not need to be the next Shakespeare to have a blog, but always double check your work. Spelling and grammar mistakes can make your blog look unprofessional.

Determine your primary audience. Do you want to talk to your members, donors or volunteers? This will help determine the editorial guidelines of your blog.

Be consistent. Keeping a blog requires planning and upkeep! Decide on a posting frequency (once a week, twice a month, etc.) and stick to it.

Ask for help. Involving other people within your organization to write articles, brainstorm ideas, and any other contribution is a great way to keep your blog fresh, and not to mention, help divvy up the workload.

Keep online visibility in mind. Try to use keywords in your articles to become more recognizable for search engines. For example, if you are writing an article about how best to plan an event for a nonprofit, try including the term 'nonprofit events'. Hubspot wrote this article to help you get a better understanding of keywords!

Spruce up your articles with photos and images. We recommend that you add photos to your articles to help break up your text and add a visual aspect to your blog. It is always nice to put a face to the name, so to speak! Just remember, always ask permission.

Spread the word! Once your article is published, let your audience know by sending an email and sharing on social media.

How to Create a Nonprofit Blog
If you are deciding to take the leap and create a blog for your nonprofit, congratulations! There are two main ways to go about starting your blog.
You can either use an existing blog platform, or have it be a part of your nonprofit's website.
Blogging platforms make it very easy to create, edit, and publish your articles, and most of them are free! Sites like Wordpress, Medium, Tumblr, and SquareSpace are good examples.
The advantage of using a platform is that it requires very little tech skills. These platforms make it simple and easy to create beautiful blog articles.
The popularity of the platform you are using gives you access to their audience, who you can easily appeal to using keywords that relate to your content. This allows for the possibility of your articles being suggested to readers looking for similar content.
The downfall of a free platforms is that you do not have your own domain name and your content exists on a site that is not your own. Customization of your blog is also more limited.
The alternative is to create a blog on your nonprofit's website.
While this may require some tech skills and a bit more work on designing your pages, you have much more creative freedom to reflect the image of your nonprofit.
Plus, having a blog on your website helps make your content more visible on search engines!
With Springly, you can have the best of both worlds. Our platform allows you to host your blog on your website without making any creative sacrifices. Not to mention everything is under your own domain name!

Examples of Nonprofit Blogs
The first step is sometimes the hardest, so don't hesitate to look around for some inspiration!
No blog is the same, so don't be afraid to go in your own direction! The best blogs are ones that are a clear reflection of an organization and its values.
We gathered a couple of examples to give you an idea of what nonprofit blogs look like:
Amnesty International USA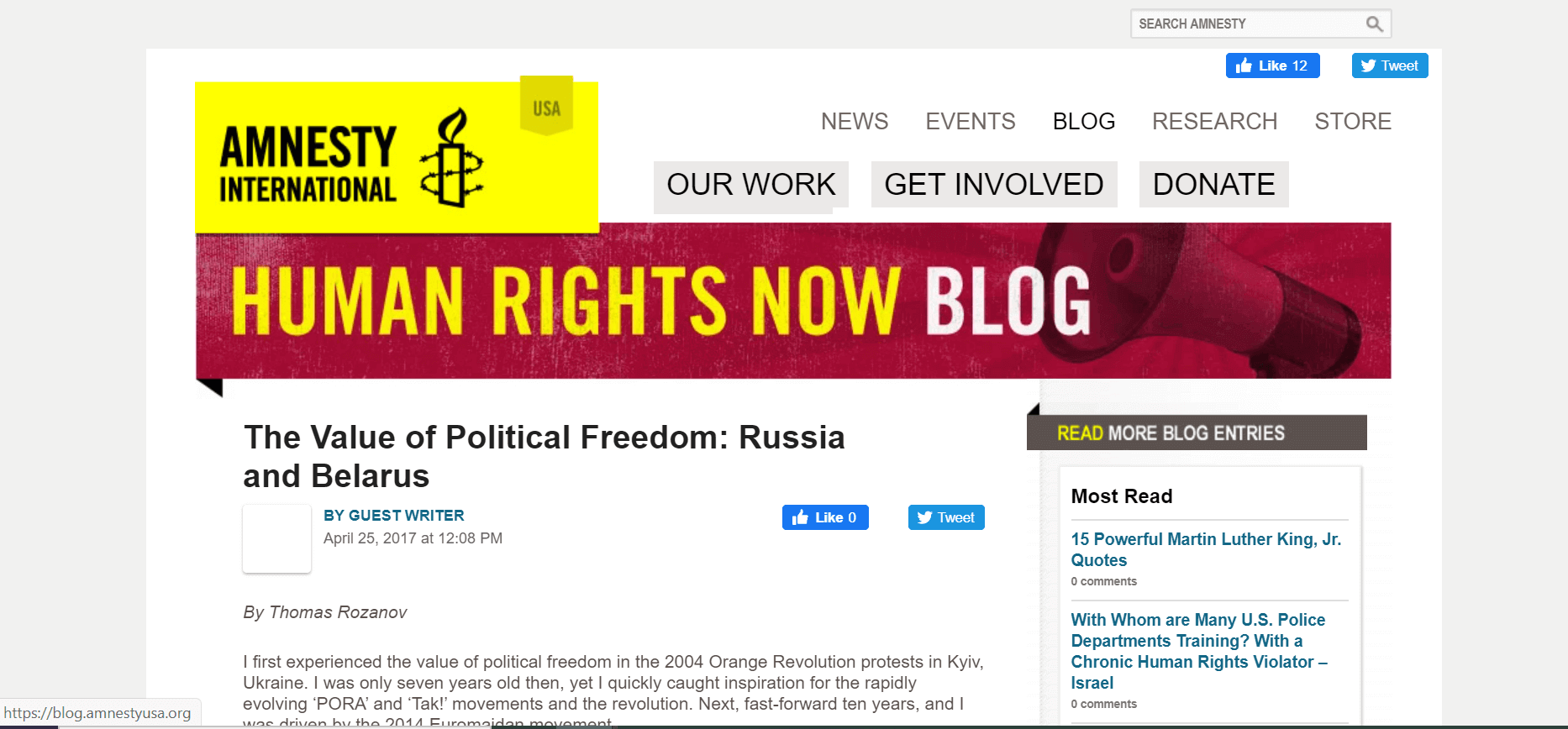 Power to Decide
Polaris Project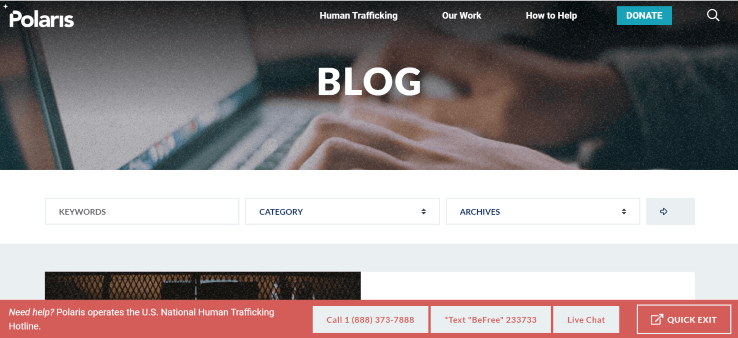 While these are great examples, they are pretty big nonprofits. If your organization is on a different scale, have a look at other nonprofits in your community for inspiration! Poke around their websites to see if they have a well-kept blog and start to feel inspired.

We believe a nonprofit blog is a strong communication tool and we hope you think so too!
Springly is trusted by over 15,000 nonprofit's to help them run their organizations on a daily basis. See if it could work for you with a free 30 day trial!
{{cta('ebddb16e-5886-40ef-9688-a961fe39bd00