Everything You Need to Know About Writing a Nonprofit Code of Ethics

Briana
All businesses should have high ethical standards since good business and loyal customers are built from it. However, nonprofits are naturally held to a greater level of ethical accountability since their 'business goal' is itself a social mission.
Constructing a guideline for your ethical principle and moral commitment through a code of ethics is important when working to make the world a better place. It not only helps guide your volunteers and staff members to behave in accordance with your mission, but it helps communicate your beliefs to the outside world and is ultimately a demonstration of your moral commitment while defining membership rules for nonprofit organizations.

What is a Code of Ethics and Why Implement One?
Simply put, an ethical code is a series of principles that help guide your volunteers and staff members to conduct themselves according to your nonprofit's core beliefs. These principles typically take the shape of bullet points or paragraphs in a short document that can be distributed as necessary and signed upon agreement.
By nature of their function and their duty to society, nonprofits are often held to higher standards of excellence when it comes to their ethical code of conduct. Not only are nonprofit organizations required to be lawful in their daily operations, they are expected to go above and beyond to ensure that every program and action is carried out in accordance with the principles defined by their mission. For example, the vast majority of revenue is expected to enhance the organization's purpose regardless of whether the team is understaffed or underfunded.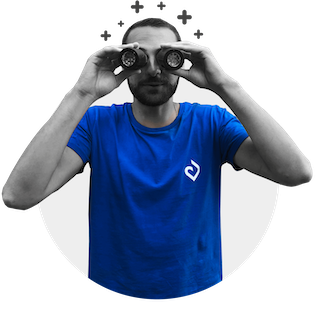 Ryan knows that a code
of ethics is critical to his organization!
Because nonprofits are under more scrutiny, being proactive about your ethical code, and holding your team accountable, is the best way to prevent any slight mishap. A straightforward approach can also bring positive opportunities to the organization when executed properly. For example, a code of ethics provides an opportunity for enhanced transparency with external parties and thus strengthens the level of trust others have in your organization.

Before Writing Your Code of Ethics
It's important to know your reasons for wanting a code of ethics, and now that you understand what role they play in guiding successful nonprofits, it's time to put pen to paper!
Brainstorm Your Organization's Values
Before you write your code of ethics, it is important to do some groundwork. This mainly involves getting together with your board, your volunteers, and your members to do some brainstorming about the shared beliefs and morals that underpin your organization.
You're looking to define your "values" which are fundamental concepts that you want people who work at your organization to believe in. Make sure that you really dig deep during this stage in order to get those bedrock beliefs defined.
Here are some examples of values typical to nonprofits:
Respect for the environment: Important for climate change organizations.

Transparency and honesty: Important for organizations that take donations, and that use lobbying and flow-through donations.
Inclusiveness: Important for a nonprofit that is oriented towards helping people with disabilities for example.

Good science and ecological awareness: Important for a conservation-oriented nonprofit.
Let's examine how to put these suggestions into action through an example that is very close to home. Springly's values are:
Simplicity: In our client care and product

Excellence: Making sure we are the best in everything we do

Goodness: Giving back to those who give so much (e.g., nonprofits)
Creating this list of values, or core beliefs, is part of the brainstorming process for your code of ethics. However, you can also use the list to create your very own statement of values. (Don't worry, we cover this in the next section.)
Flesh Out Your Key Values
Now that you have a list of your core beliefs, you can start to flesh them out to help you later on when writing your code of ethics. As well as form your statement of values, each value in the list you have just created can also be used as individual subheadings for your code of ethics.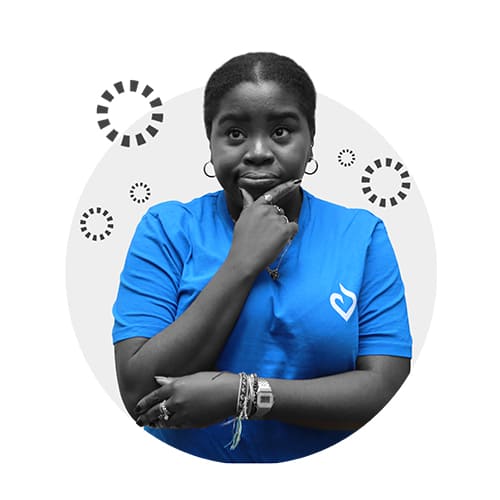 Don't be afraid to really sit down and think on
fleshing out your core values – take it from Sadie!
To do this, you will need to flesh out the idea a bit more by continuing to brainstorm. When doing so, you should continually refer back to your mission statement as a point of reference and take into account the sector you work in and the work you do.
For example, if your organization helps those with disabilities and you have listed "inclusivity" in your statement of values, you could flesh out the idea by considering everything you already do and everything you could be doing to be more inclusive. This might be to have provisions for wheelchair access in your office headquarters or to make sure your website is accessible to those who are visually impaired.
What is a Statement of Values and How is it Different from a Code of Ethics?
A statement of values is simply when you take the list of values that you just brainstormed and turn it into a more official document by appending that list to your code of ethics. This essentially forms a singular document called, you guessed it, a "Statement of Values and Code of Ethics".
It is typically a lot shorter than a code of ethics and rather than have subheadings, with detailed and personalized explanations underneath, it takes the much simpler form of a list of values and beliefs.
It is not essential to produce a statement of values alongside your code of ethics, but if you've already done the hard work of generating some core beliefs in your brainstorming process, why not just append the list to your code of ethics and make for a fuller document?
Pro Tip: It's a beneficial practice to remind yourself and staff of your values. To do this, post them publicly in your offices or hallways. Having the values visible to all can be a great reminder for your community to continue implementing them in their day to day lives. In addition, seeing your values displayed can help boost staff motivation as it is a constant reminder that they are making a difference.

How to Structure Your Code of Ethics
Many codes of ethics follow a similar structure, this being something along the lines of:
Integrity – both personal and professional integrity

Compliance with the law

Conflicts of interest

Governance

Fundraising
This structure can be followed as a rough guide to get all of the basics under your belt.
After you've done that, you can begin adding your own sections, using all the brainstorming and pre-planning that you've already conducted. For example, if you're a wildlife conservation sanctuary, your policy might look something like this:
At XXX, we believe that environmental awareness is integral to the co-habitation of animals and humans. Conserving the natural habitat of animals is crucial to our mission of sustaining a safe environment for animals to live year after year. We recognize that any form of littering is unacceptable, and we will always take on the removal of litter as our own personal responsibility. We do this at work and in our personal lives. We also believe in educating our team adequately on the science-backed dangers of littering and other unsustainable practices.

What Happens After You've Written Your Code of Ethics?
Since having a code of ethics is not any sort of legal requirement, there are not many hard and fast rules about what you should and shouldn't do. There are a few things we recommend you do if you want to get the most out of your code of ethics.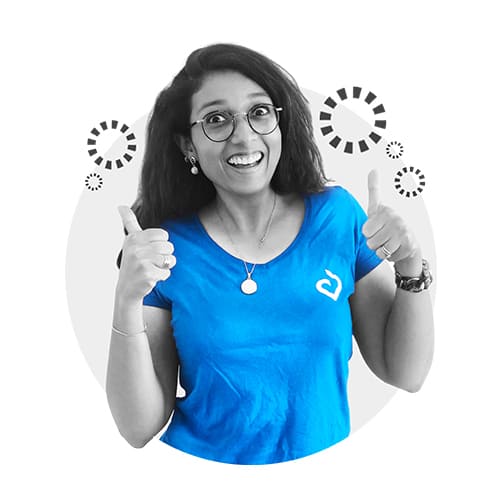 Salma is happy that you've written your code of ethics!
Approval
Your board of directors should approve the code of ethics before you start distributing it to your members. The voting rights nonprofits' boards have allowed them to have a final say on your code of ethics so you need to go through them for approval.
Distribution
Once approved by your board, your code is ready for distribution to your volunteers and staff members. It should be included in the membership application form when you bring on your new members and if you create one after you have existing members, they should still receive a copy.
Signatures
Signatures are not entirely necessary but are a great way to help individuals stick to the code. Not only do they feel personally responsible once signing (similar to the membership agreement), but it also gives you a solid point of reference should you ever have to terminate a contract based on misconduct.

Some Excellent Code of Ethics Examples
We have scoured the internet for some of the best, and most impactful examples of ethical codes that we could find. Each is unique to their own domain and puts their values first while promoting their mission:
Pro Tip: While examples like these are great, it always helps to see the sorts of things your peers are including in their code of ethics, especially if they operate in a similar sector to you. Asking in Facebook groups is a great way to do this! We recommend Nonprofit Management Circle, which is a super friendly group of experienced nonprofit owners.

Springly is trusted by over 15,000 nonprofits to help them run their organizations on a daily basis. Try it, test it, love it with a 14-day free trial!

Briana