What Is An ERP And Why Should I Use One For My Nonprofit?
Trish
Running a nonprofit involves multitasking on multiple fronts. From overseeing members to accounting, without forgetting about communication and events, there is always a lot to manage!
Without a doubt, you use various nonprofit pro tools on a daily basis. To do so, you probably use one for your website, another for your emails, and another different one for your events.
However, these tools are most likely not interconnected. Multiplying the number of programs used makes managing your nonprofit more complex, which can take its toll and reduce overall efficiency.
But there is hope! ERP software ("Enterprise Resource Planning") is the bright light at the end of the tunnel.
An integrated management system, ERP online nonprofit software offers all the different tools you need to manage your nonprofit on a daily basis.
Not convinced yet? Take a look at how ERP software can benefit your nonprofit:
Lastly, we will discuss what needs to be considered when choosing the right ERP software for your nonprofit.
Centralizing Data
From your members' personal information to your accounting documents, your nonprofit stores a lot of data.
By using various different tools, this information is often scattered. Even though you may easily know where to find it, you cannot link this data together automatically.
Additionally, no one is safe from the common mishaps of forgetting to add data into multiple tools or even mistakenly adding the same data twice.
With all-in-one software, you are in the clear: all of your data is stored on the same platform. This allows your data to be available in one place and connected from one tool to another.
To understand how this all works, let's take the example of the different stages your nonprofit goes through when Tom becomes a member, using an ERP system:
Signing up: Tom signs up to become a member on your ERP software by filling in his personal information. This information is saved in the software and used automatically in the following steps.

Invoice: The information Tom provided will automatically generate an invoice with his correct paid amount and details of payment.

Email: An email is automatically sent welcoming Tom to your nonprofit and thanking him for his membership. His personalized invoice will also be attached. This email will have been personalized by you beforehand.

Payment Follow-up: The membership fee amount is automatically tracked with the possibility to send reminders for cash or checks, or updates from online payment.

CRM: Tom's information is automatically saved in their nonprofit CRM for future communication. His membership history can also be viewed in the database.
The best part of all of this? You never had to intervene during Tom's registration.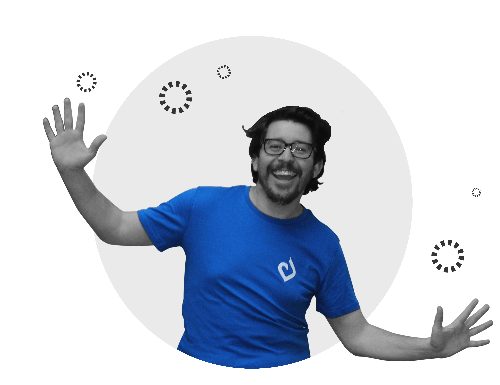 Jules is relaxed knowing the database is updated automatically!
Saving Time With Management
Using different tools to manage the various needs of your nonprofit leads to doing the same action multiple times.
Imagine this: you want to launch a donation campaign to support your project and wish to appeal only to your key donors.
Having to use different software means:
Going into the software you use for donations

Identifying your key donors

Exporting the list with the relevant information

Possibly sorting through it

Identifying the key donors in your database

Importing the list into your emailing software

Creating and sending your communication campaign
Going through all these steps takes time. Plus, there are lots of points at which a mistake can be made which will cost you even more time.
With ERP software, you no longer need to juggle between different systems as you have everything you need in one unique platform!
Indeed, as we saw with Tom's donation example: everything is done automatically.
With ERP software, the process to create your donation campaign is a lot shorter:
Identify your key donors in your database

Contact them via the emailing tool in the same ERP software

That's it!
And the cherry on top: in each donor's profile, you can easily find their donation history and the list of emails sent to them.
The ease of use of a single software in Tom's example is applicable to other functions as well:
Member and Donor Management

Events

Communication

Online Store

Online Payment

Website Creation & Management
Once a process is set up, you no longer need to intervene. It is also good to know that there is always the possibility to enter information manually when necessary!
Pro Tip: Many nonprofit software companies consider themselves to be a SaaS platform, also known as a software as a service. The differences between an ERP and a SaaS membership platform is mainly technical optimizations, but they share many similarities and features. Don't be thrown off by the differences in vocabulary when discussing this with software providers.
Improving Data Protection
By using ERP software, all your nonprofit's data is centralized on one unique platform and is no longer spread out across different systems.
You, therefore, have a lower risk of losing data or your members' information.
Using a single software also means having only one password to remember. No more time wasted sending out emails to recover those lost passwords!
It's also possible that you are not the only person using your nonprofit's management tools. However, and we can never stress this enough, sharing one account with one password between different admins should always be avoided!
With an ERP system, you can generally share access with the admins of your choice, to all or only certain features, depending on their responsibilities. For example, if you want the treasurer of your nonprofit to have access to the accounts but not to the online ticketing of your events, you can set that up!
Springly's software is designed with collaboration in mind - you can easily edit who has access to which features!
Reducing Management Costs
As the number of different systems used increases, so does the number of subscriptions.
Even though they may individually represent an insignificant expense, adding them all up together represents a real cost to your nonprofit.
And what's more, when your nonprofit and its different needs grow, so will the cost of each individual software, as you will without a doubt be led to:
Increasing the number of email campaigns

Needing to manage a more complex database

Wanting to organize more events

Wishing to create an online store

Adding information to your website
Additionally, even if not looking at the prices, these different subscriptions will have a real impact on your volunteers' time. The complexity of having to use multiple programs will demotivate your volunteers.
Pro Tip: If you are working with an extremely limited buget but still want collaborative tools, there are a slew of free cloud storage solutions for nonprofits. As long as you can prove your tax-exempt status and meet a various eligibility criteria, you can get excellent tools for free, or at a heavily discounted price.
Having one unique software will drastically reduce the cost of your overall management tools for now, and in the future when your nonprofit grows.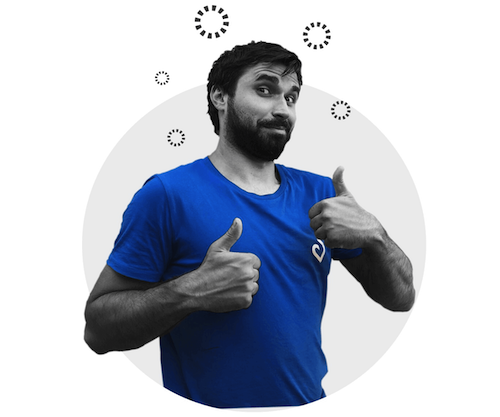 After using an ERP software,
Bert is never going back!
Reduce Training And Knowledge Transfer
When you use different tools, you need to be trained in each one of them, but you also need to train all the people that will use them. If your committee changes, you will also need to train newcomers to use each software.
However, as an ERP software is an all-in-one system, the training will go a lot faster! Much like cloud hosting solutions, ERPs are generally designed to have coherent and intuitive interfaces.
Therefore, if you master one of its features, you'll quickly get the hang of the other features!
Choosing a Software
As we have just seen, ERP software offers considerable benefits when managing a nonprofit. Not only does it allow you to build on all the different functions of your nonprofit, but it also helps reduce the precious time all your members spend on management tools!
Once you've decided to take the leap and transition to an ERP system, and chosen your nonprofit software selection criteria, you can be faced with a difficult choice. To make sure you choose the right ERP for your nonprofit, here are a few things to consider:
Do the functionalities of the ERP software meet the digital needs of your nonprofit?

Is the ERP software managed by a trustworthy company?

Does your nonprofit have the financial resources necessary to subscribe to ERP software?

Is the ERP software simple enough to be used by the members of your nonprofit?
The simplest way to know if ERP software meets your needs is just to try one out!
Springly is trusted by over 20,000 nonprofits to help them run their organizations on a daily basis. Try it, test it, love it with a 14-day free trial!
Features
Enterprise Resource Planning
Trish
Recommended articles
How To Use A CRM For Nonprofits For Better Daily Management
Trish
Communication
Social Media
Marketing
A Comprehensive Guide To Instagram For Nonprofits
Trish
How to Analyze Your Nonprofit Email Marketing Statistics

Danica