>

How To Create Professional Flyers For Nonprofit Organizations
Trish
A few days before the start of another school year, you might be wondering about how to spread the word about your organization.
It's a great time to recruit new members for your nonprofit! In order to join, they need to know that it exists. To do this you need to optimize your communcation tools so that your organization stands out among the masses! A flyer is a great way to get the word out, show your community who you are, what you do and what you are looking to accomplish.
Here are our best tips for creating a professional grade flyer for your organization:
Here we go!
Keep It Simple
When you're figuring out what to have on your flyer, remember that the fewer words, the better.
Your communication will be more effective as a result. To accomplish this, you'll need to consider putting into place a few basic communication strategies.
Define Your Objective and Target Audience
First, answer these questions: "What do I wish to communicate? Who am I trying to reach?"
There are usually three types of objectives for organizations:
To spread the word about the organization and its activities

To improve or change public opinion about the organization or its cause

To provoke an action (join as a member, donate, make a purchase, etc.)
Depending on your organization's objective, you have different options for how to proceed with your flyer.
If you just created your organization, the objective would be to let as many people know about it as possible.
However, if your organization has existed for years, the objective may be to build loyalty among your members and provoke an action. A few examples could be to encourage them to renew their membership, buy a ticket to an event, or subscribe to a newsletter.
Once your objective has been determined, you need to define your target audience.
Think about who you want to join your organization, and what would attract them to check out your organization's meetings or social events. Depending on the demographics of your target audience, you can select the right tone for your flyer.

If you are a student organization that helps students who are interested pursuing careers in business or finance, you might want to use a more corporate tone for your flyer. However, if you're an ultimate frisbee team, a less formal tone would be more effective.
Pro Tip: Be honest in your language. People can usually detect when claims like "the best student club ont campus" are overly exaggerated.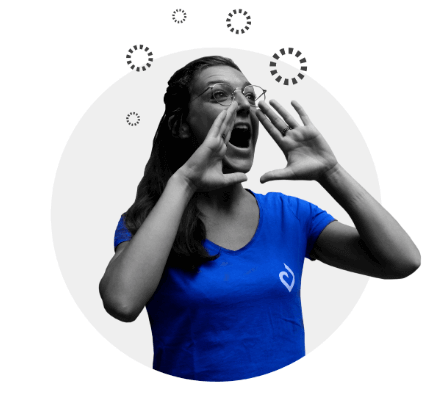 Corinne knows which tone to take on her flyers
for her target audience!

Be Clear and Concise
Imagine a billboard. What do you think of? A large image and one conveyed idea. Even though much smaller, your flyer should stick to the same principle: the more concise, the better.
In half a second, the person looking at your flyer in their hands needs to understand the organization and what it offers. Immediately capturing someone's attention is key.
Prioritize and determine four (maximum) pieces of information that must appear on your flyer. This will allow your reader to not get distracted while reading and help them retain your essential message.
Pro Tip: Always include your organization's contact information, in case anyone has questions, comments or conerns. Address, phone number and email is a must.
Design Like a Pro
You've sorted through your information, and you know exactly what information you want to convey. Now it's a question of making the text easy to read, attractive and understandable through the flyer design.
Choose a Legible Font
Select a font that is easily readable at a glance. You can play with the text placement, but the font itself needs to convey your content effectively.
Use the font size as a way to prioritize your content. We recommend having the most important content be twice as big as the secondary information. Any other supporting content (i.e. location address, contact email, dress code) can be smaller.
Last but not least, your audience should be able to quickly figure out the main message without having to sit down, order a coffee, and pull out their reading glasses to do so.
Pro Tip: Avoid using handwriting scripts for the main set of information as it can be hard to read from far away or in a short period of time.
Select a Powerful Image
Have you ever heard the expression "a picture is worth a thousand words?" Well, this also applies to your flyer!
Since you don't have that much space, you should use an image or photo to capture people's attention.
Choose an image that is related to your organization's activities to feature on your flyer. It can be anything from your members of the previous year, to a photo of your organization in the field. Don't forget to add your logo!
Pro Tip: The image or photo must be high resolution. To print clearly, your image should be at least 300 dpi (dots per inch). If your image looks slightly blurry on your computer screen, it will print even worse.
Use the Right Colors
Each color provokes a different emotion, which is why you should consider what colors you want on your flyer.
Not sure of what colors go well together? No worries, try using a free color palette generator like Coolors.

Make Your Flyer Memorable
We are surrounded by flyers. If you think about it, you see flyers when you're walking around, in the windows of restaurants, cafés, bakeries, office buildings, and grocery stores.
However, do you remember what the last flyer you saw was pure advertising? I'm sure you threw it right in the recycling bin, we certainly did. The forgotten flyer - or the flyer that is discarded right away - doesn't have to be your flyer's fate!
Your organization is not trying to sell something or make a profit from customers. Your "non-commercial" positioning frees you up to be more creative with your design and messaging.
The challenge here is to figure out how to make the flyer dynamic, interesting and entertaining.
One way is to select a tone which fits your organization's values and audience. Is your tone fairly casual, with plenty of wordplay, emojis, and jokes? Or is it more formal, with eye-catching, thought-provoking images?
Communicate with the same tone on your website, newsletter, social media, and, of course, your flyer. If your community can recognize your organization without ever seeing your organization name, you have set up a great communication strategy.
Printing the Flyers
Respect Paper Dimensions
Please note that there are different paper sizes to choose from, when designing and printing your flyer.
The most common flyer sizes are:
A5 (5.8 x 8.3 in)

A6 (4.1 x 5.8 in)

DL (3.9 × 8.2 in)
You can print it on both sides, or on one side only. Some printing shops charge extra for printing on both sides.
The most common paper orientation for flyers is usually in portrait format, but this is not a requirement. You can be original with how to set up your flyer, as long as it gets your message across in a memorable way!
Paper Options
We're talking about finishing touches to your flyer now, but the quality of paper you print your flyers on is important when considering your organization's image.
Do you want to be that organization that prints flyers onto normal printer paper, and cuts the flyers unevenly with scissors? Although this method is more cost-effective, you're already conveying that you expected the flyer to be thrown away right away. That's not what we want your audience to feel like doing!
You don't need to pick the heaviest or most expensive paper offered, but it should be a thicker than normal printer paper. Ask the printer for samples of each to decide which weight fits you best.
If your budget allows it, a matte or glossy paper offers a more attractive finish. Your colors will print more clearly, which will enhance the look of your flyer.

Distribution
You're almost there! Your flyer is printed. Now what?
You have to distribute it to your audience.
Most flyers are discarded. According to the Direct Marketing Association, only 1% of people who receive a flyer respond to it.
Not only is it eco-friendly to strategize about flyer distribution, it also saves your budget from printing too many unnecessary copies that end up in recycling.
For the start of the new school year, you should post flyers in strategic places, where you think your target audience will be exposed to them.
If your organization sets up a booth at a student organization fair, people will come to your table to find out more information. You need to have flyers ready at your booth for visitors to take with them. If they leave with a flyer after a conversation with you, this is a much better flyering technique than you leaving a flyer in each mailbox, for example.
You could explore leaving flyers on the counter at stores or restaurants, but few people really pay attention them. However, if you know that your target audience goes to the library, a certain bar, or café, make sure to leave flyers there!
You only need to arm yourself with a little bit of patience and imagination, and your flyer can help your organization reach more people. Good luck!
Springly is trusted by over 15,000 nonprofit's to help them run their organizations on a daily basis. See if it could work for you with a free 30 day trial!