10 Fundraising Tips for Nonprofits to Boost Impact

Danica
Now more than ever, effective fundraising is vital to the success of nonprofit organizations. A powerful fundraising strategy can be the key to reaching your goals and expanding your nonprofit's impact.
The world is changing at an unprecedented rate, weighing heavily on nonprofit organizations in particular. Keeping up with the latest techniques and technologies can seem like a challenge, but we've got you covered!
We have compiled a list of our top 10 innovative fundraising tips:

Tip 1: Offer Multiple Ways to Give
Diversify your fundraising methods! There are new trends in giving that have been increasing in popularity, and for good reason: Studies show that they can even be more effective than traditional donating styles. This type of fundraising allows for various budgets and opens up to potential donors who may not be preferential to traditional donating. Things like:
Recurring Donations
Recurring donations are a huge trend in fundraising. Recurring donations are smaller amounts given over a set period of time (weekly, monthly, quarterly).
So, why does it work? A recurring donation provides a stable flow of income and shows your donor is invested in the long-term.
According to The Global Giving Report, it is actually the only form of giving that is increasing every year!
There are many benefits to developing a recurring donation program, including:
A steady flow of donations to your organization


Able to plan farther into the future financially


Saves you precious time and resources. You don't have to keep asking for donations!


Online Donations
According to the 2019 Global NGO Technology Report, 54% of donors worldwide prefer to donate online with a credit or debit card. This is an impressive source of potential, so you should plan accordingly! Your website should be set up to accept online donations.
Online donations streamline the fundraising process for you and your donors! The physical paper-handling of offline donations eats up your time and energy. Processing offline donations involves reminding the donor to send the check, lines at the post office delays, manually entering the check into your accounting system, adding contact information into your database, and printing thank you letters and tax receipts.
All of these processes are automated through an online donation system. For example, on Springly, the donor's contact information is automatically saved in the connected database. This cuts out many steps, so you can focus on communicating with your donors. This is important when it comes to retaining them! We will dive deeper into donor retention later in this article.
You need to make sure your donors from any part of the world can easily donate online to your nonprofit, so you can build a relationship with them immediately.
Let's review the main benefits:
You have a wider reach. By going online, you reach a larger audience of potential donors who are interested in your cause.


It is cost-effective. While there may be an initial cost of implementing an online donation system, the automated process provided saves you time and money in the long run, and lets you focus on your mission!


You can improve data collection. You can decide what information is necessary when someone makes a donation. This allows you to gather more precise and accurate information on your donors, which will refine your communication strategy.
Pro Tip: Be sure that your website is optimized for online fundraising before your donation campaign goes live!
Peer-to-Peer Fundraising
Peer-to-peer fundraising is a very popular fundraising strategy that turns your donors into fundraising ambassadors. It is a type of crowdfunding that allows donors to set up campaign pages that help raise money for a shared cause.
The participant shares their page with friends, family, coworkers, or anyone else they might know. This is a great way to access new donors, gain traction in new circles, and increase your donations.
To hold a successful peer-to-peer fundraising campaign, we suggest that you follow these tips:

Offer tools to your new fundraising ambassadors (fundraisers). Offer templates, communication tips, images, workshops, or anything else that will help them host a successful campaign. They are doing an important job, so make sure they have all the tools they need.


Always show your gratitude. In this type of campaign, it is clear that your fundraising ambassadors are dedicated to your cause. Show them you care! Reach out personally, highlight their efforts on social media, or send a thank you card. Showing gratitude will deepen your relationship with these volunteers, and build lasting partnerships.


Be authentic. This type of fundraising depends on connection and engagement. Share your story, advocate for your cause, and why it is important. Give examples of how a donation could have a positive impact. For example, "A donation of $100 provides families in need with childcare for an entire month." Have information readily available for anyone who may ask, to encourage trust and transparency.


Get involved. Make sure your fundraisers know you are supporting them all the way. Stay active online, update them on their overall progress, and offer advice if needed. They will feel supported and in turn, will be more committed to your nonprofit's cause.

Tip 2: Host Online Fundraising events
During trying times, there is no doubt that nonprofits have to be innovative. One of the fruits of this innovation was the birth of online fundraising events. Traditional face-to-face events such as conferences, galas, and auctions have transformed to virtual and online events. These events have proven to be just as effective, if not more so! Good news for all of us, because the more ways to fundraise, the better.
Livestream Fundraising
Livestream fundraising has gained traction in recent months, and many organizations have found it to be a successful solution when in-person fundraising is not the best or safest option.
The concept is simple: livestream a video with your audience to interact with them and promote your cause. By sharing your story in real time, audiences are able to engage with your organization and even help spread the word online with their social networks.
There are plenty of ways to form your livestream fundraising strategy, but, if you are a beginner, we suggest you begin with something simple like Instagram or Facebook Live. If you are more advanced, you can check out YouTube or Twitch.
You can stream information about your cause, chat with current supporters or beneficiaries, host live Q&A's, and anything else you think will engage your audience!
If you are in the midst of a donation campaign, don't hesitate to take to your streaming platform to give updates, testimonials, and information about your cause.

Don't forget to mix it up! Invite a guest host, sector expert, or even pass the camera to your staff or volunteers for a "day in the life."
Online Auctions
If you are a nonprofit that relies on holding silent auctions to fundraise, taking it online might be a great back-up plan if you are unable to host your regular event.

Online auctions are basically just silent auctions, but, wait for it...online! Since they are remote, they can actually be more cost-effective and help you reach a wider audience.
To host an online auction, most nonprofit organizations use special software that does the heavy lifting for them. A mobile bidding or online auction software showcases your items, registers bidders and payment information, and processes the payments you will receive.
Some examples include BidJS, AuctionWorx Enterprise, and Auction Software.
Online Events
If you have general events that have been cancelled or postponed this year, try an online version! It is a great way to stay connected with your community.
For example: Nonprofits have presented online concerts to raise money for various charities. Artists livestream themselves performing at home, and these have been very successful. On a smaller scale, some nonprofits have held virtual talent shows and virtual cooking classes.
A virtual 5k fundraiser is a really innovative way to hold an online and remote event. Invite all your donors, members, community contacts, and potential prospects to run a 5K in support of your cause. Because your event is online, there is an even wider audience because you can reach people all over the world, rather than just your local community.
Have your participants register, fundraise, and log their times to keep the spirit of the event going - and the donations! Everyone will run on the same day, for the same distance. You can ask your participants for live updates, photos, and videos that you can post on social media.
Consider livestreaming the day of the event to keep up the participation and excitement. All of the participants will feel like they are a part of your event, even if they aren't physically present.
Getting creative with online events can boost higher engagement, donations, and ease the stress of a physical event.

Tip 3: Engage With Gen-Z
Gen-Z is often overlooked when it comes to donor prospecting. It shouldn't be! There is huge potential for fundraising if you commit to engaging with younger generations.
Did you know that 49% of Gen-Z donors are enrolled in a monthly giving program?
Gen-Z is very aware of the social and environmental issues that are impacting us all today. This is not only because of technology, but because of the exposure to things like international conflict, economic instability, climate change, and divisive politics they have witnessed for most of their lives.
This has led to many young people becoming more involved and engaged with the nonprofit community. So, how does your organization connect with them? There are a few ways, but the most effective is strategic (and consistent) use of social media. Gen-Z grew up surrounded by technology and are therefore experienced at navigating online content.
Creating engaging content that sticks out from the crowd is necessary to grab the attention of these potential donors.
In your social media strategy, you should respond to comments and messages as soon as possible to make them feel seen and valued. Creating an open dialogue will instill trust and confidence with this social media savvy generation.
Posting interactive content is an effective way to engage your audience. How about hosting a live Q&A with your followers on Facebook? Or a poll on Twitter? Asking for photo or video submissions from your community is also a great way to engage with them.
Staying active on social media will draw these younger donors to your nonprofit, and they can even become ambassadors for your organization.
Pro Tip: Remain authentic. They are experts at recognizing inauthentic or exaggerated marketing tactics. They know how to do their research!
If you stay active, engaged, and honest, you can connect with Gen-Z.

Tip 4: Set Up a Matching Gifts System
Matching gifts is an incredibly effective way to quickly increase the funds you raise. A whopping 84% of donors said that they are more likely to donate to an organization if they know their gift will be matched.
So, what is it? Essentially, companies and organizations with this program in place will match the donation of their employees, which can double the amount (and impact!) of the donation. There are countless companies that match gifts, so we recommend you make the most of it.

Many nonprofits, especially smaller ones, do not have the resources or time to set up matching gifts. However, there are a couple matching gifts softwares available to help you save time and money.
A matching gift database allows the donor to search for their company to see if they are eligible. If they are, the donor will be taken to their company's guidelines and from there can submit the request. The company receives and verifies the donation, and voila! You receive a new donation.
We suggest that you promote matching gifts as much as possible, to boost fundraising. Add a section on your website that highlights the benefits, guidelines, and resources available for your donors to make a matching gift. You can even use your social media to spread the word.

Tip 5: Improve Communication
If you are not able to communicate with your donors in person, that doesn't mean your relationship with your donors has to suffer! Keeping in contact with your donors, and anyone in your community for that matter, is very important.
Here are two ways to improve your communications with your community:
Email Campaigns
Now is the time for clear, personalized, and targeted emails that directly address any news, events, or updates that could be relevant to your community.
Make sure you are emphasizing personalized email campaigns. You can do this by filtering by criteria like location, donor status, relationship length, etc. 79% of fundraising emails do not personalize their "To" line with a first and last name, even though personalized emails have a higher click-through rate! People want to be treated like unique individuals, and your email campaigns should reflect that. Now is the time to make your contacts feel cared for.
It is always important to check in with your contacts, especially during uncertain times. See how they are doing, and emphasize the importance of their donations and support.
For example: If you are relying heavily on donations right now, take the time to focus on personalizing communication with your contacts by things like donation history and location to get a better response rate. You can send out a targeted email to your major donors letting them know how vital their gifts are and the impact they have made on your project. Ask them if they would be free for a phone call!
Phone Calls
Give your donors and contacts a call if you can't see them in person. It is a great way to keep up the personal relationship you have built with them and can encourage loyalty to your organization. You can discuss things like:
How are they doing? Touch base with your donors and/ or contacts to check in. Donors are more likely to give when they feel a strong connection to your work and your team.


Update them on any news you have to share or new procedures you have implemented.


Let your donors know how you are pursuing your mission, and how their donations have made an impact. It is important to remind donors that they are making a difference!
Pro Tip: Keep a record of your calls, who answered, who did not, etc. to prevent calling anyone twice or missing a contact.


Tip 6: Send Out Impact Reports
Impact reporting is extremely important as it encourages trust, loyalty, and accountability not only for the donors, but for the beneficiaries as well.
What Is an Impact Report?
An impact report is a way for a nonprofit to explain exactly how they are using donations and the results of their work.
These reports are usually released annually by nonprofit organizations, and they give an overview of how donations were used throughout the year. It gives your donors a more in-depth and personal look at the impact their donations have made and the work you have accomplished.
Impact reports should principally address three subjects: the need, the action, and the outcome. By this, we mean:
Need: What is your cause? What is the problem you are trying to solve? Example: At-risk youth


Action: What are you doing to solve this problem? Example: Creating after school programs


Outcome: What are your results? Example: 500 at-risk youth now have access to free after school programs to help keep them on the right track

Tip 7: Focus On Donor Retention
Donor retention, by definition, is the number of donors who continue to donate to an organization after they have made their first gift. The formula to find out your donor retention rate is pretty simple! The best way to get started is by taking the last two years and using the following equation: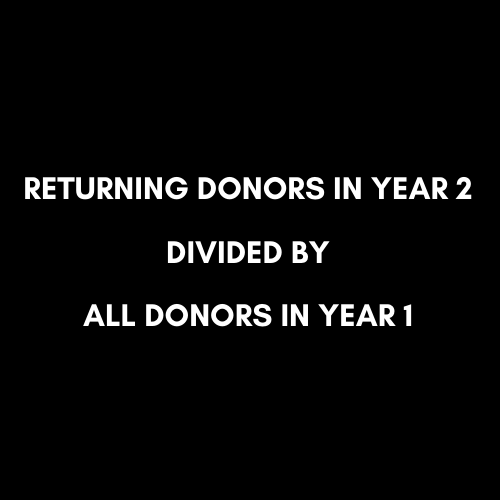 Donor retention is something that many nonprofit organizations struggle with. One of the reasons donor retention is so important is because of the loss of time, energy, and resources you spent if you lose a donor after just one donation. As you know, recruiting new donors is a huge effort!
When a donor is retained, meaning they gave a second time, the chance of them becoming a regular, repeat donor becomes much higher. In the visual in green below, this is illustrated as the "Repeat Retention Rate."
However, getting this second donation, or "golden donation", can be tricky. According to the Fundraising Effectiveness Project, the percentage of donors who only give once to an organization is almost 70%. As you can see in the yellow visual below, this "New Donor Retention Rate" is decreasing.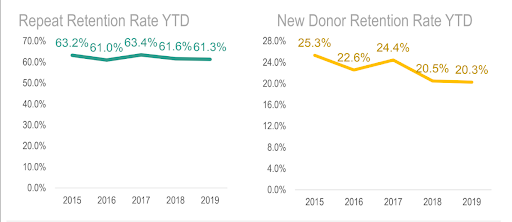 Source: Fundraising Effectiveness Project
This is why we strongly suggest that you focus on getting that second donation!
Some tips to accomplish this are actually subjects we have already talked about, things like:
Offering recurring donations. Recurring donations can lead to higher donor retention rates because of the frequency of donation and the convenience aspect.


Expressing gratitude. When donors feel appreciated and valued, they are more likely to donate again next year!


Targeted and personalized communication. Making sure your phone calls, email campaigns, and newsletters are personalized to the people you are sending them to can help build a relationship that brings donors back time and time again.


Crowdfunding. This is a really hands-on type of fundraising that allows participants to carry out an important role for your cause. This can build lasting relationships between you, your donors, and any other supporters!


Impact reporting. Sharing testimonials from those who have benefited from donations, providing photos, video, and data about all your hard work that was made possible by your donors will encourage them to stick with your organization.

Tip 8: Go Mobile, Go Social
Digitizing your nonprofit is an important step to take in our technological age. While many nonprofit organizations have websites, some are not smartphone friendly and are not present on social media.
Being smartphone friendly is a necessity since many people prefer to donate this way. It can help you improve your communication, and even collect more donations!
Go Mobile
AKA, be as smartphone friendly as possible. Over half (51%) of people who visit a nonprofit's website do so on a mobile device, so make sure that your content is responsive to stay relevant. Your website, for example should look just as beautiful on a smartphone as it does on your computer. Having a website that is responsive on a smartphone will provide a more positive user experience.
For example, when you build your website with Springly, your website will automatically be mobile-responsive. This means that the user will be more likely to stay on your page, poke around, and maybe even make a donation!
Did you know? 25% of donors donate on their mobile devices. In addition, mobile giving donations have increased 205% in the past year.
Donations are of course one of the main goals you may be looking to achieve with a new mobile strategy. Make sure your online donation pages are quick and easy to access from any device!
For example:
Page speed. Page speed is essentially just the time it takes for a website page to load. If your page speed is too low, a potential donor could lose interest and leave your website. Check to make sure none of your photos or files are too heavy on your website pages to improve load time.


Clear call-to-action. Call-to-actions (or CTA's) are usually either in forms of buttons or links, and they can be very effective! They are the big call-to-actions that will take users to your donation page. Add something powerful like "donate now" to your CTA and make sure it is clearly displayed on all pages of your website and is easily accessible.


A quick donation process, from A-Z. From beginning to end, the donation process should be as simple and streamlined as possible to keep your donor on your page. Try out your donation process on your phone to make sure it is optimized. If it seems too difficult, try to simplify! A positive user experience will help bring in more donations.


Go Social
There is no doubt that social media is a powerful tool. The number of worldwide social media users reached 3.5 billion in April 2019! By using social media platforms, your nonprofit could be reaching a huge audience. We suggest that you consider going social if you have not yet, because it gives you the opportunity to promote your cause and find people who want to help you with your mission.
Using social media will allow you to do things like:
Spread the word about any events or fundraisers you may be having


Get feedback from your community


Share news in a casual way and interact more closely with your community


See what other nonprofit organizations are up to and see what is trending


Raise awareness on your cause
While social media is a great resource, we suggest that you have a strategy to tackle it. There are so many different platforms, so it is important to find which ones will work best for your nonprofit.
Some good examples of social media platforms that work well for nonprofit organizations are Facebook, Instagram, LinkedIn, and Twitter. If you have limited resources for your social media strategy, we suggest that you pick one or two and focus solely on those!
Set clear goals for your social media strategy. Ask yourself things like, who is my audience? What will they find engaging? What is the main goal I want to accomplish: finding new volunteers, fundraising, or just spreading the word? Answering these questions will help you find a clear way to interact on social media.

Tip 9: Express Your Gratitude
According to the Fundraising Effectiveness Project, the top reason that donors stop giving to a nonprofit is that they feel that the organization no longer cares about them.
This is why it is so important to express your gratitude towards your donors! Most donors, especially donors who give very large gifts, like to be publicly recognized for their efforts.
To do this, try communicating what achievements were made possible using the donations you received. You will have the double advantage of making your donor feel recognized while also showing them the amazing things you were able to accomplish with their help!
Here are some tips to help you express your gratitude:
Introduce your donors on your website. Create a special section highlighting them and displaying what has been made possible thanks to their generosity.


Share testimonials from people who have benefited from your organization. Seeing the impact a donation has made on someone else is a great way to make donors feel like they are really making a difference - which they are!


Organize exclusive events for your major donors that highlight their contributions and thanks them for their help. This can be especially beneficial for corporate sponsors.


Mention your donors in your impact reports, newsletter, email campaigns, etc. This is a great way to give some public recognition!
Expressing your thanks is a simple and effective way to retain donors, and foster lasting relationships.

Tip 10: Have a Back-Up Plan
We have seen with the recent COVID-19 pandemic that many nonprofits were not prepared with a solid back-up plan. Some nonprofit organizations reported they only had the resources to stay open for one month after the pandemic ramped up in March 2020.
Many fundraising events were cancelled, organizations weren't sure how to continue their missions, and so on.
While no one could have predicted a global pandemic, it has been an opportunity to be innovative and inspire contingency plans.
Things like making sure you can host your event online in case it can't be held in person, having remote-work options in place, and even just creating a guidebook (like how to respond to a natural disaster, economic instability, etc.) for your organization to reference can be a huge step into ensuring you have a Plan B.

We hope these 10 fundraising tips for nonprofit organizations have given you some inspiration! Springly is here to support you. Let us know if you have any other new fundraising ideas in the comments section!
Springly is trusted by over 15,000 nonprofits to help them run their organizations on a daily basis. Try it, test it, love it with a 14-day free trial!
Donor Management
Fundraising

Danica
Recommended articles
How To Use A CRM For Nonprofits For Better Daily Management
Trish
Communication
Social Media
Marketing
A Comprehensive Guide To Instagram For Nonprofits
Trish
How to Analyze Your Nonprofit Email Marketing Statistics

Danica