The Best (Free) Giving Tuesday Templates

Eva
Giving Tuesday is an important fundraising day where businesses and nonprofits alike help support all sorts of different charities all over the world. Get your donors excited about Giving Tuesday 2021 by using these tips and free templates to further your Giving Tuesday ideas.

How To Best Prepare for Giving Tuesday 2021
Giving Tuesday has been around since 2012. It always takes place in November or early December, just after the "Black Friday" and "Cyber Monday" holiday shopping days. The concept was simple: a day dedicated to charitable giving. It's a new take on the historical post-Thanksgiving sales, which are centered on giving to friends, family and finding deals for yourself.
On this special Tuesday, individuals have the opportunity to give back to our communities and in many cases, to communities or causes throughout the world. One of the best ways to describe it is a "global generosity movement." Some organizations target their generosity on the local level, raising money for community groups; planting trees, cleaning up trash, and finding ways to help those in need right around them.
Other groups benefit the environment or people that need help thousands of miles away on a different continent. Whatever you choose, dedicate one day to helping other people. The average online donation to the #GivingTuesday cause was over $100. Per Charity Navigator, Giving Tuesday 2020 broke records with donations surpassing $2.4 Billion dollars!
The hashtag for social media posts that encourage people to give is simple: #GivingTuesday. We'll discuss some great ideas below to leverage the power of Giving Tuesday email and Giving Tuesday social media posts to make your Giving Tuesday campaigns bigger and more effective than ever before. These tips will help whether you are a large nonprofit, professional organization, or even a local club.
Have One Clear Goal
Giving Tuesday campaign strategies are best when you take a simple and direct approach. It's best to pick one cause or beneficiary so you can really focus your efforts. You need to determine exactly what you'll be asking participants to give: dollars, time, or something else. These questions must be answered before you begin your campaign:
Are you simply raising awareness for a cause? Do you want one-time donations or long-term support?

Are you trying to raise funds? What will you do with the funds? This will be important in crafting your narrative for publicity!

Are you attempting to get volunteers to provide services to a beneficiary? What will those volunteers do? How long will they volunteer for?
Set Up Your Tools
All the publicity in the world won't help if you aren't prepared to handle the donations or volunteers you'll get. Before you begin, one of the first steps you should take is to make sure your website is up to date, with all the current information and details on your campaign. Create and test your donation platform.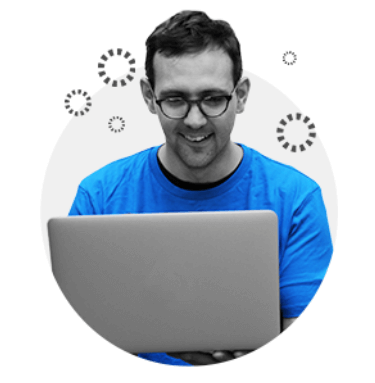 Matt is making sure all his tools and resources
are ready to go before diving into his Giving Tuesday campaign.
Make sure that donations can be successfully accepted and tracked. If you are getting volunteers make sure you have a way to schedule them into time-slots; and make sure they'll be taken care of on-site with food, water, and restrooms.
One easy way to make sure everyone is set up and ready to go is to conduct a webinar where you train the leaders on the donation platform, website, and best practices. Based on any testing of your tools, you can make adjustments as needed so you are ready to start publicizing your fundraiser. Also, make sure you have a checklist so all the important steps get done.
Prepare Your Pitch
Giving Tuesday isn't just about "asking for money." This is an opportunity to tell your members and potential donors or employees the compelling real story of the actual people you are helping. For instance: a company raising money for a Women's Shelter might include actual testimonials from women and how they were helped by the shelter (with their permission, of course).
Or, an organization that protects wildlife in Africa shares first-hand accounts of animals saved from poaching. People will give more generously if they connect with these stories and understand the good they are doing with their donations.
The best stories include characters who face adversity and despite setbacks are ultimately triumphant. Show your reader how they can be a part of the happy ending through their generous donation of money, time, or other resources.
Pro Tip: The actual people being helped or with first-hand knowledge of the cause make the most powerful storytellers. People are much more likely to listen to an actual person whose life was changed because of a charitable act than someone who is simply asking for a donation.
Remember that these emails are different from your regular business communications! You should take the time to make them compelling on a human level, and not just provide information or make transactional requests.

Giving Tuesday Email Templates
Email is often the best tool of choice for a Giving Tuesday Campaign. Of course, you'll supplement with Social Media campaigns, but an email gives you the best chance to tell a story and explain why your reader should donate. From there, you can easily provide hyperlinks to your donation page or form to sign up to volunteer.
Subject: #GivingTuesday [group impacted] need our help today



Dear [First Name]



[Overview of cause] In the wake of [event or other circumstance], [number of impacted people] were [how they were impacted], and [number of impacted people] were [how they were impacted]. [Name of impacted person], a resident of one [impacted community] said, "[touching quote that shows their need]" This Giving Tuesday, we have the opportunity to help [impacted group] today.



Your donation will help provide [impacted group] with [benefit 1, benefit 2, benefit 3] and [benefit 4]. The great thing about our community is how we all pull together to help each other when [event or other circumstance] occurs. Please donate and help your neighbors today. [webpage]

Subject: #GivingTuesday - Only [# hours] will help [# people helped]!



Dear [First Name]



It may not always be easy to see, but many in our local area don't know [circumstance of the impacted people]. [Impact type] affects [impacted group] as well as [impacted group]. [Local business] has donated tons of [donation type(s)], but volunteers are needed to [volunteer activity] that can be [what will happen to the donations once the volunteers process them].



[First name of impacted person], who recently received [donation], told us, "[moving quote from an impacted person about how the donation helped them]". All it takes to help someone like [first name of impacted person] is a [# of hours] shift at [volunteer location]. It's a fun opportunity to do good and meet some of the people you are helping. We are hoping to get 100% participation this year. Sign up today! [Webpage]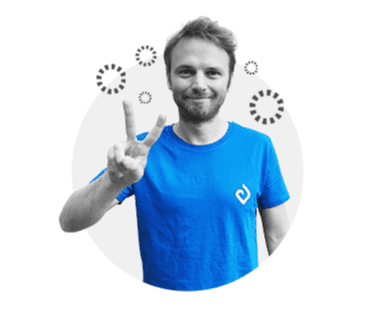 Peter is feeling a little more zen after looking
at some Giving Tuesday email templates.


Subject: #GivingTuesday This year, make a difference to someone who needs help



Dear [First Name]



Way across the ocean on a different continent is a small village in [location of impacted group]. Due to a recent [specifics about the situation], the people in this once thriving village have been stricken by [particular situation people are facing]. We're partnering with [Organization] this giving Tuesday to get help to these people quickly.



[First name of impacted child], a [age]-year old [gender of child] nearly died from an [event that caused harm]. Doctors from the organization were able to visit the village and provide the care he needed, and now he is growing and playing with his friends. This GivingTuesday, please commit to sponsor a child for one year. If everyone participates at the $100 annual level, we'll be able to provide [benefit 1] and [benefit 2] for the entire village this year. It takes just a second, please visit our donation page at: [webpage]

Giving Tuesday Design Templates
If your Giving Tuesday donations campaign lacks compelling storytelling or appealing imagery, there's a good chance the reader may not distinguish it from an ordinary social media post, email, or flyer. You don't want to have your message lost among the noise. In addition to the powerful narrative we talked about, you need eye-catching visuals as well.
Tell the story not only in what you write but in the images you include. Keep them simple. Viewers are more likely to focus on the meaning of your message by seeing one impactful image or even a short video.
In addition to the pictures you provide that are specific to your cause, the overall design must be appealing and set the email apart from ordinary communications.
You don't have to reinvent the wheel to accomplish this. There are over 800 templates on PosterMyWall that can be modified and then easily shared on social media. Here are a few examples:
The website Canva has some great options as well. Here is an example of their simple, appealing design:

Giving Tuesday Text Message Templates
Texts are a great way to build excitement for #GivingTuesday. SMS donation software like Tithe.ly and Vanco offers the ability to manage your text campaign. Schedule these texts before, during, and after the actual date. Here are some examples:
#GivingTuesday is one week away! Visit [webpage] to find out more about who we are supporting this year: [cause]. Kids like [child name] and [child name] need our help. Read their stories and please give this coming Tuesday!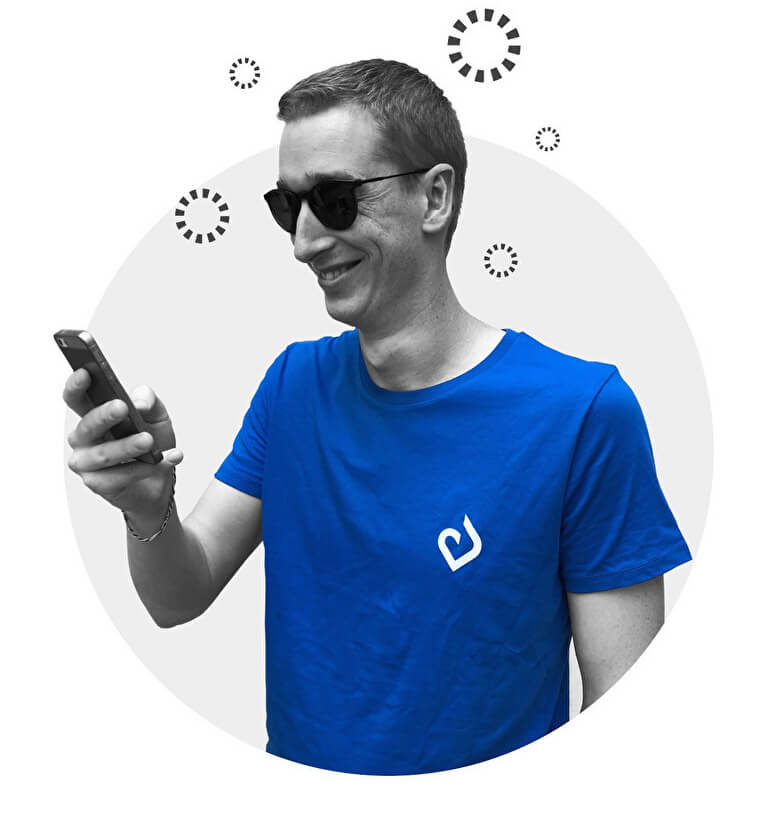 Text messages are a great way to connect with your audience!
#GivingTuesday is here! Your donation today will help kids like [child name] and [child name] reach their full potential. Text DONATE to [text number] or visit [link] to donate today!
#GivingTuesday is here. This year, sponsor a kid like [child name] with a recurring donation. Just [donation amount] a month or [donation amount] a day can help provide a child with [benefit 1] and [benefit 2] for [time period]. Read their stories and sign up to sponsor today by visiting [link]
Pro Tip: Make sure your url is shortened! You don't want your text to be too long and eat up space and simplicity with a complicated URL. bit.ly is a great option for this.

Giving Tuesday Follow-Up Templates
Multiple touchpoints as a part of your Giving Tuesday campaigns are essential. First, many people need a gentle reminder. Everyone gets busy throughout the day, and even if they intended on giving, they may need that subtle nudge to take action. Keep it positive and upbeat, and make the tone one of appreciation for them.
Note that touchpoints should not end when the donation is received. Follow-up after a donation is important to build strong donor retention. When you continue the story you began in your initial email, they can see the impact of their donation. You can demonstrate that there is a continuing need and their further donations will continue to make a difference in the lives of others. Share the results of your campaign and make your donors feel included!
Pro Tip: Even if they don't donate again, send them your annual report thanking them personally for their contribution during Giving Tuesday. It's a nice touch and It's very important for them to see first-hand that they weren't just giving money, they were actually helping another human being and making the world a better place.
Here are some helpful templates for your follow-up campaign:
Donation Update:
Email: Because of your generation donation of [donation amount], we were able to reach a total of [Giving Tuesday total], for [cause]. Your contribution has allowed us to [benefit 1, benefit 2] and [benefit 3]. Thank you for making our 2021 #GivingTuesday a success!
Text: #GivingTuesday was a great success because of you! Over [Giving Tuesday total] raised and we are well on our way to [cause]! Read more [link].
Thank You:
Email: Thank you so much for your generous donation this #GivingTuesday. It was a bigger year than we hoped for thanks to the enthusiasm and generosity of people just like you. Because of you, we were able to provide [benefit 1, benefit 2, benefit 3] and [benefit 4] to [place that received donations] right here in our community. We're so happy that Giving Tuesday made a difference but there is more work to be done. Visit our Donation page to find out more about opportunities you can continue to help all year.
Text: #GivingTuesday made a huge difference this year to [place that received donations]. Thank you for playing a part in this year's campaign! Learn more about our partner organization by visiting: [link]

Springly is trusted by over 15,000 nonprofits to help them run their organizations on a daily basis. Try it, test it, love it with a 14-day free trial!
Fundraising
Giving Tuesday

Eva