>

How To Benefit From Google Ad Grants for Nonprofits
Trish
When you search for something on Google, you might notice the first couple of options say the word "Ad" next to them. This is because a company has paid Google Ads to be placed on the top of the search page.
It is a great way for businesses to attract traffic to their websites, but it can be very expensive. Luckily for you, with Google Ad Grants, nonprofits can use this service for free!
The goal of the Google Ad Grants program is to give nonprofits up to $10,000 worth of advertising every month for free. This is a great opportunity for nonprofits to gain online visibility and raise awareness on their cause.
We think every nonprofit should try out this program for their nonprofit's communication strategy, so we have decided to give you all the tools you need to benefit from Google Ad Grants.
In this article we will explain the following:
Let's get started!

Why Should Your Nonprofit Advertise Online?
Advertising online with a search engine such as Google is called paid referencing. This is different from free referencing, which results in the search engine's ranking of your content. Advertising is a powerful tool, and one part of a robust communication strategy.
Paid referencing is powerful because it allows you to appear in the first search results for the keyword you choose. This is incredibly useful because if your organization works in a large sector, you are much more likely to stand out among the rest.
So, for example, if you are a human rights nonprofit, you would potentially place yourself on the words "human rights nonprofit." When someone searches these keywords, or in paid referencing lingo, if they search for this "Adword," you will appear in the first three to four results, and will be marked as an "Ad."
Here is an example when you search "search engine tools." As you can see, the word "Ad" is highlighted, which means the three first results have been paid for by the companies to appear for this keyword search.
Why should your nonprofit advertise online with a search engine like Google? At least one third of internet users click on the first three to four results that appear. That is an incredibly large audience that you can direct to your nonprofit to further your mission.
The nonprofit sector in the U.S. is massive! There are 1.6 million active nonprofits in the U.S. today, and among fierce competition it is important to make your nonprofit stand out. Online advertising is a great way to do so!

What Are Google Ad Grants?
While traditional businesses usually have a budget set aside for advertising, nonprofit's goals and budgets are much different. The resources you have are focused on your cause, which is why Google created this program!
It gives your organization the benefit of online advertising, like a business, but at no extra cost to your nonprofit.
Google offers a monthly advertising budget of $10,000 a month if you are accepted into the program. That equals a budget of $329 a day for advertising!
They will also give you access to tools to help you build effective advertising campaigns. You can check out their website to get more information on their mission.

Nonprofit Eligibility
On their website, Google states: "to request a Google for Nonprofits account, you must be a nonprofit charitable organization in good standing, and meet the full eligibility requirements in your country."

The requirements for the U.S. are as follows:
You must be registered as a charitable organization

You must be verified by TechSoup or a local TechSoup partner

You must be recognized by the IRS as a tax-exempt organization formed for charitable, educational, religious, scientific, or other tax-exempt purposes

You cannot be a fiscally sponsored organization (FSO)

You cannot be a governmental entity or organization, nor a hospital or healthcare organization

Schools, universities, and academic institutions are not eligible, but there is a separate program for these organizations

How To Benefit From Google Ad Grants
This can be an exciting but complicated step for your organization, so we have broken down the process into three key steps.
1. Do Some Strategizing
Like any project, it is important to start by thinking about your strategy and make sure you are prepared for a few different scenarios. Remember that Google Ad Grants will push people to visit your website, what they do once they land there is up to them. You can begin by asking yourself a few questions like:
What is the current objective of your website? (i.e. more donations, membership, awareness, etc)

What message do you want to send to the people who visit to your website?

If 15,000 people visit your website tomorrow, will you be prepared? If not, what do you need to do be prepared?

Does your website correctly reflect your organization's values?
Make sure that your website is in great condition and can meet Google's requirements. This includes verifying that it is updated regularly and if it is well structured.
If the answer is yes, go for it! It is time to get organized for a new project.
The first step is to decide who will manage your Google advertising campaigns. Do you want it to be managed internally or do you think it is better to outsource?
Take some time to decide what will work best for you, but keep in mind that it will take between 10-20 hours per month to manage if you decide to keep it in-house.
Pro-Tip: Google Ads can come with a steep learning curve. If you have the extra budget to hire a freelancer to launch and montior your campaigns, it is highly reccomended to do so.
Finally, it is important to get a basic understanding of how AdWords work. To do this, you can go and take a look at the Google for Nonprofits Help Center. Be sure to understand how google's algorithms work, it will be a great help in making sure you get a good return on investment for your time.
There are also training courses and workshops available online! Udemy.com offers a discounted course to give you all the ins and outs of Google Ad grants.
2. Set Up Your Account
If you meet all the requirements, head over to this link to set up your Google for Nonprofits account. The page should look something like this: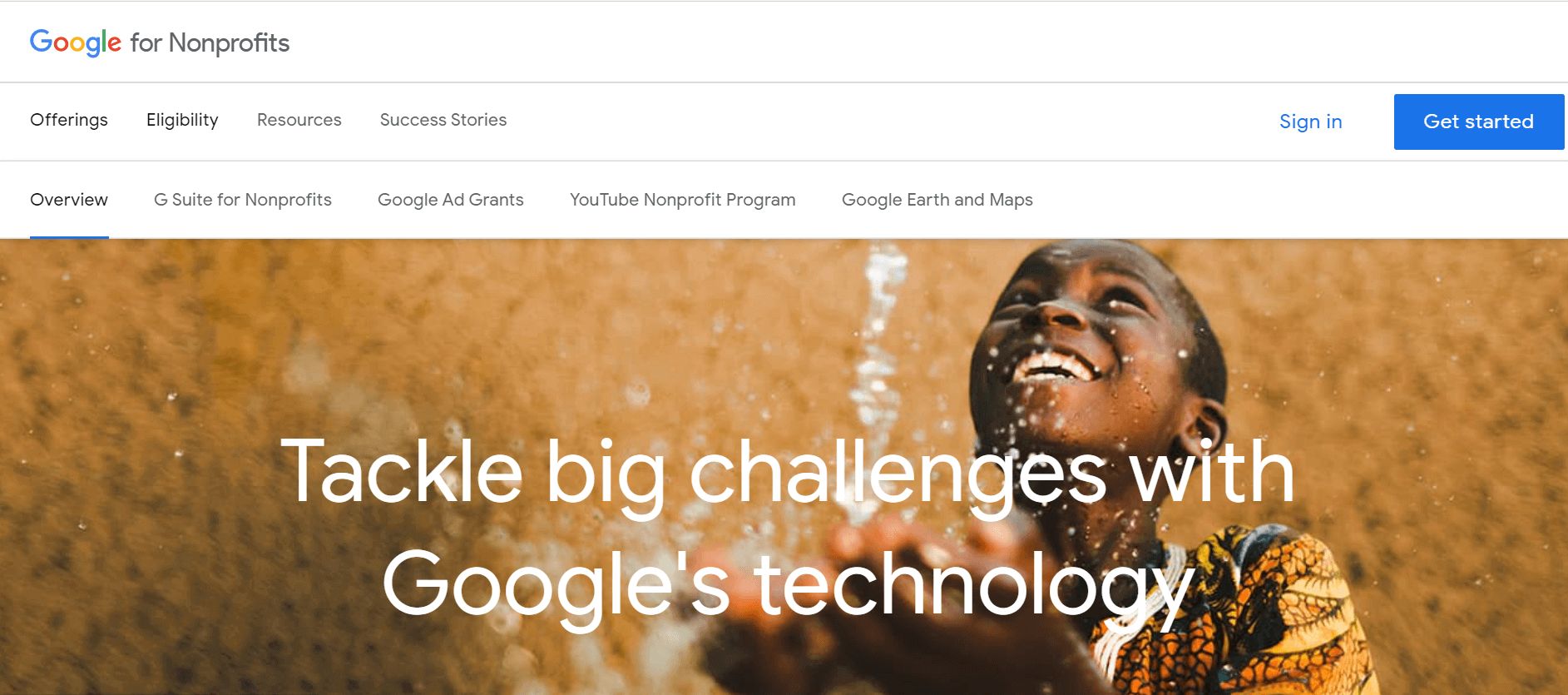 If you have a Google Account for your nonprofit, go ahead and use that to sign in. If you don't, create one rather than use a personal account.
Once you're signed in, you'll be taken to a registration page where you'll be asked to fill in some information, including the validation information that is issued to you by TechSoup.
When you are all signed in and ready to go, you will find the Google Ad Grants section. Go ahead and get started!
3. Create a Campaign
Creating a campaign to be validated is the first step to get your account fully functional. To do this, just follow the steps Google will list out for you.
You will choose your campaign settings: location, budget, language, price, and so on. You will also choose your keywords.
After you have done all of this, you send your account for review. Keep in mind that validation may take a few days.
Once your account has been validated, your campaign will be active, and so will your daily budget of $329!
Once your account is validated, you will be granted with your daily budget of $329. You can now set up your future campaigns without validation.
Exact and Broad Keywords
When setting up your keywords, you can choose "exact" or "broad" keywords. So, what is the difference?
Choosing exact keywords means that your ad will only appear when the user types the exact same keyword as the one you have chosen. Let's say you have a dog rescue nonprofit in Chicago. If your exact keywords are "dog rescue Chicago," your ad will only appear when the user types exactly "dog rescue Chicago." It will not appear if they only type the words "dog rescue," for example.
Choosing broad keywords means that your ad will appear even if the user types only part of your keyword. So, going back to our example, if you choose "dog rescue Chicago" as a broad keyword, your ad will appear when a user types "dog rescue chicago" but also if they type something like "dogs in chicago" or "dog rescue."
While both are very useful, it is important to really consider which will work best for your campaigns. Broad keywords will potentially have a larger reach, but you run the risk of not being relevant to a user's search. With exact keywords, be mindful of pluralization and punctuation, as it can affect search results.

5 Best Practices to Apply
The world of online advertising can seem a bit daunting, so we have chosen our five best practices that will help you to get the most out of your Google Ad campaign.
Practice 1: Set all bids to $2. Monitor the number of clicks and your spending. Slowly raise the bids where you are seeing the most visits.
Practice 2: Choose groups of keywords focused on a theme or topic specific to your nonprofit. Relevancy is key! Use a maximum of 15 keywords for a campaign.
Practice 3: Make sure that the ad, the keywords and the landing pages (the website page that appears when someone clicks on your ad) are consistent. To do this:

Try to use exact keywords

Try to determine which keywords to avoid so you do not appear on searches that are not relevant to your ad
Practice 4: Link your AdWords account to your Google Analytics account in order to track the effectiveness of your campaigns.
Practice 5: Be active! Log in on a regular basis to make sure everything is running smoothly. A lack of activity on your account can actually be grounds to remove you from the Google Ad Grant program.

Pitfalls to Avoid
There are a few mistakes to avoid when it comes to navigating the whole process.
For keywords, try not to use a generic word like "nonprofit" as your only keyword. A general word like this is not specific enough to attract the best type of traffic to your website. Someone could just be looking for basic information rather than your specific organization.
The more relevant your page is to a user's search, the better the user experience. If your ad is too broad, it could lead to poor user experience which can negatively affect your account.
For account management, we strongly recommend that you create a new account for Google for Nonprofits, or use your organization-wide account rather than a personal one. Using any type of personal account can cause serious issues if anything ever needs to be transferred.
We also suggest going over the rules of the program to make sure that you are not at risk of running into any issues!

Google Ad Grants can be a very useful tool for your nonprofit and we hope you decide to make the most of it.
Do you currently benefit from the Google Ad Grants program? Share your experience in the comments!


Springly is trusted by over 15,000 nonprofit's to help them run their organizations on a daily basis. See if it could work for you with a free 30 day trial!