>
Google Apps For Nonprofits: A Must-Have Management Resource
Trish
Google Apps are incredibly useful tools provided by Google to help improve productivity, communication, visibility, and more. Accompanied with a nonprofit software, we have found they are perfectly tailored to the particular needs of nonprofits!
The standard version of Google Apps is free for everyone, however there is a paid version of Google Apps that dives deeper and provides more advanced features and storage. Google reports that over five million businesses pay for this service! Interested?
As a nonprofit, you're in luck! You can access the same version for free thanks to Google for Nonprofits. Another added bonus - Google Ad Grants are available to help boost the visibility of your organization at no extra cost.
The goals of these apps are to reduce your IT costs and help your volunteers collaborate more efficiently. Something we know quite well here at Springly - we strive towards a similar goal!
In this article, we will break down four fundamental Google Apps you can use to help improve your nonprofit:
Gmail: The Essential Inbox
The tried and trusted Gmail app is essential to any organization - we even use it here at Springly! If you haven't had a chance yet to try Gmail, don't worry. It is super simple and there are several advantages, including:
Access to emails anywhere, anytime. You can access your inbox from multiple devices. Plus, everything stays safe even if you lose your computer.

A reliable search engine is integrated into your inbox - Google has your back!

Save Time: Gmail automatically sorts your emails by relevance into folders like primary, social, and promotions. This ensures you are seeing your most important messages first.

Finally, the platform is simple to use and integrates perfectly with the other apps.
On top of this, your nonprofit can also benefit from the professional features, for example:
You can create personalized email addresses for all volunteers and employees of your organization, for example "name@yournonprofit.org." Everyone can feel a part of your team.

You'll have room for everything! Google for Nonprofits gives you two times the storage then a standard account.

No more pesky ads! Enjoy a clean inbox.
Pro Tip: Our email campaign feature works seamlessly with the Gmail app.

Online Storage with Google Drive
Google Drive allows you to store all of your files online (up to 30G!).
So, what can Google Drive do?
Online storage is set up to allow access to all of your documents on any device, including tablets and smartphones.

You can sync the files on your computer with Google Drive- and vice versa!

Less restrictions - Google Drive allows you to open more than 40 different file formats.
There is no need to have specific software installed; Google Drive does the work for you by exchanging documents into the format you need. It really helps to keep things simple!
The big advantage of the version you can access through Google for Nonprofits is an unlimited storage capacity (!) compared to just 15G for normal accounts.
Some alternatives to Google Drive are: Dropbox, Icloud, Box.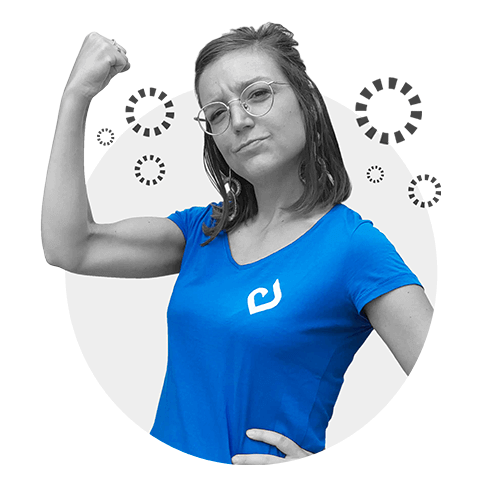 Corinne

ready to make the most
out of Google Apps!
Google Calendar: Scheduling Made Easy
Another App we love here at Springly is Google Calendar. It is an incredibly helpful and collaborative tool to help make sure you never miss a meeting! Its strong points include being able to:
Share your calendar and view your colleagues' to stay organized.

Compare your schedule to others on the same screen at the same time. The days of being double-booked are behind you!

Use your calendar on any device.
Pro Tip: You have the ability to sync the Springly Calendar with your Google Calendar to ensure nothing gets lost in the mix. You can even integrate the birthdays of your contacts if you wish!

Google Collaboration Tools
Google has collaborative tools called Docs, Sheets, and Slides that are apps similar to Microsoft Word, Excel, and Powerpoint, except they are completely collaborative and based online. This means you are able to collaborate on any and all of your documents without having to deal with downloading any software. Again, access is allowed on all of your devices!
The main advantages are that you can:
Modify, share, and work together in real time with several people on your documents. You can invite colleagues to edit and review any of your documents.

Ability to export documents as .docx, .pdf, .odt, .rtf, .txt, or .html for Docs and .xlsx, .csv, .html, .ods, .pdf, or .txt for Sheets.
Manage access and sharing abilities as you wish.

Access your documents offline.
Google Drive helps you make sure all of your important documents are safe, simple, and easy to access!

Google for Nonprofits Eligibility
You may now be wondering how you can take full advantage of Google Apps for free as a nonprofit? It's pretty easy. For the U.S., guidelines are as follows:
Your organization must be recognized by the IRS as tax-exempt

Your organization must be validated by TechSoup
For more information, you can check out the Google for Nonprofits Help Center.
Springly is trusted by over 15,000 nonprofit's to help them run their organizations on a daily basis. See if it could work for you with a free 30 day trial!
{{cta('ebddb16e-5886-40ef-9688-a961fe39bd00