>
Gaining Visibility on Google Maps for Your Nonprofit
Emily
Google Maps is a great way for you to increase your nonprofit's general visibility on the internet, especially when you want to improve your nonprofit's usage of communication tools. But, it is also the first step to quickly gain local visibility in case anyone is interested in supporting and joining your organization.
Today, many businesses and companies are using this tool. However, nonprofits have not yet begun to tap into this resource.
Discover with us how to create a listing on Google Maps for your nonprofit, to maximize your organization's online visibility:
Let's go!
Google Maps Basics
Google Maps was created in 2004 to help anyone locate and navigate to any address, using the internet and GPS capabilities on cell phones and other devices.
Over the years, its functions have evolved to include:
Get directions by car, public transit, bike, on foot, and even on an electric scooter to your organization's office!

In some cities, Google Maps offers wheelchair-accessible routes

See any traffic delays that you may encounter on your route

Visualize the street of your office with the "Google Street View" feature

Find out business hours and the telephone number of an organization
But it doesn't just help you get to your destination. It can also help your nonprofit reach new audiences, donors and members for free. How?
Let's find out!
Google Maps for Nonprofits
Did you know that you can use Google Maps to increase your organization's assistance to local communities?
This is a valuable resource for nonprofits working in health and family services. For example, if someone searches for "mental health resources" in Google Maps, organizations that are nearby should appear on the list of search results. It would be a pity if your organization was invisible to your target community!
Be sure to check for what industry keyword is being searched for the most so you classify yourself correctly. Your work may seem obvious to you, but remember that the average Joe isn't involved in the nonprofit world and might not be up to date on the latest lingo.
On Google Earth and Maps, nonprofits can also "track and share their impact with compelling data visualizations." This digital tool could be useful for nonprofits wanting to show donors what impact the donations have on local communities.
Create a "Google My Business" Account
To use any of the Google Maps resources, you need a Google account. Register or sign into your organization's Google account at Google My Business. Go through the registration steps to set up your nonprofit's Business page.
If your nonprofit doesn't have a physical office, that's fine! The form accounts for this common situation for businesses, and offers an alternative to enter the city that your business serves.
Once you have completed the registration process, you will be able to manage your business information such as:
Name of your organization

Type of organization

Physical address

Business hours

Phone number

Photos (your logo, office, or team)
If your organization has local branches or offices in addition to its headquarters, you should add them so that Google Maps has accurate information.
Click on "Add a Location" in the right-hand bar, and fill in the same information about your branch office. You can specify the local branch, so that Google Map users can distinguish it from the others, such as "[Organization name] - Brooklyn" or "[Organization name] - Upper West Side."
Don't neglect the photos section. This is the section with the most untapped potential in creating your profile. It may seem arbitrary, but adding a photo of your team in front of your offices humanizes your nonprofit and can be the final push for a wavering member or donor. Keep the photos professional, high-quality, and focus on images where your logo is visible.
Once the rest of your information is updated, rest assured that if anyone searches for your organization on Google Maps, they will be able to find you!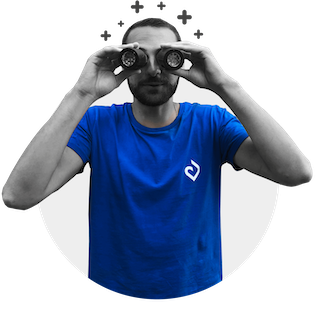 Ryan knows his organization can be easily found on Google Maps, after setting up the right information!
Best Practices for Google Maps
Google Maps has become the modern alternative to the Yellow Pages. (Remember those heavy telephone directory books?)
Your organization should be visible on Google Maps especially if your organization has a local audience, and/or local branches or offices.
Let's break this down into an example. Paul is an avid tennis player who recently moved to a new city. He wants to join a local tennis club to meet other tennis players.
To find a new club, all he has to do is open Google Maps, and type in "tennis club" to see local tennis clubs near him. That is, if those tennis clubs are registered on Google Maps!
Using Google Maps is free, so if you want to boost your organization's presence on Google search results, having a business page on Google Maps will help.
Get Reviews
Your organization's presence on Google My Business will allow your audiences to leave reviews. You can ask a few people in your community to leave positive reviews for your organization. In fact, 68% of people will leave a review when asked.
While you may be thinking Google reviews are only important for traditional businesses, this is where you may be wrong. Having great reviews can even be an engaging factor for potential donors and members who aren't yet fimiliar with your organzation's impact.
Google reviews act a form of social proof for your work. A social proof is a marketing phenomenon where people assume the actions of others to determine correct behavior. In plain English, it means that your Google Reviews tell the potential contact that their intuition to give to or join your organization is correct. It also inspires confidence in your organization as a someone is giving an objective account of their interaction with your nonprofit.
Google reviews can even help you rank higher in organic search. With a significant number of reviews that are using repeating keywords (i.e. words like clothing donation, food bank, or tennis club) were shown to have had higher rankings in Goolge's local search results.
Reviews are great, but don't fall into the temptation to create fake ones! It is not worth it. Reviews need to be authenic in order to have a positive impact. Another sign of fake reviews is when there are no negative or constructive comments. While we would never wish a bad interaction for you, it is unrealistic that everything goes right 100% of the time.
It is important to respond to negative reviews with a positive message. Remember, potential donors and members are also checking your reponses to criticism! This is also a great way to learn more about where you could improve. Take these messages seriously, record what is a recurring problem, and use them to optimize your processes!
We hope it's clear why Google Maps is a useful tool that can surprisingly boost your nonprofit's digital visibility.
Besides being able to easily locate your physical office(s), your community and target online audience will be able to access all the essential information about your nonprofit.
Springly is trusted by over 15,000 nonprofit's to help them run their organizations on a daily basis. See if it could work for you with a free 30 day trial!