>

Graphic Design Principles to Use for Your Next Poster
Emily
As a nonprofit, there are events, causes, and news to share with your community, and even with the world! Communication strategy is an important aspect of an organization. Many times a poster or flyer, whether it be on paper or online, is the best way to spread the word.
We want to give you some of the fundamental graphic design principles that will help you create beautiful and effective posters for your nonprofit. Our designers here at Springly, Mary and Sasha, have given us their best advice!
We will go over the following principles:
We will also share examples of posters as well as some simple and free tools that will allow you to put these principles into practice.
We hope this all will help you with the design of your next poster or flyer!

Harmonizing Colors
When beginning a new project, there is a rule of thumb when it comes to choosing colors. Don't choose more than two colors in addition to white and black. This will help keep your design simple and beautiful!
If you do find yourself needing more colors, just choose different shades of your existing color choices! Choosing two different shades of green will be much more effective than throwing in a purple.
For example, look at these two images below. The first image shows a palette that added more colors, while the second image just added shades to the palette.
As you can see, the second image is more attractive.
Granted, it's not always easy to find the perfect color, especially if you are limited by the colors of your logo or website theme.
In this case, don't panic! There are tools to help you find perfect color combinations. We recommend checking out coolors.co to help you build a palette!
If you have ever done any online or graphic designing before, you may have seen RGB and Hex color codes. We think it's important to break these down, it is actually quite simple!
The RGB code designates Red, Green, Blue, i.e. the primary colors that make up all the others. The code usually appears with the letters RGB. Each color, red, green, or blue, has a value between 0 and 255, which makes it possible to create 16,777,216 colors!


The Hex code or hexadecimal system is a bit more mathematical. It uses a format of "#" followed by a combination of six numbers and letters. The letters go from A-F. This hex code can be used to create millions of colors!
The screenshots below were taken on PowerPoint and are a great example of what Hex codes look like. Notice the codes of the white and black colors: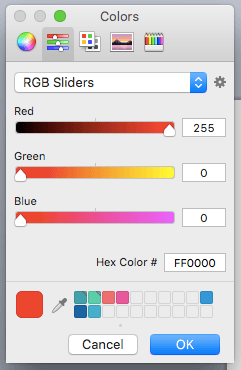 By the way, if you are working on PowerPoint, don't hesitate to try out the color palette that appears at the bottom of the window to help you find your colors!
If you see a color online and want to know its code, there are plenty of tools out there to help. Examples include the ColorPick Eyedropper and ColorZilla extensions for Google Chrome, or ColorPicker on Mozilla.
This way you can also get the codes of the colors on your logo, or anything else for that matter, if you need it!
Implementation
Let's say we want to make a poster for our next online workshop we are hosting here at Springly, and we want to include our signature blue.
We can go directly to our website, use the ColorZilla tool, and voila! We now have the code needed to recreate the same color.
The code is "316BF2". We can then paste that code into coolors.co and pick a second color to finish our color palette. Remember, only choose one other color!
Color Symbolism
When it comes to graphic design, keep in mind that colors can be symbolic and convey different emotions! A black poster can have the exact same message as a yellow one, but they will not convey the same feeling.
Keeping color symbolism in mind is recommended when designing! Here is a chart to help you:


See if any of your values fall in line with those listed. This is another great way to get inspired and help you pick a color.
Are you a nonprofit that focuses on health, nature, agriculture, or sustainable living? Why not choose a brown to help further convey your message!



Font and Text Legibility
One of the most important aspects of a flyer or poster is its readability. It would be a shame for all of your important information to get lost in an illegible font or text size. We recommend paying close attention!
Our first piece of advice is to forget about using any fancy fonts. The simpler, the better! It will be much more effective if your poster has a clear, simple, and easy-to-read font.
If you want to convey creativity, try using bright colors or interesting visuals rather than a funky font.
We also suggest that you make sure there is a strong contrast between the color of your text and the background. White text on a dark background, for example, is a great way to ensure everyone can read your message.



The Visual Hierarchy
The visual hierarchy refers to the arrangement of elements in a way that implies importance. It is a very important principle for designers because it tells people where to look and what is most important.
To follow this principle, minimizing the amount of information you include on your poster or flyer is essential. It is normal to want to include all relevant information, but you run the risk of your design looking cluttered and distracting the viewer from the most important message.
If there is only one piece of information you would like a viewer to remember, what would it be? This message should be the focus of your design.
Prioritizing your information and its importance is a good foundation to make sure you are creating an effective design. We suggest that you split it up into two: the main information and the supplementary information.
Once you have decided on your main and supplementary information, you can start to focus on the size and boldness of your font.
The principle of using fonts: The main information should be twice as big as the additional information


It is preferable to put your important information in bold, rather than underlining it. Underlining can indicate the presence of a link, so using it for something else could be confusing.
Finally, it is good to know that the human eye tends to read the information on a poster by following the shape of a "Z". Take this into consideration when thinking about the structure and design of your poster!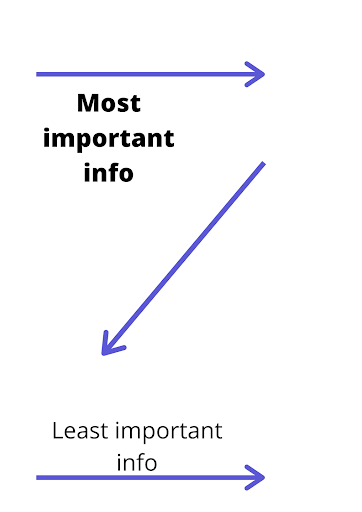 We will show you some great examples of designs which have effectively used these principles later on in the article!



Spacing and Alignment
Proper spacing and alignment for your text is a crucial design principle. It is more reader-friendly to have text spaced out rather than crammed together, and they will most likely absorb the information much better!
It also gives a more cohesive and connected looking visual, which is pleasing to the eye.
However, when it comes to spacing, we understand that sometimes you can be running low on it. When that happens, there are a few solutions:
Increase the dimensions of your poster or flyer
Resize the text
Condense information- our best advice!
Alignment is also an important aspect of your design. There are a couple basic principles:
All of your elements must be aligned with each other. If you extend the edges of one element, it must meet the edge of another element. This rule applies to both text and images!
Avoid horizontal texts! It can be very difficult to align them with your other elements.

Here is a visual to understand the importance of alignment:

Poster Examples
Are you more of a visual learner? We found some great examples of posters that properly embody the graphic design principles we have discussed.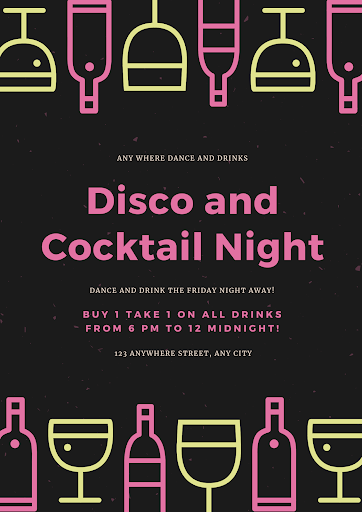 Notice the alignment of text, size of the texts, and color choices.



Free Tools to Get Started
While graphic design may seem a bit daunting, there are plenty of easy-to-use tools to help you get started.
Programs like InDesign are great, but can be very expensive. You can accomplish great designs without breaking your budget with these tools:
Gravit Designer
Gravit designer is a free tool that gives you a blank canvas in the dimensions of your choice to help you create a beautiful design.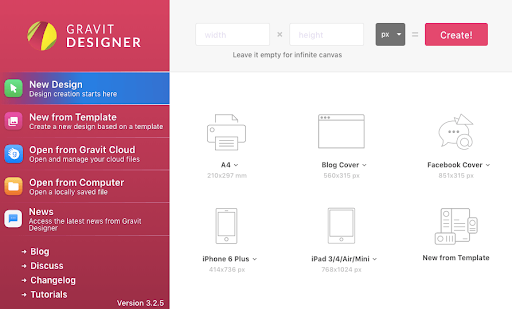 Canva
Canva offers a free version of their product, full of templates and customizable elements. It is a perfect tool to create a poster.



Desygner
Desygner is another free software that allows you to create all different types of designs either with a blank canvas or one of their premade templates.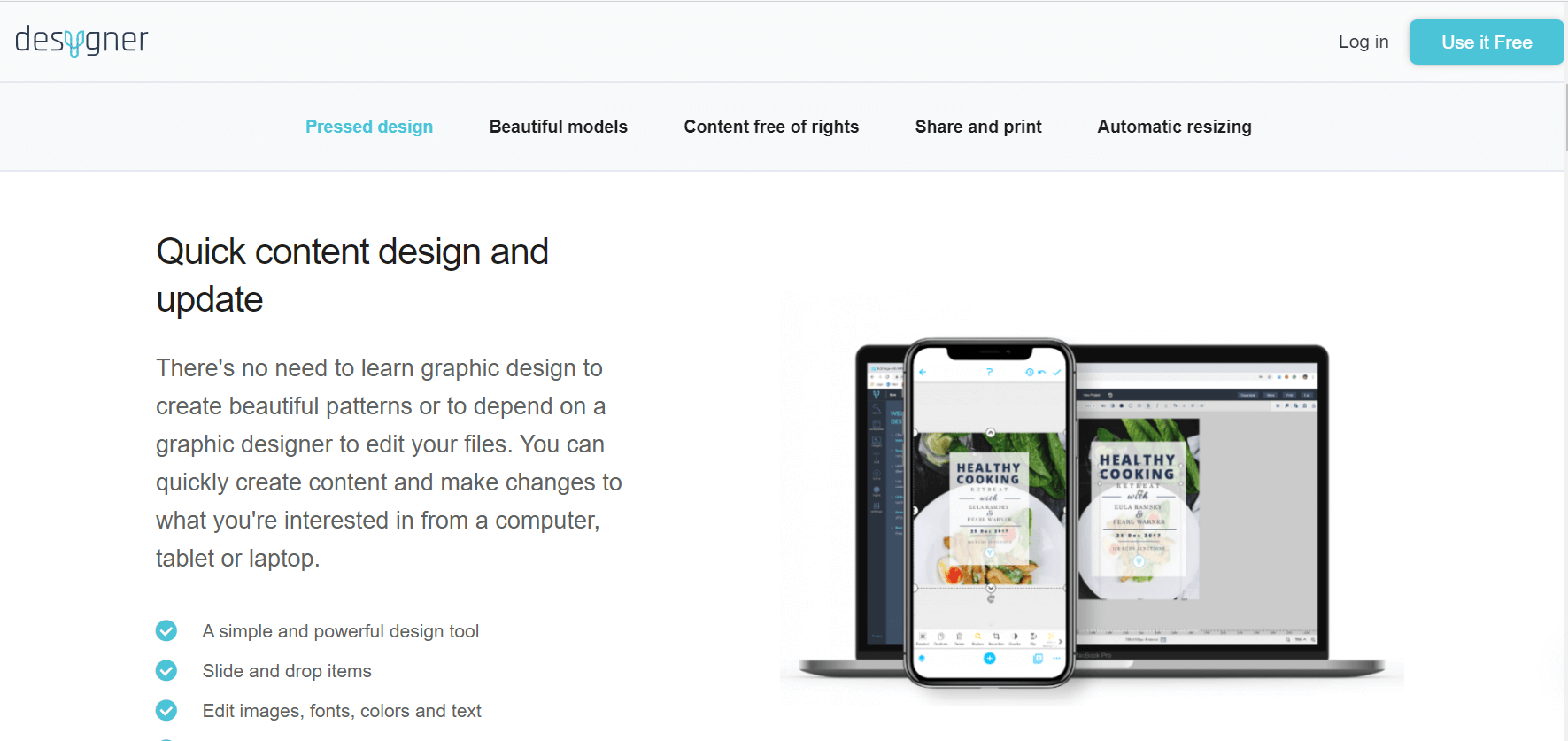 Main Points


🎨 How to choose colors for your poster?
Avoid using more than 2 colors in addition to black and white. If you need more colors, take the ones you already have and make them lighter or darker!
Keep color symbolism in mind when you are deciding on which color to use.
✏️ What information should be included on the poster?
As little as possible! Keep the spacing, alignment, and font size principles in mind. Review the examples to get a good idea of the type of information you should include.

Don't forget the visual hierarchy principle when you are placing your information.
🛠️ What tools should you use to design your poster or flyer?
There are plenty of free tools to use, including Gravit Designer, Canva, and Desygner.


We hope you will find this article useful for your next design project! If you are interested in more design tips and tools, check out our articles on design tips for your website, free images and icons, and the best nonprofit websites to give you some inspiration.
Springly is trusted by over 15,000 nonprofits.
Discover why!