How to Grow Your Nonprofit Network to Amplify Your Impact

Briana
When you think of networking you probably imagine dusty alumni events and "my name is" nametags. So then why is it important to establish a nonprofit network?

Networking is a great resource for nonprofits to collaborate and create a larger impact, especially if you are just starting your nonprofit. It is also a chance to create strategic partnerships, which can open the door to new opportunities for growth. Whether you are just starting your nonprofit, or are more established and looking for ways to grow, networking is essential to amplify your impact.
Today we will cover three key aspects to nonprofit networking:
Let's get started!

What Is Networking?
Networking is all about developing professional or social relationships. While it seems fairly straightforward, there are a few hidden secrets to networking that we have discovered.
First, you should not wait to get the word out about your nonprofit. You can start networking even if you haven't finished the registration process. In fact, we encourage it! This will allow you to build relationships with nonprofit professionals, and businesses, that can help guide you through the process.
Second, networking should be beneficial for you and the other party. The best way to achieve results with networking is to consider how you, your organization, or your mission can benefit others, and verify that your message is received during your interaction.
For example, let's say that you are a nonprofit dedicated to providing resources for underprivileged minors. Your goal is to connect with an organization that provides formal wear to teens. You can approach someone from this organization by telling them you are interested in collaborating with them during prom season. Showcase the benefits they will receive from the collaboration by explaining how many more teens they can impact by pooling your resources.
Lastly, your goal in networking should be to put your mission first and your organization second. This might sound a bit confusing, don't you always put your mission first? What we mean by this is to stay open-minded to new opportunities that will strengthen your mission.
For example, let's say you are a food pantry and your mission is to fight food scarcity for as many families as possible. You currently benefit 100 families in your community. Through networking you have found two other nonprofits that you can collaborate with to create bundles with food, school supplies, and clothes. If you collaborate with these other organizations you could reach 3,000 families in your community. The collaboration requires you to stop your current operations, but your impact will be multiplied by 30. In this case you should collaborate in order to fulfil your mission, but your organization will change in the process.
Sometimes in networking you will find new opportunities that will completely reshape the way you operate, and you could end up imagining new projects for your organization that you never planned. That is okay, it is your impact that matters!

Where to Network
Before you participate in any of these networking opportunities, be sure to have a clear goal in mind. Do you want to contact a specific person, maybe create a network, collaborate with another organization, create a strategic partnership? Now that you know how to approach the idea of networking, we will show you some of the best places for nonprofit networking.
Online Groups
Online groups are a great way to dip your toes into networking. Facebook and LinkedIn are great places to start. Why? Because both of these social networks have several pages dedicated to nonprofits on various subjects, and are regulated by administrators to ensure security.
Our favorite LinkedIn pages are:
The NonProfit Times
NonProfit Sustainability Strategies
GuideStar's Nonprofit Conversation
Some helpful Facebook groups include:
Nonprofit Management Circle
Nonprofit For Newbies
Your Thriving Nonprofit
All you need to do is ask to join, answer a few questions, and start participating! You can make an introduction post just to explain who you are and what your organization does, and say hello to your new community. You can also use these pages to see what other nonprofit leaders have said, and comment on their posts. This is a great way to help other nonprofits, and get questions answered from nonprofits that have been in the same situation you might be facing.
Pro Tip: These pages shouldn't be just for professional use! You can also use them to share difficult moments and success stories.
We all have difficult days, and the members of these pages are great at supporting you through them, and can give you the advice to overcome them. They are also there to celebrate your milestones with you, like when you receive your tax-exempt status or reach your 100th donor. LinkedIn pages can be a bit more professional, so be sure to understand the difference between the two.
Your Board
You spent a lot of time creating the perfect board of directors for your nonprofit, now it is time to put that hard work to use!
Your board of directors is a great resource for creating a nonprofit network. Make sure to mention in a meeting that you are looking to grow your nonprofit's network, and see if they can do anything to help.
Some things your board can do to support you is to share posts about your nonprofit on their social media or LinkedIn sites, and talk to helpful contacts for you. If you have a specific goal in mind, be sure to let them know!
Local Events
One of the most successful ways to grow your nonprofit network is to attend local events. This can include networking events, but it doesn't have to be. Stay open-minded, and try to think of where the most number of nonprofit organizations would be present. For example, many communities have city council meetings, holiday chamber of commerce parties, or an after-work for new businesses, all of which most local nonprofits will be present at.
These events are so beneficial because they enable you to connect with people in your area, which in turn can help you create a larger impact in your community. Once you establish a relationship with the people behind the nonprofits, and get to know their organization better, you can propose strategic alliances and collaborations that will connect your missions and combine your resources.
If there aren't any local events that will gather nonprofits, don't hesitate to create one! Creating your own event is a great way to ensure you can network with key organizations, and to get the word out about your organization.
Pro Tip: These events do not need to be in-person events! Embrace digitalization and go online!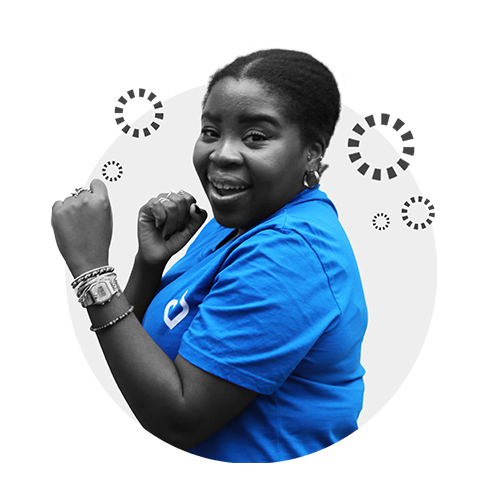 Sealiah is excited to check out
these opportunities to network!
Conferences
Conferences are a perfect opportunity for nonprofit organizations. Not only do you get to network with other nonprofit organizations, but you also get to improve your organization in the process.
Conferences are a great way to network with people that are working towards the same cause. Generally speaking, these conferences already have networking events set up throughout the conference, so that part has been done for you. You just need to come, be prepared to talk about your organization, and make sure to ask other attendees about their nonprofits.
Pro Tip: Before attending one of these events, be sure to see who else is going and then check out their LinkedIn profiles and organization websites. This will give you a better idea of who you need to talk to, and increase the chances of adding this person to your network. After you know a little bit about them, and identify ways that your organization can benefit them.
Conferences aren't the cheapest option on this list, so you should read reviews before deciding on one. That way you can pick the conference that you believe will give you the highest return on investment.
Just like local events, a lot of conferences are converting to an online format due to the sanitary situation. Take advantage of the opportunity to save money on a hotel room, and make sure to participate just as much as if you were at a physical event.
Nonprofit Network
Maybe the most obvious way to network on this list is through an existing network of nonprofit organizations. These groups are usually dedicated to nonprofit organizations in a certain area, whether it be state, region, county, or city. Some of them dig deeper into the causes, which can also be very helpful for networking.
These groups are a great opportunity for your nonprofit to automatically be connected to a network of organizations. You can find them by searching "nonprofit network (insert location here)".
If you search and weren't able to find one, it might be a good chance for you to create one! This will take more time, but if you have a goal in mind it can greatly benefit your organization. Not only will you get the connections you need, but you will also create more recognition for your nonprofit.

How to Create Sustainable Networking Practices
You have done all of the hard work, so how can you ensure that it pays off? Make sure to develop sustainable practices that will keep your networking efforts alive.
Reaching Out to Donors
How you communicate with your donors is crucial to maintaining donations, and growing your network. Why? Your donors not only provide you with funds to support your organization, but they also tend to share this information with their friends and family.
Establishing and maintaining a good relationship with your donors is an easy way to sustainably network for your nonprofit. Chances are you already have a plan on how to communicate with your donors. If not, don't fret! We are going to give you our best tips:
First of all, make sure to thank all donors for their donations. Try to be very personal with this message so they know how important they are to your mission. A phone call or email is always appreciated, as long as gratitude is expressed.


Second, along the same lines, show continual gratitude. You can also give appreciation for your donors by creating a "made possible by" section on your website. Just make sure to get their permission before you publish this information.


Third, you shouldn't only be reaching out to donors to ask for money. They are a continual part of your network and should be treated as such! You don't want to make them feel like an ATM machine. Be sure to send them updates on your organization, stories from beneficiaries, and if you can, just reach out to see how they are doing. They will remember your generosity and will share this with their network!
Communicate with Volunteers
Your volunteers are just as important to your organization as your donors are. They are people that might not have the financial means to help you, but they are there to support you physically, as well as with their time, energy, and expertise.
If you establish a good relationship with your volunteers they will want to share their experience with their networks! Not only friends and family, but also co-workers. Many companies are now including volunteer days in their benefits package, which allows employees to take a certain number of days a year to volunteer. At Springly we get a half-day to volunteer each month! If your volunteers love your work, they will share this with their teams and help spread your impact.
Contacting volunteers is very similar to that of donors. Be sure to thank them for their time and acknowledge the work they have done for you. You can do this in-person of course, but a little thank you email or call after they volunteer won't go unnoticed.
Just as your donors want to know where their money has gone, volunteers want to know that their time has helped your mission. Be sure to send them updates on your organization, impact reports, and stories from beneficiaries.
Sharing Other Missions
Have you ever seen an influencer on Instagram share other profiles they love? There is a strategy behind this that you can employ for your nonprofit. You may be asking yourself, why would I divert potential donors and volunteers away from my organization? Let us explain why:
Sharing other organization's missions will allow you to enhance your networking and create connections. This strategy works because by sharing what they do, it will draw the attention of the organization that you want to connect with. They will be able to see that you want to help them in their mission, and they will reach out to say thank you, or even extend the same favor to you. At that point, you can then talk to them about whatever your goal is for that connection!

Now you are ready to start networking! Remember to think about what your goal is before each conversation or event so that you can get a better understanding of what you want from the interaction.
We hope these tools will help you to grow your nonprofit network! Let us know in the comments if any of these tips worked for you.
Springly is trusted by over 15,000 nonprofits to help them run their organizations on a daily basis. Try it, test it, love it with a 14-day free trial!

Briana
Recommended articles
How To Use A CRM For Nonprofits For Better Daily Management
Trish
Communication
Social Media
A Comprehensive Guide To Instagram For Nonprofits
Trish
How to Analyze Your Nonprofit Email Marketing Statistics
Trish