How To Choose the Best Volunteer Management Software (+ 5 of the Best Ones on the Market)
Louis-Pierre
Time is a valuable commodity for many nonprofit organizations. You've successfully gone through the steps to create your nonprofit. You filed your form 1023 for your coveted tax-exempt status, set up your nonprofit board structure, wrote your nonprofit bylaws, selected insurance and set up a relationship with a bank, and are realizing that time is more of a precious commodity than ever before!
Assistance in the form of software management programs can free up time for you as well as your staff members to focus on growing the organization, allowing you to accomplish more and make a better, and bigger, impact.
If you have the right software, you can better manage existing volunteers. The right combination of number of, and management of, volunteers combine to help you meet your goals and manage your time and projects in the most efficient way possible. This allows you to further your mission.
Not sure where to begin? Let us help with some of our best nonprofit tips on how to choose the right software for your organization.
Here is what we will touch on:

What Is a Volunteer Management Software?
Volunteer management software helps you organize, engage, and recruit unpaid staff. When creating a nonprofit, or maintaining a growing organization, volunteer management software can help manage your helpers and all of their assigned tasks.
Any time you make use of volunteers, there are steps that you need to take to ensure that everything works as intended and your collaborators feel comfortable and know what their responsibilities are.
Unfortunately, managing these tasks is not as straightforward as simply identifying a project and determining how many volunteers are needed to support it.
Once you have mapped out the task or event, coordination of those who will support it includes:
Determining whether your existing volunteers can support or confirm that additional folks need to be brought onboard,

Potentially recruiting volunteers and then train them,

Devising a schedule for each volunteer placing them on projects where they have an interest and the right skill set to continue to be engaged and helpful,

Managing and providing support during all relevant activities,

Evaluating their performance,

Offering constructive feedback without negatively impacting engagement and

Deciding whether you need to provide any additional training or guidance on your nonprofit's core values or the various work efforts.
That's a lot of effort for nonprofit project management!
Per SHRM, poor communication costs small businesses (fewer than under 100 employees) $420,000 per year. Yes, yes, we know that statistic is in reference to businesses. However, experience tells us that nonprofits suffer from these same communication issues.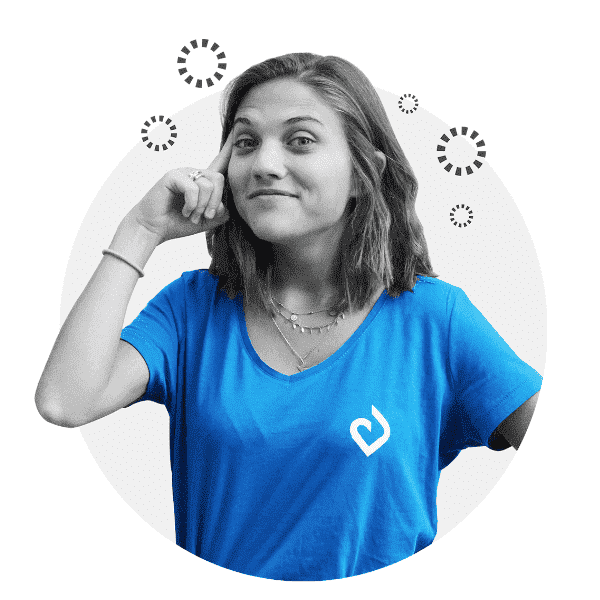 Beatrice loves the idea of spending her time more efficiently on volunteer management!
Therefore, proper management of, and communication to, volunteers regarding their responsibilities can save a fortune by reducing wasted time, confusion, and errors, thus increasing effectiveness and ability for your organization to meet its goals.
Volunteer management software, through increased data cleanliness and automation, provides an all-in-one solution to consolidate all aspects of volunteer management into one place. Not only does this streamline volunteer management for your organization's staff, it provides your volunteers a better overall experience, which encourages repeat volunteerism.
Any nonprofit with volunteers can make use of this software and facilitate significantly better team collaboration!

What Are the Main Features a Volunteer Management Software Should Have?
For optimum results, a volunteer management software program you consider implementing for your organization needs to have a variety of features.
CRM / Contact Info Database For Volunteers
Having an accurate and detailed database of all your volunteers' contact information, availability, experience, and other relevant knowledge, is crucial. This provides you with all the data needed for scheduling and general or event-specific communications.
Furthermore, your CRM should have the ability to sort volunteers by specific qualifiers. If volunteers have the ability to check themselves in through mobile apps or software and can access pertinent documents that provide the information they need for their roles at any time, your organization can store and later utilize this information. Check-in functionality helps staff track attendance without burdening volunteers with additional communication requirements. With this information, your CRM empowers you to select the right volunteers for certain assignments based on tenure, experience, and interest.
Tracking capabilities will help you monitor volunteer hours and ensure that everyone is where they are supposed to be, when they are supposed to be there. Additionally, this automated tracking and related metrics options that your nonprofit board of directors will be interested in. You can better identify intervention points where added motivation may be needed e.g., if you were to identify potential churn.
What else does an accurate and up-to-date database help with? Well, in addition to improved volunteer communications, a well-functioning database can:
- Track preferences and personal information that can be utilized to improve the effectiveness of communications,
- Help staff organize missions thus providing a better experience for volunteers and, likely, a better and more fruitful outcome for the mission,
- Give volunteers autonomy to update their own information,
- Reduce administrative time associated with attempting to reach volunteers, and
- Allows volunteers to (typically) see any transaction history.
Pro Tip: If you suffer from outdated information, the USPS offers a national change of address database that can help you keep your records updated. If your volunteers move, and file a change of address request, you will know so you won't miss a beat in your communications with them after their move!
Shared Calendar and Event Registration
Having access to a common calendar that is accessible to all staff in your nonprofit can ensure that everyone knows dates for events and other important deadlines. Essentially, it helps keep everyone on the same page.
With an overview of everyone's schedule, staff can ensure that the proper volunteers are scheduled for the appropriate events. Also, communication improves because everyone will know where they are supposed to be and the role they will be performing.
Pro Tip: 270 million people in the US use smartphones. Help your organization (and all of those smartphone users out there) by ensuring your calendar is developed in a mobile-friendly way. The ability to access this calendar on mobile devices across the spectrum will ensure that anyone can easily view it at any time.
With multiple scheduling views (both the traditional calendar format and a list format), you can see everything at a glance. If you maintain an up-to-date database of volunteer availability, the software can even automate scheduling for events based on availability, experience level, or role, and whether there are any other scheduling conflicts at that given time.
Talk about an incredible time-saving opportunity!
Communication Tools
The more communication tools that software provides, the better; there are many different ways you can interact with your volunteers!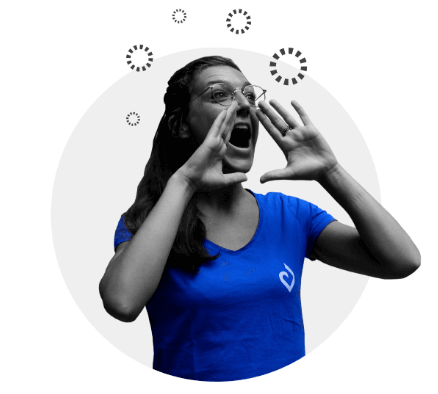 Corinne is using an outdated communication tool, it might be time for an update!
The ability to schedule emails is particularly handy because you can prepare reminders and information about upcoming events and then set them to be delivered at the appropriate time.
You will want to be able to send messages in a variety of different forms to mobilize your volunteers, whether through in-app solutions (which allow for messages to be sent through the software itself instead of a separate solution) - think SMS, texting, email, group messaging - or though external integrations like Mailchimp.
Surveys
When you want to determine how satisfied your volunteers were with a project experience or maybe want to receive thoughts about ideas and planning, a survey is a great and easy-to-use tool for quick feedback.
It also allows volunteers to be heard. Their ideas and beliefs are important to you and your organization and surveys are one way to ensure they know that.
The usefulness of surveys is only limited by your imagination and creativity!
Pro Tip: If you decide to get feedback, be sure to do something with it! There is nothing more frustrating for volunteers than being asked for feedback and then not seeing a recognition of what was heard, learned, and what will change as a result.
Volunteer Intranet
An intranet is another great way to enhance both volunteer and staff communication and engagement. This central network allows volunteer or staff members to access information from any location and is a critical component when considering which software package to choose.
Volunteers can login and access a section of the platform dedicated to them to learn about new and exciting volunteer opportunities, find documents or information they may need, get contact info for other volunteers, or learn about other ways they can support your organization. If you have open positions, consider linking them here so your volunteers know they have the opportunity to become full-time (paid!) organization supporters.
Researching available options will help you confirm that the selected software will meet the needs of your organization and save you the maximum amount of time and effort, so you can focus on other more important considerations.

Which Criteria Do You Need To Consider?
Outside of features, there are a whole lot of other criteria to consider when choosing software that is based on the product itself. There are four major criteria to consider:
User-Friendliness
First and foremost, the software you choose should not require any special skills to use. Your volunteers and admins are going to have a wide range of skills and expertise, but the program itself should be designed so that anyone can easily use it without having to spend significant time learning.
After all, the point is to save time and if you're having to train every volunteer or every admin on specific procedures and protocols for using the software, that defeats the purpose somewhat.
Find something which is attractive, simple, and user-friendly. Every feature within the software program should operate in a similar way so that a user can interact with all features without having to accommodate the program. Instead, the program should accommodate the user!
When the software is designed well, it reduces the need for knowledge management. For example, when the software admin leaves the organization, you want to minimize the overall disruption. The less complicated the software, the easier it is to transfer administrative responsibilities.
Price to Performance Ratio
Shop around to find the best program for your nonprofit's budget. Many software programs offer free trials so you can try before you buy, but be aware that many paid services operate on a tiered pricing system.
Pro Tip: If a software provider does not offer a free trial, or at least a product demonstration, run for the hills. Try out software before you implement it as part of your organization's standard database or information management system. Most SaaS options offer a few weeks or at least a few days of free service via a free trial. If not, ask them directly as this is the best way to discover whether the software actually matches your needs and will be a viable long-term solution.
A tiered pricing system means that different levels add additional or enhanced features, which are only accessible for higher-tier or premium subscribers.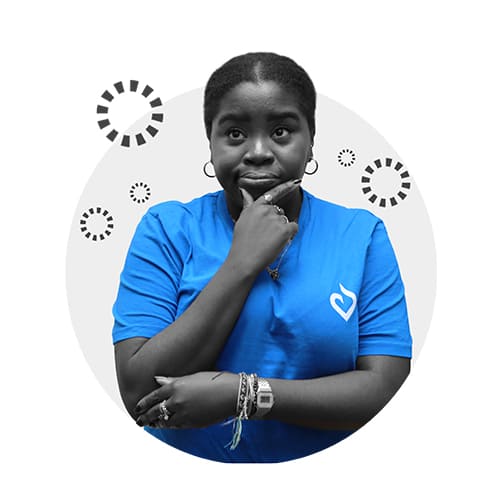 Sadie is weighing all the important criteria in her software decision.
Consider your budget when evaluating software and look for features that will benefit your nonprofit or charity the most while taking into account your economic bottom line. Determine what your nonprofit needs vs. wants, and choose a suite that is most useful.
After all, if you don't need certain features, why pay for them?
Many software packages offer nonprofit discounts (or even free access!) so absolutely investigate this, even if you have to contact the company directly to inquire about the availability of the discount.
However, we highly recommend using a software company that is designed for nonprofits (like Springly!). They do not offer discounts, but the pricing is lowered in consideration of smaller budgets. When you think about it, nonprofits have very special needs in comparison to most traditional for-profit businesses (e.g., donation management). Software designed for nonprofit organizations is made to fully serve your unique needs!
Customer Service and All-Inclusive Help Center
When dealing with tech and software, inevitably there will be circumstances where you face a problem and need troubleshooting.
Make sure that your chosen option has a comprehensive help center or FAQ feature to handle basic problems but also offers a large window for online chats, phone support, or other technical support.
You never know when you could have a show-stopping problem right before (or in the middle of) an event and need a quick solution. Being able to get that solution is imperative!
Read reviews for your potential company's customer service and technical support to see how others have found their experiences. Weight the reviews from other nonprofits a little more heavily than for-profit businesses. Ideally, you want a partnering organization that will work with you to further your mission
Data Security
When you are dealing with ANYONE's personal information, being able to protect that data from unwanted eyes, cyber attacks, and unauthorized access is paramount because a breach of security could lead to legal problems and broken trust. One of your nonprofit board's responsibilities is to minimize risk. They will thank you for your due diligence here!
Carefully read the company and software's privacy policy to see whether they take proper care in protecting sensitive data and determine whether you feel that they are trustworthy and the precautions in place are effective.

5 Of The Best Volunteer Management Software On The Market
To keep you from having to scour the internet, we want to get you started on your search with 5 popular examples of volunteer management software for your consideration.
Springly
How can we have a "best of" list without including ourselves! In all seriousness, Springly is an all-in-one package, provides volunteer management and so much more. One of our key advantages is that users gain the ability to easily interact with all resources that their nonprofit needs. This ensures that all functionality is integrated and at the user's fingertips whenever it is needed.
Key Features:
Incredible versatility

Attractive software that is easy to use

Excellent customer service and quick response times

Sophisticated features and great collaboration software
Some users have expressed that there are so many features that it can be a bit overwhelming at first.
VolunteerHub
Providing a viable solution to volunteer management, scheduling, and communication, there are a lot of features that make VolunteerHub great! Here are a few:
Easy volunteer recruitment, registration, and scheduling

In-depth volunteer information database with CRM integration

Customizable events

Tracking capabilities for waivers

Multiple (three) pricing tiers
However, the software itself is not the most user-friendly and the dashboard layout is unnecessarily complicated.
InitLive
A good comprehensive volunteer management software package, InitLive is known for providing great customer service. Here are a few of InitLive's other key features:
Customizable settings

Flexibility

Event planning

Scheduling capabilities

Real-time management via mobile app
While scoring great reviews, some users complain about the learning curve for the program and that some scheduling and email features are not as intuitive as they want.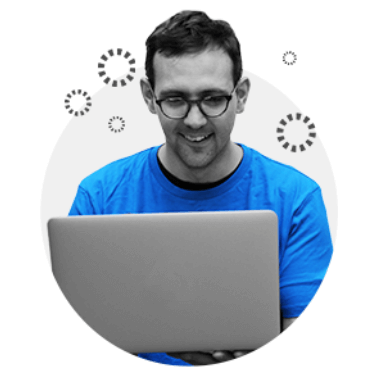 Matt is checking out some of our recommended volunteer management software!
Signup Genius
With a focus on simplicity, many users love how easy it is to pick up and use Signup Genius.
Key Features:
Simple and easy sign-up and registration

Powerful communication features

Advanced reporting and data tools

Easy payment and tools for donations

Excellent customer service
Some of the downsides are that some features such as templates and overall design seem a bit outdated and there have been issues with effective usage of spreadsheets and cancellation notifications.
Samaritan Technologies
A software option with lots of features, they provide added security to their software to keep user data and your organization safe.
Key Features:
Availability of enhanced security features, including background screenings

Feature integration capability e.g., social media

Tracking and collaboration options

Automated processes
Most complaints about this software have to do with the complexity of learning the program, the limitations of some features, and in particular, complaints that expansions require additional fees.
Keep in mind, this is a small sample of what is out there, so if you do not find one here which seems appropriate for your organization's needs, there are plenty of other options to choose from, such as giveeffect, Volgistics, Volunteermark, EveryAction, Enterprise, sumac, teamkinetic, ecoordinator, mobileserve, giveeffect, galaxy digital, cervis, mobilize, signupgenius and more!

Springly is trusted by over 20,000 nonprofits to help them run their organizations on a daily basis. Try it, test it, love it with a 14-day free trial!
Louis-Pierre
Recommended articles
How To Use A CRM For Nonprofits For Better Daily Management
Trish
Communication
Social Media
Marketing
A Comprehensive Guide To Instagram For Nonprofits
Trish
How to Analyze Your Nonprofit Email Marketing Statistics

Danica