>

The Perfect Nonprofit Survey: 7 Golden Rules To Follow

Danica
As a nonprofit, seeking feedback is a great way to grow and improve each year. Maybe your organization launched a new project, or presented an event. Have you seen restaurants and hotels ask for customer reviews? Asking for feedback is important for establishing a relationship with customers, and taking the opportunity to improve services.

Your nonprofit can benefit from surveys too! There are tools available to help you create and conduct surveys.
If the survey for your organization is well constructed, you will easily get the results you need. Sadly, the opposite is also true, a poorly constructed questionnaire can lead to a much more time-consuming analysis.
In this article, we present the steps on how to make a survey for your nonprofit:
Let's jump right in!

#1) Creating a Survey for Your Nonprofit: Questions to Ask Yourself First
Before you create your survey, you need to ask yourself some questions first. This will help you focus on your communication objective and getting the responses that will actually be useful.
Why Do You Want To Do This Survey?
Some surveys are to improve operations and communications. Other surveys are created to find out what activities members would be most interested in.
You should clarify your objectives before sending the survey out to your donors, volunteers, and/or members. Depending on your reasons for surveying your community, you can decide which surveying tool to use, how to send the survey, and how to use the responses.
When you create a survey, you should also know who your target audience is.
For example, you may want to survey your volunteers for feedback, or find out whether your members are satisfied with their membership and what activities they would like to see in the future.
What Actions Do You Want To Implement?
Your survey should provide you with guidance on some possible next steps for your organization to take, once you collect all the answers.
Depending on your survey's findings and objectives, you may discover that necessary actions include:
Update your website design and/or layout

Organize more events to welcome your volunteers

Modify membership registration

Subscribe to new software to improve email newsletters and database management
You can use surveys to help determine which needs are more urgent for your organization.

Information to Include in Your Survey
There are various components that you should include in your survey. We will go over them so you can dive into creating your survey successfully!
Introduction
A good survey begins with an introduction, because it "sets the stage" for the person taking the survey.
Choose the title of your survey carefully to catch your audience's attention. The title should state the purpose of the survey, but feel free to add some wordplay or lighthearted humor to encourage people to click and follow-through.
In the survey description, you can explain the context for the survey, and why the responses are important to the nonprofit.
Add a deadline to inform the procrastinators when the last date they can fill out.
Pro Tip: Don't forget to mention if the answers are anonymous or not. If you are asking difficult questions people are more likely to respond honestly if they know their identity will stay unkown.
Finally, give an estimated length of time required to complete it.
Collect Information From Survey Respondents
End your survey by collecting information on the respondents, such as their age, level of involvement with your nonprofit, profession, etc.
This information may help you further analyze the responses you receive. Perhaps new members are all responding similarly, but you'd only know this if you ask for this piece of information!
Sometimes, the respondents don't complete a survey if there are too many personal questions at the beginning, which is why we recommend adding this part after the main survey questions.
Acknowledgements
When respondents take time to fill out your survey, they are contributing to your nonprofit by sharing their opinions and feedback.
You can show your appreciation for their time and effort by thanking them at a meeting (if it's your staff) or in your next email newsletter (if you surveyed your members and donors). You should also keep respondents informed of any next steps you take to implement their feedback.

#3) Forming Questions
Your survey should be quick and easy, to maximize the chances your respondents will complete and submit all answers. After all, do you remember quitting a survey simply because it was too tedious?
The number of questions for your survey depends on your relationship with the respondents. If they are highly involved with the organization, you can ask more detailed questions that demand a little more thought.
Here are some tips for creating questions for your survey:
Stay on the subject. The respondent should understand why you are asking this question. Each question should pertain to the survey's objectives and topic.
Be succinct. If your respondent feels like some questions are redundant, they might want to exit the survey. Consider if some questions are too similar, and revise them to maximize your survey's potential.
Don't be too personal. When asking questions, you should keep in mind that some respondents may feel uncomfortable sharing very personal information.

#4) Forming Possible Responses
The types of responses you offer in a survey will impact the collected information.
There are 3 main types of questions on surveys:
Open-ended questions provide a text box for the respondent to freely write a response. This requires more thoughtful responses, which may decrease the number of completed surveys.


Closed-ended questions are answered with Yes or No, or other multiple choice answers.


Rating questions ask respondents to rate from 1 to 5 (or "Strongly Disagree" to "Strongly Agree").
If you want more detailed responses, you can include more open-ended questions to give respondents a blank canvas for them to write their thoughts. If you have a more pointed objective for the survey, such as whether to offer more services or events, closed-ended questions will be simpler and quicker for your respondents to submit their input.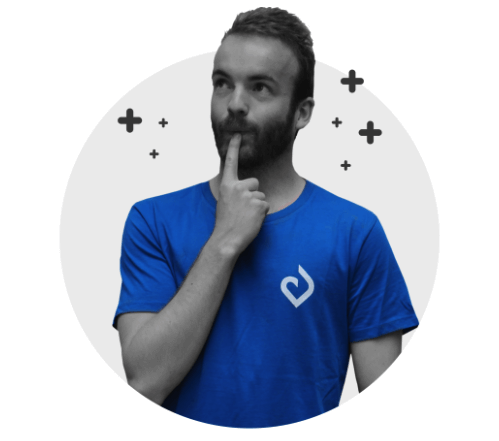 Thomas is intrigued by surveys and is excited to
form potential questions and responses!

#5) How to Determine Your Sample
In order to properly analyze the results of your survey, you need a good sample size.
The population is the number of people who make up the group you wish to reach with your survey. If you want to better understand your members' opinions on current activities, your population is the total number of members in your nonprofit. For example, let's say you have 150 members total in your database.
The sample is the number of people in the population who respond to your survey. If you send your survey via email to your 150 members, and only 50 respond, your sample size is 50.
The people who respond to the survey must be randomly selected if we want our population to be represented.

#6) How to Conduct A Survey
There are a couple options to conduct your survey so that you get the responses you need. Depending on your desired response rate, costs, and quality of responses, you can choose the one that works best.
Conduct The Survey In Person
Surveying members in person is a great way to really discover your respondents' opinions and solicit detailed feedback.
An advantage of this method is you can help the respondent immediately if they have any questions. A disadvantage is this method is time consuming because you need one interview for each respondent.
Conduct The Survey By Mail
If you are communicating with your survey population regularly by snail mail, you can conduct your survey by mailing them the survey. You may need to include a return envelope or set up a way for them to return the survey responses in person.
This method works if some of your population might not have access to the internet. You may have a low response rate, because it takes more time and effort to physically send mail back to your organization. There are also expenses that you'd have to cover, such as printing, cutting, postage, and including return envelopes.
Once you collect the survey responses, you'd have to log the answers manually into your database too.
Conduct The Survey Online
Online surveys allow you to find out information quickly and without spending too much time and money.
You can set up a survey on an online survey platform, and then send the survey link by email (in your newsletter, for example) for your population to respond.
Huge advantages of conducting your survey online include:
Automatic response tracking

Quick to send and receive responses

Anonymous answers, if desired

Automatic visualization of responses
Although one possible disadvantage is that you need internet access to complete the survey. This might not be a problem if your population has internet access.
There are several tools you can use to conduct online surveys. But which should you use?
Keep in mind these points when deciding which tool to use:
Simple to use

Customizable features to create the right survey for your nonprofit

Comprehensive and easy-to-use analysis of your survey results
You can use these survey solutions:
Springly: This all-in-one online software allows you to create quick and complete surveys for your nonprofit. The settings are simple and intuitive. At the end of your survey, you have access at a glance to a detailed analysis of the results. You can easily send the survey directly to your community using the integrated email and database features.

Google Forms:

This is a free survey tool provided by Google. You can create forms quickly, and gather responses in one spreadsheet. However, the functionalities are quickly limited (for the basic version) and the data analysis is not too advanced. You can upgrade to the paid version for a monthly subscription.



Survey Monkey

: If you want to set up your survey and customize elements, Survey Monkey is a very popular tool. It is integrated with MailChimp, which means it's easier to send out. The free version is quite limited though!
Online surveys are convenient, so we highly recommend you explore this method before others.

#7) Interpretation Of The Results
Analyzing the responses is an essential step of conducting a survey! Your survey will help you implement any necessary next steps, if your survey had an objective.
Before reevaluating your entire strategy based on the results, remember that a survey is only an indicator of the "temperature" of your community. The results of a survey are not always usable, especially if your sample is too small, so don't feel the need to begin any action if only 1% of your survey respondents say they want an open bar at the next nonprofit event!

By following these tips, you have all the ingredients of a quality survey!
Set objectives before you conduct the survey, so you can ask the right questions to the right people. You'll need to send the survey to an appropriate sample, and then analyze your responses to determine any actionable steps after you solicit opinions and feedback.
Springly is trusted by over 15,000 nonprofit's to help them run their organizations on a daily basis. See if it could work for you with a free 30 day trial!