>
How To Retain Volunteers In Nonprofit Organizations
Trish
Volunteers are a huge part of nonprofits, and their efforts are incredibly important.
As you probably know, just like membership, recruiting new volunteers is not always easy, and retaining them is just as important.
Software Advice carried out a survey titled "What Motivates People to Become Repeat Volunteers?" that gave a great deal of insight into the sources of motivation for volunteers in the long term (and some great stats that you'll see pop up in this article).
This inspired us to write an article of our own! We gathered up our eight best strategies for how to retain volunteers:
Let's get started!

Be Flexible With Schedules And Volunteer Projects
A very important topic when it comes to retaining volunteers is flexibility! 27% of volunteers responded that it is a big part of what keeps them coming back on a long-term basis.
Your volunteers are priceless, so adapting to their needs is essential.
34% of volunteers think it is important to be able to choose their assignments, and 37% of volunteers feel that short assignments are the most engaging.
We suggest that you take into consideration your volunteer's schedules and limitations in order to create the best possible experience for them. This is a great way to encourage loyalty!
Strategy 1: Offer Remote Work
Now more than ever, people are seeing the benefits of remote work. If a task requires computer work, allowing your volunteers to work from home or wherever else they choose is a great way to save time and show your flexibility with your volunteer's time schedules.
A bonus, with remote work your volunteers will spend less time getting to and from your office. That means they will have more time to dedicate to the task at hand!
Strategy 2: Understand the Needs of Your Volunteers
Getting to know your volunteers is very beneficial. It helps you to not only understand what type of positions will be best suited for them, but it can also build a relationship. These relationships are a key factor when it comes to retaining volunteers.
When someone kindly offers to help your nonprofit by becoming a volunteer, we suggest you set up a face-to-face meeting (if possible) to get to know each other better, as well as gaining an understanding of their skills, availability, potential scheduling issues, how they wish to be onboarded, etc.
Being adaptable and flexible with your volunteers will pay off in the long-run!
Strategy 3: Prepare an Online Calendar
We suggest you create a collaborative calendar (like on Springly) that shows all upcoming events, projects, and important dates.
This is also a great way for you to see what slots need to be filled for a certain date, and will help remind your volunteers of the slots they have signed up for.
Anticipate Volunteer Schedules in Advance
Clearly communicate the dates and deadlines of any projects or events you need volunteers for well in advance!
This will give time for everyone to figure out the best way to go forward.
Try to get an idea of what the workload will look like for your event or project, so you can have the right amount of volunteers to get the job done.

Highlight The Positive Impact Of Your Volunteers
Strategy 4: Share Testimonials From Beneficiaries
This is a big one! 42% of volunteers say that the testimonies of the people who benefited from their help is their first source of motivation for volunteering.
As a volunteer, being able to see the impact of your hard work is incredibly rewarding! If you have ever volunteered for a nonprofit organization, we are sure you know the feeling.
Volunteers also want to know that their hard work and commitment has had a direct impact on the recipients. This reassures them that the time they are dedicating to your nonprofit is meaningful.
We suggest you gather together testimonials, statistics, photos, fundraising efforts, and anything else you think may be relevant and share this information with your volunteers.
Being open and transparent with your volunteer's about the result of their work helps foster lasting relationships.
Showcase Positive Results
To measure the positive impact of a project, we suggest you decide on some key indicators.
Using these measurable indicators, you can showcase the success of your projects in a very real way. It can also help you identify any possible improvements that can be made.
For example:
Let's say you are an environmental nonprofit who just finished a donation campaign for a reforestation project in Indonesia. You collect $25,000 in donations.
To measure the impact of your project, it is important to go beyond just the money you raised. You can, for example, calculate the number of trees that have grown after one year of the project, and the benefits it has had on reforestation.
The benefits are of course environmental, but maybe there are societal and economic benefits as well.
Antoine is ready to show his volunteers
the results of all of their hard work!
Illustrating these positive impacts are a great way to retain your volunteers, because they are seeing the result of their work.
Strategy 5: Identify Their Professional Skills
Your volunteers are likely to use their professional skills and expertise in their work with your organization.
For example, maybe your treasurer works in finance or accounting.
It's important to keep these skills in mind when assigning jobs to your volunteers, so they can really thrive in their duties.
If a volunteer tells you in your first meeting that they are a graphic designer, maybe ask them to help make the poster for your upcoming event!
This is a great way to show your volunteers that you know them and appreciate their experience. It helps create a level of trust and confidence, which is a big part of why volunteers choose to keep coming back.
Support the Professional Goals of Your Volunteers
Learning new skills and gaining experience is a big source of motivation for volunteers.
23% of volunteers see the possibility of professional development as a crucial part of their volunteering.
Many volunteers want to add skills and experience to their resumes, to help them in job hunts, school applications, etc.
Regardless of age, professional development is important! Supporting your volunteers' professional goals is an effective way to keep your volunteers coming back.
We suggest you try your best to support your volunteers with any professional goals, and maybe even offer to write a letter of recommendation!
Strategy 6: Offer In-house Training
We suggest that you offer workshops, seminars, or one-on-one training to ensure your volunteers feel prepared for their assignments and have an opportunity to learn new skills.
Maybe one of your volunteers is applying for a finance program at school and is looking for accounting experience. Set them up with your treasurer for a crash-course!
Taking the time to help your volunteers learn and grow will help create a positive experience for them.
Developing Networking Opportunities for Your Volunteers
The loyalty of your volunteers can also be seen through the social and professional ties they have created within your organization. 15% of volunteers consider this social aspect necessary in their volunteer relationship with a nonprofit.
Making new friendships or developing a professional network strengthens your volunteers' attachment to your organization.
In the age of social media, creating these networks is easier than ever! Take LinkedIn, one of the most prominent professional social media platforms.
You can create a LinkedIn page for your nonprofit where volunteers can find and connect with each other (not to mention add their experience with you on their profiles!).
By encouraging your volunteers to connect with each other on something like LinkedIn, they can build a professional network and find new opportunities.
Strategy 7: Organize Meetings and Events Regularly
In addition to online relationships, face-to-face interactions are just as important! Keep this in mind when thinking about how to retain your volunteers.
Establishing this type of communication is very effective, because we as people have a much easier time remembering somebody if we can visualize them. Therefore, the connection is more impactful.
To help your volunteers create these connections, we suggest you organize meetings and events regularly. Breakfasts, after-work drinks, fundraisers, team meetings, or end of the year parties are just a few examples!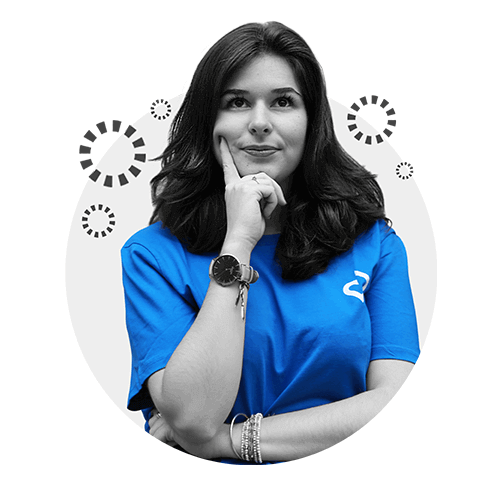 Marie is thinking of fun events she
can throw for her volunteers!

Strategy 8: Keep an Updated Directory of Volunteers
Sharing an up-to-date directory of your volunteers is another way to help them grow their networks. You can include (with permission of course!) contact information, positions, experience, etc. to help volunteers reach out to one another.
Not to mention this is a great way to keep track of all of your volunteers!

You now have all of our strategies to help you retain your volunteers long-term. We hope they will be useful to you!
Springly is trusted by over 15,000 nonprofit's to help them run their organizations on a daily basis. See if it could work for you with a free 30 day trial!