What Is Volunteer Tracking And How Can It Enhance Your Volunteer Program?
Antoine
The more detailed and accurate your records are for your nonprofit organization, the more advantages you have at your disposal. Because of the need for all-inclusive transparency, it's a good idea to get in the habit of keeping extensive documentation, even when not strictly a requirement by law.
One often-overlooked category is volunteer hours. Taking the time to track volunteer hours accurately can provide a series of benefits for your organization!
Without an efficient tracking mechanism such as volunteer management software, it can be difficult to see what is working well within your volunteer program. Enhanced clarity on these issues can not only help you build a better relationship with your volunteers but can also demonstrate further transparency with grant-makers, donors, and other stakeholders.

What Is Volunteer Tracking?
While donors or members may be the lifeblood of your organization, your volunteers are the heart that keeps it pumping.
Volunteer tracking is essentially keeping a thorough record of data relating to your volunteer program, including a log of each individual's volunteer time, an up-to-date contact database, accomplishments, and related information.
With this collection of invaluable information at your fingertips, you will be able to enhance your volunteer program in a variety of different ways while building better relationships with both the volunteer and the individuals who receive their aid.

What to Track
#1: Contact Details
One of the crucial components of your volunteer dossier is current contact information. Communication is key and being able to reach your volunteers when you need them will be important to make sure your planning, networking, fundraising, and other events and activities flow smoothly.
That means obtaining consent to possess their name, physical address, phone number, email address, emergency contacts, and perhaps even key social media (if applicable). Having the knowledge does not mean that you must use it, but it can surely come in handy when you need to reach a volunteer quickly as you will have a lot of options at your disposal.
#2: Hours Worked
Have a user-friendly method of tracking your volunteers' donated time, whether through volunteer tracking software, a simple entry log, or some combination of the two.
If you're not a visually creative individual, there are a wide variety of volunteer checklists and management templates available on websites. Resources like those offered by TemplateLAB can help you with organizing an effective method.
#3: Availability
As you organize efforts to push your mission, you will need a quick, easy-access listing of each volunteer's availability. Without it, scheduling for your tasks and projects can become a convoluted process.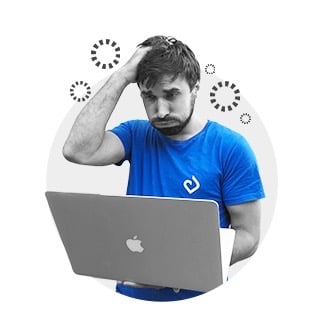 Bert is having some trouble tracking volunteer availability – he needs software to help!
Once more, there are valuable resources that can make this procedure simple and easy! Some software applications, like Volunteer Scheduler Pro, even allow you to set a specific schedule for volunteers, which takes into account their availability automatically, allowing them to plug themselves into the schedule wherever there is availability.
Obviously, scheduling software such as this can be beneficial when planning projects and working with your staff, so definitely take the time to research existing options.
#4: Attendance
While accountability is not always the most enjoyable feature for volunteer tracking, it is nonetheless important. With a collection of this data, you can see which volunteers are reliable and which are questionable. Also, you will be better able to identify your most motivated volunteers, as well as those who may need a little boost.
Tracking this information can prove significant when you are scheduling new volunteer opportunities because you want to be able to prepare for any eventuality. Additionally, knowing who your most motivated volunteers provide you opportunities for staff recruitment or other means of promotion and ambassadorship. You may also be able to reach out to these super volunteers to help you better engage those who are feeling a bit less motivated. The more you know, the better you can plan!
#5: Project Experience
A comprehensive volunteer database has other advantages, as well. If you keep a record of previous projects in which the individual participated, you will be better able to place them for similar missions in the future. You can track their skills and will spend less time training them for new tasks if they have done something similar before.
You can also see what type of projects they have done, which helps when scheduling specific types of events because you can group volunteers with experience with newer members to serve as mentors for those who are unfamiliar with them.

Benefits of Tracking Volunteer Data
So what other ways can tracking volunteer data help you optimize your nonprofit? Here are some additional ways to utilize this collected information.
Transparency
Properly managing data to provide transparency will build the reputation of your organization.
Providing your volunteer hours and their many accomplishments to the public can show their engagement and enthusiasm. This will help to entice other volunteers as well as donors who want to be a part of the mission but who may not be in a place to offer their time.
Acquiring funding for your nonprofit is a crucial component of keeping your mission alive, so attracting new donors or members is always a worthy cause.
However, did you know that your volunteer data can actually help you earn grants as well?
Quite a few volunteer grants, especially corporate grants, actually require you to provide volunteer tracking hours before they will even read your application. This is especially common in programs where they offer fund matching for hours their employees spend volunteering for you.
Many grantmakers may want to ensure that you are using your funds properly and have the management skills necessary to produce results before committing to anything.
A strong volunteer base will lend you credibility to help give you the edge you need to win their support!
Here is some information you should provide when applying to grant funders:
A prediction of average hours it will take to complete a specific project or event

A record of hours worked by each volunteer

The impact of the volunteers' time and efforts
Helps to Refine Processes
Keeping a careful eye on all aspects of your volunteer network will help you evaluate the effectiveness of the program and spot problems in your strategies.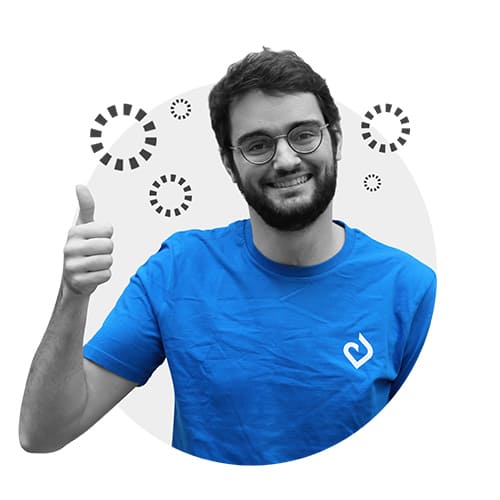 Tristan is feeling good about his volunteer program progress!
For example, if you manage an event and you realize your volunteers are struggling to put tickets online within the given time frame, you will know you should either permit a broader time frame for it or perhaps add some additional workers.
In addition, you will have first-hand knowledge of your return on investment (ROI) and will be able to devise methods to improve productivity and other aspects of your programs.
Showcase Your Volunteers' Hard Work
With the knowledge of exactly how hard your precious volunteers have worked on your projects, you can give some pretty incredible shout-outs!
Make use of social media, your blog, your newsletter, and other outlets to showcase the commitment and hard work of your volunteers to the outside world, increasing visibility to donors, grant-makers, and the general public.
It's a win/win for everyone!
Pro Tip: You may be sharing your volunteer impact publicly, but consider a targeted outreach to the volunteers themselves as well. Direct communications is a great way to motivate your base and maintain a positive working environment.
Accountability
For a nonprofit, there's no question of the part accountability plays in all aspects of the organization.
Tracking volunteer data not only helps hold volunteers accountable to their agreed time scheduling but also makes it easier to sign off on volunteer time for students, people with court-ordered service hours, or employees with an employer-provided program that supports volunteerism who need proof of log time for their school, scholarship, parole officer or employer.
Having all this information collected and organized can save a lot of time!
Improve Volunteer Experience
What is the best way to understand your volunteers' experience? Ask them!
There is nothing wrong with including surveys and feedback requests among the information you collect about your volunteers. Establishing strong rapport and ensuring that the volunteering experience is enjoyable for them ensures they will be willing to continue their efforts!
Being able to consider an overview of this accumulated data gives you the power to adapt the program and make strategic changes to help it evolve for the benefit of your volunteers.
For instance, if you notice your volunteers always end up understaffed on given days due to no-show volunteers, the record of how many are absent and specifically who can allow you to implement a series of countermeasures that will enhance the day-to-day volunteer experience.
Pro Tip: You can also make use of your volunteer information database to help establish a better volunteer onboarding program. The easier it is to instruct volunteers and guide them to the point where they feel confident and excited to make a difference, the more likely they are to make a positive contribution and even attract new volunteers by word of mouth and social media!

Tools to Help
To save you valuable time, we have listed our favorite volunteer management systems out there to provide you with details about some of the best volunteer management programs out there to make your transition into detailed volunteer tracking as easy as possible!
Best for Contact Information Management: Springly
Okay, we may be a little bit biased here, but we have a lot of confidence in our CRM system. Springly is an all-in-one software solution that is designed specifically to simplify the daily management of nonprofit organizations.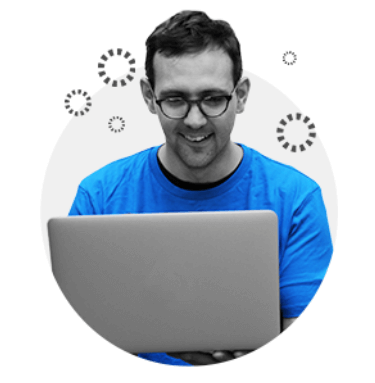 Matt is checking out some tools to help his volunteer program.
We have many options for facilitating information databases, which include tracking volunteer data. The automation between features allows for all data to flow seamlessly in the software, meaning that you never have to go searching in excel ever again. Thanks to the user-friendly design, our software was made for everyone and allows for easy access, use, filtering, and sorting.
Best for Time Tracking: Bloomerang
One of the more popular volunteer management software on the market, Bloomerang has a professional, attractive interface and easy-to-use system for tracking time.
Bloomerang also provides a significant amount of options to help with recruitment as well as other features including donor loyalty.
The downside is that if you want to make use of their service, you're going to need to throw down some money. The entry-level features begin at $100, to give you a general idea.
Best Free Tool: Excel
Excel is a tried and true method for keeping spreadsheets and data records. Because of this, many people are already familiar with the software which can make it easier when onboarding new staff.
There are also a significant amount of various templates you can discover to make it easier to track hours, collect and organize data, create volunteer checklists, and other volunteer management features.
Plus, it is worth mentioning that Microsoft is either free or discounted for nonprofits!
Best Event Management Tool: Mobilize
While providing plenty of volunteer management features, Mobilize specializes in using this data to design and establish campaigns and events.
They provide powerful tools to organize and staff events while providing integration tools to make it easier to implement with your existing programs.
Pro Tip: It is always a good idea to shop around and try out different options. While we hope you consider our suggestions, there may be other software that will better meet the needs of your organization. Some other programs to consider are Galaxy Digital, Volgistics, VolunteerHub, Signup Genius, Kiosk, and Volunteermark.

Springly is trusted by over 20,000 nonprofits to help them run their organizations on a daily basis. Try it, test it, love it with a 14-day free trial!
Antoine
Recommended articles
How To Use A CRM For Nonprofits For Better Daily Management
Trish
Communication
Social Media
Marketing
A Comprehensive Guide To Instagram For Nonprofits
Trish
How to Analyze Your Nonprofit Email Marketing Statistics

Danica