>

10 Practical Tips To Improve Your Nonprofit's Newsletter
Emily
A newsletter is a very simple yet powerful way to keep in touch with your community. There is huge potential for nonprofit organizations who know how to harness the power of good communication!
Email marketing has gained a lot of traction in the last few years and has become an essential practice to reaching your communication goals. By following a few simple steps, you can create a great newsletter strategy.:

1. Define The Objective
If you are taking the step to create a nonprofit newsletter, you probably have a communication strategy put into place. Maybe it is to promote a new blog post, launch a new membership campaign, invite your contacts to an event you are hosting, or just to spread the word about your organization!
There are countless reasons to reach out to your community, and it is important to clearly define what they are.
It is tempting to want to share lots of information to let everyone know about all the great work you are doing, but you risk losing your readers along the way if you overload them with information.
The more objectives you have in one single newsletter, the less effective their impact. We advise you to choose ideally one single subject per newsletter, or two at max.
With one specific purpose, the objective of your newsletter will be clear, concise, and easy for your readers to follow.
Once you have mastered this initial step, you are well on your way to becoming a pro at nonprofit newsletters!

2. Verify Your Mailing List
Make sure that all of the information you have for your contacts is correct before sending out your newsletter. Try to eliminate any duplicate contacts (they can be common in Excel spreadsheets!) and verify your mailing list is up to date.
This can be done by deleting clearly incorrect addresses (i.e. "testing@test.com") and scanning through everything to make sure all information was recorded correctly.
While this can seem a bit daunting, don't worry! There are tools to help you clean up your databases. We suggest using Captain Verify to verify them for you.
Cleaning up your mailing list is a very important step to take before sending out your newsletters. Not only does it help keep your email reputation safe (more on this later) but it also keeps your database up-to-date.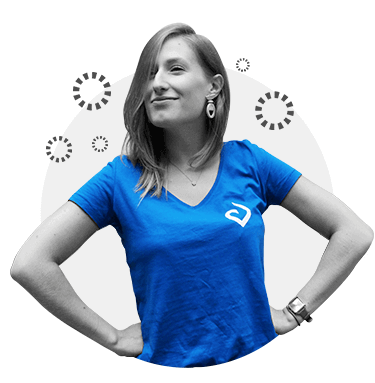 Trish enjoying her spotless
mailing list!
Pro-Tip: Collect more information than just an email address. Noting a contact's donation history, membership status, their interests, and other information is a great way to keep your database strong. This information will also help personalize your emails for a better open and response rate.
Having a customer relationship management (CRM) tool for your nonprofit is the best way to easily accomplish this! It is a safe and reliable software to keep track of all of your contact information. Springly's CRM tool is easy to use and updates automatically to help alleviate some of your admistrative work.
When it comes to collecting more contacts for your mailing list - be careful! Never buy email lists, they will most likely contain false information, and most importantly, addresses of people who could mark your emails as spam.
We strongly encourage that you only send your newsletter out to your contacts who have signed up to receive it. Include an unsubscribe link at the bottom of your newsletter just in case!

3. Be Consistent
Consistency is key! The most effective newsletters are those that keep a consistent frequency of sending, meaning those that always send weekly, monthly, quarterly, etc. Sending one newsletter a month and then suddenly sending five in the same week can be confusing to your readers and negatively impact the reception of your message.
We suggest choosing your own frequency and sticking to it! Of course the occasional extra email is fine, but keep this tip in mind.
The frequency of your newsletter is completely up to you. The most popular frequency for nonprofits is once a month, but according to Mailchimp, weekly newsletters perform better!
This does not mean all nonprofits should automatically adopt weekly newsletters if it is not the right fit. Sending a newsletter without an important objective would be counterproductive!
Here is a chart of the different frequencies at which nonprofits send their newsletters (in percentages):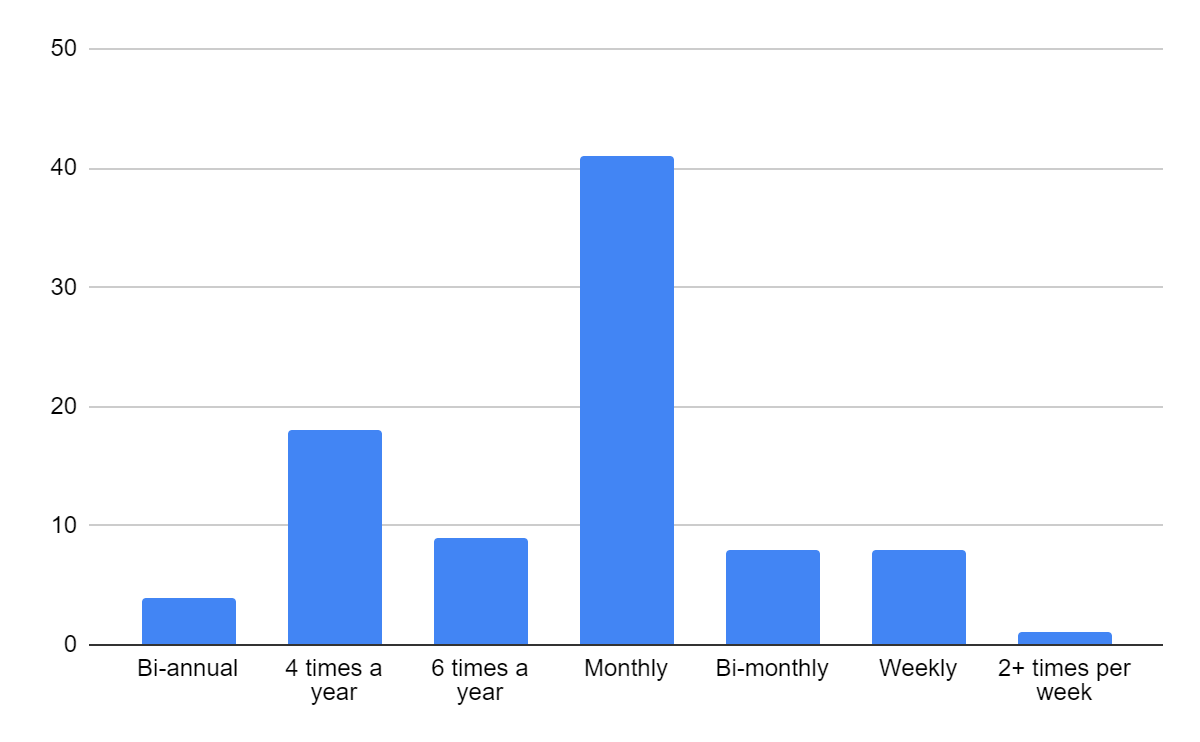 We suggest you take the time to figure out what is right for your nonprofit, as there is no perfect formula. Every community is different!
Another important thing to keep in mind is the time of day you send out your newsletter. We suggest putting yourself in your audience's shoes. Think about when they would be most likely to open their emails and be receptive to your message.
The most common times are before breakfast (before 8:30), during the lunch break (between 12:00-1:00), or during the evening commute (5:00-7:00) It all depends on who you're talking to and what you are saying. If you are unsure on how to choose the best sending time, there are two simple solutions:
Test out a few sending times and see which works best

Just ask! Send out a small survey to your readers and get their opinion

4. Perfect Your Subject Line
Writing a strong subject line is essential when it comes to creating a good newsletter. It is the first thing your audience will see in their mailboxes, so it is important to make a good impression!
As a nonprofit, you will be happy to know that Mailchimp has found that the average open rate for nonprofits is 26% compared to 6% universally. This means you have a much higher chance of your email being opened, so make your message even more effective with a great subject line.
These are the most common (and helpful!) tips when creating your subject line:
Avoid using the word "newsletter", it can reduce your opening rate by 18%.

Don't make any false promises! Stay truthful to keep a good reputation with your audience. We also suggest that you avoid anything that sounds too commercial or that could be misinterpreted as an ad.

Less is more! Explain the content of your email, but keep it concise.

The widespread use of emojis has become a huge factor in online communication. Using them in your title can attract the eye, so go ahead and give it a try!
Every mailing list is different, just as every nonprofit is different. Don't hesitate to test different methods and track your opening rates to see what what is working or isn't.

5. Use an Effective Layout
We suggest that you create a layout that is simple, beautiful, and effective. A well designed layout allows your readers to scan your newsletter quickly. This is important because according to Litmus, the average time spent reading an email in 2016 was only 11.1 seconds!
There are two main trends in the layout of newsletters. The first is to use a mass approach, an email with photos, videos, animations, buttons and more. The other is quite the opposite and closely resembles a regular email, that aims to create a more personal feel.
You know your audience better than anyone, so naturally it will be up to you to choose what will be best. Our only suggestion is to not fall in between these two trends, as you risk sending an email with a potentially poor layout.

6. Personalize Your Message
More and more emailing platforms are offering the use of customizable fields to allow for a more personalized email. We offer this feature at Springly, and we can vouch that it is very effective!
The idea is pretty simple, with your cleaned database, you should have access to the first names of your contacts. You can then include a custom field in your newsletter and greet your audience with their own name!
This will take your email from "Dear Member," to "Dear Ashley," which provides a personal touch and improves opening rates significantly.
This is becoming more and more common in newsletters today because it works! Your contacts will feel more comfortable and this will increase the chances that they will read your newsletter in more detail.

7. Be Smartphone Friendly
According to Campaign Monitor, about 53% of emails are opened from a mobile device. This means that you need to create a newsletter that will adapt to being opened on mobile devices like smartphones and tablets.
If the layout of an email is too complex (i.e. more than two columns, text that is too big), the display on mobile devices will be chaotic and difficult to read. That means half of your potential readers could receive a scrambled message!
Design your newsletter with mobile devices in mind. If you take this advice, you will save plenty of time and produce a newsletter that performs on all platforms.
If you are wondering where to begin when it comes to creating your newsletter, we suggest you try out Springly free for 30 days. You can check out our email feature and create a beautiful (and mobile friendly) newsletter!
Pro Tip: Before you send your newsletter, send yourself a test email and open it from your phone to verify that everything displays correctly.

8. Highlight Your Call-to-Action
The call-to-action (CTA) is the main button that is included in your newsletter. It should consist of the main action you want someone to take when they open your mail.
Common newsletter CTA's are "Make a Donation," "Become a Member," and so on.
The CTA is very important because it helps direct your readers toward your main objective. We suggest you include one in every newsletter!
There are two main facets go into the creation of a good CTA:
The visual: Your CTA button should be the visual star of your newsletter. Try out a bright color that helps it stand out from the rest of your email!

The wording: Your CTA should be concise and should prompt your readers to click it. We suggest that you keep it simple but still make sure your audience understands the concept.
With the Springly email feature, you can create a CTA in two-clicks. It will look something like this in your newsletter: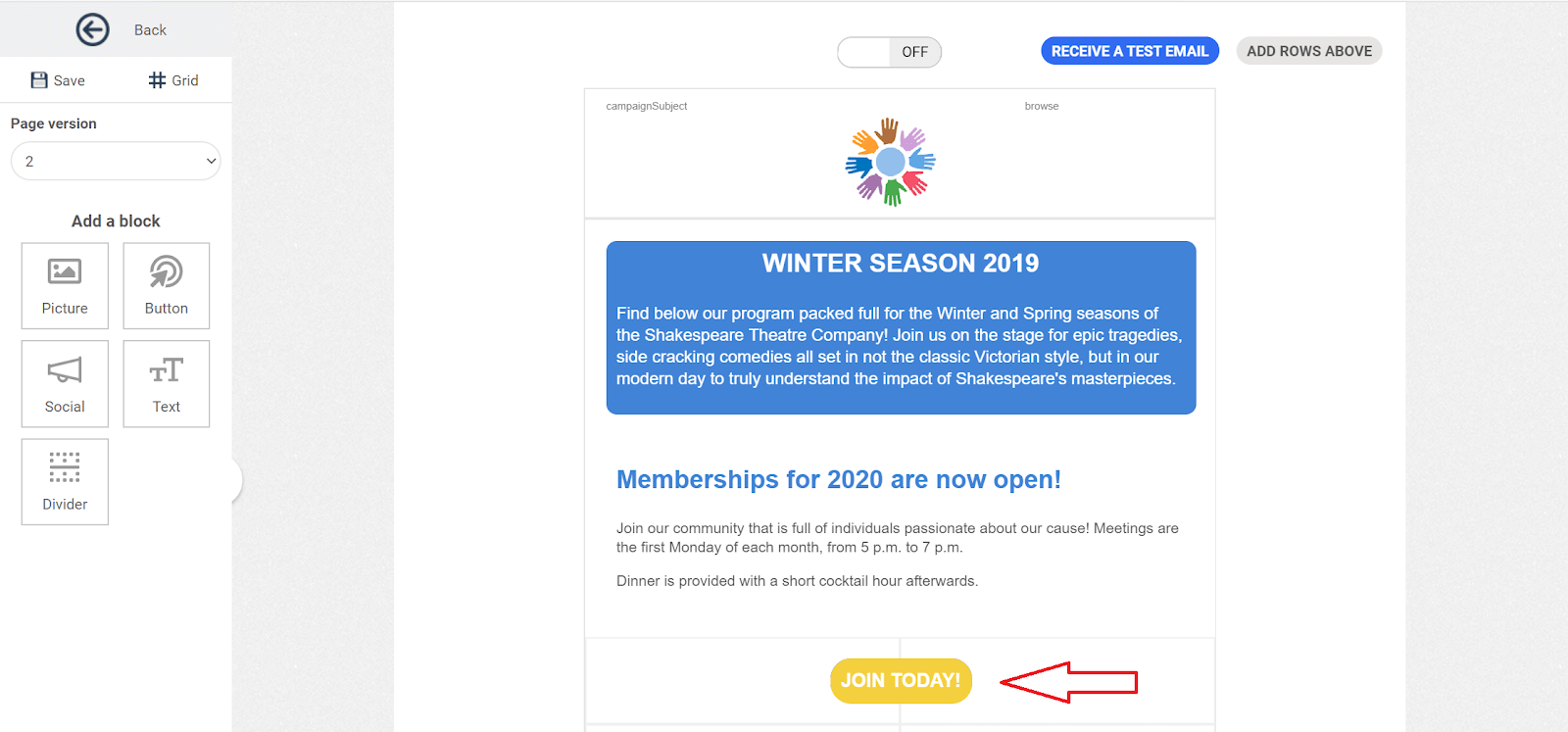 Although nonprofits benefit from a higher opening rate than regular emails, the click-through rate for nonprofits is relatively low at 3%. Having a clear CTA boosts your chances for a better click-through rate and more connections with your community.
Another tip for increasing the traffic on your CTA is to place multiple buttons in your email that will direct readers to the same link.

9. Target Your Audience
A great way to interest your readers and have a successful newsletter is to correctly target your audience. If you have a strong database with various information about your contacts, use it!
You can group up your contacts based on whatever criteria you find relevant. This way you can send a more personalized email.
Let's say your nonprofit works state-wide in Texas, therefore you have contacts all over the state. If you know what city your contacts are in, you can better target your nonprofit's newsletter.
There is an "upcoming events" section of your newsletter. The people in Austin aren't going to have much use knowing what events are coming up in Dallas, right?
Right! That being said, if you segment your audience, you can send the a newsletter by geographical location and send the right people the events closest that are closest to them.
This way your contact may feel more interested in your content and cared for overall.
Another example of a way to target your newsletter is to utilize donor history. You can group up previous donors and offer them a "VIP" newsletter which could give them access to exclusive information, invite them to a private event, and more.

10. Analyze Your Statistics
If you have already sent out your newsletter, congratulations! How about celebrating with some good old-fashioned statistical analysis?
There are three important statistics to determine the performance of your newsletter:
Opening Rate
The opening rate is the number of recipients who opened your email compared to how many emails were sent. For example, if you send an email to 100 people and 50 people open your email, your opening rate is 50%.
If you find that your opening rate is not where you would like it to be, we suggest you focus on the subject of your newsletter and make sure your contacts have signed up to recieve it. These small steps should help build up that percentage.
Click-Through Rate
The click-through rate is the number of clicks in comparison to the number of emails sent. The click-through rate refers to the number of recipients who have clicked on a link that you have included in your email, like your CTA.
It is mostly influenced by :
Your audience's interest in your email (hence the idea of targeted emailing)

The clarity of your message and the incentive of your CTA

The layout of your newsletter
If you find yourself with a low click through rate, we suggest you try changing one thing at a time (layout, subject line, send time) to try and determine where the problem is.
Bounce Rates
There are two types of bounces when it comes to emailing: hard bounce and soft bounce.
A soft bounce is a temporary error that usually occurs when the recipient has a full mailbox, or when a technical problem has occurred.
A hard bounce is a definitive rejection of your message, which almost always occurs because the email address is incorrect or no longer exists.
The amount of times your message "bounces" will determine your bounce rate. A high hard bounce rate can be harmful to your newsletter as it can negatively impact your reputation. This means that inboxes may automatically register your message as spam.
We suggest you clean up your database as much as possible to avoid any hard bounces. You should be keeping an eye on those numbers with every send!
If you find there are a couple email addresses that continue to bounce with every email, it is best to remove them from your mailing list.

We hope that these tips will help you create wonderful newsletters for your nonprofit!
Springly is trusted by over 15,000 nonprofit's to help them run their organizations on a daily basis. See if it could work for you with a free 30 day trial!
{{cta('ebddb16e-5886-40ef-9688-a961fe39bd00