>
A Comprehensive Guide To Instagram For Nonprofits
Trish
Instagram has more than 120 million users in the U.S., and more than 1 billion users worldwide. Since it launched in 2010, Instagram has been a powerful social media platform. Photos and videos take the spotlight, so you can brush up great visual content to share on Instagram!
Did you know that Instagram is owned by Facebook? This means if you already have a Facebook page for your nonprofit, you'll be able to connect your Instagram account with Facebook's page management tools.
Let's talk about how to manage Instagram for nonprofits, and how to succeed at it! On the agenda:
Is Instagram Useful for Your Nonprofit?
Before diving in, you should define your organization's goals for social media. Social media can help you connect with people from all over the world, but your time is too precious to be devoted to anything that is not truly effective!
Possible goals include:
Increase awareness of your organization

Interact with your community

Encourage your online community to take action (E.g., volunteer, donate, join)
Once your goal has been determined, you should identify your target audience. First, is your target audience using Instagram? Which group of Instagram users is your first priority? Who is your secondary target audience? You can define this by age, profession, geographic location, and hobbies/interests.
Managing an Instagram account may involve several people: Who will lead the project? Who will handle posting photos and videos? Is your "communication manager" responsible?
One major requirement for succeeding on Instagram is to share high quality visual content. Instagram users love interesting and great-looking content.
Ideally, you should post regularly! You shouldn't disappear for 3 months and then post 30 photos in one week.
If all the boxes are checked, go for it!

How to Set Up Your Account
Let's start at the beginning. Here is how to create your Instagram account:
1. Download Instagram
Download and install the Instagram application on your smartphone from the App Store (iOS) or Google Play (Android).
2. Create Username
Choose a username for your nonprofit. It should be simple, recognizable, and not too long. It also has to be unique.
3. Opt for the Professional Account
The Professional Account on Instagram is useful because it provides insight and statistics about your followers, and you can see how your posts are performing. This is not required for nonprofits, but we recommend it since it's free anyway! (You can explore Instagram's paid advertising options if you have a Professional Account, but you can do plenty without paying for ads.)
How to switch to a Professional Account:
Open Menu to select "Settings"

At the bottom of the Settings menu, select "Switch to Professional Profile"

Select "Business" for the question "Which Best Describes You?"
You can connect your Facebook Page, but you must be an admin of the page.

4. Add Your Bio
Everyone checking your Instagram account will first look at your "bio" (biography) to understand what your nonprofit does. Your bio is limited to 150 characters, so simply summarize your nonprofit's mission and location. You can even add a few emojis to make it pop!
5. Add Your Website (If you have one)
Your Instagram is a great place to attract people interested in the same topics as your nonprofit. If anyone needs more information, they would still need to visit your website.

Here's something to remember about the website link in your profile:
Instagram doesn't convert URL links to "clickable" links. This means, if you try to post an event RSVP link in a post, no one will be able to click on it. However, you can change the website link to the RSVP link, and instead, just say "Link in bio." Then, change it back to your original website after the event. This is a common practice on Instagram, so users know what to do when they see "Link in bio!"
6. Add Email Address
Instagram provides 2 options for people who want to contact you through Instagram. They would see buttons that say "Message" and "Email" below your profile information. You'd want to make it easier for anyone interested in joining as a member, volunteer, or board member.
7. Add Profile Picture
Your organization's logo would be perfect for the profile picture. This photo will be visible as a small circular photo. If you have multiple versions of your logo, select one that is still recognizable in the smaller size.
8. Optional: Link Your Accounts (Instagram, Facebook, and Twitter)
You can link your Instagram account with Facebook and Twitter, which allows you to publish on all 3 platforms at the same time from one of the applications. It is fast, simple and efficient and a great way to optimize your time on social media.

Here's how to find this option: Settings > Account > Linked Accounts

However, you should keep in mind that each platform has its unique tone and rules. When you're posting on Instagram, you have the option for each post not to automatically publish it on Facebook and Twitter.
Some reasons to not link your accounts:
Each platform has its own way of "tagging" other pages (people, other nonprofits, or businesses). If you tag other accounts on Instagram, you'd have to revise your Facebook and Twitter posts to tag the right accounts.


On Instagram, you would encourage people to visit your "LINK IN BIO" because Instagram doesn't create clickable links. If you post the Instagram post directly to Facebook and Twitter, the "LINK IN BIO" would look out of place.
A picture can say a thousand words, as they say, so let's check out this fantastic Instagram profile from American Red Cross: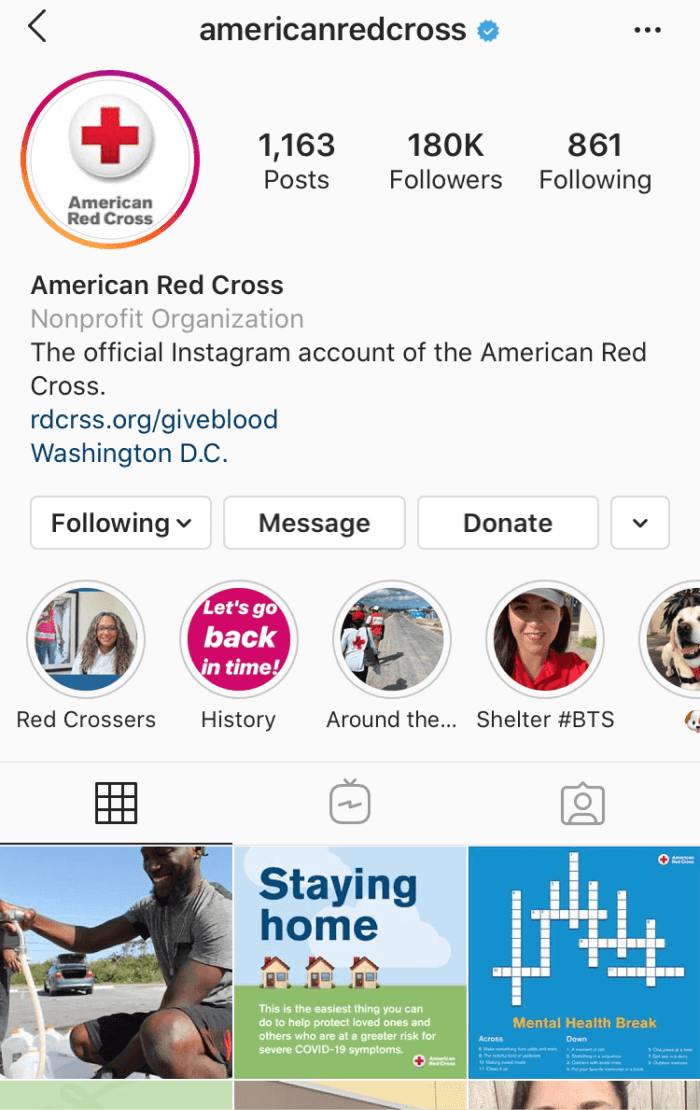 Instagram Vocabulary
There are some words that are widely used in social media, but let's go over Instagram's elements. You can increase your nonprofit's reach on Instagram by making full use of the available tools. Let's explore these now!
Post
A "post" is simply a photo or video on your Instagram page that appears permanently on your "feed." For each post, you should add:

a compelling caption

tag each person involved with the photo

a location to each post

By including as many people and places as possible, you increase the "organic reach" of your posts. Anyone browsing photos by location will also see your post!
For each post, you can even upload multiple photos, for people to swipe and view. The maximum is 10 photos per post - here is Instagram's tutorial on how to do that. However, please don't upload more than 5 photos per post! Split it up into multiple posts so you have more content to share.
Story
Stories are photos and videos that last for only 24 hours. These appear at the top of the Instagram app, in the "bubbles."
The fleeting nature of these stories can be leveraged in your nonprofit's communication strategy. You can share special moments from your organization's daily life, or even ask your followers questions - anything that helps your organization interact with followers.
American Red Cross did something great with their story. They asked followers a question, and shared some answers:
After your story has passed 24 hours, you can still feature it in "Highlights." The stories would reappear below your profile information on your Instagram page.
Here's how to add past stories to your Highlights:
At the bottom of the app, click on your profile picture. Open your menu by tapping on the top right corner, and select "Archive." Select the story you want to feature. As the story replays, there is a heart icon at the bottom right of the screen. Select "Highlight" and you can decide if you want to label your selected Highlights. Voilà!
Tag
"Tagging" means to connect your post or story to another account (an individual, business, venue, or another organization).
The advantage of tagging other accounts is it helps increase visibility of your account. By tagging other accounts, your post will appear on their profiles. Anyone tagged can remove the tag, if they wish. You can change this information any time after the post is published, so you can even add tags to old posts, if you hadn't been tagging everyone before reading this article!
For a story, you should tag anyone involved in the photo or video, because tagged users can reshare it to their own story. Again, this is the natural way of increasing the audience of your story.
Hashtag
Hashtags are used to identify common topics on social media. To make a hashtag, you must use the # symbol. This is the best way to attract new followers from all over the world who could be interested in your nonprofit's work.
If you post a photo about a volunteer opportunity, make the word "volunteer" into a hashtag by adding the # symbol before it: #volunteer. Your post will show up for anyone searching for posts with the #volunteer topic!
Note: Users can follow a hashtag, much like following an Instagram account. This is great for you too, because you can follow your nonprofit name's hashtag, to see what posts other people are sharing about your organization.
Create A Feed that Reflects Your Nonprofit
An Instagram "feed" is like an art gallery. It is your gallery to feature your organization's unique mission and voice.

Great looking feeds usually follow a main theme that unify all posts. This theme can be based on a color palette, font, or topic.
Let's take a look at how this organization organized its feed on Instagram:
Did you notice these details?
The photos share a warm color palette (lots of bright colors and yellow).

This nonprofit's mission is clear: to increase access to clean water for everyone.
Now it's up to you to build your own Instagram feed that showcases your organization!
Behind-the-Scenes
There are a lot of immaculately edited photos and videos on Instagram. However, a real upside to using Instagram is showcasing genuine, unedited content too.

You can use your nonprofit's Instagram to provide a behind-the-scenes peek at your organization's daily life. Whether you're drinking coffee in your office, having a team meeting, or if something funny happened at work, your followers will notice your nonprofit's transparency and openness on social media.
Followers will appreciate being treated as if they are part of your community. They might become your next member, donor, volunteer, or sponsor. You never know!
Reposting
Once the follower count increases for your organization, you can count on your followers to contribute photos and videos to your Instagram feed. Hashtags are your friends with this method of content creation!
You can follow your organization's name as a hashtag, which will notify you when new posts are shared on Instagram that are connected to your organization.
Let's say you see one that would be a great photo to share on the nonprofit's feed. How do we "repost" it onto the nonprofit's feed?
Contact the original poster and ask for permission to repost.

Repost the photo using an app like Repost.

Credit the original poster by tagging them.
Recruiting for Your Nonprofit
Whether you want to attract new members, volunteers, donors, or employees, Instagram could be an ideal social media platform for recruitment.
If you're targeting a young audience, you could publish a job posting on an Instagram post, since 2/3 of Instagram users are under 35 years old.
Sharing Your Events on Instagram
Instagram is a great way to promote your upcoming events. Are you holding a community meeting in a few days? You can invite your followers to the meeting by combining a photo with a caption. This simple visual-based invitation may attract your followers' attention.
On the day of the event, you have plenty of options! You can post stories and even livestream your event through IGTV (Instagram TV). The live video option has the advantage of notifying all your followers that you are starting a live video.
You can also invite your event attendees to contribute stories and photos. Just ask them to tag your account, so that you can reshare their stories.
After the event, compile the best stories of your event in Highlights. For posts, always be careful to keep only good quality photos and get permission from people to post them.
Remember to tag everyone in your photos, to maximize organic reach.
Audrey is tagging everyone in the photo and
using hashtags, to increase her post's reach!
To sum it all up, Instagram is a great social media platform for your nonprofit because it:
Raises awareness about your organization and mission

Provides communication between your organization and its community (and future members, donors, volunteers, and sponsors!)

Uses topic-specific hashtags to categorize posts, so you can check out what other nonprofits are doing

Encourages your nonprofit to share some scenes from daily life with your followers
If you still haven't created an Instagram account for your association, feel free to get started. Your community is waiting for you! Now, let's dive into the depths of
LinkedIn
.
Springly is trusted by over 15,000 nonprofit's to help them run their organizations on a daily basis. See if it could work for you with a free 30 day trial!
Communication
Social Media