10 (Free) Member Appreciation Event Ideas

Briana
Expressing your appreciation for your members is essential to the success and mission of your club, organization, or association. You might be tempted to think of lavish, expensive "member appreciation events," but there are so many other low or no-cost options that you can incorporate into your membership engagement strategy that will show your members how much you appreciate them! Here are 10 tips that you can start implementing today and get on track to higher satisfaction and retention.
Here's what we'll cover today:

What is a Member Appreciation Event?
It's exactly what it sounds like! It's an event or action organized, similar to a for-profit customer appreciation day, that is put on by your organization or association solely for the purpose of expressing gratitude. As opposed to focusing on existing customers, your organization shows appreciation for your members joining and continuing to belong to your club or association.
This event can take on many forms. At the core is the very important concept of expressing gratitude. Gratitude is simply the state of being thankful and expressing a warm feeling. Just like for-profit companies may offer a customer appreciation event, consider doing the same for your members. Without them, your organization couldn't continue to exist, so expressing gratitude makes them feel appreciated and valued.
Expressing gratitude simply for the sake of the inherent value of saying "thank you" is important. However, when you have a system for making sure that these events are successful and meaningful, you'll have a direct, positive effect on member retention and satisfaction. When morale is high, your members will undoubtedly recruit other members, growing your group and continuing a cycle of loyalty.
For example: a local gardening club hosts an annual "thank you" event for its members. At the event, awards are handed out, members are recognized and you incorporate creative nonprofit gift ideas e.g., everyone goes home with a seedling to plant at home. People look forward to this event every year, and the good feeling they come away with is reflected in how they speak about the group to others. Membership grows and grows.
These events don't need to be especially large or expensive. It's those small details and personal touches that make each and every person feel appreciated. Make sure these events are scheduled regularly and announced well in advance so people are able to mark them in their calendars.
Pro Tip: If you aren't sure where to begin, begin by brainstorming ideas for the kind of personal touches that mean the most to you as a member, particularly in the nonprofit world. Just write down all the ideas that come to mind. When you are done, you'll be surprised how those ideas, even outlandish ones, lead you to something you never even thought of. Sometimes the smallest gestures can be the most meaningful.
While all of the ideas discussed are monetarily free, don't forget to budget for the time they may take to organize and implement. If you are trying something new, it may take extra time to get it right before you host your event.

#1: Spotlight a Member Each Month
In your member communications, single out a member for recognition. Sometimes, you'll find that a member has distinguished themselves in some way. For instance, maybe a member has been in the news for a positive reason or they have done something fantastic to further your organization's operations.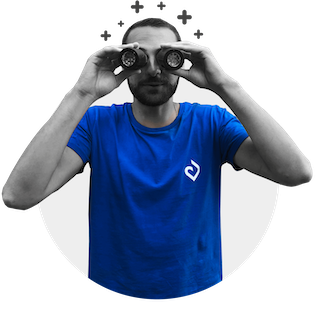 Ryan is seeking out one of his members to spotlight!
However, you should use this as an opportunity not just to recognize the most noticeable members, but everyone. It will give people a chance to get to know each other and may make less involved members feel like they are a greater part of the club and want to become more active.
You can do this in a paper or electronic newsletter, or add it to your social media page. Since some people may be reluctant to be recognized publicly, you should notify them in advance and get their consent before naming them as a member of the month. When getting their consent before publication, use this as another opportunity to say "thank you" and recognize them personally. Consider sweetening the recognition by complimentary upgrades for members who are recognized. If your membership has tiers, this would be a wonderful time to show your appreciation by moving this member to the next highest tier with no additional dues required.
Even if they decide not to be recognized, they'll feel appreciated. It's important to respect their wishes and not force them to participate. You don't want to risk turning them off, and in any case, even offering to recognize them as members of the month will mean a great deal.
There's no rule that says you must only have "members of the month." Remember larger organizations can have more than one per month! You could feature a member of the day, week, or quarter. Feel free to create your own best practice and break it down however it works best with your needs.

#2: Give a Social Media Shoutout
It's a great idea to recognize your members on your social media, especially if you already have lots of engagement. These posts will be seen by many people, and they are a great way to publicly express gratitude. Start by asking the member if it's alright for them to be featured on social media. Have them submit some pictures that they like, as well as some quotes about what they love about your club.
The social media "shoutout" serves two purposes. First, it is another fast, free and easy way to show them your appreciation. Second, it promotes your organization to potential new members when your post is reshared across that or other social media platforms.

#3: Send Thank You Notes
We all remember this from growing up: our parents nagging us to sit down and write thank you notes after birthdays, holidays, or special occasions. While we may not have appreciated this at the time, we learned that everyone loves a handwritten note! It was true in the past, but it is even more meaningful now that so much of our daily communication is through digital methods.
There is something special about opening a real card and knowing that someone took the time to write a note by hand. They don't have to be long, just something heartfelt that expresses how thankful you are that the person you are contacting is a member and for all they've done. In certain organizations where the membership is less comfortable with technology, this is a great approach.
Pro Tip: Don't write the same note to all your members. People can easily spot repetitive and cliche phrases. Sit down and compose something unique for each member. It doesn't have to be complex, just a simple expression to them as an individual.
For instance, if you talked to them recently about something, mention that! If you haven't seen them in a while, say that you are looking forward to meeting them soon. There may be something you know about their personal life that you can mention, like support in a time of need or congratulations on a happy event or milestone.

#4: Send a Text
While sending handwritten notes does have great value, we can't ignore the technological tools at our disposal today. Texts are fast and free, and can even brighten someone's day when life gets tough. Use the same principles as writing a note: keep things honest and heartfelt; short and sweet. If you recently saw them and took a selfie with them, this might be a great time to share that along with something like, "It was great seeing you last weekend! I hope to see you at the meeting next month!"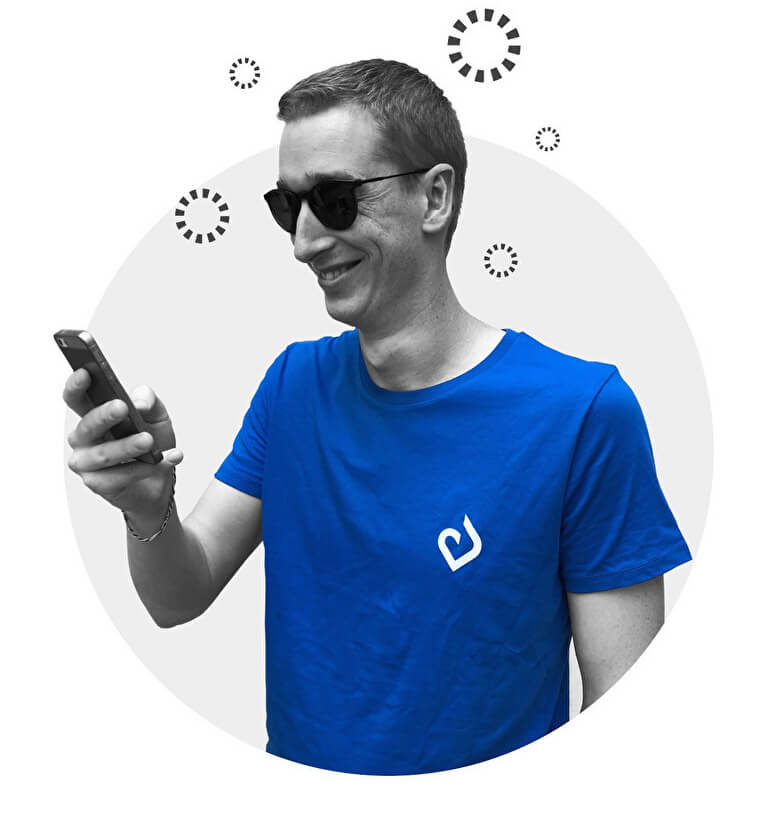 Eric is sending a short and sweet text to
a member – it goes a long way!

#5: Get Beneficiaries Involved
Clubs or groups that partner with other entities like donors or community organizations should partner with them for member appreciation. This is a wonderful tactic to both express gratitude to the members but also give them the chance to see some of the effects of the work they are doing. Likewise, if your group accepts donations, this is your chance for donors to have a chance to interact with the people they are helping.
For example, a service organization that provides tutoring to at-risk youth may host an event where graduates of the program speak about how the group helped them achieve success. Consider presenting meaningful, but low-cost gifts to the sponsor group during the event. Scouting for youth groups, who are chartered or sponsored by community groups would benefit from the opportunity to meet with and thank their chartering organization.
At the same time, the chartering group would love to meet the youth they are sponsoring.
Another way to involve beneficiaries is to collect letters, texts, and emails thanking your group for its help or donations, then reading them at a member appreciation event. Be sure to ask for permission to share all or part of any communications. They will appreciate these gestures of appreciation. For example, an elementary school's parent-teacher organization (PTO) may sponsor a community clean-up event. If a local landscaping company donates mulch for the kids to spread in the flower beds, the PTO could ask all of the kids to write a note and sign a sheet of posterboard as a gesture of thanks. What can warm the heart more of the business owner than 100 little misspelled messages!

#6: Record An Appreciation Video
Thankfully, we all have a full video production studio in our pockets these days! Gone are the days of hiring camera operators and editors, or depending on a savvy member to create a video. These days with just about any iPhone or Android device can both record stunning 4K or high-definition video, then allow you to edit it into a concise thank-you video to be shown at an event or shared on social media.
One idea is to record you and your team simply saying "thank you" and briefly explaining what they love most about your members. Feel free to include some nice music in the background to build emotion. Keep it short, fun, and to the point.
This is a nice human touch that can easily be sent out to the masses. It's great not only for in-person events but can also be useful for larger or more complex organizations that may not be able to meet physically due to being spread out over a large geographic area.

#7: Share Knowledge and Resources
This may seem like an unusual idea, but this can be a great out-of-the-box way to express your gratitude to members. Since your group leadership are likely experts in various fields, share the expertise you have in a way that will be tangibly useful to them, or beneficial through increasing their level of knowledge on a variety of topics.
If you and your team go to a conference or talk, give your members a debrief of what you have learned. Share this knowledge with them in the form of a talk or free webinar.
For example: the leaders of a local book club travel to a writing conference. At the following month's meeting, they can relay the latest literary trends over tea and scones, benefitting the entire group.
This is a great way to show your members that you value them. They'll appreciate that they were able to take part in what you experienced, even if they couldn't go themselves. The knowledge they receive can serve as a great inspiration in their life, or provide solutions to challenges they are experiencing professionally or personally.

#8: Share Big Wins
Encourage your members to share any personal or professional good fortune! With permission, blast them out to the whole community in emails, social media posts or even in your newsletter. These can be very brief, but it will generate conversation and a feeling that everyone is on a team, rooting for each other.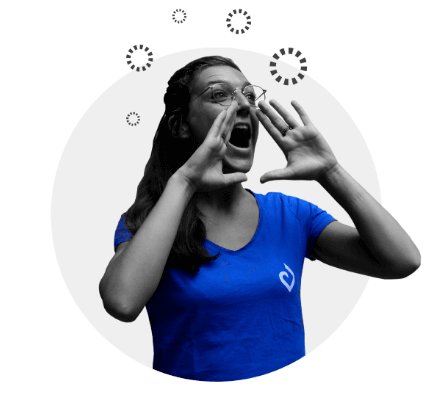 Wins are great for everyone's morale, and Corinne is
especially excited about sharing hers!


Here are a few examples: A member recently became a grandparent. Say congratulations and have them share a picture of the baby. Or, for instance, a member graduated from an MBA program. Tell them, "good job!" People often earn various certifications in their field. This is a great time for them to share as a form of professional networking.
This is a great way to show your members that you appreciate them on a deeper, more personal level. You are expressing that you value them not just as members, but as human beings.

#9: Start a Rewards Program
While a bit more on the technical side, rewards programs are not just for companies trying to differentiate themselves from their competitors to consumers. They can be a great way to show your members your appreciation. This can take on many forms. Consider what behaviors you'd like to reward. For instance, if you place a high value on personal attendance at meetings then you could track who comes, and attendees earn points that can be used towards various things like books or instructional materials or even entries into a raffle.
You can also incentivize participation by rewarding people who volunteer to speak at or host meetings through a similar process. Feel free to get creative in how points are rewarded and what they can be used for.

#10: Organize a Community Outing
Community outings can take the form of both free and paid experiences. For instance, a trip to a baseball game, or golf tournament would cost money. It may be well worth it depending on your needs. However, don't assume that outings or activities need to cost money. As an alternative, a group hike or potluck picnic in the park with a few fun activities can be just as effective and valuable as an expensive party with a DJ to your members.
Organizing a special event and inviting your members sends the message that you value spending time with them. It encourages great camaraderie between people and improves morale and motivation. Whatever the event, it's those small personal touches that make it meaningful!

Springly is trusted by over 15,000 nonprofits to help them run their organizations on a daily basis. Try it, test it, love it with a 14-day free trial!

Briana