How to Create a Bulletproof Membership Agreement in 6 Simple Steps
Marine
A membership agreement is exactly what it sounds like: a contract between your organization and its members. It's a mutual agreement that outlines precisely what membership rules are expected, and what you expect from them in return. There are a number of pieces that can be included in a membership agreement, including the following:
Rules and guidelines of the organization

Rights, privileges, and obligations of the member

Payment schedule for dues

Membership services

Protocols for common problems
Here's what we'll cover in this how-to:

What is a Membership Agreement?
A membership agreement is a document that is sent to all members of your organization, to be read, signed, and returned. You can offer this in a variety of ways: a paper document, a digitally signed PDF, or submitted through your website via your membership form. For sample templates, Rocket Lawyer offers great templates to follow.
Is creating a membership agreement mandatory? Not at all. Association owners aren't legally required to offer a membership agreement, but that doesn't mean that you shouldn't. In fact, because it allows you to clearly state your membership rules to avoid potential future issues, we absolutely recommend creating one for your organization. How can it help? Let's discuss.

Why Create a Membership Agreement?
In the simplest terms, creating a membership contract will offer peace of mind by:
Preventing Conflicts
A membership agreement sets clear boundaries on what to expect from each party (namely your organization, and the member). By mutually agreeing to, and signing off on these boundaries, there's nothing left to debate in the event of an emergency.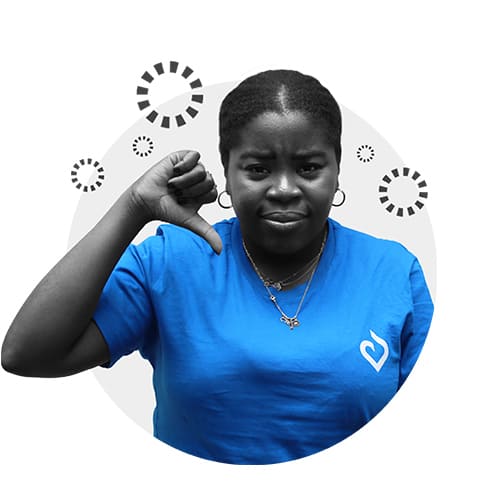 Sadie knows that conflicts are the last thing
any organization wants.
Having a set protocol for potential problems minimizes the risk of conflict and negativity within an organization. Bad feelings can arise from a lack of clarity, especially if a party feels aggrieved and transfers others to their cause. As well as being legal protection, a strong membership agreement helps prevent disputes, allowing your organization to remain a safe and positive community for everyone.
Helping to Manage Conflicts
An official, signed document (consider sending a copy to the member via "snail mail") can be used as a point of reference when it comes to handling disciplinary issues. For example: Say you have a member who constantly pays their dues late, or is always demanding more benefits and privileges than are offered. Instead of talking round and round, you can simply point to the member's receipt of the agreement; they can easily reference the document to view the rules they aren't complying with.
Giving You a Protocol to Follow for Every Anticipated Situation
Having protocols for possible issues saves both time and money. Rather than scrambling for answers when an event occurs, simply refer back to the membership agreement to refresh everyone's memory on what the parties agreed to.
Members will also appreciate the ability to reference the physical copy or sign-in to your website to reference a digital version to see all that their membership provides so they can ensure they utilize all the services at their disposal.
Because a membership agreement is your bulwark against conflicts and will be used often as a point of reference, particularly on member voting rights, it needs to be created with the utmost care. Not necessarily primarily by a legal mind, but with a lot of forethought, an afterthought, and collaboration. For small organizations without lawyers on retainer, don't worry, we will take you through each step of the process in the next section!

How to Write Your Own Membership Agreement


1. Prepare Some Basic Information
A membership agreement is an official document, so there is certain basic information that you'll need to include:
Member's name: Be sure to leave a blank space at the top of the form for the member's name

Organization: The institute's name should also appear at the top of the document

The date: Include the day, month, and year in which the agreement comes into effect
This seems like pretty basic stuff, but the truth is that little things can trip you up. Don't get so lost in the woods that you lose sight of the trees. Get the basics down first, then you can move on to some of the more complicated pieces.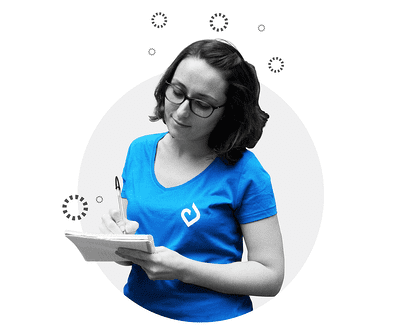 Ellie is getting the basics down before moving forward
with her membership agreement!
2. List the Member Benefits
With the basics out of the way, you can start to get into the meat of the agreement. This will include crucial information like the main purpose of the organization and a clear and exhaustive list of services that members receive as part of their membership.
Be very clear in this section. If there are different tiers of membership privileges, situation-based limitation of benefits, or changes to membership rights in certain situations, these things need to be addressed. This section is where your members will go to claim their benefits, and you need to have the receipts. Thus, this section should be carefully researched and detailed.
Pro Tip: Two (or three or four…) brains are better than one! After drafting this section, pass it along to your membership management team, board members, and/or a trusted member for review. Iterating based on feedback is of the utmost importance here to ensure no important details are missing and the agreement is clear.
3. Define Your Members' Minimum Duties
Keep in mind that "duties" is a flexible term that may have different meanings to different organizations, and should be treated as such. However, there are some standard "duties" that members discharge that should be addressed in membership agreements across the board. These cases include:
Membership fees and payment schedule
Again, clarity and more clarity. This section should be simple and easy to read. If you have different membership prices, a clean chart can be a good way to present this information. When you have a member sign the agreement, you can simply highlight the line (price and/or schedule) that they are responsible for.
The minimum expected member participation
Do you require a certain amount of member participation as part of your organization? For example, attendance, meetings, events, volunteer work, and/or continuing education. If so, how often? Clearly lay out the expectations for your members, so they understand the requirements.
4. Set the Rules
Here is where you set the rules for both parties. That is, organization and member. In this section you should include the following:
A clear list of actions on the part of the member that would constitute a breach of contract, and the consequences of those actions. While there are some obvious infractions like not paying dues or fees, some others may include harassing other members of the community or utilizing association information or resources for personal gain.
Consequences of breach of contract can range from warnings to disciplinary action, and even end in canceling membership. (More on the terminations can be found in the next section).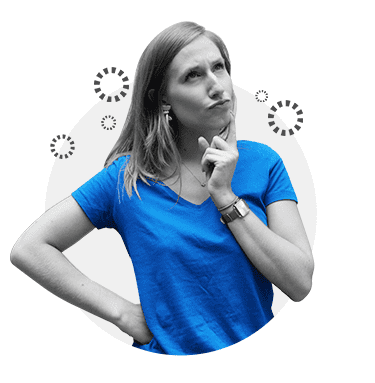 Trish is thinking hard about setting clear
and concise rules in her agreement.
A statement that indicates that the member will not seek indemnification from your organization or any of its members for any damages, financial loss, action or inaction, etc.


A statement that the organization will not share members' personal information.
Consider a legal review for the agreement. While hopefully, your organization will be dispute-free, if you need to rely on these sections down the road, the extra time and cost of a lawyer upfront may be well worth being protected if the need arises. After all, protecting the organization and the members is one of the main reasons that you're creating this document.
Pro Tip: When selecting a lawyer, consider one who specializes in tax-exempt organizations.
5. Outline How Terminations Work
Create a statement that indicates how the membership may be terminated by either party, bringing an end to the agreement.
To create a safe and fair member community, be upfront about when and how the relationship can be brought to an end. There are many instances that could result in termination; a case of failure to pay dues consistently on time (or at all) is one of the most common reasons.
Your termination clause can reflect industry standards or the values of the organization. For instance, there may be a code of ethics that must be followed or community standards that must be upheld. This piece will depend on the mission and brand of your organization.
Pro Tip: If you are unsure where to begin, contact other nonprofit organizations in your area and solicit their advice. They will likely be more than willing to help and contribute to healthy organizations in their community.
6. Ask For a Signature
At the bottom of the agreement, leave room for the signatures of both the member and the organization. This makes the document official and binding, as well as providing evidence of mutual agreement.
Add a statement that states that by signing the agreement, both parties agree to follow the warranties, terms, and conditions outlined within it.

To make the agreement valid, leave a space for both parties to sign and fill in the date on which the agreement was signed.
A Final Pro Tip: Keep the writing of the contract concise and straight to the point. You want to avoid gray areas--these can cause difficulties down the road. There are always people willing to try to exploit unclear language. Once you've created a solid first draft, have it reviewed by management for clarity. Then, and only then, you can go on to draft the final copy.

Springly is trusted by over 15,000 nonprofits to help them run their organizations on a daily basis. Try it, test it, love it with a 14-day free trial!
Marine