Everything You Need to Know Before Buying a Membership Database
Trish
Taking your first dip into software can be overwhelming, but the change is worth the work. The usage of software has a direct correlation with your organization's growth and reducing your daily admin tasks. By optimizing your membership management with a membership software, you can focus on building relationships and getting feedback on your organization rather than daily management tasks. This shift will be the catapult to exponential growth in your organization.
Here are some of the topics that we'll cover in this article:

Understand the Different Types of Software
Understanding the different types of software is probably the most overwhelming part of adopting the change. Most people don't have a clue what each software does and find the research stressful which means that this part deters more people from adopting a software than anything else. Options like Springly, Raklet, Zen Planner, Sumac, Memberclicks, and Wild Apricot are well-known membership database platforms. These are some of the best software available. You can use resources like Capterra to help find the right software for you.
Membership database software is the number one way to increase membership in any organization out there.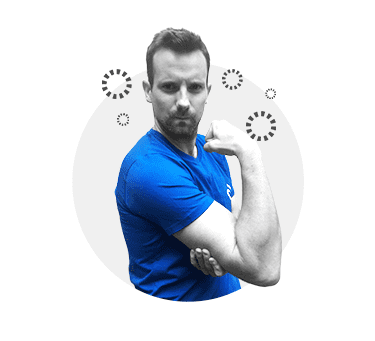 David is ready to discover
the best database for his organization!
Since we want to help you get the maximum impact out of your digital transition, we've created a step-by-step guide to help reduce stress and save money while buying your membership management solution platform.
SaaS: Software as a Service
A software as a service, or SaaS, is a way of delivering applications over the internet. Think of this as Netflix or Shopify. You use the service by going to the website, or by downloading an app.
By using the software on the internet, it allows for flexibility to adjust as your needs change. This type of software is generally better for nonprofits for this exact reason!
Typically, SaaS software allows for a lot of personalization. Even so, they are generally easy for its users to operate. Not only can the functionality be personalized, but it's very flexible for growth. This means that as your organization grows, you can adjust the software to the new needs of the company. Because of the flexibility and ease of use, many membership organizations find this type of software extremely useful.
SaaS software then is good for all existing and up-and-coming organizations who don't need extensive customization and also need a budget-friendly option. While having software is important and a key to growth, you still don't want to break the budget for one that your organization won't use. You want to make sure it's going to be beneficial to your company's needs and growth.
Downloaded Software
Downloaded software is software where you pay an upfront fee and download that specific version onto your computer. A good way to think of them is like the older versions of Microsoft word. While these software programs have a high level of functionality and offer plenty of useful features, you may end up paying for updates, and you'll definitely want to download updated versions of the software.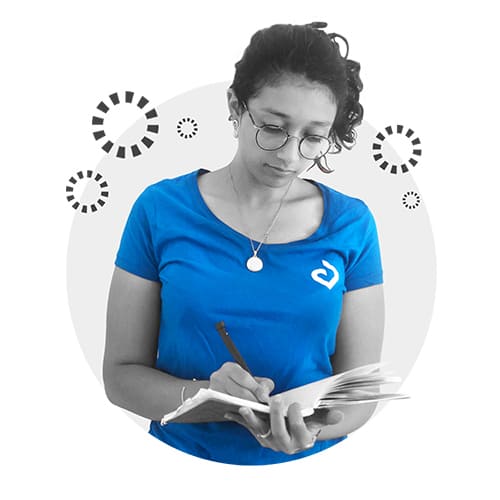 Salma is researching the best
type of software for her nonprofit!
The good news is that even though you may need to update the software periodically, you usually don't need an internet connection to use them. Because of this, downloaded software is a great option for nonprofits in remote areas.
The last thing to note about downloaded software is that it often comes with limited access which means that your organization will be limited to a certain number of administrators and users. While this may not be an issue currently, as you grow this could quickly become a problem as you may need more hands involved in the daily admin.
Custom Software
Custom software is created specifically for your organization. It's fully customized to your needs based on your key requirements and you will be able to include any and all features that you want. This is great if your organization has complex needs that another software can't fulfill.
The downside to custom software is that it's built to very specific parameters. This means that the program isn't built to grow with your organization. You'll have to pay to adapt the software as you grow.
Additionally, custom software can be expensive and complex to use. You'll likely need to assign a full-time admin to handle day-to-day tasks and questions related to your software.

Make a Task Force
As with all big changes in an organization, you want to start by creating a task force. This should be a small number of passionate individuals who want to see your organization succeed. You don't want too many people on the task force because it can add unnecessary complexity to the goals you are trying to achieve.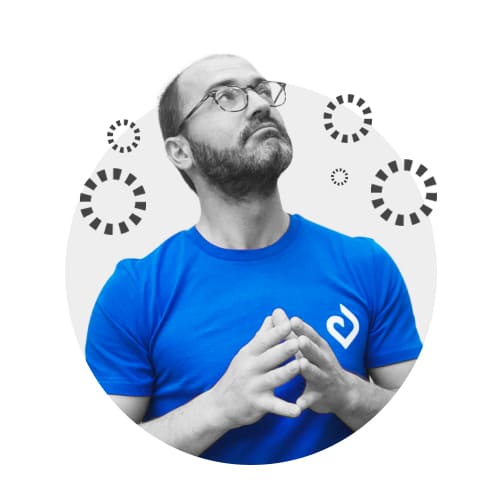 Oliver is dreaming of his
perfect software task force!
The ideal number is three people with varying degrees of technical skills. If you have anyone in your organization with any level of knowledge in IT, they should be included in your task force. Also, consider including your membership manager if you have one. They will have expert knowledge on how information is collected and presented.

Create a Plan & Define Goals
Once you've adopted a task force, you need to create a plan. There are so many options on how to start a membership program. It doesn't necessarily have to be a five-year plan, but it does need to have long-term goals. This plan will help push the project along and will help your task force define your "why" for choosing a membership database.
If you've never watched Simon Sinek's TED Talk "How great leaders inspire action", which focuses on the power of why, it can be truly life-changing. It will help you understand how important finding your purpose is and what it can do for your organization. His ideas can be implemented into more than just your "why" for software. Following this philosophy will also help you to pitch to your board and prepare you for internal change management.
Once you have found your "why," this is a great time to define your goals for the software specifically. When goal-setting, it can be easy to get off track and start talking about goals for the organization. Make sure to focus on what you want out of software. By defining your goals, you're also creating a pitch for the board to approve your budget and focusing on how to measure your success. Most boards will want to know your why, your timeline, and your goals when you pitch the idea to them.

Audit Your Current System
Take an honest look at how you currently handle your membership management. This is one of the most important aspects in defining what your members' needs are and what holes your organization may have. As you're going through the steps in your system, write down the pain points.
Pain points are problems or inconveniences that keep popping up. It could be importing email lists from Excel or that you can't customize any information with filters.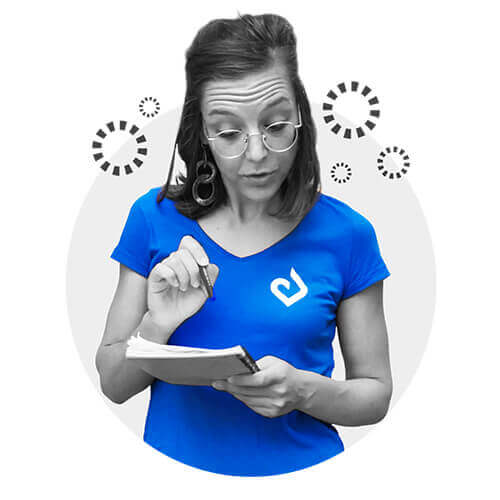 Corinne is starting
her first software audit!
Your task force and a small group of current members should also audit your current system. That way, pain points that you may not have identified can be brought to light. Some action steps you can take along the way:
Start by writing down everything you know is already painful

Then spend 2-3 days tracking your time to see what is taking more time than you thought

While doing these tasks, note down your wishlist or what you think could be better and/or easier
As you are going through that exercise, some questions to ask yourself during the auditing process are:
What is too hard?

What takes too much time?

What makes little sense in the process?

What could be improved?
During your audit, you need to track your time. By doing so, you're able to see things that you might not have noticed by feel. For example, maybe it takes a lot longer to send your monthly newsletter than you realized.
You should track your time for processes such as communication, database management, membership management, and anything else you oversee.
Be as detailed as possible! You can use software like Clockify that allows you to track your time to get an idea of how long tasks are taking. That way you have a full understanding of where you can find improvement.
Pro Tip: This may seem futile, but knowing exactly where your time is going will allow the software company you are working with to better understand your needs. Trust us, if you give them this information they will know exactly where you could be saving time.
Once you've completed the audit, you'll have plenty of information to define your exact needs. Compile your audit with the other members of your task force and you will have the answers you're looking for!

Define Your Needs
Each nonprofit organization is unique. They all have different numbers of members, their own membership data, and their own needs. You will need to sit down with your task force after performing the audit on your current system and processes to define your organization's needs.
Common Features of a Membership Database
There are several features that all nonprofit organizations want to see in their software. In welcoming new members into your association, it's important to have the features to make the process easier. While each nonprofit is unique, most want to track memberships, see membership and donation history, manage payments, and have a flexible database system. In addition, here is a list of common features that membership databases will have:
Custom Fields
In most membership database software, there are ways to customize the fields you need. This means drop-down lists, multiple-choice, or text fields. Some software will have more custom fields than others, but make sure that the one you choose fits your needs.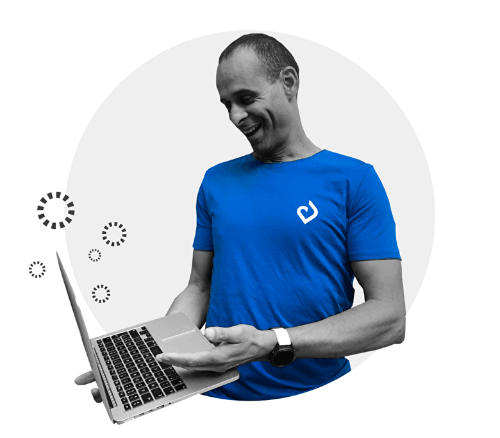 Sam is thrilled to learn about
all of the database features available to him!
A good example of a custom field would be membership type. Most databases come with standard fields like first name, last name, and address, but membership types may vary, so providing a drop-down list of "bronze, silver, or gold" members could be very useful customization.
Filters and Groups
If you have ever worked in any kind of program, you know how important filters and groups are. Looking at a large chunk of data is truly overwhelming and simply a waste of time if you can't find the specific data you are looking for. Most programs will have the ability to filter your CRM by different fields that you have created as well as the ability to create groups of people based on criteria you set.
An example of filters and groups is by looking at "membership type" and filtering for all members of the group "after school volleyball club" to get the information you need.
History of Transactions
A key feature of membership databases is a history of transactions. This allows you to have visibility on payment tracking, membership history, and donation history. This is useful when you're looking at who you might target to feature on your social media as a member of the month or to determine who is more likely to renew membership or donate again.
Membership Drives
We all know how important membership drives are. You need your software to give you data into how you're doing to get new members and simplifies the renewal process. This includes custom forms, renewals, online payments, discount management, and custom fees.
Software Automation
Automation saves time, which is the ultimate goal of having a membership database. So, don't skimp on this piece! You want to have new member sign-ups automatically added to your database and set up automatic renewals. This saves so much time by not having to manually insert information and exporting it from external systems. Everything will communicate together for better, more effective management.

Determine Your "Must Have" vs. "Nice to Have" Items
What is a "Must Have"?
A "must have" is something that your organization absolutely cannot go another day without. These are items that will change your daily processes freeing up time and resources. In other words, "must haves" are the items that you will not purchase software without. They are essential to your organization's work, such as membership history, an intuitive user interface, payment processing, and dues management.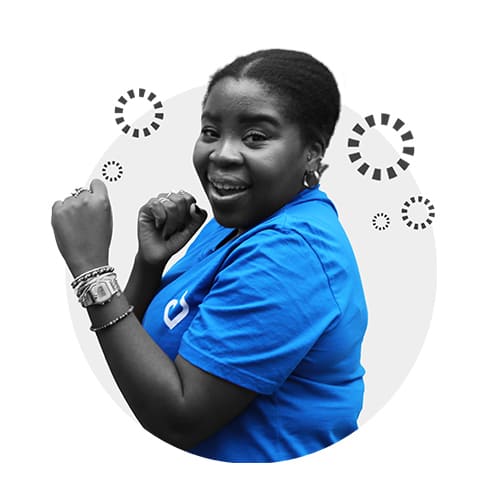 Sadie is happy to know
all of her database must haves!
What is a "Nice to Have"?
A "nice to have" is something that would be super cool to have but you know you could live without it. These are little bonus items that could be left out if the budget was tight and you'd have to incentivize the purchase, such as online store management or automated emailing.
Pro Tip: Try and brainstorm outside of the common features of what else you may need. It will help to look at the websites of some software providers to compare features and build your list.
Make Your Wishlist
Now that you know what your "must haves" and "nice to haves" are, you can make your wishlist. This step will help keep your expectations clear with the software providers. You'll also be speaking their language which will give you a leg up when it's time for negotiations! Once your wishlist is created, the next step is to prioritize your needs.
Prioritize Your Needs with the ICE Method
What happens if a software meets 9/10 of your "must haves", but all of your "nice to haves"? Do you take it? This is where prioritization comes in handy!
ICE scoring is a prioritization method where you assign a numeric value of 1-5 (5 being the best) for each category, then multiply them together. Those with the highest number are your highest priority. Here are three categories: Impact, Confidence, and Ease. As an example:
Membership History - 80

Impact - 5

Confidence - 4

Ease - 4

Online Store - 16

Impact - 1

Confidence - 4

Ease - 4
This method is quick, and you can have each member of the task force do it and come up with an answer to what software is best. Remember that this software is a key in member retention, so prioritize needs based on that.

Money, Money, Money
Sadly, we're not talking about the ABBA song. We're talking about the cost of software and what to expect from your budget. So, how much should you expect to spend on a software? Well, it depends on the type!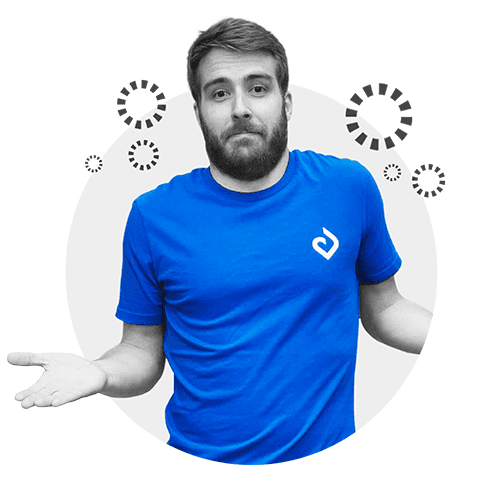 Anthony is ready to learn more
about how much his database may cost!
Different Software Options
SaaS software
Typically costs between $29-$70 per month

Often less expensive

Little to no customization

Product is almost sold as is

Can pay monthly or annually
Downloadable and Custom Software
Can vary widely in cost

Often more expensive

Very customizable

Often pay upfront
Create a Budget
You want to create a budget prior to going into negotiations. You wouldn't go wedding dress or house shopping without a budget, so apply the same principle here. This will help you filter down what software is immediately out of your budget.
Pro Tip: Most organizations don't count their time as a resource when they're budgeting, but time is the most precious resource we all have. Even if you count your time as the minimum wage, make sure you know how much that is.
This step is usually a little arduous and takes some time to get it right. Be patient, take it slow, and focus on creating an accurate and realistic budget. Just because you get approved for a $750,000 home doesn't mean you should buy one based on your income and spending habits.
Knowing what you pay for all of your current tools will give you an idea of what you want to pay for your membership database. This is key for later when you present your pitch to the board. They are going to want a full and detailed explanation about how this software helps cut resources and will be beneficial to the organization. That means take the extra time to make this as detailed as possible.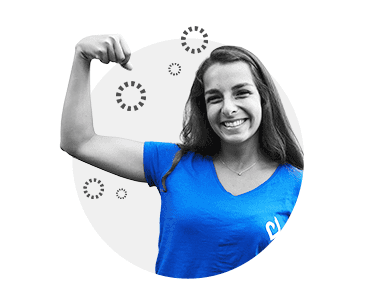 Nina is confident in her budget
and is ready to make a shortlist!
Another thing to keep in mind when setting your software budget is, of course, your overall budget for the organization. Maybe there is somewhere you could cut back to give yourself some room if needed when it comes to buying the software.

Make a Shortlist
Now that you have your budget figured out, it's time to look at different software providers. There are so many to choose from that it's important to shorten the list and pick out a few to proceed with.
Making a shortlist of what software providers you want to go with should only happen after you have completed these key steps:
Get a Demo
Do not buy software without seeing a demo. I repeat, do not buy software without seeing a demo. And I'm not talking about the online highlight video that shows a 5-minute software explanation.
Most software companies will offer a free product demonstration where they will tell you all about their company, software, and show you how it works. It's important to see the software in use and understand how it can be adapted to your organization's needs. The product expert with the association you're working with will be able to answer any questions you may have about the usage, utility, features, or price.
Try the Software
Along with a free demo, make sure to try it out for yourself. This is crucial. Most software seems easier than it is when you're watching the demo as compared to when you're working on it yourself.
Think about the first time you worked at any company and had to learn their processes or software. Watching that veteran worker do it made it all seem so easy. Then, when you started doing it yourself you probably made mistakes left and right. It's always important to get your hands on the software, especially considering what a large purchase it is for your organization.
Make sure that you're also considering factors like how you give permission to each person working within the app. Your membership database should have a multitude of features for you and your members.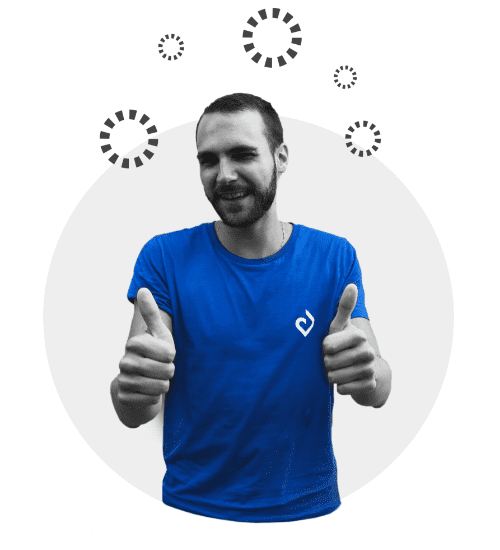 Ryan is ready to put his
membership database to the test!
Everyone in your task force should try it, play around with it, and execute a few key actions in order to determine how efficient the program is for them. This is also an opportunity to test the provider's customer service. See if your needs are being met and if you receive a proper level of guidance, training, and support.
Repeat Actions on Each Software
Wash, rinse, repeat. Try the exact same action on every software you have a trial with, like adding a contact to the database. This allows you to compare apples to apples rather than apples to oranges. By performing the same basic action, you will be able to tell the ease of use, support, onboarding, efficiency, and clarity.
Read the Reviews
Read all of the reviews you can get your hands on. Check platforms like Google, Capterra, G2, or even Facebook. The nonprofit community is vast, and this is a great opportunity to get the opinion of others who may have used the software previously or are still using it.
Know the true reviews from angry customers. Just like when you're shopping for clothes or reading restaurant reviews on a Yelp page, someone might have differing opinions of what's "good" and "bad" compared to how you feel. If the review doesn't have any details, consider throwing it out and focusing on the ones that explain the customer's reasoning for their rating.
Pro Tip: Don't be discouraged by one or two bad reviews. Software providers are still human and sometimes it just doesn't work out! Often a negative review may have been fixed with a product update or new feature release. Remember, each organization is unique, and they may have picked a software that didn't fit their needs. If there are significantly more raving reviews than bad, everything will be ok!
If there is one red flag to look out for in the reviews, it is bad customer service. As stated above, many issues with the software or features are often resolved quickly with small updates or the development of new functionalities. Issues with customer service are rarely cleared up and should be taken seriously. Your organization is on a journey with your new software, and your requests for help and support are extremely important and should be treated with the utmost care and respect.

What to Be Careful Of
Now that we've talked about what features you want and have touched on budget and choosing a provider, let's talk about what to watch out for. There are a few things that can slip through the cracks when looking at the overall price of the software.
Transaction Fees
Ah, transaction fees. These are fees that you are charged every time your software processes a customer's payment. If the provider adds a lot of fees on top of the average transaction fee, it could end up blowing your budget out of the water.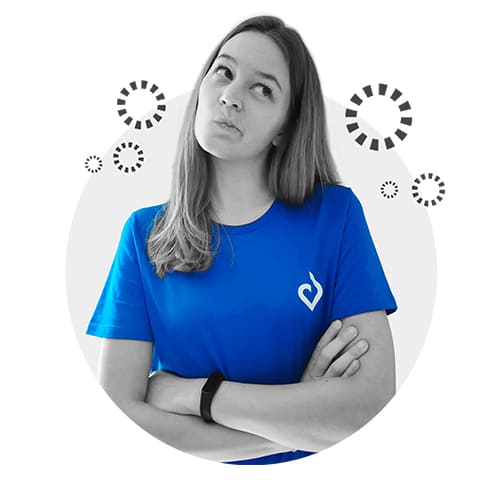 Emily is now wary of
possible high transaction fees!
Most payment providers take a fee (including Paypal) and that's an unavoidable cost of doing business. But you still need to be careful of the fees you're being charged. Make sure you clearly understand how the payments work.
Ask if there are different fees for different types of cards. Usually, you will be charged a higher fee for an Amex in comparison to Visa or Mastercard. This is also because the credit card companies have different fees to take into account for the provider as well.
Once you have a complete understanding of the fee structure, run a simulation for 100 memberships and see how the numbers turn out. This can help you decide if it fits your budget.
Set-Up Fees
Some companies charge a set-up fee to help you get on-boarded or to get your data transferred into their system. This can be a positive thing if you are unsure of how clean your data is. It can also be negative if your data is clean and up to date.
You may want to ask if there's an option that doesn't include a fee, such as manually entering in the information or using Microsoft Excel to input it. That way you have an idea of the full scope of your options. Be sure to clarify this point with your software provider before signing anything binding.
Supplementary Fees
Finally, make sure to ask if there are any extra fees or optional services that the provider needs. For example, Springly offers detailed training for an extra fee but it's totally optional to the organization in question. This just adds to your peace of mind that you know the provider's entire fee structure.

Negotiation with Software Companies
We want to help you get the best deal possible, so we are giving you our best insider tips to negotiate a fabulous deal with the software company you have chosen to use.
Sign Up at the End of the Quarter
Every salesperson in a software company has a quarterly financial objective to reach. Signing up at the end of the quarter will often get you a discount since everyone wants to close their quarter with a new sale that helps them hit their objective!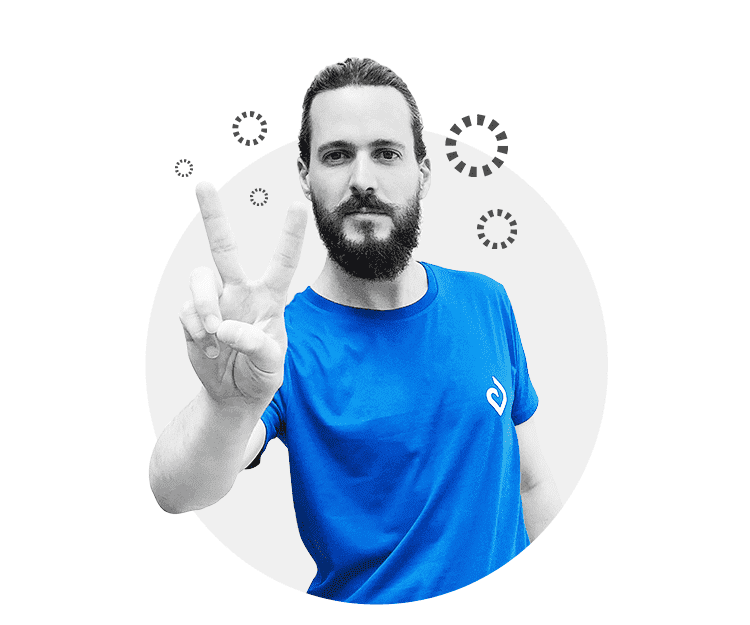 Alex is ready to negotiate a
discount on his new software!
You can usually negotiate a small percentage reduction for signing up at the end of the quarter. Plan on about 5-10% off of the annual price.
Pay Annually
Since many software companies have a monthly subscription, you can often pay annually for a large reduction in price (around 20%). This is particularly relevant if you are looking at a larger package. You can pay for a full year in advance and use this to negotiate any extra fees or ask for a small gesture of goodwill.
Since you're adding extra cash flow to their business, they will likely appreciate your business and be more open to reducing any fees or providing discounts.
Agree to Boost Your Subscription for a Reduction
If you are looking at a smaller package, you can negotiate a discount on services by offering to move up to the next tier. This is a good way to get a couple more "nice to haves". You give a little, they give a little!
If you want to go this route, you should price this out early so that you know whether you can even jump up a tier. It's a good idea to have this plan in place before negotiations start.
Negotiate Free Training or Data Import
Here is the real trade secret that we really shouldn't be sharing at all, but will anyway:
All extra services are generally 100% negotiable and are often given at the discretion of the salesperson that you are working with.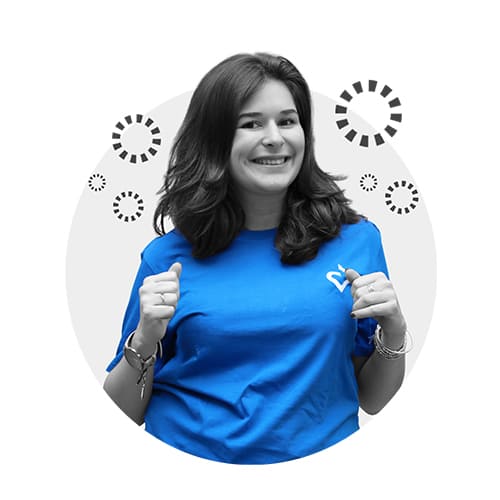 Mary was able to get free
software training for her team!
While there are some aspects that your salesperson won't have the ability to discount, the extra services are fair game. Know that you have the power!
Pro Tip: Finding the balance between pushing too hard and not hard enough can be a tricky battle. If you are not comfortable right away, you can always come back to negotiation when it comes time to renew your subscription.

Pitching the Change to Your Board
Most organizations will need to unlock a part of their budget for this purchase and convincing the board can be a challenge as they are not typically in the thick of it every day. Here are some tips to help you get them on board (see what we did there?)
Put Value First
Take the audit you made previously and streamline the format to show to the board. Focus on the core value of the software rather than the bells and whistles or features. Explain to them how much time and resources this will save the organization
Do a simulation of how much time it will save you. Start by asking, "Can we actually make a quick simulation?" Then, in front of them, calculate an hour of your time versus the automation of the software. You can even involve them in some of the math so that they truly comprehend what you're saying.
Next, discuss how that time you are saving with the automation of the software can be used elsewhere. Talk about how you can put more effort into growth in order to bring in more revenue. For example, if you have saved a total of 20 hours in a month, you will use that to introduce a new program with local businesses that will bring in profit. You can also bring up how membership renewals will be automated, bringing in additional profit.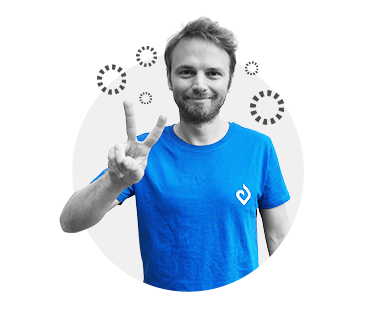 Peter had a great time
pitching new software to his board!
Make sure to take a data-driven approach and remain unemotional. While you may be passionate about getting a specific software, stick to the budget and the numbers. The emotional aspects that can be persuasive to you will not translate when doing a pitch to the board. The members of the board are looking at what it can do to help the company increase revenue or cut costs. Please remember that for the board it's a purely financial decision, so focus on that aspect.

Preparing to Adopt the Software
You got the board's approval! After all of your immensely hard work, you're finally getting new software. So how do you prepare for the changes to make sure the transition is as seamless as possible?
Communicate the Change Internally
When it's time to adopt the new software, start by holding a meeting to update the staff and volunteers. Position this as a positive for the organization. Create a membership communication plan and implement it. You will likely have a few people that are reluctant to change. Just remember to keep a positive attitude and keep an open-door policy with those individuals so that they can express their concerns.
Talk about how the software will modernize your processes and save everyone time. After the initial meeting, set up individual meetings for questions and feedback. In these meetings, you can run through a software demo and show them what they have to look forward to.
Finally, invest in training. Your software provider should provide training, and even if there is a small financial cost, it will be worth it in order to make sure that everyone who will be using the software is comfortable with it. More than likely, there will be a few who need a little extra training and convincing but remember that you are taking the necessary steps to improve the organization in the long run.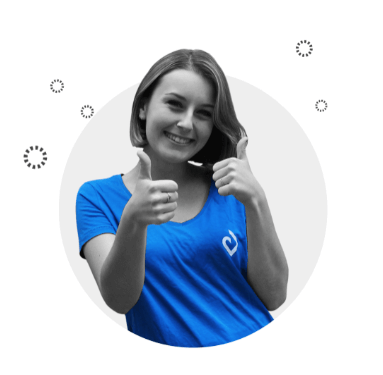 Eva is ready to manage
the transition to her new database!
You should continue to do regular check-in meetings even after the software is implemented for feedback for at least the first year. This will also help you recognize who needs additional training.
Clean Data Beforehand to Avoid Fees
Before you switch over to the new system, take the time to clean up your data. This will help avoid any additional fees with the software company.
If you have too much data, start simple and then grow. Start by uploading the basics:
First and Last name

Address

Phone number

Email

Current membership status
Have a Transitional Plan
One of the last things you should involve your task force in is creating a transitional plan. As previously stated, you may be met with some resistance, and you can mitigate that if you have a solid plan.
Create a plan with your task force to transition into the new system over the next six months. The plan should include a timeline of what tools will still be used when you will stop using each tool when you will transfer data, and when admins will be added.
This timeline will help keep the transition on track and will be a resource for your team so that they have clear and up-front expectations. That means you need to communicate the transition plan with all of your staff. If there are important dates that you can add to their calendars, do so.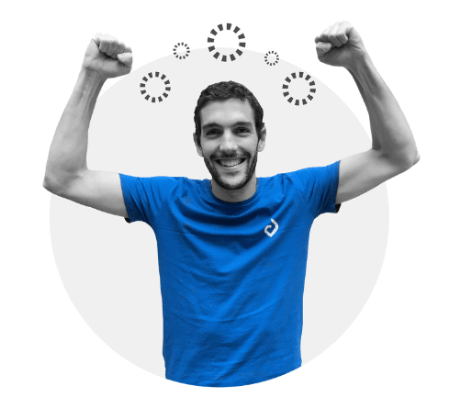 Simon is celebrating his
new membership database!
If you keep the transition under six months, you are in the sweet spot. Anything longer than that will prolong any issues that transitions can cause. It also lowers the risk of staff falling back into the habit with your old systems and processes.

Conclusion
While adopting software can be one of the most intimidating things you can do to grow your organization, it is also arguably one of the most important. There are certain processes that you simply need to be automated in order to truly grow to your potential.
Each software and software provider is unique, just like each nonprofit organization. In order to successfully choose what to go with, create a task force, make a list of "must haves", and try out some different options via a free demo. Options like Springly, Raklet, Zen Planner, Sumac, Memberclicks, and Wild Apricot are well-known membership management platforms.
Shopping for new software isn't necessarily the easiest task, but it is the most rewarding. Remember to not rush through the process. You want to be as thorough as you can be to make sure that you get the right option with the right features for your organization. However, once you've made the decision and have implemented the software you'll wonder what in the world took you so long to do it.

Springly is trusted by over 15,000 nonprofits to help them run their organizations on a daily basis. Try it, test it, love it with a 14-day free trial!
Trish