How to Create the Ultimate Membership Form (+ Free Template)
Dan
One of the first interactions you will have with a prospective member occurs when they complete your membership form and adhere to your membership rules. As first impressions are always important, you don't want to overlook the significance of this seemingly small detail. Read on for a few tips to ensure you obtain the right information in the best way possible for your particular members. We've even included a membership form template to get you started!

What is a Membership Form and Why is it So Important?
When a potential member wants to join your organization or club, it's important to collect some basic information from them to validate their membership. You may think that it's just a small detail, but a membership form can allow you to gather crucial data and is a major part of your member experience, and can be easily included in your code of ethics.
The information you collect will allow you to communicate more effectively and utilize the information acquired to offer a better membership experience. How? Let's break it down:
Communication:
Email address: While useful for communicating throughout the membership, during this stage, an email address allows you to send them an immediate welcome message. A well-crafted welcome email can cement in their mind that they made a great choice. You can even take this opportunity to add a call-to-action for referral programs, a great way to draw more members while excitement is high.

Phone number: Text message reminders can be a welcome tool for members. For example, a sports club may ask you if they should text you if you haven't made a visit for more than 5 days in a row. Some people like a little reminder to keep to their goals!
Services:
In our sports club example, the prospective member may be asked their current fitness level and whether they prefer a no-nonsense drill instructor-type trainer or someone with more of an encouraging touch. The prospective member may feel that their responses aren't truly important membership criteria/ conditions of membership. With a properly functioning membership form, the club can let the applicant know that they aren't just being nosy, they want to know so that they can place the member with the appropriate training partners and instructor to offer the best service for their customers!
The easiest way to gather this information is to use one or several standardized membership forms so that you can send them to your members to fill out themselves. The form itself can tell your members a lot about your organization and ease future voting procedures.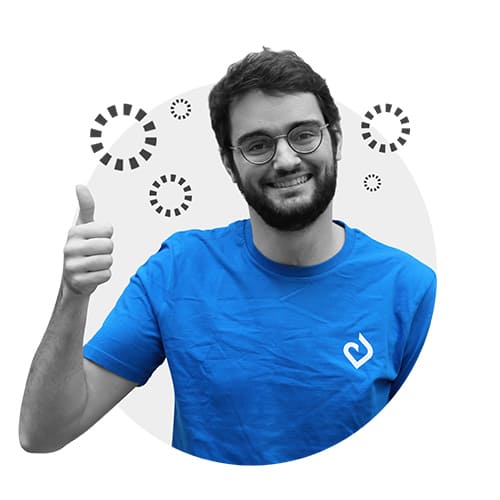 A clean and simple membership form will
have your potential members feeling confident!
The layout of the form, the branding, the number of questions asked, and the type of questions asked can be a glimpse into your values and competency.
For example, an overcomplicated and non-user-friendly form might dissuade some potential members from registering if they are frustrated. On the other hand, a smooth and trouble-free signup form makes for a pleasant member experience and guarantees that you are putting your best foot forward.
A well-designed membership form can also save time and money. If the form is compiled in a way that prevents completion errors, your volunteers or paid staff will spend less time preparing your membership agreement and chasing down missing or incomplete information.

#1: Define What Information You Need From Your Members
Before you can craft your membership application forms you need to define exactly what information you want to collect. Gather some members of the board and start brainstorming what information you'd like to collect, separating them into two categories:
Must Have Information
This includes an essential basic personal information section with:
First and last name

Date of birth/ age

Contact information (phone, email, and mailing address.)

If you have membership levels, make sure you ask which one they're registering for and indicate the appropriate membership fees
Nice to Have Information
This may include some of the following things:
Education level

Schools/ universities the members graduated from

Professional certifications/ chapters

Availability for volunteer opportunities

Special interests

Fitness level

Food allergies
Which of these things you ask is entirely dependent upon the type needs and goals of the organization.
Pro Tip: You can make some information categories of information mandatory and others optional. This is a great way to improve user experience while making the form faster and easier to fill out. It also helps your organization avoid looking too intrusive.

#2: Find the Best Format for Your Membership Form
There are two broad categories for membership forms: Online and Offline. Which format you choose is largely dependent on the needs and preferences of your members.
Offline Forms
Paper forms may seem outdated to some; however, if you run an organization where your target audience isn't terribly tech-savvy, you may want to keep the form offline. This will avoid undue confusion and member dissatisfaction.
Sometimes paper membership forms can be better for very small groups, as well. A local gardening club or a neighborhood car meetup society, for example. In these cases, handing out a few forms and tallying up the information by hand may be easier, and quicker, than setting up a database. If you are ready to go digital, online membership forms are a great place to start.
Online Forms
If your membership is highly computer literate, online is definitely the way to go. Online forms are more straightforward to set up and manage, especially once the forms have been filled out. Metrics are far easier to measure, communication is simplified, and more benefits can be shared with your members.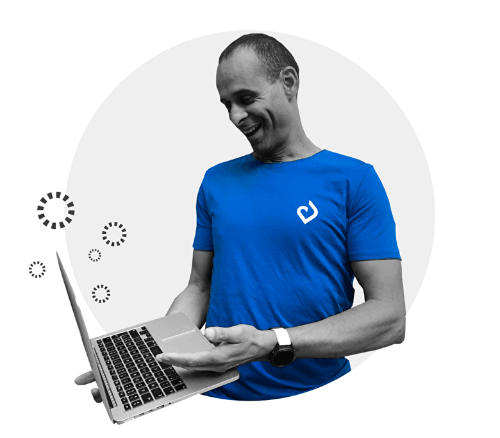 If your potential members are tech-savvy like
Sam, online forms are your best bet.
Ultimately, if the majority of people in your organization use the internet, then an online solution linked to your website will be the most efficient process. It creates less work for your employees and volunteers moving forward. Most of the tasks can be completely automated if you link up with a good database and membership management software.
If you're unsure which type of form your target audience will prefer, you can do the following:
Ask your existing members as a question on a feedback survey

Consider the age of your audience

Benchmark other organizations similar in size and scope
If overall convenience is a factor, an online version may be the way to go. Just keep in mind that the paper version is available if that is more appropriate for your membership base.

#3: Keep the Design as Simple as Possible
To ensure a pleasant user experience, you want to keep the lines simple and the format clean. The process of filling out this form should be as straightforward as humanly possible. Although you may want to make the form visually appealing, try not to let form completely win over function!
If you have the technological know-how to add a little beauty, go for it! Attractive images or a small logo at the top of the form will add a bit of flare without taking away from the form's functionality. Just be careful not to get too fancy as this can clutter the form and make it harder to read. Keep the fonts crisp and clean, and ensure there is enough white space. Blocks of text without corresponding empty space may overwhelm the eye.
Search online for a form builder or template. You might want to take a look at some of these for inspiration. Canva has an extremely user-friendly design tool that will help you add a bit of flare. Springly or Typeform both offer customizable online forms that your team can personalize. Sometimes just seeing a form that others have used helps you work through the kind of style you want for your own.
The golden rule is to keep it simple and stick to your main objective. Getting as many potential members to convert into actual members as possible! The priority is always to make your form easy for members to complete.

#4: Think About What Happens Once the Form is Filled
To create the most efficient form, picture the person who will handle the document post signature. Here are some questions you can ask yourself:
What manual actions need to be carried out?

From whom?

With what deadline?

If you choose an online solution, is it linked to your membership management system?
The answers to these questions will have a big impact on your final decision. Some organizations are large enough that they have a team to handle new members, while smaller clubs may be working on a much smaller scale.
Not only do you want to keep the folks in mind who will be completing the form, remember those who will need to process it! Complicated forms or systems may inadvertently bog down your staff. Be mindful of what drives the process from beginning to end, so that you don't bite off more than you (or your people) can chew.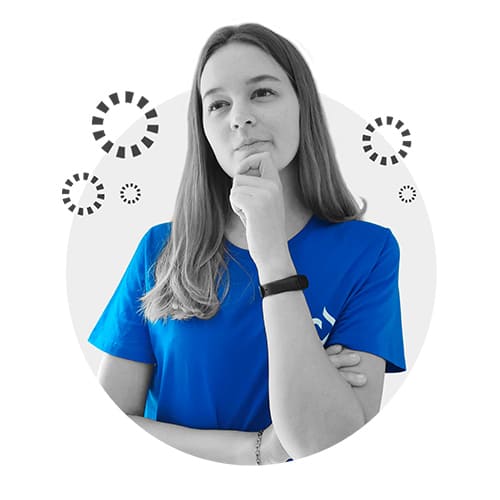 Thinking about what happens after your membership
form is filled out is important too!
You may even go a step further. If you have the time and bandwidth, talk to the people that will handle this part of the process. Ask for their input and collaborate on the best way to set up the membership application system. You may find that they have some good ideas, especially if this is something they've been dealing with for some time.
Pro Tip: To create a better user experience, consider a confirmation email to applicants. Let them know that the form was filled in correctly. Proactive communication assures the member that they did their part and the ball is in your court. They won't feel the need to reach out for additional information, which allows your staff to focus on processing the form.

#5: Run A Test
After spending a lot of time building your perfect membership form, it is a good idea to run a few in-house tests. Why? Simply put, more brains are better than one! If other staff members take a quick look, someone might spot a mistake, think of a key field that is missing or just help reformulate ideas for additional clarity.
Begin by running it through yourself. Come with the mindset of a brand new potential member, and fill out the form. Does it feel simple? Is the design clean and engaging? Do you feel a personal connection? Would you join an organization, club, or company that sent you this form? The insights you can gain from this exercise alone are excellent.
Next, you'll want to take on a few beta testers. I know it sounds like it, but beta testing isn't complicated, just pick a few of your most loyal members to try the form for you. Look for people who you think will give you honest feedback. Although tempting, avoid the ones who will tell you it's amazing no matter what!
You can gather information in whichever way you find most helpful. You could do something as simple as asking your testers to rate it on a 1-5 scale. Or review with the readers whether they had any difficulties filling out the form. If so, adapt it to alleviate the difficulties that were brought to your attention.
There's really no need to create a complex testing system. These questions should be enough to save you from future issues. The devil is in the details with an application or online form. All it takes is one instance of clumsy phrasing to both confuse and frustrate an applicant. Testing is both an easy and efficient way to highlight any potential problems.

An Example of a Membership Form
To help get you started, you can use our free membership form template.



Using an all-in-one solution (like Springly) is the best way to save time. Because there's no need for coding and javascript, you can create and edit your own form in just a few seconds on our simple-to-use platform.
The benefits go beyond the membership forms. Besides enjoying the convenience of pre-designed, simple online forms, you can also take advantage of these supports:
With Springly, your CRM is directly linked to your membership form, so your member's information is automatically transferred and integrated into the database

You can link to membership management software that allows you to communicate with your members, collect online dues payments, and membership level management

Data is password protected

You can create other forms like leadership applications

An all-in-one software goes beyond membership forms and offers communication tools, a powerful CRM, event management, even easy integrations with QuickBooks
Using Springly to manage your new membership forms saves you time, which allows you to take care of more important tasks and projects for your organization.

Springly is trusted by over 15,000 nonprofits to help them run their organizations on a daily basis. Try it, test it, love it with a 14-day free trial!
Dan