7 Tips to Mastering Membership Renewal

Danica
Understandably, organizations are often highly focused on their new membership campaigns. More members lead to a greater impact on your mission, right? The downside is that when organizations are laser-focused on new members, it can be easy to overlook member retention. Members are the lifeblood of any membership-based organization. Try to maintain membership and remember the old adage "make new friends but keep the old!"
Here is what we will go over in this guide:

Why is Membership Renewal Important?
It may seem obvious or cliche, but it's true: it's more time-consuming and expensive to find a new customer or member than it is to retain an existing one. Member retention is a key consideration for all organizations - nonprofit and for-profit companies alike. Keep the members you have, and you'll have a solid foundation for the future. That way when you add new members they will be an addition to your existing base rather than replacements for members who have left the organization.
If you have to replace a member who left, you'll be spending your precious time and recruiting a new member. The end result is a flat level of growth with a net expenditure of effort. In the worst case, an organization might be failing to retain a higher number of members than it is replacing. In that case, recruitment efforts will only be slowing a "leak."
Membership renewal doesn't have to be daunting. This challenge is an excellent opportunity to take stock of the best qualities of your organization, improve your administrative efficiency, and ultimately know and better serve your membership. Remember that when your membership is happy and feels well taken care of, they will take on some of the burden of new member recruitment on their own by spreading a positive message about your organization.
These 7 tips will get you started on the road to mastering membership renewals.

Tip #1: Prepare for Renewal in Advance
Certainly, the best way to ensure easy renewal for your organization is to have satisfied members. So, this is why the best place to start building an excellent rate of renewal is to make sure all your members' needs are met and any concerns are being addressed. Ask yourself:
Do Your Members Feel Appreciated?
Are you holding regular member appreciation events? If not, you should be! This is a great opportunity to build a sense that your members feel valued and conversely they are getting a high level of value from their membership. You might host a cocktail hour, a holiday party, a summer picnic, or even free seminars by professional experts in things like estate and financial planning, travel, wine or culinary interests.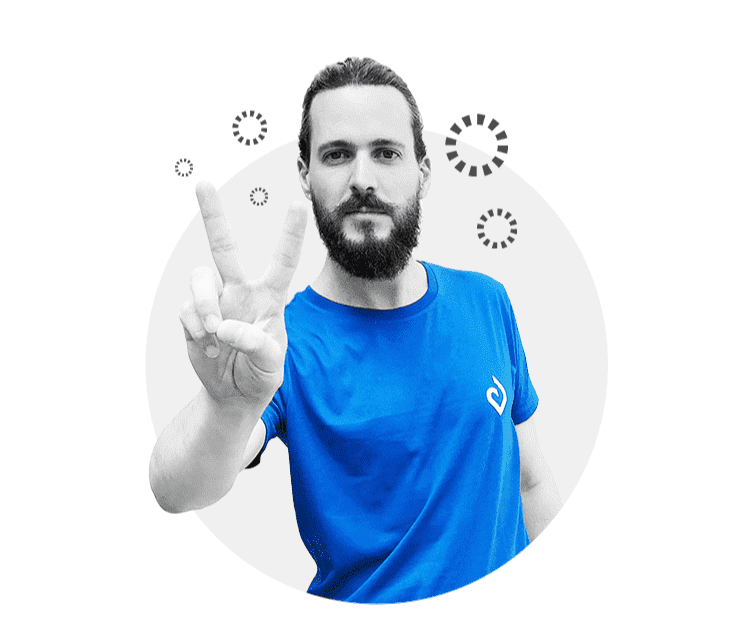 Being prepared for renewals means you'll feel
at peace, like Alex, when the time comes.
Pro Tip: Some professional experts may be willing to provide member events for free, or for a greatly reduced price, since it can be an excellent marketing opportunity for them. They are providing a service for a noble cause, and they are exposing themselves also to a new potential customer base. It's a win-win!
Another effective idea is to send cards or letters through the mail. Opportunities to send a mailing include things like:
Birthday cards

Holiday cards

Thank you cards

Beginning of the season event calendar, for example, "Here is a list of our summer events!"
One sure way to make your members feel appreciated without spending too much time is to adopt a software solution like Springly. This can automate the process of reaching out to your members increasing satisfaction and efficiency.
Are You Communicating Effectively With Your Members?
We live in a world of constant informational barrage. All of us get dozens of emails per day, and even per hour! Give your members a reason to open their emails by ensuring your organization stands out from the crowd by making the ones you send count. Depending on your needs and resources, consider calling your members to check in, tell them about some events coming up, and ask if there is anything you can do to improve their experience.
One way to enhance member experience is to consider community partnerships. Working with other local nonprofit organizations on a service project is a great opportunity to communicate up-to-date information while getting to know each other, and doing something good.
Are We Communicating Value Effectively?
Some members may feel unsatisfied because they signed up and aren't really sure what they are getting with their membership and how to take advantage of everything. Be sure that your initial orientation includes:
Breakdown of annual membership dues

Information on upcoming events

Details on how to sign up for your member ambassador program

List of membership benefits and rights

How and when to renew

Options for automatic renewal

Renewal process

List of publications

Guide to any facilities you have
Do Our Tools Need a Refresh?
You have confirmed your membership appreciation events are scheduled and your communication strategies are on point for the duration of the membership period. Now switch your focus to investigating the functionality of your tools specific to the renewal process. Ask yourself whether you have a simple renewal process that is efficient for members and staff. A few related questions that can help you hone in on potential areas for improvement are:
Do we have a straightforward and user-friendly renewal process?

Can members easily find and access the information they need to renew?

Is the renewal process fairly painless for our staff?

Do we offer a variety of payment options?
If you answered "no" to any of these questions, you may want to adopt software (like Springly) to make this process easier. Membership management software can streamline the renewal process for both your members and your staff, increasing member renewal rates and reducing headaches for your employees or volunteers who process those renewals!

Tip #2: Send a Satisfaction Questionnaire Before the End of the Membership Period
This technique is geared towards heading off problems before they cause a delay in renewal or worse a non-renewal. It makes your members feel like they are listened to, and allows you to honestly look inward to see your strengths and weaknesses.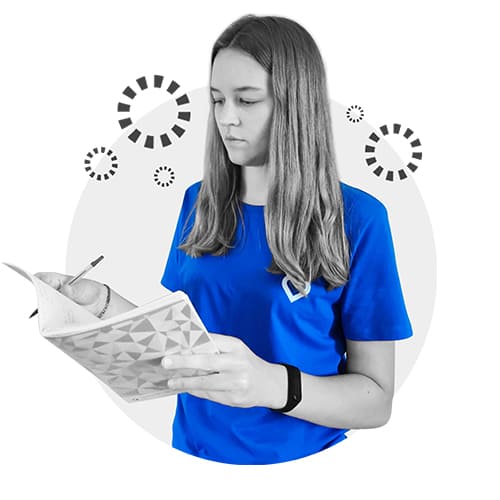 Emily is drafting some questions for her
satisfaction questionnaire!
Be sure to give plenty of time to send the survey, have the members answer it, send it back, and study the results. Ask directly towards the end of the survey if they plan on renewing or not. If they answer no, then you can reach out to them and see why and if you can change their mind. If they answer yes, then you can make sure to remind them when the time is right.
Here are some great questions to ask on your membership survey:
What is your overall level of satisfaction (from 1 to 5)?

What did you like the most and the least?

Do you plan to renew your membership?

Would you recommend membership to someone you know?

What improvements can we make?

Did you attend a recent event?

Tip #3: Have a Dedicated Renewal Communication Strategy
Informing your members about their upcoming renewal is too important to be left to the last minute. You never want your communications to seem rushed or incomplete. The best practice is to plan 6 months ahead, giving you plenty of time to gather feedback, send communications, and process the renewal.
Use your CRM or a calendar tool to automate the process as much as possible. You should be able to automatically send out periodic reminders of renewal. A good rule of thumb is to send one email reminder at 60 days out, and another at 30 days out. Everyone gets busy, so this gives your members plenty of time to respond before the expiration of their membership.
On follow-up reminders, stick with the same message, but vary the wording so it doesn't sound repetitive. Also, remember that you can offer the option of opting into automatic renewal, placing the dues on the original payment method.
Pro Tip: Simplicity is the key to focused and effective communication. Use one common message that is adaptable to different channels such as email, text or social media. Your message should have one objective that is clear and easy to execute.
Pay attention to the language you use in your call to action for renewals. They are not new members, so it makes sense to treat them more like an old friend than someone you are meeting for the first time. This is an opportunity to ensure they understand how special they are to you. Feel free to play on the heartstrings a bit. Remind them of some of the best moments of the year, and how you want to make sure they don't miss out on next year's great activities and events.

Tip #4: Offer Special Benefits to Your Most Loyal Members
Members who renew on time are saving you time and effort. Creating an "Early bird" rate can help incentivize a high rate of renewal and in less time. Another approach is to incentivize renewing and remaining a continuous member by always making sure there's a perception that new members are paying more, and you are getting a better value by staying a member, rather than letting it lapse and rejoining.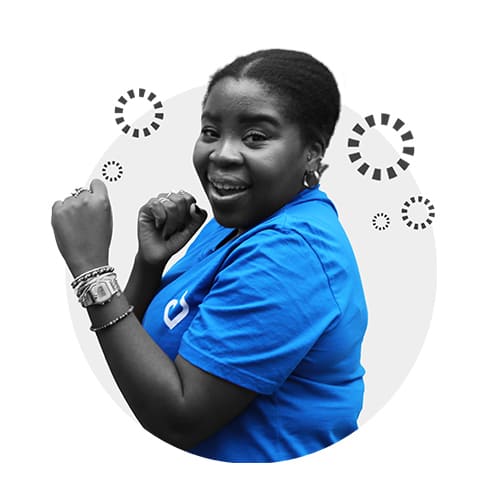 Special offers will have your members
looking like Sadie!
This is where looking at member renewals as a continuous process comes into play. All year long, you should make sure you are building a sense of community and belonging among your members. One way to do this is to add a "Member highlight" to your membership mailings and publications. The featured member will feel very special and valued, and other members will have a great opportunity to find out more about their peers. Other ideas include special gifts throughout the year, birthday cards, food and drinks at meetings, and more. Member social gatherings are a great place for everyone to get to know each other and for you to express your appreciation.

Tip #5: Provide Regular Reminders to Your Members
Increasing member retention starts with regular communications. In our world, it's simply too easy to forget things in our lives that don't regularly "ping us." So, a common cause for disengagement is certainly members that simply forget to renew, but who would have otherwise. No one wants to lose members for that reason.
Only you know the needs of your membership, so you are the best person to define your membership engagement strategy i.e., how often to communicate with your members and by what channel. It's very helpful to take a look at what techniques have worked in the past and what haven't. As your members may be quite diverse, you may discover some levels of frequency work better for some than others, and likewise, some communication channels reach some members more than others.

Tip #6: Use the Communication Tool That Suits Them Best
Organizations all over the nation are realizing that you can no longer just choose one form of communication. People of all ages have varying levels of expertise and interactivity with all the means of communication available.
As technology becomes more accessible to all, we are seeing older generations online engaging with friends and family. Some people may still see physical mail as a pile of bills and ads but some people, of varying ages, still enjoy the tangible sensation of getting something from the mailbox and taking the time to open and read. Again, you are in the best position to know your membership and what method is going to work the best for them. Remember you have so many channels to choose from! Here are some examples:
Email

Direct mail

Social media

Phone calls

Texts
You can also mix different channels and repeat your message over multiple methods. It doesn't have to be an all-or-nothing approach. In your member questionnaires, you need to ask about the preferred methods of communication. Periodically survey to see if your members have seen a particular mailing, email, or social media post. Consider holding a focus group to hear from a cross-section of members and which method of information they prefer, and what they see are the advantages and disadvantages of each.
If there is one golden rule to follow, make sure that it is easy for your members to respond. All methods of messaging can be adapted so that your members can act and act quickly. When you use direct mail: offer both online, phone, and return-mail options. When you send out a renewal notice, you may want to include an easily customizable link that they can type into their web browser. For example, "www.yourorganization/renew."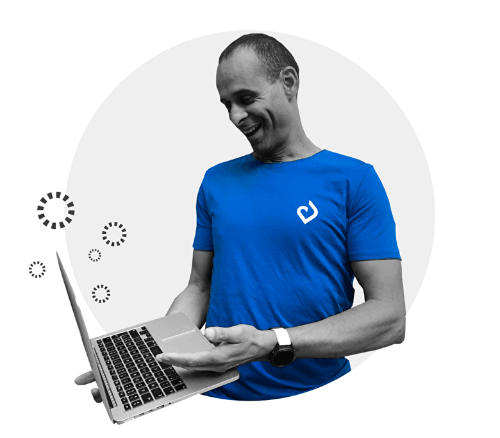 Sam is making sure renewals go smooth
by communicating with his members!
You can also include a tear-off form to easily send back in a prepaid envelope. The content inside should include a telephone number where people can call to renew over the phone. For social media, you can easily link to your renewal page. Social media posts are usually short and eye-catching so try to be concise.
For example, say, "Check your renewal date! You'll get a discount if you renew early. Here's the link." Finally, on your website: it's very easy to include a membership renewal widget, or simply a link to a page. Make sure it's highlighted and easy for members to find their invoices once they log in.
Pro Tip: Not sure of the best way or time to send your reminders? Try several and see what works best. For emails, some basic analytics can help you (mainly open rate, click-through rate and read time). But tracking a membership renewal letter, for example, can be difficult. To help you fill this gap, ask them directly how they heard about your renewal campaign on their membership form. This can be quite difficult to set up the first year, but it will be a great help for next time!

Tip #7: Clarify the Grace Periods With an Internal Policy
We are all human beings! We get busy, we get distracted and we miss deadlines. It happens to all of us. A grace period is just that: a period of grace. So, rather than canceling someone's membership on the renewal date, you extend a period of forgiveness where there is no penalty and they can renew. If they don't renew their membership by the end of the grace period, their membership is considered terminated.
Your members will appreciate being treated like human beings, rather than robots. You can use it as a great opportunity to show off how much you care and that you value them and want them to be a part of the mission of your club, or organization. So if the deadline has passed, it's advisable to give them a chance to renew.
On the one hand, it's clearly a good idea to offer a grace period. On the other hand, you don't want to be in a position where your current membership level or renewal trends aren't known. If your grace period is extended to some and not others, or if it is for an indeterminate amount of time, you'll be subjecting yourself to unpredictability.
The best way to head off any dispute or confusion is when your members sign up, to include a detailed document explaining dues, membership benefits, a breakdown of annual membership dues, and the exact length of a grace period. One option you may consider is different tiers of grace periods.
For example: Tier 1 might be from the day of expiration for 1 month. If you rejoin within this time, there is no penalty. Then, tier 2 could be 1 month from the end of tier 1. If you rejoin during the tier 2 time, there's a $25 penalty. Then, after that, you are considered lapsed and need to rejoin at the new rate.
You certainly want your members to renew well in advance of the deadline. However, you must be prepared for scenarios in which they don't. Good communications and clear policies help to keep you prepared so you can get the highest rate of renewal.

Springly is trusted by over 15,000 nonprofits to help them run their organizations on a daily basis. Try it, test it, love it with a 14-day free trial!

Danica