3 Key Sections to Include in Your Nonprofit's Monthly Treasurer Report (+ Free Template)
Emily
When making important decisions about the future of your nonprofit, few aspects are more important than having accurate, up-to-date financial data. As this information is organized and arranged on a treasurer's reports, the format and quality of the reporting can have a significant impact on how effective this data is for members, stakeholders, and the board of directors alike.
Since these are such important documents, it is important to understand what to include and how it should be organized for presentation. A monthly treasurer report is not the same as a profit report. There are a few best practices that, if followed, will ensure your report is efficient and effective.
We will take you through everything you need to know to check one item off your nonprofit treasurer checklist. Additionally, that template we mentioned will get you started on a path to greater success!
Here's a checklist of important data that we include on our monthly nonprofit report template:

What is the Treasurer's Monthly Report?
As you saw in our template, the treasurer's report for nonprofit organizations is a comprehensive document that details all costs, expenditures, revenue, and income accrued over the period of one month. Because organization bylaws often contain details around internal controls and financial accountability for nonprofit boards, the treasurer's report is typically mandated within the bylaws. This helps ensure current and accurate data to help influence the decision-making process.
Pro Tip: If you are just starting your nonprofit and are wondering what other important information to include in the bylaws or your organization's financial procedures, take a look at our sample nonprofit internal controls policy. This and our nonprofit policies and procedures manual template can get you headed in the right direction. If your organization is likely to stay small for a while, our five internal controls for small nonprofits may be more useful.
The report can be presented wherever it is most convenient and beneficial, such as at the next board of directors' meeting or even a general membership meeting, or even in a monthly recap email.
If you are just coming into the position, consider asking the previous treasurer to walk you through older versions of the report (on a personal note, take advantage of this time to ask the outgoing treasurer if they were bonded or not.) The advantage of reviewing past reports and annual expenditures is that you can understand what information is typically included and how it is presented. When you marry the existing format with your own ideas, creativity, and enhancements, you'll end up with an even better result!
Pro Tip: These reports contain a significant amount of information covering a range of topics and trends. For best results, cherry-pick the information most relevant to significant goals or pending decisions and present the report orally. Make sure to break down the knowledge into manageable chunks and explain them in layman's terms so that everyone present can understand what the information means. If you are unable to present the information, create an executive summary that explains the highlights of the report to point folks to the most important details up front.
Now that we're aligned on what a treasurer's report is, let's dive into the main details that should be included.

#1: Financial Status
This section of your report should provide a summary of your organization's cash balance for the month. That includes an assessment of all the balances within each individual fund, which can be an invaluable tool when planning a budget.
That number can be broken down into a handy table format per fund, but it should include a balance which is the total sum of all accounts together as well.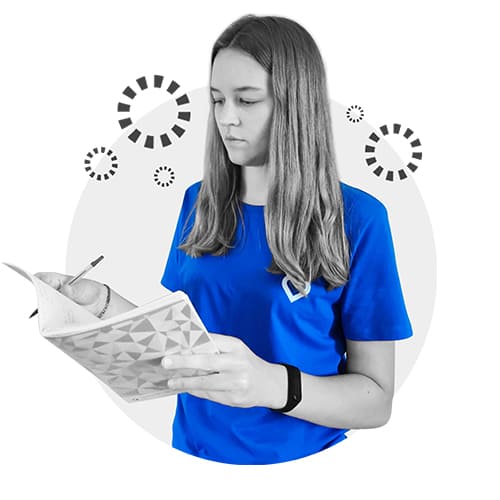 Emily is digging into her organization's financial notes.
Providing data from previous months alongside the current data can be handy, but make sure that each is labeled accordingly and the current month is highlighted in a prominent fashion to prevent any confusion.

#2 Revenues and Expenses
This portion of your treasurer's report should audit and break down the cash-flow revenue data over the given period of time, which is often done in a table format for convenience. It is helpful to break the information down into categories with spaces that make it easier to comprehend the information and to examine each portion in relation to the others.
Examples of revenue categories:
Dues

In-kind donor donations

Volunteers' services

Grants
Examples of expense categories:
Employees' Salaries

Contractual services

Capital Outlay
Don't underestimate the power of visual graphics! Highlighting important data such as improvements or opportunity areas (i.e. increase in total expenditure data compared to the last period) will draw attention there, and visual graphs can provide easy to comprehend results that are easily comparable.
Remember that this information can be important for current and potential donors as it provides transparency on your fund usage!

#3: Other Reports
This section is for lengthy explanations or helpful information that is not necessarily essential. Providing visuals such as graphs is typically helpful here. The interactive capabilities you provide typically help retain reader interest by engaging your audience.
You can optionally provide this information in the form of appendices if that is a suitable option.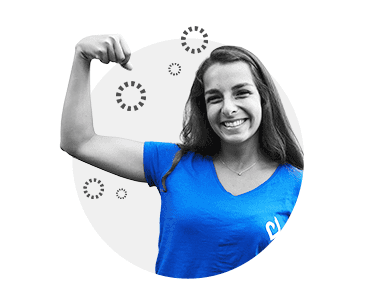 Nina is feeling strong about her new monthly treasurer reporting!
There are many review report template PDF downloads as well as other formats that can help you with your annual report and other financial documents, even including excel spreadsheets with formulas to help with calculation accuracy. Just make sure that any framework you use is particular to nonprofits, as reporting is quite different from for-profit organizations. In addition, confirm that the template you choose is available for general use as you could face DMCA issues if they are copyrighted.
Try out our template. Use it, make it your own and share it with those around you!

Extras to Remember
There are other features that may seem minor but are important to include when you provide your monthly financial report.
Your organization's name

The reporting period
Pro Tip: It is helpful to say something similar to "The period ending the 30/31st of (month)" and have that information displayed clearly on the front cover of the report to easily differentiate this new document from past versions.
The initial cash balance when the period began

Income received throughout the period

Expenses paid during this time

The cash balance result at the end of this period

The treasurer and/or auditor signatures
Pro Tip: Always be sure that the end cash balance is accurate and equal to the cash balance at the beginning of the month plus total income and minus total expenses.

Final Thoughts
As these reports are the culmination of a lot of data and organization, there are many areas along the way where the expediency and effectiveness of the collection and recording methods could be improved. Similar to the sample financial policies for nonprofit organizations, having policies in place specific to the treasurer's report helps to ensure a smooth process.
Anything that saves you admin time is more time that goes into your mission. It's important to take the time to evaluate all aspects of the information collection and data entry process to find ways to improve.
This may mean changing procedures to facilitate better information or backup copies and security to protect information or even having an outside source evaluate the procedures to find ways to improve the process.
One avenue you can pursue is better technology, as there are many websites offering software programs that can streamline the data entry, report processes and actually provide you with an organizational format for your budget and other treasurer documents. Do a little research to see which provides the best nonprofit annual report templates and monthly reports for best results.
Nonprofit treasurer software, like us here at Springly, have a mission to help nonprofits save time on daily tasks. We can do this because our all-in-one software is an integrated source of many important organizational features, such as member and communication features which make things easier for the user.
Pro Tip: If you find yourself overwhelmed by the vast amounts of data you have to organize and present, you're not alone! Consider reaching out to get the help of a professional. They can fill in any gaps you feel you have around policies and strategies until you have the experience, or bandwidth, to take everything on yourself.

Springly is trusted by over 20,000 nonprofits to help them run their organizations on a daily basis. Try it, test it, love it with a 14-day free trial!
Emily
Recommended articles
How To Use A CRM For Nonprofits For Better Daily Management
Trish
Communication
Social Media
Marketing
A Comprehensive Guide To Instagram For Nonprofits
Trish
How to Analyze Your Nonprofit Email Marketing Statistics

Danica