15 Unique New Member Orientation Ideas

Paul
Building a successful, thriving organization requires several fundamental building blocks. Recruitment is just one. Organizational leaders have a lot of balls in the air and ensuring a well-planned and executed new member orientation is definitely one of them! Your goal is not to just grow the size of your organization but to successfully retain and inspire your members. Member orientation is an important consideration to accomplish that goal.
Here's what we'll cover in this article:

What is Member Orientation and Why is it Important?
Much like onboarding a new volunteer or an employee, member orientation is an opportunity to get your new members acquainted with your organization and make them feel at home.
Though some people use the terms "onboarding" and "orientation" interchangeably, they are different. While onboarding does endeavor to make new hires or volunteers welcome, it is primarily about setting important expectations. This is an opportunity to relay critical business or safety procedures and explain the legal rights and obligations of employment or volunteer work.
Orientation is more geared towards making your new members feel welcomed. It helps them understand where to go next within your organization or club to get the most out of their participation. This initial experience is essential to building a long lasting relationship with your member.
Without an orientation process, your new members are left to meet people for themselves. For some, this may not be a problem, but for others, they may be nervous to meet new people and may find themselves feeling isolated and unmotivated to participate. They may also receive incomplete, incorrect and conflicting information about how the organization works. They'll certainly be searching for inspiration, and without a good starting point, they may never find what they are looking for and leave the group.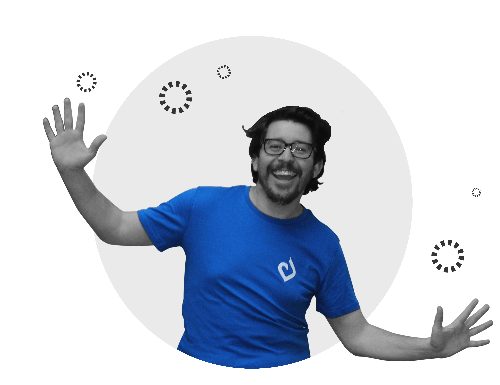 Welcome your new members with open
arms like Jules with a stellar orientation!
When new members are welcomed with enthusiasm and an organized presentation of information including next steps and an introduction to key leaders as well as experienced members, a positive relationship is created right from the start. These days, some organizations are providing online orientation in the form of a webinar which if done right, can be just as effective as an in-person gathering.

The Member Orientation Process
When it comes to new member orientation, there are three goals you should keep in mind, and each of goal forms part of a sequential process:
Introduce
In the first sequence, the focus is on building a relationship with new members and providing key details about the organization. You will connect them with other members, staff, and group leadership. Offering a history of your club or organization e.g., how and why it was formed and what drove the founders to take action on their ideals will offer information that should resonate with members. This also reminds them of why they are there, surrounded by like-minded people.
Remember that this is your only chance to make that crucial first impression! This is the first step in what will hopefully be a long and prosperous relationship with your organization.
Pro Tip: Assigning a mentoring guide is a useful way to make new members feel welcome. This person can provide information about getting started with the organization and relay helpful information like events that they've found the most meaningful or member discounts that the membership provides.
Inform
Once your new members feel comfortable in their new surroundings, you'll give them all the necessary information for them to be able to function on a day-to-day basis. For example, a representative of the chamber of commerce would make sure to tell new members about helpful programs e.g., a peer-sharing program that a board member facilitates between members in related industries. They would explain where to view the events calendar for each month and how to sign up to participate and any other relevant details.
If you have committees (particularly those in need of a fresh perspective) explain what they are and how new members can get involved. If your club or organization has a code of ethics, this is the perfect time to relay that message. For efficiency and organization, consider succinctly presenting everything in a new member orientation PowerPoint. Providing members a paper copy, or letting them know you will email them an electronic version, will save them from furious note-taking! Also, try to pause regularly for questions and feedback to keep a conversational atmosphere.
Inspire
This final sequence is so important to ensuring that your new members become long-time members. Gather your favorite testimonials from existing members. An inspirational video can help drive your point home. Sharing these success stories and helpful tips will get folks daydreaming about how their lives can change for the better through this relationship.

5 Ideas for a Great Introduction

#1: Host a Welcome Breakfast
A welcome breakfast is a fun and festive way to facilitate a successful new member orientation. Breakfast can actually be a time of great energy when people are looking forward to the day, rather than the evening, when they may be tired. Whether you offer a full formal buffet or a light spread of pastries and bagels, the gathering allows for an informal setting that encourages meaningful exchanges between new and existing members. Ask each member to don a button with your organization's logo and their name and let the conversation flow!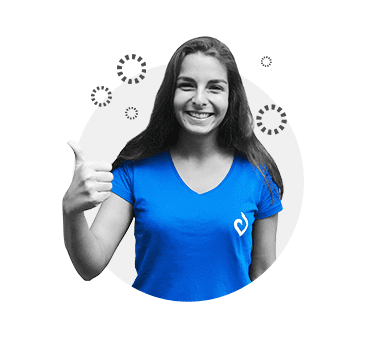 Nina knows a satisfied stomach leads to
satisfied new members.
#2: Conduct a Speed Friending Session
This can be a fun and even exhilarating way to break the ice and get people talking quickly. It is often quite difficult for some people to introduce themselves to a large group. Instead, break your membership up into small 3 person groups and set aside 5 minutes for each group to get to know each other. It can also be helpful to suggest pre-planned questions like:
Why did you choose to sign up?

What interests you about the focus of our club?

What is the last good book you've read?

What's your favorite movie?
If your club is focused on a special interest, for instance, model railroading or gardening, ask some more detailed questions based on those areas of interest.
#3 Give a Tour
Some organizations meet at unrelated facilities like meeting rooms at churches, universities, or hotels. However, if your club organization has a physical presence, like a clubhouse, gym, or studio then it's very important to show members around. When people are unfamiliar with their physical surroundings they will likely feel apprehensive and reluctant to share and get involved.
A tour makes everyone feel comfortable. You might have a new member's mentor give a one-on-one tour to encourage bonding, provide answers to questions and get conversations started.
#4: Host a new member quiz
If done properly, a quiz can be a fun and lighthearted way for people to get to know each other, laugh a little, and feel like they are part of a team. The way this usually works is to send out some information about the new "class" of members to the existing members. This should all be voluntarily provided by the new members, and should ideally contain funny facts and trivia about their lives.
The existing members study it and at a meeting, they can be "quizzed" on the information. Often this results in laughter and fun ice-breakers about life trivia. When it's over everyone feels closer and has shared a nice moment together.
#5: Write a Welcome Post on All Social Accounts
Another great idea is to do a social media post highlighting new members. For instance, in a Facebook post to your group, make a "New Member Spotlight" post. Include a picture of the member as well as some biographical information. Be sure to do this once per day and avoid having a spotlight post be crowded out by a meeting announcement or news announcement.
Pro Tip: Consider making your Welcome Post your only post on that day. This will help highlight new members and show them, and potential new members, that you really care. Plus, there won't be anything to distract your followers from your newest superstars!

5 Ideas For Effective Knowledge Sharing


#1: Assign Your New Member a Buddy
A "buddy" is a mentor, teacher, and friend. They will assist your new members in making quick connections and getting the most out of their membership experience. Not every existing member is necessarily a good fit to be a buddy. Some people are a little too busy, and others may just be better suited to other tasks.
Pro Tip: Give your existing members an incentive to be a buddy of a new member by offering them additional privileges, discounts, or benefits. This not only helps new members learn the ropes and make some friends, but it's also a great way to boost the engagement of existing members!
#2: Tell Your Story
In creating a new member orientation PowerPoint, a webinar, or live presentation, be sure to use creative media and real-life testimonials to tell the story of your organization. Storytelling is an excellent communication technique to build a community mindset. Using engaging titles and writing to explain the history and inspiration behind your group will help those same new members feel at home.
#3: Arrange a Coffee Date
Another way to build engagement is to have members sit down face to face in a much less formal setting than a group meeting. This can be totally spontaneous and the conversation can meander wherever the two participants want! This is a great way to keep things fluid and build real friendships and relationships.
#4: Create an Informative Video
Right now, large in-person gatherings can still be a challenge. An informational video can still be as inspiring as live information, as long as it's done correctly. Make sure you have inspiration in addition to your information!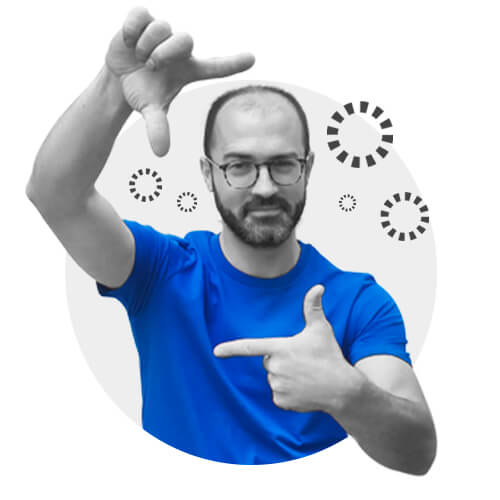 Oliver is setting the scene for his informational video!
#5: Update Social Media With Relevant Information
Make sure you link your new and existing members to your social media. Always provide timely, necessary information about meetings, locations, facilities, and safety.

5 Ideas to Inspire Your New Members
Motivating your members to become as passionate about ongoing issues and your mission as you are is the last step in the new member orientation process.
#1: Host a Discussion Event
While orientation is all about turning new members into experienced members, all members can benefit from a discussion event. Pick a stimulating topic regarding an interesting social issue, or the future of a particular field that your organization might be related to. For example, an astronomy club might discuss what destination future space travelers should visit. Or, a realtor club might talk about the impact of covid on open houses with a focus on available resources/ materials or even a new local requirement that new realtors may not be aware of that contributes to a safe environment for all.
#2: Organize a Field Trip
Take your new members on a field trip. Ideally, your trip would be directly tied to the mission of your organization or association. If not directly related, then it should provide some meaningful inspiration. For example, a tennis club might take its members to an important professional match. Or, they might visit a tennis hall of fame or museum. The experience of the outing creates a strong sense of bonding and shared purpose.
#3 A Community Service Project
This is your chance to do good for our world as you build community and togetherness among your members, both new and existing. Contact local organizations and agencies to see what needs to be done. Here are some great activities:
Volunteer work at a community food pantry (serving, bagging, and delivering)

Trash cleanup at the park or beach

Mentoring or tutoring students
#4 Recreational Sports Game
Offices, organizations, and clubs have used this technique for years. Dividing into teams and participating in a friendly competition can be memorable and encourage fun and friendships. Some great sporting activities to try are:
Softball - classic and can be tailored to people of all ability levels

Golf tournament - use the "best ball" system to keep everyone involved and be sure that pairings include players of differing skill levels

Hiking - be sure to pick a route that all participants can enjoy

Badminton - this game is easy to set up

Volleyball - great for the park or beach
#5 Progressive Dinner or Night Out
When people travel together and eat together, they have a lot of time for great conversation and building friendships. You can link your restaurants or pubs to a certain theme that may even be related to your organizational mission.
For example, a creative writing group might celebrate the works of an Irish author by visiting Irish restaurants and pubs. You can have appetizers at one spot, have a main course in another spot, and have dessert somewhere else. This way, the seating gets mixed around and people have a chance to meet more members.

Springly is trusted by over 15,000 nonprofits to help them run their organizations on a daily basis. Try it, test it, love it with a 14-day free trial!

Paul