Cloud Hosting and Sharing Documents Online: 5 Tools for Your Nonprofit
Trish
In the digital age when your teammates could be working from anywhere in the nation (or the world), you no longer have to stand in front of the same whiteboard or pass paper documents to each other.
If your organization manages a database with all your contacts, members, and donor history, using pro tools for nonprofits can help you keep the data organized.
Cloud hosting can help your nonprofit stay ahead of your deadlines if you want to collaborate remotely, or send digital files easily. Cloud tools are great to accompany your nonprofit ERP, or SaaS membership platform as they all share the same common principle: collaboration!
Here are five digital tools for your nonprofit to send and store your documents, spreadsheets, photos, and other digital files:

G Suite: an Office Suite with an Online Cloud
Google for Nonprofits provides all the features in Google Suite ("G Suite") such as Gmail, Docs, Calendar, and Calendar.
With the free version of G Suite for Nonprofits, you can store up to 30 GB of files on your Google Drive. This is a great option for your nonprofit if you need cloud hosting for your files.

If you need more than 30 GB because you have to manage a lot of photos or large files, you can upgrade to the paid plans starting at $4 per month.
Do you want to create email addresses that use your organization's domain ("yourname@yourorganization.org"), so that your emails no longer look like they're sent from your personal email address? You can create customized email addresses with Gmail.
Pro Tip: A professional email address goes a long way as it brings legitimacy to your organization. Once you have a personalized domain, you can then use your all-in-one software to send out emails, newsletters, or event invitations and see your opening rate skyrocket!
Google Docs, Google Sheets, and Google Slides are also available for your team to collaborate on documents, presentation slides, and surveys.

Box: A Cloud with Advanced Features
Box provides cloud content management, which stores and integrates all your documents spread out across different applications. This is useful if you don't have one nonprofit CRM that everyone on your team uses.
There is a "donated account" offer, which you can apply for as a nonprofit. Or, you can contact them to discuss which subscription plan is best for your organization. Nonprofits are eligible for a 50% discount on subscriptions.
Similar to Google Drive, you can grant access permissions to your team so that your documents are private or accessible to the right people.

CloudApp: Capture Your Screen
With CloudApp, you can capture your screen to create tutorials, show your team how to do something on software, brainstorm on camera, and everyone on your team can comment for a fast collaboration.
If your nonprofit wants to add a custom-made GIF to email newsletters or add an informational video to emails to members on how to claim their perk, CloudApp is a great tool to add some animated visuals. After all, pictures speak a thousand words!
They have a free subscription version that allows you to capture video (1 min maximum), and create GIFs and screenshots. Contact their sales team for a special nonprofit discount.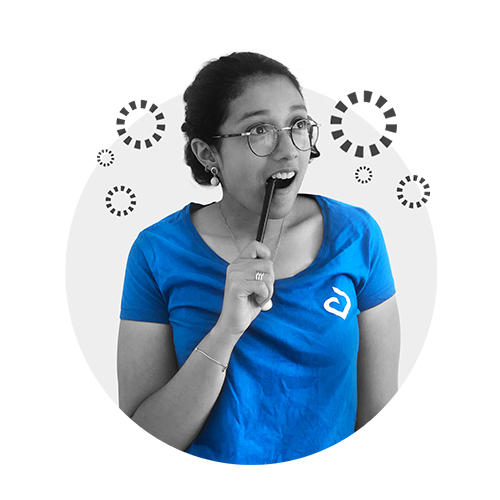 Salma can easily brainstorm with her team with these online cloud hosting options!

Genius Scan: Scan Documents With Your Phone
Are you staring at a stack of papers that you have to scan into PDFs? Gone are the days of looking for a scanner, because you can scan documents with your smartphone.
Genius Scan is truly genius. Just download the app from Apple Store (iPhone) or Google Play (Android), use the in-app camera to take photos of the documents, and you can convert the photos to PDFs in seconds!
You can edit the photos to crop out the edges and correct the angle of the page, for a really clean look. As long as your photo isn't blurry, you don't need to worry about holding your phone perfectly right above the paper. Just edit it later in the app!

In the free version, you can email the PDFs to yourself or to your colleagues. You can purchase an upgrade in the app if you want to have the option of exporting directly to other apps.
There is also the paid option of Genius Cloud, which gives you unlimited cloud storage for your files.


WeTransfer: Easily Transfer Large Files
Some files are too big to send in an email, such as videos, photos, and audio files.
WeTransfer allows you to send 2 GB to up to 10 people. Recipients click on the emailed link from WeTransfer to download the file. Transfers expire after 7 days, which gives your recipients enough time to download.
With a WeTransfer Pro account, you can send even larger files up to 20 GB, and decide when the transfer link expires.
If you don't have cloud hosting, this is the easiest way to send files, especially if you're only occasionally sending large files to a videographer, graphic designer, or audio engineer.

Between these five tools, you can use nonprofit software selection criteria to choose the cloud hosting option that suits your nonprofit's needs.
Working with your team can be a breeze thanks to online nonprofit software, even when you're across the world from each other! Learn more about free cloud storage for nonprofits and how they can help grow your organization to new heights.
Springly is trusted by over 20,000 nonprofits to help them run their organizations on a daily basis. Try it, test it, love it with a 14-day free trial!
Tools
Nonprofit Management
Trish
Recommended articles
How To Use A CRM For Nonprofits For Better Daily Management
Trish
Communication
Social Media
Marketing
A Comprehensive Guide To Instagram For Nonprofits
Trish
How to Analyze Your Nonprofit Email Marketing Statistics

Danica