A 5-Step Data Management Guide For Your Nonprofit
Jules
"You can't manage what you can't measure" should be the beating drum of every member of the nonprofit sector and membership organization. In order to have access to good, reliable data that can be used to improve your nonprofit's systems and processes, an effective data management strategy is needed. A membership database will ensure that your data is stored safely and easy to reach.
Having trouble deciding where to start? This article will explain the 5 steps you need to take.

Why Bother with Data?
Without good data, improving systems and processes can be very difficult. However, having good data is not enough. Understanding the data you need to accomplish your goals and how that data will aid you on your journey is just as, if not more, important. The first thing you need to understand is the difference between the two types of data: quantitative and qualitative.
Quantitative data is fixed, factual, and is represented by number outcomes e.g., the number of donors who contributed to your organization during the month of September. This data is easy to recognize and measure. Qualitative data is descriptive and open to interpretation e.g., the various reasons donors choose to donate - this is important information for your organization but is not as easy to measure.
Data can benefit your nonprofit in many different ways. For one, it gives you a big-picture overview of how your organization is currently performing. This results in a more well-intentioned nonprofit and influences decision-making going forward.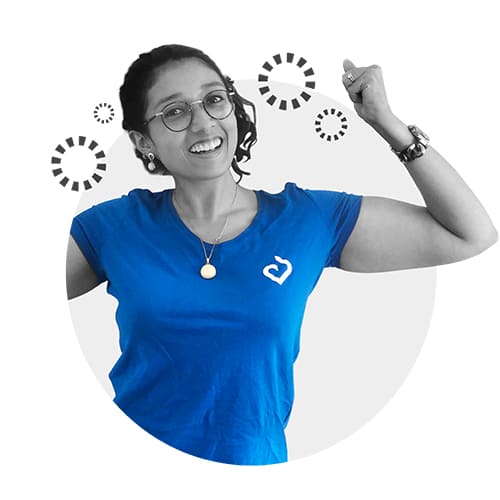 Salma knows starting with good data is
key to good results.
Having good data allows for personalized engagement. Understanding how a member, fundraiser, or donor has participated allows you to individualize your approach. This makes them feel more valued and listened to, immediately making your interactions with them more memorable.
Finally, data allows you to experiment effectively. Testing two concepts on different members of your target audience, or "A/B testing", allows you to essentially experiment with your marketing framework. The results help identify what platform strategies or integrations work best, allowing you to devise and implement new ways of engaging with donors, members, supporters, or volunteers. Experimenting can help you learn that something you thought would be a total bust actually works!
Now you just need to define your data strategy.

Your 5-Step Guide to an Ironclad Data Management Strategy


Step 1: Decide What Data to Collect and Why
Deciding what data to collect ultimately depends on the goals of your organization. Your nonprofit's digital transformation is important to maintaining the data you need to improve and grow your organization.
Pro tip: Having clearly defined goals, with either quantitative or qualitative values assigned to them, will help you define the sort of data you need to collect. If you haven't defined your goals of nonprofit data management, then this should be the first step you take. If you have, you should ensure they are as refined as possible before embarking on your data collection mission.
With your goals clearly defined, you can identify the type of data you'll need to collect. A simple way to go about this is to think about your goals in the context of time:
Current: what data would allow you to assess the current state of your goal? This will tell you whether or not you are on task.
Past: what data would allow you to build up a picture of the past? This will help flesh out the rest of your data and allow you to make projections going forward.
Future: what data is still needed to achieve your goal?
There really is no one size fits all solution here, but using past, present, and future timescales as a guide is a great way to get you thinking in the right direction.
Step 2: Identify the Appropriate Data Collection Methods
Once you have decided what data to collect, the next step is to go ahead and find it and store it. The best way to gather data is simply to ask people for information. Whether it is your members, clients, donors, staff, volunteers, or attendees, it is totally reasonable to expect them to fill out a registration form upon sign up. In this sign-up form, you should include all of the information that you want to gather e.g., age, communication preferences, ability to attend fundraisers, etc.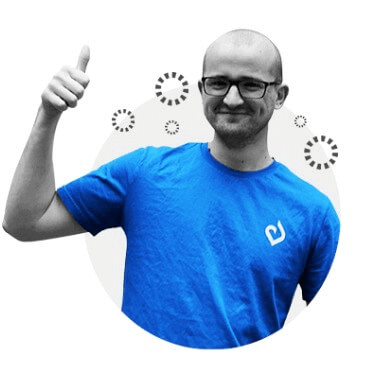 There are plenty of ways to capture your data – and
that has Matthew smiling!
You can also send out surveys and feedback forms after an event or registration period to collect any data you have left out or deprioritized in the first round-up.
Pro Tip: Don't make your forms and surveys too long as this might put people off filling them out in the first place. A good way to get around this is to make the important questions "mandatory" and the rest "optional".
Lead capture techniques may also be useful. Consider creating a valuable piece of content for your members and then require them to provide you some useful information to obtain access to that content.
Of course, you can also resort to a good old-fashioned chit-chat. Sparking up a conversation with your community may offer an opportunity to have all your important questions answered!
If you require any additional data that can't be retrieved directly from your members, you may not need nonprofit technology consultants to help. Consider thinking outside the box - here are some options you can try:
Google search - learn from other organizations' blogs and additional reputable sources

Publicly available information - consider consulting local census information for demographic information

Visit your local library - librarians, although not nonprofit databases, have a wealth of knowledge about public/ private information sources and are great sources of information
Step 3: How to Store Your Data
Storing data is a huge, and arguably the most important, part of data management. If not done properly, things can become messy quickly. Files can be lost or data can be misinterpreted. The best way to ensure this doesn't happen is to adopt some kind of data management software.
There are different types of database management software out there, but it is best to look for one that comes with a multitude of other features to support your organization, and generally, one that is easy to use, streamlined and made especially for nonprofit organizations (like Springly!).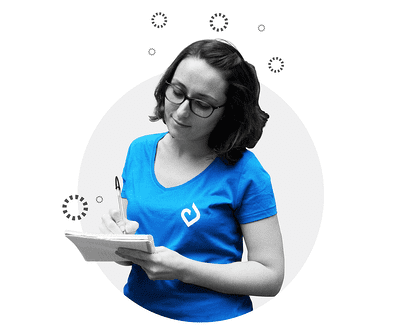 Luckily, Ellie doesn't have to store her data with
paper and pen anymore.
Regardless of the system you are using, and whether you have a dedicated database manager or current CRM system like, it is best to set up data entry standards that can be adopted across your organization/ salesforce. For example:
File naming for sheets

Standardized formulas for spreadsheets

Situational usage of locked cells

Template colors and formatting for fields

Administration responsibilities
Without spending a bit of time upfront defining standard rules, innate in most CRM software, for all those interacting with your data, documents and datasets can quickly become lost and mixed. Your investment upfront will save you time searching on the backend!
Pro tip: To avoid running into complications with data-management regulations, make sure you only keep data that is needed and that you delete or archive the data as soon as it is no longer needed. We also recommend that you do your homework on data regulations e.g., GDPR, before launching your strategy. It's always better to be safe than sorry!
Step 4: Analyze Your Data
Analyzing data is all about transforming raw data into actionable steps that can be taken by your organization to improve its performance. The method you choose is dependent on how you plan to purpose your data.
Here is a list of three different analysis methods to get you going.:
Descriptive analysis: this is a way of analyzing data over time e.g., a trend analysis showing how your monthly membership has changed over time.

Diagnostic analysis: this is often involved in correlations and is all about asking why things happened e.g., determining an increase in member sign-ups or increased donations one week after launching a direct mail campaign.

Prescriptive analysis: this involves using past data to form projections. What do you think the data says about the path your organization is on? Where will you end up in five years if you continue this trajectory? This type of analysis means you are better able to come up with actionable guidance going forward. E.g., on average, for every $1 spent on direct mail campaigns we acquire x members, what is the impact on member projections given known future budget constraints?
Apart from your nonprofit brain power, you could also try using things like Google Analytics for your website. Google Analytics is a free service that provides powerful insights into your website traffic. The data is presented clearly and is readily available to beginners and experts alike.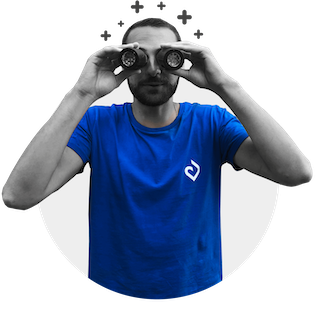 Remi is taking a close look and analyzing his data.
Pro Tip: If you are new to Google Analytics, Semrush has an excellent article on what Google Analytics is, what it does, how to set it up, and why it's important. Enjoy!
Step 5: Translate Your Analysis into Measurable Actions
The next step is to translate your data analysis into clear, measurable actions that can be used to improve your organization. Data means nothing if you can't empower yourself to use it! To get the most out of your analysis, consider these SMART tips and make them:
Specific:

Keep your goals in mind

Define new goals if necessary

Measurable

Track quantitative metrics

Get feedback for qualitative measures

Achievable

Realistic

Don't "boil the ocean" - determine what you can do with the resources you have

Time-bound

Define the date(s) of your actions

Determine how regularly you will take these actions
Then, as you achieve your goals, remember to review your actions and add new goals to the list!

In Short
Data management is a tool that can be considered one of the keys to the success of your nonprofit organization. You can only improve a system or process if you are measuring it. In this way, data management is a great tool, but high-quality data is essential and there is a lot to consider when collecting and managing it. Having a robust data management plan should be at the forefront of any nonprofit.
By taking these five steps to improve your data capture and management, you will create a foolproof system to make sure you're capturing data and using it properly. Decide what data to collect, figure out how to collect it, learn how to store and analyze the data, and finally translate your analysis into measurable actions.

Springly is trusted by over 15,000 nonprofits to help them run their organizations on a daily basis. Try it, test it, love it with a 14-day free trial!
Jules