Top 7 Innovative Nonprofit Gift Ideas For Your Members
Alvina
Members and donors are the lifeblood of your nonprofit organization. Often, a lot of attention and incentives are showered upon donors through the course of fundraising, whether in the form of invitations, customized thank-you letters, and gifts.
However, it is important to remember your members, too. They are the heart of your organization's efforts and if your nonprofit has room or can make room for this budget, enhance your membership engagement strategy by offering members a gift for certain circumstances. For example, a welcome gift can provide increased proceeds for the long haul in a variety of ways.
With incredible gift ideas and tips to help you structure a fantastic gift program, we tell you everything you need to know to show these valuable members how much they mean to your organization and ensure their satisfaction is beyond expectations.
Here's what we'll cover in this article:

Why Give a Membership Gift?
While every donation is important to your mission, members are key. A primary goal is improving member engagement, which leads to higher member retention. Going the extra mile to show members how much they are appreciated could be the difference between a recurring member or one with a risk of attrition.
Many members let their memberships expire, even if they might have plans to renew. Sometimes they are unaware that their membership has ended, perhaps they simply forgot the login information for the site. Alternatively, they might not feel engaged within the organization.
The data you collect on members through participation in your events, volunteering, and conversations with them, allows you to get to know their preferences and serves multiple purposes. This knowledge can help you provide a truly personalized thank-you gift at the end of their subscription. This effort shows how much you appreciate them, and can also serve as a gentle reminder that their subscription is ending.
You could even offer them a selection from a variety of different gifts to ensure they receive a gift that they will enjoy.
An alternative to a tangible gift is providing a greater level of service without charging a higher membership fee.
Budgeting Considerations
Your budget is important as members typically want as much of the organization's proceeds to go to the cause as possible. Consequently, you will want to develop a strategy based on what you know about your members and what funding you have available.
Some ideas to take into account are to offer gifts that are:
Environmentally friendly

Recyclable

Made locally

Created by another nonprofit close to your heart (or theirs)
Now that you've grasped the basics, here are the top seven nonprofit gift ideas for your members!

Idea #1: Heartwarming Gifts
Nonprofits are centered around a cause that their members believe in. If you know nothing else about your member you at least know about one cause they support. The goal is not to provide a gift for the sake of providing a gift.
In fact, if you are lackadaisical with your gift, your member may feel guilty that money went to purchase them a gift they do not cherish when the money could have gone to support the mission.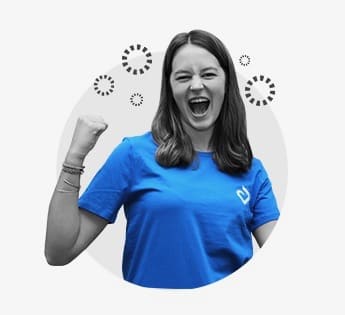 Emily is feeling great about providing her members with
thoughtful and heartwarming gifts!
If innovation is not your strong suit, go with what you know. Your mission. Gifts that mean something are the difference-makers. Meaningful gifts are those personalized to your member to offer a personal touch. Alternatively, they can remind the member of the significance of the organization's mission. If your mission supports the preservation of wildlife, and you know your member's favorite animal is an arctic fox, consider sponsoring one in their name. Send them a picture and profile of "their" fox, that is now named after them, and let them know what services you provided the fox and its habitat on their behalf.
Here are some ideas of other, more tangible gifts:
A customized journal with a personalized thank-you (and cover!) along with a bouquet of pens

A coffee table book, with inscribed pages, showing the history of your organization and the difference it has made, perhaps with personalized content showing how the member's donations were used and how it helped others

A talented member of your team could create a painting or design something by hand that explains ways that that member has made a difference

Idea #2: Nonprofit Related Gifts
Gifts related to your nonprofit organization's mission can help add value to your gifts and offer a reminder to your member of what type of effort they encouraged. These gifts should immediately bring your brand to mind.
Here are some examples to help you better understand nonprofit related gifts:
Sports Clubs - you could offer a piece of equipment pertaining to the sport or perhaps your member's favorite sport if your organization does not have a specific focus. This could include a helmet, baseball bat, football, jersey, racquet, a baseball with a hand-written thank you with personalized content, and many other options.

Environmental Causes - Depending on which cause you are supporting, you could offer to plant trees in your member's name, dedicate a clean-up effort in the member's name, offer a personalized water purifier, trash can or recycle bin.

Skill Providers - If your organization offers cooking courses, consider customizing a cooking utensil for your member. For example, providing salt shakers with your logo or offering a cooking course with a local chef would serve multiple purposes. They would show your appreciation and would likely be appreciated and used as well! Musical organizations could offer music lessons on the instrument of your member's choice or tickets to a local performance.

Idea #3: Create a Personalized Impact Video
Since you can never get to know your members well enough, take advantage of this process to make them something memorable. Consider a framed photo or a video collage filled with relevant content - the work they put in during the membership period.
To find out where to focus your energy, interview them to discover why they are investing their time in your nonprofit. Often, you will find that the organization is close to their heart for a specific reason. This can provide you all the detail you need to personalize an amazing gift.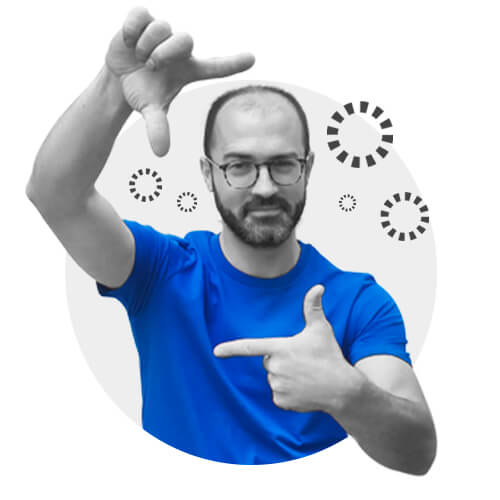 Oliver is framing up his personalized videos for maximum impact.
You can also offer to follow and film them as they participate in activities or volunteer work. They will probably enjoy this special attention, and the key takeaway is the ability to create a nice collage of video footage for them that you can later present to them, perhaps on a customized DVD or USB Storage device.
In addition, photos and screenshots from this footage can make a great photo album or similar gift that reminds members of the part they played and the value of their support.
These videos and photos are also great for ads and other promotions as they show your nonprofit in action and provide heartfelt testimony for your cause.

Idea #4: Homemade Gifts
For smaller charities with few members, there is no need to head to Nordstrom to purchase something expensive, homemade gifts are a fantastic option! For that matter, it's a great choice for any organization as the personal touch of creating a gift can mean a lot more to some members than spending money.
These gifts have added value because they represent time spent on the member and the heart behind it, especially if it is a gift that truly shows you know and understands that specific person.
Here are some possible choices for homemade gifts:
Candles, soaps, bath bombs

Baked items or other food items

Self-made picture frames or photo albums

Badges and Awards

Woodworking items

Keychains, luggage tags, or other small trinkets

Beaded and other types of jewelry, personalized with letters

Hand-sewn items such as quilts, bags, clothes, cushions, or pillows

Knitted toys or blankets

Holiday specific decorations or general home decorations
These are also items that can be crafted by other nonprofit organizations to unite causes and build community.

Idea #5: Move Them Up In Your Fidelity Program
More and more businesses and many nonprofits are using fidelity (loyalty) programs. Perhaps your program offers members points for every volunteer hour or every new member they refer. Once they reach a certain threshold, a company or an organization can exchange their points for something tangible. Consider offering them a gift of a certain number of points each year at their renewal period.
These loyalty programs are successful because people inherently enjoy accumulating points to meet rewards goals. Offering them a gift of points may just be perfect for your member who is actively participating in your fidelity program.
While many people donate to nonprofits in order to feel good about helping others, there is nothing wrong with the added benefit of some fun features to reward recurring members.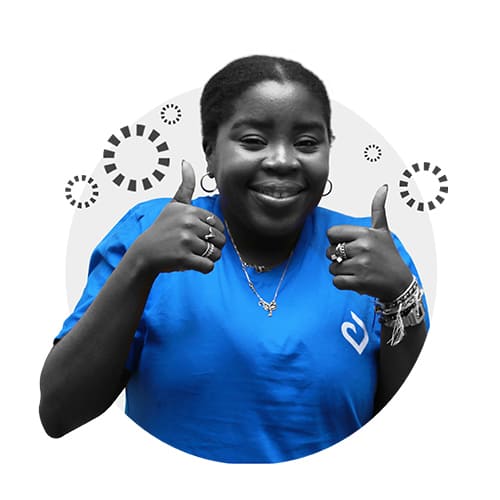 Sadie loves being able to reciprocate her members' loyalty
with gift-giving!
It is important to approach this carefully, keeping the focus on the cause and that the rewards for member enrollment are perceived as a gift. This is just another way to show your thanks for all that members do to make your missions successful.
You can offer incentives along the way, the greatest focus is on renewing membership, but providing scalable points systems with a variety of rewards allows your members to work towards items they would enjoy.
Featuring your nonprofit on these items is also a great way to spread the word about your mission and encourage new members and donors, especially if the gifts are utilitarian and items that your members will carry around with them or wear.
Other special advantages can include free lessons at sports clubs, subscriptions to a popular streaming site, magazines related to your services, or gift boxes with a variety of items related to a specific theme. The options are limitless!
Pro Tip: Remember that you need to be innovative. Ideally you want your gift to be meaningful and tailored to each specific member if possible in order to ensure maximum value for that member.

Idea #6: Special Event For Members
In conjunction with your fidelity programs (or not!), designing special events or performances to celebrate your members are great ways to build loyalty and encourage members to continue to be a part of your organization. These member appreciation events can also show just how much you value their contributions!
You can provide different levels of events for varying levels of seniority, providing more elaborate and impressive events for higher-standing members.
These are great thank-yous that make members feel valued because they are set aside just for them. They can include dinners, milestone celebrations, annual events, and special occasions.

Idea #7: Donate To A Charity of Their Choice
A fun option can be to give your members a choice. Let them choose between a certain gift or having your organization donate to another specific nonprofit close to their heart. They may love the opportunity to further help others in need!
You can do all the necessary paperwork and provide them with a tax receipt in exchange, possibly with thank you cards and data on the organization in which the donation was posted.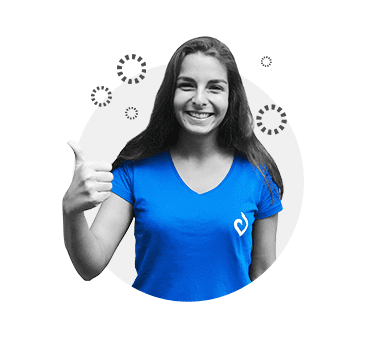 Giving your members a choice in giving gets a thumbs up from Nancy!
Gifts that give back to charity are gifts that keep on giving!

Other Spectacular Gift Ideas
While tote bags are awesome and utilitarian, they are also overdone in the world of appreciation gifts. Here are some more creative solutions to help your organization stand out and show that you have taken the extra time to take your members' interests to heart.
Subscription Boxes
There are a wide variety of these options available and more are constantly becoming available. The diversity makes it easier to find options that are related to your organizational focus, but even if they're not, they're great ways to tailor-make gifts for specific member interests.
Consumables
There are all sorts of delivery boxes available to offer fun and delicious assortments of items including cheeses, fruits, vegetables, meats, candies and chocolates, nuts, and other snacks and foods. You can even find boxes offering fine wines, delivered by the post office if you were so inclined. Perhaps a better idea might be the gift of some pretty amazing coffee varieties - your members need their caffeine!
The key is to drop a few casual questions while engaging in conversations with your members (or a little less discreet by asking a few personal favorites on a sign-up or questionnaire), then your member will be pleasantly surprised to know that you took their interests into consideration when coming up with a thoughtful gift that you knew they would enjoy.
Specialty Items
These boxes are fantastic for specialized gifts that can be used many times. There are a lot of items that fit themes including books, a collection of healthy snacks, flowers, perfumes, anime accessories. You name it, there's probably a gift box you can offer for it.
Services
There are also services that you can offer subscriptions for such as music or cooking lessons, streaming services such as Netflix, video game services, Triple AAA, and software subscriptions.
There are even memberships you can provide such as for Costco, museums, AARP, or Amazon Prime.
The options are virtually endless. There's even a box for murder mystery games. How cool is that?
Mission-specific Boxes
To demonstrate how you can personalize your gift if you run a nonprofit relating to animals, there are Bark boxes or adopt-an-animal options that will make amazing topical gifts for those with a heart for animals and as they are supporting your cause, they most assuredly do!
It's easier than ever to find something meaningful and related to your cause.
Practical Gifts
Other options include items that can be used in everyday life, from cutting boards to umbrellas to candles. These items will remind your members of your organization and their contribution on a daily basis as they use these items. The more utilitarian your gift is, the more often they will use it!
As an added bonus, gifts with a cause from an organization geared to reducing social impacts or promoting environmental causes helps make a difference while making a difference!
Gifts Related To Children
If your NPO involves help for children, toys and other items for kids are a no-brainer. Even if not, toys and hand-carved or designed children's gifts can be very impactful, especially if your member has children. They will appreciate the thoughtful gesture of considering their children in your show of appreciation.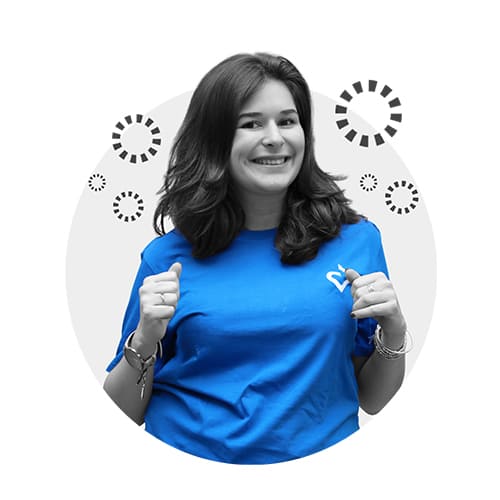 Who loves being able to give to the children? Mary does!
Furthermore, it is a wonderful opportunity to educate your future members (a.k.a. the youth) on the importance of generosity. A nifty idea would be to provide two identical items to a child. It can be as simple as two packs of colorful stickers. Ask them to keep one for themselves and choose another child they know who might be in need or could use cheering up, and ask them to give a second item to that child.
That way, they can experience the good feelings of helping others and building relationships. Every time they see their item they will be reminded of the generosity that your organization showed them and remember that they were a part of providing that experience for someone else!

The Bottom Line
We all know the value of receiving a heartfelt, meaningful gift. Whether that gift comes from a friend, a complete stranger, or even through a fast food rewards program, it builds loyalty, trust, and a relationship.
Members and other donors are what makes your organization possible, and while it's crucial to keep the focus on those who you are trying to help through your services, it's just as important to show your members how much they mean because they are the hands that move the mountains through you.
Unfortunately, your organization does not have profits to spare. However, even if your budget is just a small portion of the proceeds, there are ways you can express your value to build rapport and turn members into recurring members.
Whether it's a matter of taking the time to hold a member appreciation event in their honor, providing hand-crafted thank you notes, a collage, a subscription service, or a plant, these human, personalized touches can pay huge dividends by providing loyalty, incentives, or building a powerful reputation which will attract new donors to your cause.

Springly is trusted by over 15,000 nonprofits to help them run their organizations on a daily basis. Try it, test it, love it with a 14-day free trial!
Alvina