Nonprofit Startup Grants: How to Get Seed Money

Paul
Starting a nonprofit business or organization takes dedication and hardwork, but it's important to understand that it's not impossible! Thousands of nonprofits get grants every year, and yours can be one of them.
There are tons of nonprofit resources and softwares out there to support you and your nonprofit. Grant-giving foundations, government agencies, and other funding bodies support organizations of all sizes!
Grants for startups are extremely important for every nonprofit, and usually come from a state or local government, the federal government, or from private associations or organizations.
Here is everything you need to know on how to get seed money. We will cover:

Nonprofit Startup Grants
Finding the right grants to start a nonprofit organization can be a challenge. Using the tips and resources here will help you gain a better understanding about the grant application process, streamline your grant writing, and improve your chances of being successful as soon as possible!
There's no shortage of grants on the table, and we'll go over all the types here just to give you some ideas. It can help to cast a wide net!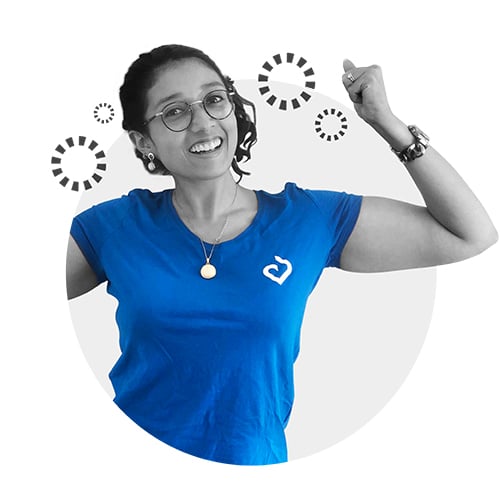 Salma is ready to take it to the next level with her grant applications!
Pro Tip: Remember, you should plan to apply for more than you'll need. Because the grant application process is pretty competitive (you might be applying to a grant with thousands of applications), it's reasonable to assume you won't get all of them. Applying for more than you need helps you get closer to your goal without delays.
Here are a few of them:
Corporate Programs
Corporate philanthropy is a major contributor to nonprofit organizations. Volunteer grant programs are the most common, in which a company financially matches the time that their employees spend volunteering for your nonprofit.
The best way to get nonprofit startup grants through corporate companies is by researching companies that may be interested in helping you pursue your mission. Find a company that will be able to contribute monetarily while staying aligned with your organization morally.
Pro Tip: If you have companies in mind already, simply start by checking out their website to see if they give grants. Look for a section called "corporate responsibility" or "corporate social responsibility." Information on the grants they may provide or any other information on their philanthropy policies may be located here.
Private Foundations
Many privately funded foundations are founded specifically to support nonprofit organizations. If you are just starting out, you may not know where to begin finding the right private foundation to provide a grant.
Start by acquainting yourself with some of the major grant-giving foundations in your area to gain some idea of the kind of support you can get locally.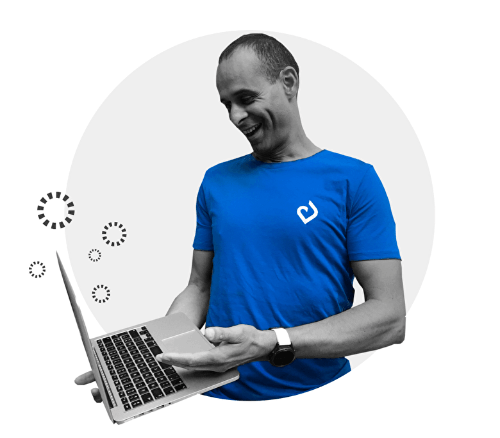 Sam is looking up all of the foundations that offer grants in his district!
Private foundations are happy and willing to provide a grant to start a nonprofit, but it is good to be prepared when approaching a foundation. Some valuable things to have on-hand are:
A cover letter to explore the startup funding

A business plan, or some sort of structural plan, for your organization

A description of your mission and what your nonprofit will focus on

Financial projections and needs
Most foundations require this information to consider your grant, so prepare it upfront and include it in every application.
Federal Grants
Federal agencies funded by the government award nonprofit business startup grants or to boost certain programs.
Federal government grants require a lot of paperwork and long grant applications, but can be a great place to start. The two largest grant-giving federal bodies are national endowments dedicated to supporting nonprofit organizations and businesses. These are:
The National Endowment for the Arts (NEA): The independent federal agency whose funding and support gives Americans the opportunity to participate in the arts, exercise their imaginations, and develop their creative capacities. They provide cost/share matching grants to nonprofit organizations for a wide variety of arts projects, literature fellowships, and Partnership Agreements with the 62 state/jurisdictional arts agencies and regional arts organizations.

The National Endowment for the Humanities (NEH): An independent government agency that serves and strengthens our republic by promoting excellence in the humanities and conveying the lessons of history to all Americans. NEH grants are usually awarded to cultural institutions such as museums, archives, libraries, colleges, universities, public television, and radio stations, and individual scholars.
For a federal grant, you first have to register your business at www.Grants.gov and meet all requirements for company identification. The federal grant application process can be extensive, so it's best to steel yourself for the process. If you are applying for more than one grant, remember you have to submit separate applications for each grant under the correct, registered identification.
There are plenty of federal grants that vary from youth education, to urban agriculture, to telemedicine. Once you find a grant you like, double check all their policies and get all of your materials ready. Then, you'll be prepared to show 'em what you got!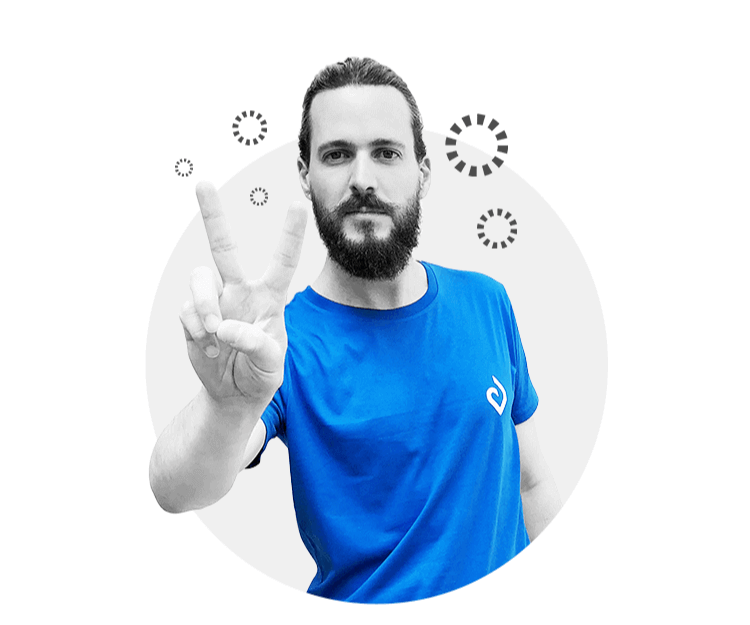 Alex is ready to be zen about his nonprofit startup grants!
The competition for federal grants can be fierce, so don't get discouraged when filing! Enjoy the process and learn as you go. If your application gets denied, remember that it's not because your nonprofit isn't worthy of funding. It's just that another nonprofit happened to be a better fit for that particular organization, or maybe just got there first.
Remember, Edison created 2,000 bad versions of the lightbulb. If he gave up after 1,999, we'd all be in the dark. It's the same story with your nonprofit startup: If you give up after 5 applications, you'll never know if the sixth would have changed everything.
State Grants
Individual states offer grants for nonprofit organizations. Each state will have different grants that they offer with a wide range of topics and missions. You can find these grants on state websites and they will usually provide a starting point and a list of grants that they provide.
Consider contacting the following departments in your state to find grant options:
Department of Health

Department of Jobs and Family Services

Department of Human Services

Department of Development

Department of Small Business Development

Department of Education

Department of Transportation

City Councils
Even if these departments don't specifically list grants on their website, try emailing them anyway! It never hurts to ask, and sometimes governmental websites aren't updated on a regular basis. If the fiscal year is coming to an end, you might even find that your state has leftover funds that they're itching to give out!
Municipal and Local Grants
Cities and towns offer grants that usually enhance the community and cultural action already in place. In order for an organization to be eligible for most of these grants, they must operate locally or be an affiliate/chapter of a larger organization that operates locally.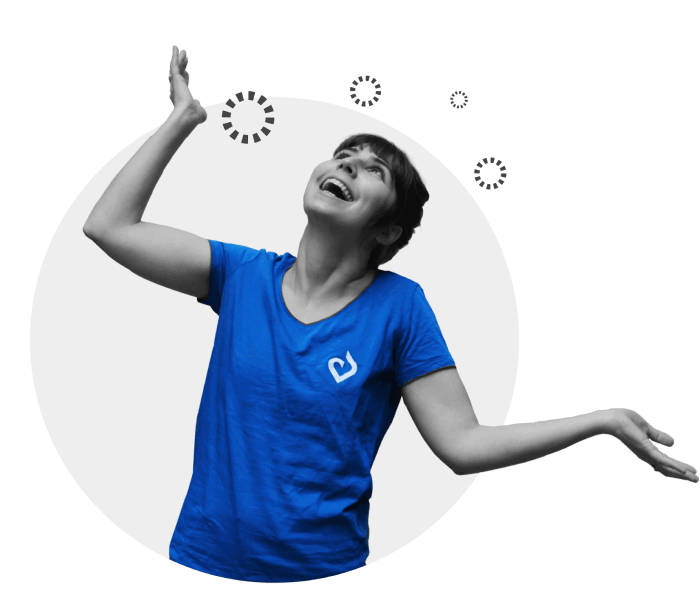 Suzanne is happy to learn about more grant options for her nonprofit!
You can find municipal and local grants on town and city websites, or through the local councils and commissions.

The Process of Securing a Grant
The process of getting a grant begins with the research. As stated above, the grant writing and preparation process can be tough. In order to reduce stress and unnecessary strain, we highly recommend that you give yourself the proper time to research and prepare your staff or grant writer for the application process. The grant process follows a lifestyle that is follows three phases:
Pre-Award Phase: During this phase your organization will be searching for a grant that you are eligible for and one that matches your mission. This phase is also when you will be registering your business or organization, usually involving the ensurement that you meet all requirements. The final part of this phase includes the actual applying for the grant. The application and proposal process varies from grant to grant, so make sure you complete the application or proposal in its entirety before submitting.

Award Phase: This is the phase in which the grant is awarded. Your organization will receive notice if they were accepted to receive the award. At this point, the funds will be distributed. The actual process of distribution will vary from grant to grant, so make sure you pay attention to how the grant will be distributed.

Post Award Phase: Requirements for the grant will have included what the grant will be specifically used for. Therefore, after the grant is awarded, there must be some sort of reporting on the funds done. The reports will provide for the grant-giver the financial status of the grant and progress of the program the grant was awarded to.
You are required to ensure that the requirements that were needed for the grant are continually met, even after the grant is awarded.

Securing the Grant: Tips and Tricks
The grant writing process is a crucial part of the start and enhancement of your nonprofit. There are a few steps you can take to help in securing the grant of your dreams, or just one that will be super helpful in getting started or continuing with programs.
Starting Small; Getting Bigger
The saying "go big or go home" may not be suitable when it comes to getting grants for your nonprofit organization. Due to the heavy competition for federal grants, starting small may be the better option.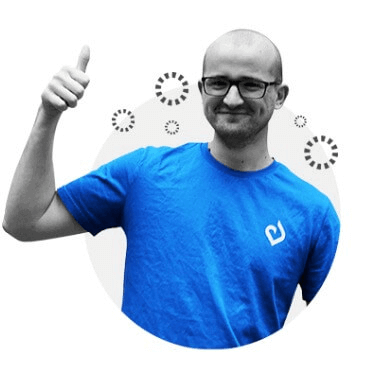 Matt is happy to have started with smaller grants!
Put your time where it will have the greatest impact. Start with grants for which you know you fit all of the criteria and have a good chance of winning. Larger grants may have a longer and more competitive process, so consider going for the low-hanging fruit first. A few smaller sources of funding can be just as effective as one big source.
Larger foundations, specifically national foundations, might be reluctant to fund any organization still in its infancy. It's nothing personal, it's just that they have their own goals they need to hit. Focusing your efforts first on organizations that are more likely to fund you before trying for a national grant can save a lot of time.
Start by finding the local and smaller grants from the city or town. This will not only enable you to perfect your grant-writing abilities, but will also help you build your organization's credibility and reputation.
Of course, there are always cases where the bigger grants are awarded to organizations that are just starting out, but better to start smaller in order to set yourself up to get bigger and better.
Forming Relationships
Building a relationship with a foundation or grant-giving institution can be essential to the grant proposal process. It is also great to have a relationship with people who know other people who can help you along the way. Some sort of informal meeting can be a great way for you to start forming a relationship and to show your nonprofit's dedication to its mission and cause.
If you are just starting out, building a relationship does not have to start with the foundation or institution alone. Start with family and friends, or even friends of friends, that are involved in a foundation or institution, or have been through the grant-getting process themself. Search out people who are well-connected in the community.
People who have connections will be able to connect you to the right people, give you insight into institutions that provide grants, and provide general support.
It may also be beneficial to seek out other nonprofits that are similar to your own. Reach out and introduce yourself. Ask about the early days of their nonprofit.
Gaining information from successful nonprofits, especially ones that are similar in nature to yours, can help you discover what will and will not work for your nonprofit.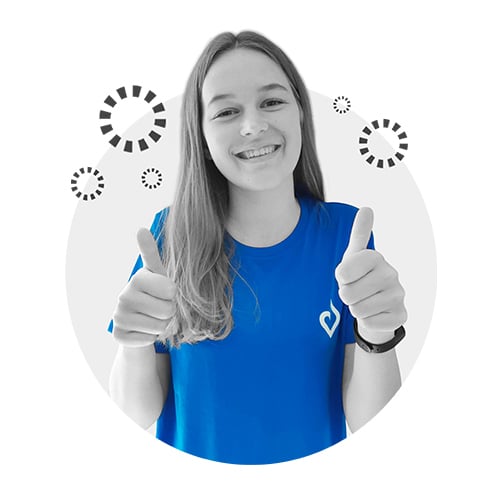 Emily is happy to have the support of her nonprofit community!
Pro Tip: Look into joining a national professional organization. There will most likely be a local chapter where you can attend meetings and events that will help you make connections and learn more about other organization's trials and errors when it comes to seeking out grants.
Finding a Fiscal Sponsorship (if necessary)
Gaining nonprofit status through a 501(c)(3) will have most likely been one of the first things you did. However, if you did not apply for this status, you can find a fiscal sponsorship which will allow you to apply for grants from foundations.
A fiscal sponsorship is an arrangement that allows an organization without 501(c)(3) status to apply for grants and solicit tax-deductible contributions under the sponsor's exempt status.
Using a fiscal sponsorship arrangement offers a way for an organization to attract donors and raise money usually during the startup phase. A fiscal sponsor can also be used to outsource administrative responsibilities.
Here are some other tips to help you get some seed money as nonprofit startup
Knowing your purpose for starting the organization, whether it be for education, awareness, aid, or promotion.

Using a resource such as an association management software can show grant-giving institutions that you are running your nonprofit efficiently and professionally.

Communicating with members about goals you complete, campaigns that are successful, and the impact you make.

Finding the Right Grants
This may seem like an obvious tip, but it is important to note nonetheless. Many grants come with specific requirements for their use, so make sure the grant you're applying for isn't designated for something you don't need.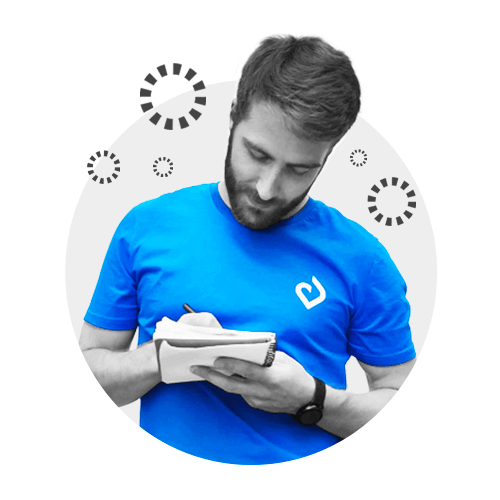 Anthony is double-checking all of the rules and guidelines!
For example, do not apply for a grant that is specifically for capital campaigns involving building construction when you actually need a grant that will provide for the day-to-day operating costs.
On a more macro level, make sure the institution that would be providing the possible grant aligns with your nonprofit's mission and values. If there is not a mutual understanding and morality, you may end up losing supporters and risking your reputation.

Take Feedback Into Account
The process of raising money is a tedious one that will always have room for improvement. Ensure that your mission is being presented in a professional and detailed way by asking people for feedback, whether these people are within your organization, or are a friend on the outside.
Any and all feedback is good feedback and will help you to better your proposals and applications for grants. If people around you are better understanding what your organization is all about, then people who do not know your organization will be able to understand better as well and will be more open to granting you money.

Pay Attention to Guidelines
It is better for you to double check that your organization meets the requirements for the grant, before things get going. It's better to spend a few extra minutes now making sure it's the right grant than spend a few hours on an application that won't end up working out.
Grant criteria varies drastically from the federal level, to municipal level, to the private foundation level. Take the time to determine whether you qualify for the grant or not.
Familiarizing yourself with the guidelines also includes the post-award guidelines. The grant-giving institution will have a way for you to report to them how the money is being used and whether there is any progress being made through the money awarded.
Another major guideline that you must pay attention to is deadlines. Make sure you stay on top of any deadlines that are set in stone. It would be a shame to lose out on the grant you are looking at because you failed to meet a time requirement.

Have Your Documents Prepared
As mentioned earlier, there are a few things that can be crucial to have prepared when approaching a foundation for a grant. However, there are additional documents that you should always have prepared for anyone you are trying to support the organization in some way.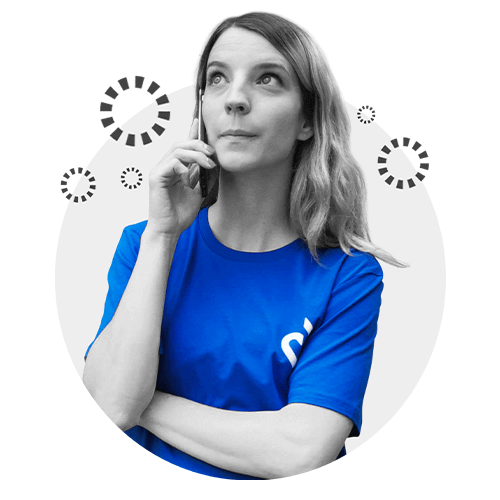 Mathilda is calling to make sure all of her documents are up-to-date!
These are mostly things that will be submitted along with grants, but should also be things you can rattle off easily:
Your organization's history

Background information and biographies of the people who created the organization

A statement explaining how your programs are unique and distinct from other programs

A statement explaining how your programs carry out your mission

Major accomplishments to date

A sustainability plan which provides information on how the organization is progressing and how it will attempt to continue to progress

Staying Motivated
It is entirely possible that you will be denied a grant you applied for. You could have taken the time, been completely prepared, and met all requirements and you still could have come up empty handed. It is important to just stay driven and motivated.
Ensuring that your nonprofit always has the resources to keep up with the mission can be exhausting and never-ending. Nevertheless, continue to research new grants all the time and keep applying.
You can even bring on someone to take on the role of grant-writer if you are able to. You and your organization will be able to learn so much in the process, and you never know when you'll finally get that long-awaited and long-desired "yes."

Springly is trusted by over 15,000 nonprofits to help them run their organizations on a daily basis. Try it, test it, love it with a 14-day free trial!

Paul
Recommended articles
How To Use A CRM For Nonprofits For Better Daily Management
Trish
Communication
Social Media
A Comprehensive Guide To Instagram For Nonprofits
Trish
How to Analyze Your Nonprofit Email Marketing Statistics

Danica