Summer Checklist: Update Your Nonprofit Accounting Standards & More

Danica
Summer has arrived! School is out for summer vacation, emails are sent at a slower rate, and more people are sporting a golden tan.
Depending on which sector your nonprofit is in, the summer may be the perfect time for your nonprofit, staff, and volunteers to take a break before the fall. Or, maybe it's the opposite, and it is a crucial period for your fundraising campaigns and you are offering more summer activities.
For the purposes of this article, let's assume that your nonprofit is taking a well-deserved vacation!
Holidays usually mean well-deserved relaxing and resting after a year of hard work. However, what if you tackle a list of tasks that help management of your nonprofit smooth and efficient in the fall?
Here is a list of small tasks that are useful to complete during the summer holiday before the start of the new school year:
Let's use these summer months to boost your nonprofit's productivity in the fall!

#1) Update Accounting Standards
Even with the right tools to support you, it is a challenge to juggle activities during the year and keep up with accounting. The quieter summer period gives you time to update your spreadsheets and accounting records.
Have you reimbursed volunteers for all expenses they have incurred for your organization? Have vendors been paid yet, and all pending payments finalized? Do you still need to reconcile your bank statements? Have you worked on your budget for the following year?
Don't wait until the end of the calendar year to update your accounts! Otherwise, you may find yourself with too many invoices and receipts to record at the end of your accounting period. Plus, you'd have to revisit old emails and documents to figure out what some of the documents are for if too much time has passed.
Cozy up with your accounting software, and you can run your organization smoothly without too much of a headache!

#2) Prepare Grant Applications
As you probably know, grant requests require a lot of preparation and time to gather all the necessary data, images, and files.
Whether you are applying for a corporate sponsorship or grant, the application requirements are sometimes exhausting. The good news is you can use the summer to get a jump start on the applications!
Some ways to prepare for your grant application include:
Research upcoming grant application deadlines

Create a timeline for when you will complete the various documents or files required

Gather data and statistics to report successful activities or programs presented by your organization

Note which documents are required, and give yourself time to gather them

Inform your staff of their deadlines for preparing materials they are responsible for
If you prepare well in advance, you may even submit grant proposals before the deadline!

#3) Review and Update Bylaws
Your nonprofit's bylaws serve as a roadmap for operations and governance. Once they are written, you may not be thinking about them, but as the nonprofit evolves, the bylaws may have to be amended or revised. For example, a nonprofit may decide to increase the size of the board as it grows.

You can check if you need to update anything in the bylaws, such as:
Mailing address and email address

Terms and conditions of membership

Board size and board term limits

Nomination of new board members

Meeting and voting procedures
Please note: Depending on the laws of your state, you might need to register any changes to bylaws. Your current bylaws might also require that major revisions need to be approved by board members. You should also make sure the changes you want to make are legal!

#4) Refresh Acknowledgement Letters
Nonprofits are required by the IRS to send formal acknowledgment letters for donations. These acknowledgment letters must contain your nonprofit's EIN (Employer Identification Number) and another IRS-recommended language to confirm the donation is tax-deductible.
You might be using a template that you use for all donors, but you can rewrite your acknowledgment letters to be more personalized, heartfelt, and catered to each tier of donors.
It is important that donors feel appreciated so that they will stay interested and committed to supporting your nonprofit.

#5) Seek Feedback
During the rest of the year, you may have been swept up in daily tasks and deadlines. It's normal to be focused on the events unfolding, rather than looking back to review what has happened at your nonprofit.
Before embarking on another year, you can send an "end-of-year" survey to your members, volunteers, and staff.
Seeking feedback on your nonprofit's activities, operations, and management is a sure way to keep growing as an organization. You might find really useful suggestions and comments from your survey responses!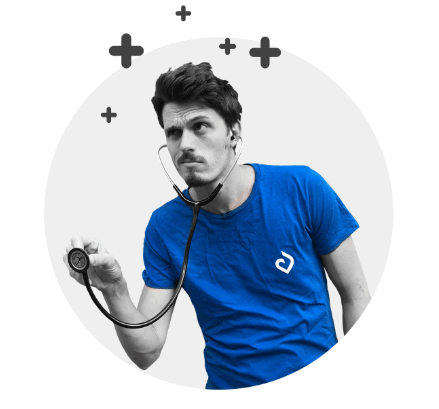 Louis is ready for feedback on
how to improve his nonprofit!

#6) Update Your Membership and Volunteer Database
Some members or volunteers register and then unsubscribe. During the year, updating the flow of subscriptions is not necessarily your number one priority.
To avoid ending up with an outdated list, take advantage of this quieter time to update your database.
Or, you can use Springly to manage your database of members, volunteers, and donors! You save time with this all-in-one online software, because the database is linked directly to event registration and donation tools. You wouldn't have to keep updating your database, whether it's in a spreadsheet or managed by another platform that you have to manually import data into.

#7) Redesign Your Website
You've had the same website for 4, 5, or maybe even 10 years? If you haven't changed the website layout in a while, you need to update it to reflect new design trends.
You should regularly update the website because it is important to increase online visibility to potential new members and donors.
Is the website friendly for mobile screens? A significant number of website visitors come from smartphones and tablets. Show your modernity with a website adapted to these visitors!
Google also offers a Mobile-Friendly Test to measure whether your website is compatible with smartphones and tablets.

#8) Consolidate Your Management Tools On A Single Software
You likely use a collection of software and tools to manage your nonprofit, such as accounting software, member database, website editor, email newsletter, and member registration.
It can be difficult to navigate between all these tools, but you do it because you don't have time to research for better alternatives.
What if you could simply gather all these tools on the same online software? Springly helps nonprofits do it all with just one account. Check it out for a 30-day free trial!

#9) Increase Your Reach
There are usually conferences and panel discussions that are presented during the summer.
Have you ever thought of participating in an event or forum as a representative from your nonprofit? It can be an effective way to promote and raise awareness of your cause.
Participating in these events helps your nonprofit gain visibility and therefore reach more donors, volunteers, and members. Look for a festival, conference, or city event that shares a common mission with your nonprofit, and contact them about a possible collaboration or co-presentation.
Find out if there are events this summer that your nonprofit can join, to increase its reach to the wider community!

#10) Thank Your Donors, Members, and Volunteers
Without your volunteers, members, or donors, this year would certainly not have been possible. Showing appreciation is the key to retaining your community's support!
Whether you send an email or letter, it is important that you write a heartfelt message that shows how much you appreciate their support.
You can also include:
Updates on new upcoming projects or activities (finding more volunteers, new fundraising campaigns, etc.)

Draw attention to any changes to the terms and conditions of membership and re-enrollment dates

Share accomplishments that they contributed to (how many volunteers helped assemble school meals, donations received, number of projects completed)

A photo gallery of past events
At Springly, we help nonprofits send emails to the right people at the right time. You can use the email feature to send emails to volunteers, donors, or members, based on their contact profiles.

So many people have given time and energy to your nonprofit throughout the year. It is also time to think about getting some rest so you can jump in fully recharged in the fall.
It's easy to burn out if you don't give yourself enough time to relax. Your nonprofit's mission is important, but it needs you at your best!
Springly is trusted by over 15,000 nonprofits to help them run their organizations on a daily basis. Try it, test it, love it with a 14-day free trial!

Danica
Recommended articles
How To Use A CRM For Nonprofits For Better Daily Management
Trish
Communication
Social Media
Marketing
A Comprehensive Guide To Instagram For Nonprofits
Trish
How to Analyze Your Nonprofit Email Marketing Statistics

Danica