How to Find Your Nonprofit Target Audience
Alvina
Finding your nonprofit target audience might sound challenging, but it doesn't need to be. With the right system, you can discover individuals who are passionate and a perfect fit for your organization.
The right nonprofit target audience is every nonprofit's dream because it not only increases membership but is also important for optimizing time and resources. In this article, we'll discuss the skills and tools needed to find your nonprofit target audience.

We'll cover the following:

Defining Goals and KPI's
Goal setting is an amazing tool that should be used in both your personal and professional life. It helps keep you on track and to understand the steps needed to achieve the dreams you have for your nonprofit.
Utilizing goal setting and KPI's in a nonprofit setting is the first step to identifying your nonprofit target audience. So, what is a KPI? KPI stands for "key performance indicator" and this is a quantitative way to measure that you're succeeding in your goals.
Some of the most common KPI's for membership organizations are:
Membership retention rate

Attendance for membership events

Membership growth each quarter

Increase the number of donors and hit fundraising goals

The ratio of membership dues income and non-dues income

Visitors to your website and Facebook page
These are just some ideas that you can use to measure your nonprofit's success and progress. Using KPIs is one of the best strategies to grow membership out there.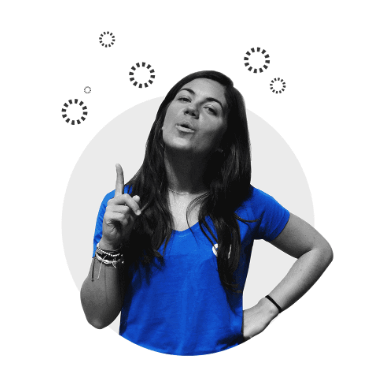 Sonia is thinking hard
contemplating her KPIs!
Now that you know what a KPI is and have an idea of different ones to utilize, let's talk about how to create achievable quarterly and yearly goals. First, start with the big picture. What are a few goals you want to achieve by the end of the year? What's most important to you and your organization? Remember to keep these simple. Start with a brainstorm and narrow it down to 2-3 major goals for the year. Any more will limit your bandwidth, and take the focus off the goals that are most important.
Once you have your yearly goals, break them down into more detailed steps per quarter. Then if you are feeling motivated, detail them into weekly tasks to make things more manageable and give you a realistic timeline to reaching your annual goals.
When it comes to finding your nonprofit target audience, start Q1 with weekly tasks that help you define exactly who your target audience is. Then, in the last three quarters, you ramp up adding new members with the newfound techniques you learned.
Use benchmarks to measure your progress, but maintain a level of flexibility. Think about all the new year's resolutions that people have given up on because they left no room for flexibility and decided that since they skipped a day at the gym they were a failure. That's just not true! The more room you give yourself, the easier this process will be!

Identifying Key Personas
Just like in goal setting, you need to allow a little flexibility when you're identifying key personas. You may not get it right the first time and that's okay! As they say, Rome wasn't built in a day.
Do a Benchmark
In order to identify key personas that will fit your nonprofit organization, start by doing a benchmark of other organizations in your sector. Ask yourself a few questions to get the juices flowing:
What do these nonprofits do?

What are their goals and values?

How do they compare to and differ from what your organization is doing?
Find Common Themes
Next, consult your existing database and look for common themes. Ask yourself questions as you review the data such as:
What kind of people have already joined your organization?

Are there similarities between members who are the most involved?

Do you have a lot in one age group?

Are they all local?

Can you break your current members into distinct segments? What would distinguish these segments?
This will give you an idea of how to recruit going forward because it shows who currently has been interested in what your nonprofit is doing.
Make Discovery Calls
Once you have an understanding of your own nonprofit's demographic, you can start making discovery calls to start honing in on your nonprofit target audience. This will require both patience and practice, but don't be intimidated.
A discovery call is an initial conversation that you have with individuals to understand if they're a good fit for your nonprofit based on their priorities and goals.
In this stage, you'll be interviewing other similar nonprofits and members to find out more about them, their values, and what pushed them to become a member in the first place. Record your calls and listen back to them while taking notes.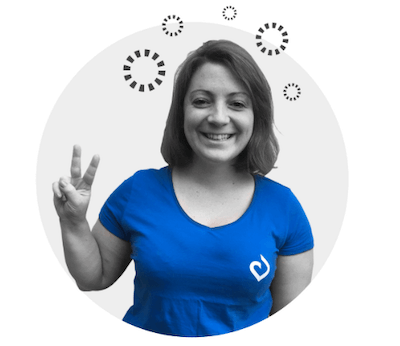 Alvina is feeling zen finding
her target audience.
Pro Tip: Even if you take notes during the call and think you'll remember, you probably won't! It's always better to record them (with the person's permission) so you can reference them back later. Aircall and Zoom are two great tools to easily do this.
Recording calls also means that you're getting to focus 100% on building a relationship with the person without worrying about taking notes.
Build Your Persona



When you're creating your key persona files, there's some important information that you need to create. These personas are fictionalized characters that are modeled after your current volunteers and members. Think of the demographics of your audience persona to ensure there's an appropriate representation.
Your key persona profiles should include:
Name

Age

Profession

Volunteer status

Interests

Hobbies

Values
The more information the better.
The more detailed the characteristics of the key personas, the better! Really dig into these potential personalities and their values and interests that can add to the organization.
As you make any decision for the company you should be considering these personas. These different personas should inform your marketing strategy, branding, and all content that you create.
Pro Tip: It may be helpful to even hang them up in your office as a gentle reminder.
Once you start building these profiles, you can look at who fits your nonprofit's target audience that you previously defined during the goal setting and research that you already completed. These are the main people that you're going to want to pursue.

Running a Successful Beta Test
Beta testing is not something that's often heard of in the nonprofit sector. If you aren't sure what it even means, beta testing is defined as a type of user testing where a group of target users is given a nearly finished product to test how it works. Beta testing is a way to bring greater awareness to any issues a product or program might have before launching.
We often think of beta testing in technology or food products, but it's also important in nonprofits developing a target audience and creating a membership drive.
By using focus groups to test your product or service, you're getting a firsthand review of what potential members are also going to experience.
Let's say you want to test out your onboarding process. Take a small group of your current members and offer them a discount if they'll help you do some beta testing. It could be 10% off of merchandise or an event ticket or something like that.
Then, take that small group of current members through your entire onboarding process. This will help you work out any kinks and find pain points that you otherwise might not know about.
After you've taken the beta testing group through the process, it's time to get feedback. They can offer advice, praise, or constructive criticism. For example, your packet could be confusing. Or maybe the members think you could do more to welcome them. They might even say they love the onboarding process!
You can use this same beta testing principle for any product or service that you wish to take a deeper look at in regard to your nonprofit target audience.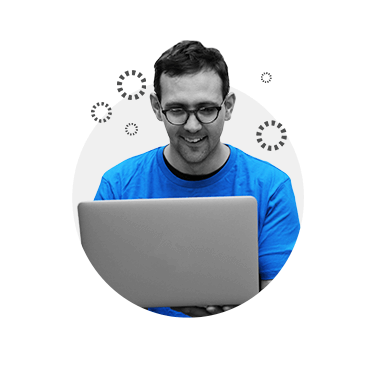 Matt is checking in on his
beta test results!

Preparing Your Tools
Having the right tools and software platforms can make the entire process of finding the perfect audience for your nonprofit a breeze. The right tools in your hands can save you time and money.

Adopting software to help set up your systems before you may need them is the best plan of action. Sure, you might not need them now, but if they're already in place down the road when you get busier, the more streamlined your operations will be.
A membership management software like Springly is a great way to keep your information organized and really explore your nonprofit target audience. With features that are easy to use and tools to track donations, surveys, events, and your members, this platform can help set you and your team up for success.
A key to remember when organizing all of your research is to not get lost in the information. It can so easily feel like you're drowning in a pool of random research. That's why it's important to come up with ways to organize user data from the beginning when you're finding your nonprofit target audience. Prepare your tools ahead of time and you're setting yourself up for success!

Conclusion
When you're looking to find your nonprofit target audience, it can feel like a daunting task. However, it's hard to sell to people you don't know. If you don't know what they're interested in, what makes them tick, and where their passions lie, you can't relate them to your nonprofit.
By following the steps of defining your goals and KPI's, creating and identifying different personas, beta testing, and preparing your tools, you are setting your nonprofit up to increase membership and optimize your time and resources. Now, who wouldn't want that?

Springly is trusted by over 15,000 nonprofits to help them run their organizations on a daily basis. Try it, test it, love it with a 14-day free trial!
Alvina
Recommended articles
How to Increase Membership in Nonprofit Organizations

Briana