The Ultimate Guide To Your Nonprofit Tax Returns
Dan
We are sure you have heard someone in your circle lean on the expression: "Only two things in life are sure, death and taxes." As much as we would like to say we have superhuman powers to cheat the first, it is the latter that we have mastered!
With the proper knowledge and understanding of how the process works, nonprofit tax filings become considerably easier to handle.
Here are some of the basics you need to understand the major principles behind tax returns and how you can accurately and easily submit your filings for your annual report.
Here's what we'll cover today:

Do All Nonprofits Need To File Tax Returns?
A return is an annual report that allows taxpayers to calculate how much they owe in taxes by filing with a tax authority. Income, tax-deductible contributions, expenses, and other tax information are provided in order to determine whether individual or company taxes are paid equally to the actual determination of what is owed.
In other words, if you have paid more in taxes than what the results show, then you will receive a refund to balance things out. If you end up paying less than you should have, you will discover how much is owed and will be allowed to schedule tax payments accordingly.
Since a charitable nonprofit is a tax-exempt organization, the question often arises, "If a nonprofit doesn't pay taxes, does it need to file a tax return similar to a corporation?"
The answer to that question is simple: yes.
Whether or not your organization paid taxes on any services or not, the Internal Revenue Service requires organizations, and any subsidiaries of other nonprofits, to have a nonprofit tax ID and complete what is called a "990 Form".
The purpose of this document is not really to determine what additional taxes or refund your charitable nonprofit will receive. Its true value is for users to be fully transparent with the use of their funds.
Sadly, some unscrupulous tax-exempt organizations have taken advantage of their exemption and charitable status for personal gain or to commit fraudulent activities. Those bad eggs ruined it for the bunch! However, consider the silver lining. The required evaluations of churches and nonprofit organizations give you an opportunity to show how you are using funds to promote your cause and perform your mission statement just as expected.

What Tax Forms Do I Need To File?
The 990 series of tax filing documentation is the most common. The nonprofit tax form 990 is part of the required annual information return (AIR) for charitable organizations. There are a variety of different forms, and which one you will need to fill out for your organization is based upon your gross receipts, resources, and which type of NPO you have.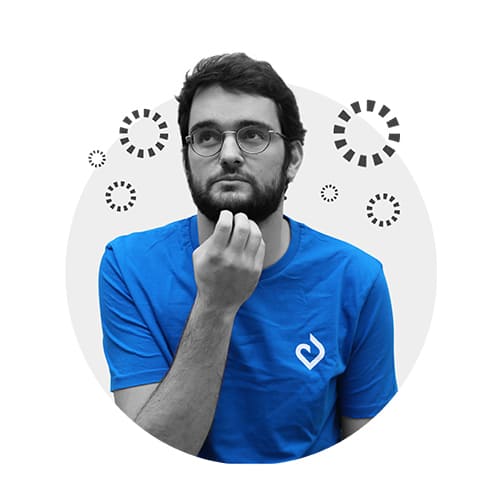 Tristan is pondering which tax forms he needs to file.
The only organizations who can be exempt from this requirement are those who have been incorporated, yet not officially recognized as having a "tax-exempt status".
Here are the options and stipulations for their use:
990-N (e-postcard)
This option is for you if your organization has gross receipts totaling less than $50,000 dollars.
Pro Tip: Even if you are eligible for this option, you can still opt to choose to file a full return rather than this abbreviated version.
990-EZ
If you have less than $500,000 dollars in total assets and less than $200,000 in gross receipts, form 990-EZ is the form you want, although the standard 990 is an option for you as well.
990
The basic 990 is intended for organizations with total gross receipts greater than $200,000 or for instances when your asset count is greater than $500,000.
990-PF
When considering private foundations, it doesn't matter what their gross receipts or assets amount to, this is the option they will need to choose.

When Are Nonprofit Tax Returns Due?
According to the IRS, "Form 990 is due on the 15th day of the 5th month following the end of the organization's taxable year. For organizations on a calendar year, the Form 990 is due on May 15th of the following year."
So, to clarify, if your reporting period ends on December 31st, that means your due date is May 15th. If it ends at any other time, you need to calculate five months ahead of that time, and it will be on the 15th day of that month that your nonprofit taxes are due.
Pro Tip: If you really need more time, go to the IRS page, navigate their form database and search for Form 8868. This form is an application for a time extension to file an Exempt Organization Return, which can grant you a 6-month automatic extension of time to file any nonprofit tax returns with the exception of form 990-N (e-Postcard).

What Happens If My Nonprofit Tax Return Has Incorrect or Missing Information?
Mistakes happen, we are only human after all! There are multiple 990s and you may have unintentionally filed the wrong type, or accidentally left off some crucial information when completing the report.
In the event of a discrepancy or error, individuals generally receive a different statement return from the IRS along with returning your information to you.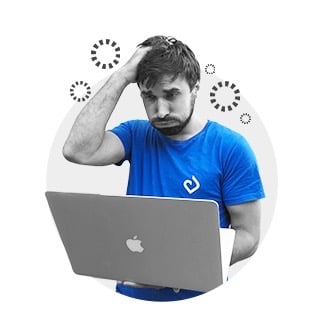 Bert realized he put incorrect information on his tax forms!
That statement letter will let you know what was wrong so that you can make the appropriate correction.
Here are the potential responses you may receive:
IRS Letter 2694C - If you receive this form with your returned information, it means that you have left off some required information on Form 990.

IRS Letter 2695C - This form serves the same purpose as the one above, except it is specific to the 990-EZ documentation, notifying you that some vital information was omitted.

IRS Letter 2696C - This is a notification that some information is missing, but includes a request to process your organization's tax-exempt return in an as-is state.
Pro Tip: Failure to submit the right IRS form, all of which are found on their website, and missing information properly to the IRS within a 10-day window can result in a penalty, so it's important to ensure that you get this revision back into their hands as soon as possible!

Tips If You Are Filing For the First Time
First of all, it's important to take the filing of the 990 Form series seriously.
Failure to submit the form for three consecutive years can ultimately cost your organization its tax-exempt status. If this were to happen, you would need to begin the entire process of acquiring one over again. Not only would you need to refile, you would have to pay late fees, which can really add up!
It is very important to present the information accurately and, when it comes to the level of detail, think "the more, the merrier!" This 990 form is significant in many ways, the most important being that not only does the IRS use this form to assess whether your organization is operating in a legal manner in conjunction with its business plan and mission statement, but this form provides transparency in the event of an audit or for the general public.
That means there are consequences, positive or negative, that come along with your presentation of documents. For example, it is a useful tool that donors can use to evaluate nonprofits when trying to decide which NPOs to throw their support behind.
Here is some additional information that you need to keep in mind while documenting your information:
You declare your mission statement so that both the IRS and the public can see if your spending is in line with that goal. In addition, donors can see where you are generating and spending your money, so it's important that this information is as accurate as possible.

You will need to rationalize your continued tax-exempt status, which can turn into a fantastic opportunity to celebrate your accomplishments, which can encourage more donors to join in your cause and increase your productivity in the future.

You will be laying your finances bare for anyone and everyone to analyze. Whether the results of that are positive or negative can determine how donor organizations could react. Financial stability shows that your team has done a great job and is making great accomplishments and strides for your cause, and this can attract more support as well.
Because this is such a crucial time in the nonprofit lifecycle, if this is your first time doing a nonprofit IRS filing (or even if it's your thirteenth), it can be a good idea to enlist professional help to ensure that your accounts are done properly, you have accounted for all of the relevant nonprofit tax deductions and that the appropriate form is filled out correctly to ensure you do not risk any backlash or penalties.
There are also considerable FAQs available on the IRS website and others that can handle any specific questions in which you wish to receive more information.

Springly is trusted by over 20,000 nonprofits to help them run their organizations on a daily basis. Try it, test it, love it with a 14-day free trial!
Dan
Recommended articles
How To Use A CRM For Nonprofits For Better Daily Management
Trish
Communication
Social Media
Marketing
A Comprehensive Guide To Instagram For Nonprofits
Trish
How to Analyze Your Nonprofit Email Marketing Statistics

Danica