The Best Insider Tips to Boost Nonprofit Visibility
Alvina
When you're working on growing your nonprofit, getting the exposure and visibility that you need is a crucial piece of the puzzle. If you're willing to go above and beyond with your membership communication plan, you will find success. The increase in visibility will open the floodgates for generous donations, new volunteers, and external support.
We are going to discuss some of the most lucrative tips to boost your nonprofit's visibility and help you reach the goals you've set for your organization.
Here we go!

Collaborate on Social Media
Going out of your way to collaborate on APIs, or application programming interfaces, like social media with members, potential members, and other nonprofits is a great way to increase your social media presence and your nonprofit's visibility as a membership marketing strategy.
Be Vocal with Your Shout-Outs
Shout-outs on social media are highly effective and beneficial for nonprofits. If you use a product, attend an event, or use a company's service, you should give them a shout-out on at least one of your social media platforms. For example, the shout-out can be for going above and beyond in service during an event.
By giving another organization or person a shout-out, you're giving them praise and a willing spotlight. Nothing feels better than being recognized for doing good.
Plus, shout-outs are easy for you and your team to manage without a lot of fuss or planning. Simply tag the person or organization if you post! They will most likely reciprocate your mention which doubles your visibility and opens your organization up to a new, untapped audience. This type of social media tactics can be used on a regular basis for the best results.
Tag Other Organizations or Businesses in Your Posts
Tagging other organizations and businesses in your posts is different from a shout-out. In this case, you are using a post to interact directly with another account.
It's important to note the difference between a @mention and a @tag. On Instagram, a @mention is when you tag them in the caption on your post. It's sent to that profile as a regular notification and can easily get lost. A @tag means that you tag their account on the actual post (so either the story or the picture). This sends a separate notification that is more noticeable to the account that you're tagging.
If you take the time to tag other organizations in your posts, even if it's just to generate discussion about something interesting they did and not to promote their product or service, you are creating interaction. The result of interacting with other accounts makes your nonprofit visible to an entirely new audience.
For example, when you tag your local event space in a post on Facebook saying how awesome their venue was for your nonprofit's event, the event space's followers will see that post and then click on your account to see what you're all about. Thus, improving your visibility.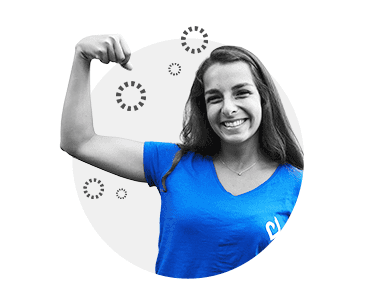 Nina knows a good shoutout
can lead to strong partnerships!
Tagging makes the organization aware that you are promoting them, so they will recognize your name if it pops up again in the future. It also opens the door for collaborations.
Collaborate on Content
Instead of just sharing other organization's content, try collaborating with them! Collaboration allows you to successfully brand your nonprofit by positioning yourself with other businesses and organizations that have similar values as you. There are several ways that you can go about this such as:
Co-host a podcast or webinars together. The topic should be something your nonprofit has expertise in, so keep that in mind.

Collaborate on a two-part series or campaign. You can be part one and the organization you're partnering with can be part two. This will keep people interested and they will mark their calendars to come back! You can do how-to videos or guides, post discussions, have a webinar, or post on a blog.
For example, an animal rescue center might make a how-to-guide on how to care for your dog during the Summer. They could collaborate with another rescue center that does a Winter version. The idea would be that both organizations promote each other's guides and make it known that it is a collaboration effort. This way, the two contributors are essentially sharing their audience, allowing them to gain exposure to a whole new group of similarly aligned people. To do so, both organizations would have to agree on a style, tone, etc. This may even be a good opportunity to implement co-branding (i.e. combination of logos).
Another example would be to author a series of social media posts on a particular topic (e.g. videos on dog grooming) and then tell your audience to go check out your partner organization for part two of the series.
Work on a quiz or a joint survey.

Host a panel. You can have board members or founders of a few organizations answer questions and discuss their nonprofit and what they do.

Take over each other's Instagram or Snapchat stories (this is a great one for when you have a lot to discuss such as a fundraising event).
Pro Tip: Create worksheets to keep track of all of your collaboration ideas! Worksheets help you organize all of your ideas and set timelines to accomplish goals that your organization has set. Have a separate sheet for each collaboration and track your results.
Collaboration is a strategy that will help you gain both visibility and credibility. You just need to understand your nonprofit branding and how you want to position yourself in the world of social media.

Tweak Your Website
Your website is the gateway to your organization. It will be the most-visited online presence and should be reflected as such. By making sure your mission is clear and that the website is clean and informative, you are creating additional visibility into your nonprofit.
Let Your Mission Shine Through Your Website
It's important to define a clear, simple mission statement for your organization and display it loud and proud on your website's homepage. Your visitors need to know who your nonprofit is and what your mission is above all else - transparency on this is a big deal. The reason being is that your mission statement is who you are and what you do. Ultimately, it is what entices people to learn more and to be a part of what you do.
A top example of this is Keep-A-Breast. When users look at their website, their mission statement is right there on the front page and it details what they do as an organization.
Your mission should be created using simple but specific language to make sure your point is clear. Your website is a key in membership communications and having your mission statement in the center of it all brings everything back together to work toward one objective: your mission.
Enhancing Your SEO
Search engine optimization, or SEO, is the process of creating content with the most popular search words on Google and any other search engine on a certain topic. It helps position your website to be visited by people searching for an organization like yours.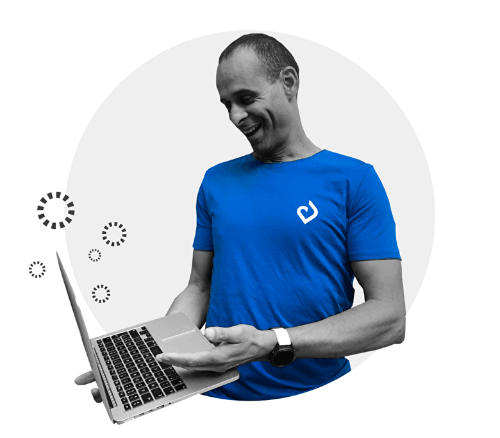 Sam is loving seeing his organization's higher ranking
after some SEO tweaks!
Essentially, having better SEO means that you're going to rank higher in the search results. Think about how often you go to the 3rd, 4th, or 5th page of search results. Not very often! SEO helps keep you on the first or second page, making you as relevant as possible. The key thing to note here is that tweaking SEO presents plenty of opportunities to improve your organization's visibility.
To make sure you get the most out of your website, you should consider SEO training for either yourself or your volunteers and staff who are producing content. Some options you can try are:
Ahrefs Academy

Grow on Air

Yoast

Hubspot
If you aren't interested in training, you can also utilize Facebook groups and ask questions that way. Check out Nonprofit Management Circle for great information!

Share Your Expertise


Guest Blogging
Guest blogging is a great opportunity to contribute to someone else's content platform by offering your expertise on certain topics. You can use this to bring attention to your cause, mission, or organization by writing a compelling story with an informative undertone.
For example, reach out to a local blogger in your city and see if you can write a quick blog post about what your organization does and what people can do to help. If the blogger's values are aligned with yours, they'll likely agree and collaborate with you.
Get your leadership involved and have them write an informative article on a topic that they are most passionate about. This shows everyone how immersed in your organization the leadership team is.
Pro Tip: Message someone who you have previously given a shout out to and ask if they'd be interested in you writing a piece for their blog. If you give the readers enough value, they'll come looking for you again!
Podcasts
There are a few ways to harness the power of podcasts to improve visibility, both are excellent options and will depend on your organization's bandwidth:
Create your own podcast

Be featured on a podcast

Sponsor a podcast
If you want to create your own podcast it's important to find your own unique angle or niche in order to differentiate yourself from what's already out there. You'll also need to do your research and have brainstorming sessions with your volunteers to create plenty of ideas. It's important to note that we are glossing over the very basics of podcasting. In reality, it's a very complex industry but with the right tools and research, it can potentially lead to a full time job and a profitable one at that!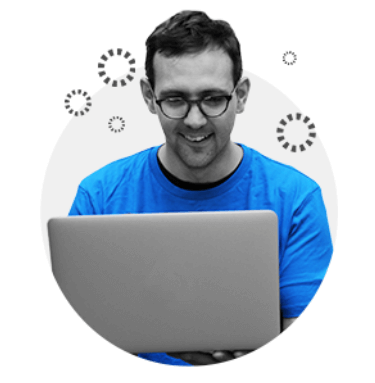 Matt is working on his new podcast idea!

If you don't feel like you have the bandwidth to create your own, you can always apply to be featured on another podcast. This will help you reach a whole new audience, especially if you choose one that isn't necessarily related to what you do. Podcasts have gained such a following in recent years and could line organizations up for not only new followers but very loyal ones.
Finally, you can sponsor a podcast. This can allow even the smallest organization to start gaining a following. The price range can vary but sponsoring a podcast can be a great way to get your name out there with minimal effort.
Become Your Facebook Group's Resident Expert
Many Facebook groups, particularly for nonprofits, boast audiences in the thousands. If you can make yourself known as "the person with the answers" people will be naturally curious to check you out.
Pro Tip: Make sure a link to your organization's website or your LinkedIn is clearly displayed on your Facebook profile. That way, when someone is interested, all they have to do is click on the link and find additional information with ease.

Nurture Your Partnerships
Partnership means two people who have a mutually beneficial relationship in one aspect of their lives. They are valuable because partners want what's best for each other and you can help each other grow.
Make sure that when entering official partnerships you sign contracts that you fully understand. Even when you feel like you and the other organization or business are on the same page, you need to protect your nonprofit's rights first.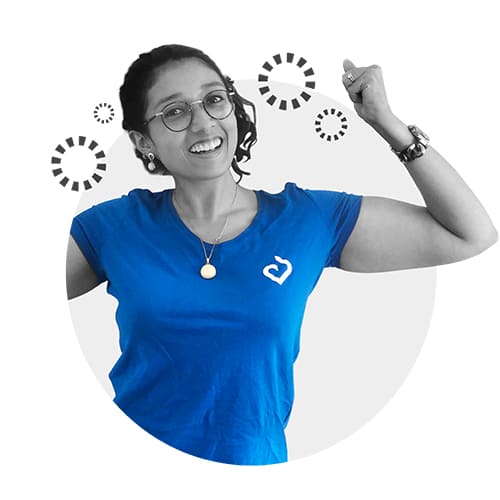 Salma is feeling great
about her partnerships.
Working in a partnership allows for many opportunities to increase visibility for both parties. Here are a few that are proven to be successful:
Co-branding: Collaborate on merchandise that boasts both partners' logos. This could be t-shirts, hats, mugs, or drink koozies.

Collaborating on products: Collaborate with a local bakery to produce dog treats with your logo on it. Then ship the dog treats out to local businesses with a card about your organization and what it hopes to achieve. This same concept can work with local jewelry makers, artisans, or farmers markets

Collaborate on a project or event: For example, you could host a karaoke night and split the profit from ticket sales and raffles 50/50 so that each organization benefits and is able to help their cause.
Pro Tip: Check out local businesses in your area to make sure their values are aligned with that of your nonprofit before you talk to them.

Invest in PR
PR is also known as public relations. It's the way that you create and maintain a favorable public image of yourself or your organization. Some organizations feel that PR isn't their best use of funds, but that couldn't be farther from the truth. It's essential to your organization's growth.
The most direct way to get involved in PR is to reach out to local reporters. Reporters typically have to seek out opportunities to publicize a particular event or organization, so they will be grateful that you contacted them first.
Here's a quick pitch you can use when reaching out to local reporters:
My name is "blank" and I'm "position title" with "blank organization". I have information on a unique event that I think would be particularly interesting to your viewers. It involves "cause you are working for such as cancer, shelter animals, foster care, etc." and we are working to change their lives. This event is beneficial to your audience because "fill in the blank", and can impact you by "insert reason". The strength of our organization's community will "fill in", and the visibility that the organization can offer you will "fill in".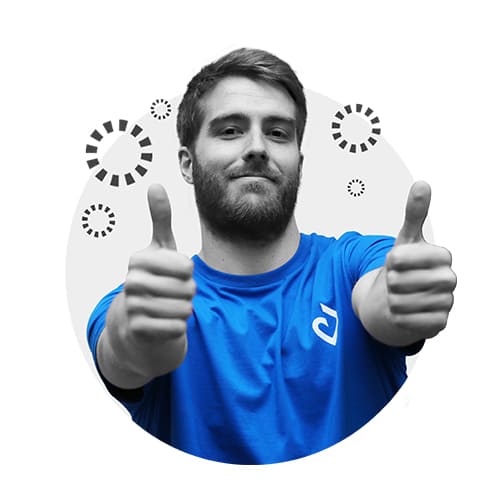 Anthony knows good PR deserves
two thumbs up!
Apart from that, you should always continue to work with your local news station, both online and offline. Keep on the lookout for opportunities to get your name out there for additional visibility. You never know when a good one might come your way.

Make Use of Existing Events
Not every project or event has to be your own. Save some time by searching for local events and message the organizer to see if there's a way you can collaborate.
Some examples of other events include:
Running events

Art festivals

Cake sales

Music events

Heritage events

Farmers markets
Once you're at the event you can sell products with your logo on it, hand out information leaflets on your nonprofit's cause, or potentially have your logo on the event posters.

Conclusion
At the end of the day, getting the visibility your organization needs is about putting yourself out there in new and exciting ways. The best way to reach the most people is to have multiple outlets that you're working through. You don't want to stretch yourself too thin, but you also want to follow the trends and use all the resources available to you. Make sure to use a membership management software to organize all of your new data. With these in-depth strategies, you can increase the visibility of your organization like you never thought possible.

Springly is trusted by over 15,000 nonprofits to help them run their organizations on a daily basis. Try it, test it, love it with a 14-day free trial!
Alvina
Recommended articles
Agile for Nonprofits: A Project Management Method
Trish