10 Steps to Writing an Effective Nonprofit Business Plan
Trish
We know that starting a nonprofit organization is a difficult task. Between all of the paperwork and meetings, it can be hard to stay focused on your mission.
A great way to stay on the right track is creating and following a business plan in the early stages of creating your nonprofit.
We have laid out 10 steps of writing your nonprofit's business plan:
Download the template for your nonprofit's business plan! We recommend using this template in conjunction with design tools to create a perfect business plan for your nonprofit.


If you are not a business guru, don't fret, we are here to help you every step of the way!
Let's dive in!

Why You Need a Business Plan
I know what you are thinking: business plans are for traditional businesses, so how can a nonprofit benefit from one?
Starting a nonprofit is an adventure, and a detailed business plan will be your map to guide you when you get a little bit off track. Basically, it is a way of putting all of your ideas onto paper. This will help you to organize your actions and to have a bit of clarity on how your future will look. This will be especially helpful when officially registering your organization.
In addition to this, if you hope to gain any sort of funding you will need a business plan. Whether you are getting your financing through grants or donors, you will need to have a document to show them where their money is going.
A business plan is also a great way for potential volunteers to see what it is that you do. Of course, your website will have the basic information, but a business plan will enable you to provide more details. This can be of benefit to you if you want to have full-time volunteers. In line with this idea, your plan can also help you to attract your board of directors.
This brings us to our next question….

Who You Should Target
We already mentioned how a business plan for your nonprofit will help with donors, volunteers, boards of directors, and funders. In reality, you will need to write this document with one target in mind.
Before you try to find out who your audience will be you need to answer why this business plan is important for you.
Are you trying to gain funding? Looking for a board of directors? Once you know what it is you are looking for you can determine who you should be writing your business plan for.
What if you want to do both, and soon? Nonprofits move at lightning speed so knowing how to adapt your business plan will be helpful. With that said, be sure to think of all of your resources and what else you may be able to do to attract these parties.
For example, let's say you are looking for funding. If you are looking for grants you will need to have a business plan, and it will need to have all of the answers they are looking for. It is not as easy to work with other resources when applying for grants.
Before you start writing make sure to figure out what you really need out of your business plan. That will lead you to who your target should be, and then help you to determine what language to use. How you write for gaining a board of directors versus increasing your community awareness is entirely different.

Executive Summary
You have gotten past the preparation stage and now it's time to put pen to paper!
The executive summary is exactly what it sounds like: a summary of everything in the business plan. This section is usually written last but goes at the beginning of your document. Writing the summary last is more efficient because you have already thought out each section in detail and it will be easier for you to sum them up in a sentence or two.
By the end of your nonprofit's business plan, you won't have any doubts about what you are going to do and how. This is vital information for your executive summary! A general executive summary will contain the problem your nonprofit is trying to solve, your solution to this problem, the need for your nonprofit, and how you will accomplish your mission. The answer to these questions should not be too long, as the executive summary is usually one page.
Lucky for you, the problem and solution can be answered together in your mission statement. For traditional businesses, the executive summary encompasses the company's vision, mission, and values. If you have these, go ahead and add them in! If not, don't sweat it. Just make sure you clearly state what you want to do, and how you are going to do it.
You should be aware that sometimes your audience may only read your executive summary, so take your time to write exactly what you want this person to know about your organization.

Who You Are: Team and Structure
Now it is time to show who you are, and don't be afraid to brag a little! Remember that potential donors or financiers will be looking at this. It is known in the world of entrepreneurs that the funder chooses a person, not a company. While this is different for nonprofit organizations, you will still need to prove that you can handle this challenge, and lead your team to success.
You won't need to describe each person in your nonprofit, but your audience will probably be looking for the head(s) of operations, your finance guru, and your HR or volunteer coordinator. If you don't have these roles it is no big deal, pick the people that make your nonprofit shine and describe what they do!
After describing who you and your team are you can show the structure of your nonprofit. For some nonprofits, an organizational structure will come easily, and that is great! Put that in this section.
For others, you might not have any idea what your structure is, and may not want an official structure. That is okay. We recommend that you map out the areas of operation for your nonprofit, and who falls under these categories. You can draw communication lines between them to have a better idea of which departments will be in the most and least communication. This is more for you, but can also help outsiders to understand how your organization operates.

What You Do: Product and/or Service
This section is where you answer what products and/or services you provide. Chances are you have already thought about what it is you want to do. Go ahead and put those ideas in this section of your business plan.
Once you start writing your ideas down it will help you to have a clearer picture of exactly what your nonprofit will do. Another way of thinking of this section is as a more detailed version of your mission. Essentially you are answering "What are you doing?" and "How does this help your community?".
You don't need to be too lengthy, as long as you answer these questions. Also, keep in mind that business plans change, so don't be afraid to write exactly what you want to provide at this moment. If that changes it is okay, you can always go back and modify things later.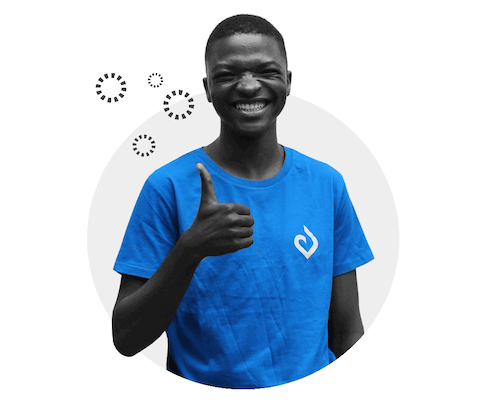 Freddy is doing great so far and is curious to
know what else goes in a business plan!

Operations and Strategy
What are you currently doing and what do you want to accomplish in the future?
How you write these sections will heavily tie back into the question of who your target audience is. Make sure you consider who you are writing this for and think about what they would want to know.
Operations
Continuing with the style, you can think of this section as an even more detailed version of what you do. This is the technical information behind what you do.
So you are a nonprofit, what type of nonprofit? You want to open a food pantry, where are you getting your supplies? You have volunteers, what do they do? Do you have salaried workers, if so, why do you need them? Do you have any strategic partnerships or help from other nonprofits? I think you get the idea!
Strategy
This section is all about answering the dreaded question, "where do you see yourself in five years?".
It is okay to live your wildest dreams in this section. If you have a big dream and are determined to accomplish it, write about it. If you have no idea what the future will look like, focus on growth. For example: if your nonprofit serves less than 50 people in your community, talk about how you want to expand to 100.
Your audience wants to know what your goals are, and they want to be a part of your plan to reach them! As we said, business plans will change, your nonprofit will change, and you cannot predict the future. Chances are the strategy in your first business plan won't be exactly what will happen.

Market Analysis
Yes, we know this sounds scary. Up to now, we have been taking you gently through the process, now it's time to tackle the hard stuff. Don't worry, it is not nearly as complex as it sounds, and we have your back!
Your market analysis should cover the need for your nonprofit, your target market, who your "competitors" are, what they do, and how you are different from them. Your competitors are not necessarily competition for what you are doing but could be any nonprofit that may attract the same donors or volunteers.
Keep in mind that your need is different from your mission. Earlier we talked about what it is you want to do, that is your mission. The need for your nonprofit explains why there is a necessity for your nonprofit. You should have the bulk of this information, including hard data, already collected from your initial needs assessment.
Picking a target market is like choosing a target audience. A target market is a group of people that are the most likely users of your product and/or service.
Yes, we know, you want everyone to be interested in your nonprofit. We do too! However, there is someone that is your ideal target volunteer and donor. You need to decide what these people look like, and talk about how many of these people are in your market, or area. This will help give you and your readers an idea of how you can grow, and it will also help with your marketing plans.
So now you have mentioned who your target market is. If you want you can even create a persona for these people. Pick a name, gender, age, and other qualities that would fit your target. This will give your team a visual picture of who they are trying to reach.

Marketing Plan
Based on your target market, you can now decide the best way to communicate with them. For instance, if your target market is senior citizens you may not want to focus all of your energy on social media platforms like Snapchat.
Once you have decided what type of marketing to do, you can start to figure out what kind of costs go into them. Emailing, website tools and social media marketing are all great ways to market, but you might need to invest a little to see results.
This section can be as simple as talking about putting flyers in local businesses or can be more advanced by discussing a digital marketing strategy. You can choose what works best for you and your nonprofit!

Financial Information
Ah, our favorite dinner party subject: money. This is where you tell your audience what is in your bank account. This section covers what you have, what you hope to have, and how you will get financing for the future.
You need to mention your current financial situation and where you aspire to be in the next couple of years based on donations or any other factors.
You will need to mention if you don't currently have the financial coverage that you need to support the organization. Don't worry, this is normal and to be expected.
This is where a nonprofit organization is very different from a regular business. We have all seen those Shark Tank episodes where people are ripped apart for not having enough cash to support their business. On the contrary, grant financiers are looking for nonprofits that need their help the most.
With that being said, it is vital to be honest about this information. Most nonprofits have to report their financial situations annually, and if these two documents aren't in alignment it will be difficult for you later. Be honest about grants you have already received, or any additional financial information that is important for your audience to know.

Appendix
The appendix is the last part of your nonprofit's business plan, and should contain any documents that correspond to the contents of your business plan.
This section will vary for each nonprofit but should include documents like your financial statements, articles of organization, market statistics, and more.

We hope this article helped craft your business plan! Let us know in the comments section if you have any questions during this process 💙
Springly is trusted by over 15,000 nonprofits to help them run their organizations on a daily basis. Try it, test it, love it with a 14-day free trial!
How to Start a Nonprofit
Administrative
Trish
Recommended articles
How To Use A CRM For Nonprofits For Better Daily Management
Trish
Communication
Social Media
Marketing
A Comprehensive Guide To Instagram For Nonprofits
Trish
How to Analyze Your Nonprofit Email Marketing Statistics

Danica