Online Fundraising Optimization for Your Website: Explained

Briana
During the past year, we have seen online fundraising become one of the sole sources for nonprofits to collect donations. Even before this, according to the Global Trends in Giving Report, 60% of North Americans said that they would rather donate online with a credit or debit card. With everything moving online, your nonprofit needs to be prepared for online fundraising!
Don't worry, we are here to walk you through how to optimize fundraising through your nonprofit's website. In this article we will cover:
Let's jump in!

Content
Having quality information on your website is a great practice to ensure that you are attracting your target audience. To take this further, you can ensure that this information is personalized to your target audience, in this case, donors. Content does not include just the copy of the website, but other elements like the vocabulary, images, testimonials that you use. Creating this kind of content will help you to amplify your online donations.
Impact
When we analyzed the best nonprofit websites we talked a lot about impact, and this is because the impact is crucial to donors. Two-thirds of donors say that knowing their impact would influence them to give more.
An easy way to do this is by including data on your website. Think of key figures such as what you serve and how many people you serve. Another figure you should include if you can is the cost of helping one beneficiary. This is beneficial because it makes your impact real for the donor and helps them to see how even one donation can have an impact on your cause.
For example, if you are a food pantry, you can show how much it costs to pay for a month of food for one person. If your focus is on helping families, be sure to calculate how much it would be for the entire family.
You can take it further by giving different options for different price points. For example, you could include how much it would cost to help one beneficiary for one month, one family for one month, an individual for a year, and a family for a year. If donors know how much they are helping they would be more inclined to give, so don't be afraid to be honest.
If helping one beneficiary or family is costly for your organization, think of it in smaller terms. For example, if you build homes for families in need, instead of the cost of building one home, you could share the cost of a bedroom or bathroom.
These numbers might not be exact, and that is okay, estimate to the best of your ability!
One more easy way to include your impact is to add images and videos of your beneficiaries. This will humanize your website, and add emotion to the user experience. Video is the most engaging tactic, and a beneficiary testimonial is a perfect way to capture what your organization is doing, and how donors can help. See the example below of how W4 uses testimonials to encourage donations!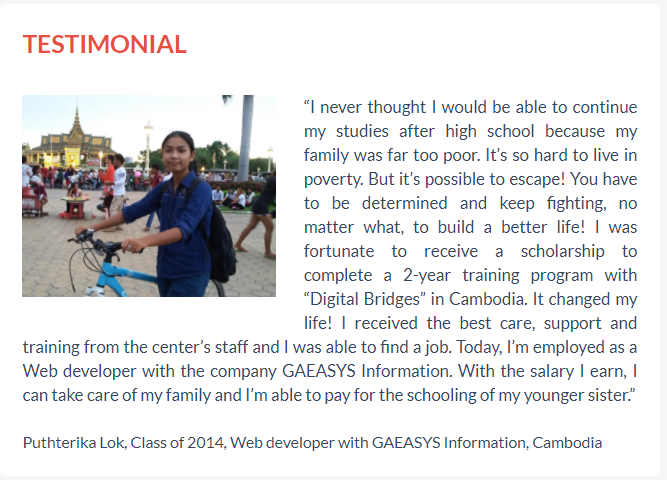 Impact Reporting
Impact reporting is an important way to present everything your nonprofit has accomplished in the past year. This information is vital for donors, specifically grantors and sponsors, because they want to know that you work hard and are committed to your mission.
The key to impact reporting is to be precise. Think of this as talking about donor impact, but on a larger scale. You should mention exact numbers as much as possible. For example, if your nonprofit is dedicated to helping underprivileged families, instead of saying something like "this year we gave more school supplied than ever to families in need", you could say "last year we were able to provide 50 families with school supplies, this year we increased that to help 75 families go back to school". To appeal even more to your audience, you could take this example, and add graphics comparing your impact year to year.
Lastly, be honest about your impact. If your nonprofit has not had enough money to address larger issues, do not be afraid to mention the little accomplishments. The essential information to show is that you are working as hard as you can towards your cause. If you feel like you have not even been able to make little accomplishments, that is okay too. Mention what your impact could have been if you had this money. Knowing information like this is vital to potential grantors and sponsors.
Who You Are
This brings us to our next topic, letting your donors know who you are and what you do. The most common way to achieve this is to have an "About Us" page on your website that explains your history and your vision for the future.
Donors want to know who they are donating to, so try to express this as best as possible. There are several ways to do this. You can begin with a story of how you started, a timeline of your nonprofit's history, and a statement of your vision, mission, and values. You can also include information about your team, so they know who is behind the magic. This will also add the human effect that we talked about earlier.
Pro Tip: Don't forget that funding doesn't just come from individuals. Some companies, corporations, and foundations might be interested in sponsorship. They will want to know this information, so be sure to display it proudly on your website!
Show Your Appreciation
In the past few years, we have heard a lot about recognition and the power it has on employees. This is also true of volunteers and donors for your nonprofit! Not only will showing your appreciation show prospective donors that you care about your people, but it will help to retain your current donors.
There are several ways that your nonprofit can use its website to express gratitude towards donors. The most simple option is to do a blanket message on your homepage or supporters page that thanks your community of helpers (employees, donors, and volunteers) for all of their assistance.
A more involved way to do this is to showcase donor profiles. For example, you could create a "donor of the month" and share a new donor story each month, highlight the impact they have had on your cause, and thank them for their contributions.
Language
Lastly, be sure to get all of this information across with the right language. For example, so far in this article we have used the word "you" or "your" about 50 times. Why? Because we want you to feel like a part of our community, family, and network, this content is made especially for you!
You should be doing the same thing with your website! Try to think of how you can connect donors to the information you are getting across. Along with talking to the reader, you should try to use positive language when you are highlighting impact, even if it might not be such a warm topic. You could say, "You make our project come to life! Thanks to your support, we have all the resources we need to prepare medical supplies for the field."
Notice how in the example above we didn't say, "Without your donation we won't be able to provide medical supplies in high risk areas." Does it have the same meaning as our first example? Yes. Does it get the same message across? Not at all. The second example is much more intimidating and doesn't give positive inspiration for donors to give to your organization.
If you are a nonprofit organization like Greenpeace or PETA that has a strategy to share provocative statements like this, that is fine. Stick to your strategy, because your donors will expect this from you. With that said, this strategy is a commitment and you should only incorporate it if you intend to brand your organization like this.

Design
After you have worked on the content that you are putting on your website you can then move to how you want to display this information. You do not need to be a designer to create a website that engages your target audience, we have a few easy tricks for you that can boost fundraising.
First of all, your website should be responsive, or adaptive, to mobile devices. According to Statista, approximately 83% of the U.S. population are mobile internet users. This means that most of your audience will be looking at your website from their phones, and you need to make sure that these users have the best experience possible.
Nothing is worse than when you are trying to purchase something on your phone and the website not cooperating. In a lot of cases, these users will just give up and won't donate to your organization. To avoid this, be sure to test out the design by looking at your website on your phone and tablet!
Springly's website building tool is automatically mobile responsive and does not require special developments. If you want to design your website on your own, it is possible that you will need to have special developments to make the website responsive to mobile devices.
Lastly, try to create a design that catches people's attention and keeps them interested. You can do this through visuals, structure, and even smaller aspects like colors and fonts.

Website Features
Content and design are the most obvious answers for optimizing a website, but there are some website features that can also help advance fundraising.
CTAs
If you are not familiar with call-to-actions (CTAs), they are devices that incite the user to make one specific action, and they normally come in the form of links or buttons (e.g. donate, become a member, volunteer).There are a few keys to CTAs that you should understand before applying them to your website.
First of all, you want to be sure that your website has CTAs that lead to your donation page. Combining this with what we talked about earlier, you can have a donor impact statement on your homepage with images or videos of your beneficiaries, and include a CTA with it that directs potential donors to your donation page. See an example below of how Action Against Hunger uses their CTA to encourage donations by connecting it to their impact, and having a direct link to their donation page.
You should also make sure that your website visitors know exactly what they are doing when they click on your CTA. Notice in the example above their CTA is very direct by saying "Donate Now" instead of something less straightforward like "Give a Gift". If you do want to make more creative CTAs that is okay too, just be sure you are very direct in the text leading to the CTA. For example, you could say "with your donation we will be able to…" and then have a more ambiguous CTA.
Another important point with CTAs is not to have too many. If you have 20 CTAs on one page it will reduce the chance of your visitor clicking at all. For a home page we suggest you stick to 5 or less. With that, be careful with where you are putting CTAs. For example, earlier we talked about including a shout out to your supporters to thank them for the time and money they have donated to your organization. A page like this would be inappropriate to have a CTA, as it distracts the reader from the purpose.
Landing Pages
Along this same topic, if you are hosting fundraising events, be sure to have a separate landing page with all of the information about the event, and include a brief description and CTA to this page on your homepage! This makes all of the information very clear to anyone that is potentially interested so they can make a decision on if they want to attend this event.
If you are hosting a virtual event, consider creating a page with separate tabs so every piece of information is available, and your attendees feel just like they would if they were attending an in-person event.
Seamless Donation Process
Lastly, you should make the donation process as seamless as possible for potential donors. Just one little problem can put off a potential donor, and stop them from making their donation. One easy way to ensure a smooth donation process is to have a software that handles online payment and collects donor info.
This is a win-win situation for you and the donor. The donor gets an easy donation process and a thank you email immediately sent to them from you, and you get to keep track of information like when they last donated and how much they donated. This is a great way to increase donor retention, as you can then send information specialized for them with a thank you based on the amount they donated, or inspire them to donate again after a certain period of time.
Also, most donation softwares store donor information, so when they come back to donate again their information will appear automatically, making it even easier to donate. Keeping this in mind, the donation form should not be too long. Having to fill out 20 fields before making a donation is a hassle, and potential donors might give up if it is too time consuming.
Something that can also help to encourage giving is by offering recurring donations. You should make this automatic so that your donors have the option to donate monthly, quarterly, or yearly, and it will automatically come out of their accounts. This way they don't need to put in any extra effort to give to your cause. No muss no fuss!
Check out our nonprofit management software to see how your organization can manage online payments and use CRM to reach out to donors!

Fundraising in Times of Crisis
If 2020 has taught us anything it is to be prepared for anything and everything. Most likely you already know that fundraising is not the easiest task of a nonprofit, and creating the right content and design to increase fundraising takes some dedication. During times of crisis, your nonprofit will need to be even more careful about how you are asking for money.
Global Crisis
Let's start with the most obvious type of crisis, one that is affecting you and your donors. In this case many nonprofits try not to ask for donations at all. While that is respectable, it might not be realistic to keep your organization up and running. We are not asking you to beg for donations, but there is one way that you can respectfully ask for help.
Step 1: You need to address the issues that your donors are facing and act accordingly. For example, you could create a separate page for the crisis and include a statement that shows what you are doing in the current circumstances. This includes expressing concern for your donors' situation, asking how they are doing, and if there is anything your organization can do to help. Be sure to think of what you can do as an organization to help them in these hard times. In times of financial crisis some organizations have halted automatic payments, and this is not a bad idea. For example, your organization could make a statement that you know that this is a hard time for everyone, and you don't think it is appropriate to continue automatic payments, and so you will discontinue them for the time being. This will make your donors feel like you understand their situation and are there for them.


Step 2: Explain the issue your nonprofit is struggling with. After you address the situation and state what you are doing about it for them, you can express the needs of your organization. This is all in the specifics, you should state exactly what your organization has had to stop or limit as a result of the crisis. Essentially, what are you missing to be able to continue helping your community?


Step 3: You can tie it all in with the ask for help. The respectful way to do this is to ask for help from those who have the ability to give. For example, after acknowledging the situation donors are facing, saying what you will do to help, and expressing your needs, you can kindly ask anyone that can help to donate so that you can stay afloat.
We know this is a difficult situation, so try to be empathetic about your audience's situation and informative about your position.
Internal Crisis
The next type of crisis is an internal one. This could include anything from a major donor dropping out, a surplus of needs, or a large unexpected expense. The key to fundraising in this type of situation is to be honest. Share what the circumstances are, and how much you need to be stable again.
To include this in your website, you can create a brief description and CTA on your homepage that links to a separate donation page dedicated to this cause. A fun way to do this and increase engagement is to have a graphic that shows how much has been donated to the cause and how much you need. Don't forget to add those humanizing effects we talked about earlier!

Now you have all the tools you need to boost your donations! We hope this article has helped you to optimize your website for better fundraising. For more fundraising tips, check out this article!
Keep in mind that you should add your own little touch to these suggestions because after all, you are the reason they are giving.
Springly is trusted by over 15,000 nonprofits to help them run their organizations on a daily basis. Try it, test it, love it with a 14-day free trial!

Briana
Recommended articles
How To Use A CRM For Nonprofits For Better Daily Management
Trish
Communication
Social Media
Marketing
A Comprehensive Guide To Instagram For Nonprofits
Trish
How to Analyze Your Nonprofit Email Marketing Statistics

Danica