>
How to Retain Donors and Boost Donations for Your Nonprofit
Trish
With private donations becoming increasingly important for nonprofit organizations in the U.S., nonprofits need to learn how to rethink their donor strategy. For example, how do you make sure your major donors return to donate? Donor loyalty counts!
Today we will be delving into this subject, by covering these three topics:
Let's work together to help foster your relationship with your donors!

Who Are Your Major Donors?

How Do You Characterize Your Donations?
While every donation helps, there are of course different sizes and types of donations a nonprofit can receive. It is important to keep this in mind when asking for donations!
We suggest that when you look at a donation, you go beyond the monetary amount and think more about the big-picture. There is so much more potential within a donation, so let's keep this in mind!
Any size donation is proof that your mission is valuable, and that your community sees it!
Another aspect to consider is the recurring donation. A recurring donation, while usually smaller than a big one-time donation, can actually be more impactful in the long run.
Recurring donations show that your donor is loyal to your nonprofit and believes in your mission long-term.
For the sake of this article, we characterize a large or major donation as one being over $5,000.
Donations are only one piece of the puzzle, it is important to gain a deeper understanding of the donor as well! Therefore, it is important to ask the question...
How Do You Characterize Your Donors?
Drawing up a profile of your donors can help you improve and target your communication.
This is why we suggest including a survey after someone donates to your nonprofit, to gain a deeper understanding of who they are and why they donated.
Here are a few examples of questions you could include in your survey:
Why did you donate to our nonprofit?

What are your expectations of how your donation will be used?

Would you like to be notified about the specific use of your donation?

Would you like us to reach out to you for our next donation campaign?

How did you hear about our campaign?

Do you donate to other nonprofits?
By diving into the answers you receive, you can get a better understanding of how best to adjust your donation campaigns to fit your donor's profile.
If you want to take it one step further, perhaps consider doing some more in-depth interviews with a few of your donors to get a better view of who they are. We believe that this is an especially good idea for smaller organizations or those with relatively few donors.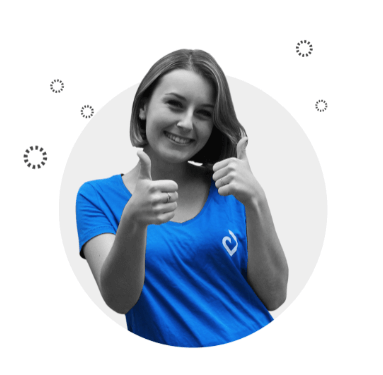 Eva is thrilled to get to know
her donors on a deeper level!
Now it's time to ask yourself a few questions! At the end of your campaign, consider things like:
What was the average donation amount?

How many recurring donations did we receive in comparison to one-time donations?

How did most donors pay: Credit cards, cash, check?

What was the average donation amount?
Good to know: Springly has a donation campaign feature where you can offer different types of donations (recurring, one-time) as well as various payment methods. Everything is automatically recorded so you can really get an idea of the most popular trends with your donors!
Get to Know Your Donors
Getting to know your donors is made simple by using a CRM software. Once you have decided on the criteria that best allows you to draw up a portrait of your potential donor, you can easily add them into your CRM!
Let's take a look at an example of what this can look like:
Say you are a civil rights nonprofit which regularly holds donation campaigns and fundraisers. You decide to take a good look at the results of your donation campaign and find that there is a big difference between the people who have donated less than $5,000 and those who donated more than $5,000.
This is valuable information, right? Of course it is!
So, how best to use this information for the future of your organization? This is where a CRM really comes in handy. You can segment your database based on donor history which will allow you to easily identify and communicate with your major donors.
You can even inform these donors that they have been placed in a special group reserved for major donors. It is always nice to feel recognized!
Good to know: With Springly, it is very simple to identify your donors and create these types of groups. Our CRM also allows you to see trends with your donors and communicate with them effectively. Want to see how this all works? Try Springly free for 30 days!

What Are Your Donors' Motivations for Giving?
Identifying your donor's motivation for giving to your nonprofit is a great way to improve upon future fundraising.
There are two main categories:
Traditional Major Donors
These are the donors who give to causes that they deeply care about (cultural, political, religious, etc). These donors are usually over 60 years old.
Their motivation for giving is usually very personal, they want to help the causes they believe in. To help attract and maintain these types of donors, we suggest you clearly communicate your missions and success with your specific cause.
Keep it honest, simple, and direct.
The New Generation of Major Donors
These donors are usually between 40 and 50 years old, and are more business-like in their approach when it comes to giving.
Therefore, to meet their expectations, you should illustrate your nonprofits ability to:
Have a significant impact on your cause: Show what actions you have taken to further your mission and what your plans are for the future.

Network: It is a great idea to show your potential donors the benefits of being a supporter of your nonprofit, especially when it comes to networking. Give them an idea of all the great networking opportunities that happen between donors of your organization.

Offer a hands-on experience: If your donor wants to see what it is that you do in real time, let them! It is a great way for them to gain a deeper understanding of your mission and promotes trust.

Spread the word: Publicly thank your donors, it is a great way to show your gratitude. (Of course, double-check that your donor is comfortable with this).
Just like traditional donors, these younger donors of course deeply care for your mission, but they are looking for a more mutually-beneficial type of relationship!

3 Strategies to Maintain Donor Loyalty
We want to share all of our knowledge to help you maintain donor loyalty to keep pushing your amazing work forward! Depending on your size and sector, it may be a good idea to choose just one of these strategies. Give them a look and decide which could work best for your nonprofit!
#1 The 'Mutually Beneficial' Strategy
Your major donors usually have pretty high standards, and expect a sort of partnership with the organizations they are supporting. This strategy works well with the new generation of major donors.
This strategy is based on three things:
The status and reputation of your nonprofit: Capitalize on your nonprofit's status in the community, your reputation, notable members, etc. Letting your donors know they are part of a reputable organization is priceless.

The networking aspect: Do you have a thick address book? Use it! Give your donors the opportunity to network within your organization. Your donors will appreciate being connected with groups of people who share the same interests.

Recognition: It is important to make sure your major donors feel recognized and valued. It is completely up to you how you would like to reward or thank your major donors, but it is an important aspect to consider.
Your donors care about your cause, show your donors you care about them, too!
#2 The Gratitude Strategy
This strategy is aimed primarily at the traditional donors we discussed previously, who wish to have a direct impact on your nonprofit's cause.
This strategy works best when your donor's values are in line with your own. For this, it is crucial to explain who you are and what you do, right off the bat!
The major player here is public recognition, which can be very important for this group of donors. It's all about communicating what achievements were made possible using the donations you received. Your donor will not only feel recognized but also will get to see all the amazing things their donation(s) helped accomplish!
Here are a few examples of ways to achieve this:
Organize events in honor of your major donors to thank them for their donations and commitment to your organization.

Share testimonials from those who have benefited from your amazing work, or even offer for a donor to sponsor someone/something!

Create a dedicated page on your website such as "The people who make our work possible and embody our values" that introduces your major donors.
Your objective here is to create a community of donors that share the same passion and values, and can become a source of enrichment for them. This type of community can help foster long-term relationships and commitments to your organization.
#3 Elite Donor Strategy
This strategy works best if you have prestigious donors. The objective here is to show why your nonprofit is worthy of their generosity. It is about communicating your mission, your ambitions, and illustrating your ability to overcome any challenges!
To contact these elite donors, you can create a separate network that is only accessible to these high-level donors. Appointing ambassadors is a great way to recruit new donors for this network.
This type of prestigious network will attract your elite donors and help retain the ones you already have.
You can even invite some of these donors to actively participate and help make decisions. It is another way to help foster a long-term relationship with these elite donors.
Pro Tip: Put together a team (even if it is a small one!) to help implement this strategy.

We know that using these strategies isn't something that can be done overnight, but we believe they can make an incredible impact on your fundraising!
To sum everything up, here are eight main points that we discussed:
Make the most of your nonprofit's internal network
Create a high-level donor only network
Invite your donors to actively participate in your organization
Highlight projects that were made possible by your major donor's generosity
Publicly thank your donors
Give privileges to major donors
Clearly communicate your mission and your nonprofit's values
Share these values with your donors
Now it's up to you to decide which strategies work best for you! We hope this information will be helpful in your future fundraising efforts.
Discover the benefits of using Springly for your nonprofit free for 30-days!
{{cta('ebddb16e-5886-40ef-9688-a961fe39bd00