>

Nonprofit SEO: What It Is and How It Helps Your Organization
Trish
99% of nonprofit leaders know the value of having a website that pops up at the top of internet search engine results. There is more visibility, which leads to better outcomes in donations and memberships.
There are plenty of myths flying around about how to improve search ranking though. In many for-profit companies, there is even a dedicated role on the marketing team to specifically work on SEO.
As a nonprofit, you can also use SEO (Search Engine Optimization) to boost your organization's search ranking on Google.
In this article, we'll explain the basic concepts and tips for improving SEO for nonprofits:
What is SEO?
SEO (Search Engine Optimization) connects keywords on websites to the searches people type into search engines. Your goal is for your website to appear at the top of the search results for keywords related to your nonprofit. If you are just creating your website, don't fret, use the tips we mention in this article to start on the right foot.
The most used search engine around the world is Google. This article will talk about this search engine in particular, but you can apply these tips to other search engines such as Yahoo and Bing.
Aim High for Your Search Ranking
Your organization's ranking on search engines heavily impacts the number of clicks on your website.
The #1 website listed on Google search results receives the highest number of clicks. Few people move past the first page of search results. In fact, in a study of 5 million search results, only 0.78% Google users clicked on a link from the second page, according to Backlinko.
You should aim for your organization to be the first search result for keywords central to your mission. Your website will get the highest clicks, and more people will know about your nonprofit!
Use Another Device
If you usually access your organization's website by typing the organization name, the website will appear among your first search results. Don't be fooled! Google knows your search history and will update your search results accordingly.
Here's how to be stealthy and check the true ranking of your organization's website:

Search from another browser (use Internet Explorer if you usually use Google Chrome) or from another device (your friend's smartphone). Or, open an "Incognito Window" on Google Chrome ("Private Browsing" on Safari) to search from scratch.
How to Choose Keywords for SEO
The first step to improving your organization's search ranking is to determine your keywords.
If your organization is an animal shelter in San Francisco, you would want your organization's website to pop up first when people search for "San Francisco animal shelter" or "animal shelter near me in SF."
For an organization operating in healthcare or advocacy, your keywords might be less obvious. Google has some resources that you can read, such as "Basic tips for building a keyword list."
Consider these tips:
Think like your target audience. What keywords describe what your organization does? What keywords would people search for to find your organization?

What are your objectives for your target audience, once they visit your website?
Once you've determined your keywords, you can use these digital tools to evaluate how your keywords would perform:
Google Keyword Planner requires a Google account. Google tests your keyword combinations, and provides statistics on average monthly searches and competition data.

Google Trends shares what the most popular searches are. This tool is particularly useful for organizations that operate at certain times of the year, because keywords can be strategically chosen leading up to busy seasons. You can tailor advertising to the time of year, to increase your ticket sales and fundraising campaigns.

You can also compare keywords, such as "animal rescue" and "animal shelter."


As you can see, "animal shelter" is searched more often than "animal rescue."


Do-It-Yourself: Begin to type the keywords you're interested in (for example: "rescue shelter"), and the search engine will autocomplete your search with the most popular searches.

See how the first autocompleted search is "rescue shelter near me"? Knowing this is a popular search can influence how you choose your keywords.
A word of caution: Keywords are important for improving SEO, but don't obsess over them!

If you add too many keywords in your website text, Google SEO can detect if your website is "keyword stuffing" purely to improve SEO. To avoid this, use similar words and phrases that are relevant to your keywords.
How to Improve Your Organization's Search Engine Ranking
After you've settled on your keywords, your next step is figuring out how to use your keywords to boost your search ranking.
The Google SEO algorithm is a little bit of a mystery, but experts and Google provide some helpful recommendations:
Create content for real people, not for search engines. It's not just about keywords, because the actual website content matters too. The more time spent on your website, the better the ranking. Starting a blog for your organization could help improve your website's content, and also satisfy your website visitors' curiosity about your organization!


Create unique content to stand out from other organizations that do similar work as yours. You can be inspired by other websites, but don't give in to the temptation to plagiarize.


Organize your website pages with a clear structure. Google's search engines find the most important pages on your website. Read on for more information about this.


Check accessibility of all pages. If you have any links that lead to the error message "404 not found," Google will penalize your SEO.
What Impacts Your SEO
We are going to study the 5 most important factors for your SEO, according to Moz.
SEO Factor #1: Backlinks (or External Links)
Backlinks are links on other websites that direct visitors to your organization's website.
Links are not all equal though. Backlinks contribute to your SEO depending on:
Web traffic of original website


Reliability of original website (E.g., Government websites have a high level of authority and trust)


Anchor text: This is the text that contains the URL, which viewers click on. If the anchor text is "click here," this won't really impact your SEO. The text doesn't use any keywords to describe your website.

Anchor text should have keywords, such as "check out

this animal shelter

in San Francisco" (the blue text would be the hyperlink). The search engine can cross-reference the anchor text keywords with other backlinks, to verify that the website truly matches its keywords.


Number of links on the original page: The value of each backlink is divided among all the links on the page. Your SEO would be impacted if your backlink is on a page with 5 links or a page with 100 links.
Did you know you can earn or build backlinks, as a nonprofit? You can cross-promote websites with your nonprofit partners. One tactic is to contact partnering organizations if your organization is related or directly working with them:
Local government: the city, public library

Other branches of your organization, if you have multiple cities or chapters

Business partners or sponsors

Forums: You can answer questions on forums that are pertinent to your organization.


Someone might post a question in a forum: "Does anyone know of an animal shelter in San Francisco? I want to adopt a cat." You can answer the question, and link to your website!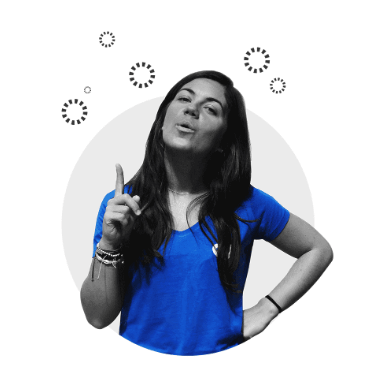 Sonia is thinking of how to use backlinks
to help her nonprofit's SEO
SEO Factor #2: Website Content and Structure
You should structure your website clearly, because Google Search checks for these elements:
Title Tag: This is the title you see when you do a Google search. If the title matches the search keywords, your website is more likely to appear first in the search results. The title tag is limited to 70 characters.

Meta Description: This is the short description that follows the title, limited to 155 characters. It should be clear, concise, and describes the content of your page. The meta description is very important because it impacts your click-through rate (CTR). A good meta description will establish legitimacy and encourage people to click on the link.

URL is the link of the page. It should be short, but contains your main keywords. Feel free to remove words that are not the keywords.

H1 / H2 Tags: These tags in the website code are important for search engines to check your page content for keywords. The main title of your page needs to have the H1 tag. Subheaders should have H2 tags. To avoid repetition and getting flagged by Google search engines for "keyword stuffing," remember to use synonyms and switch up your phrases.

Alt Text: Also called "alt tag" and "alt description," the alt text replaces the image if it doesn't show up on the screen for the viewer. It is very important for accessibility, in case anyone sight-impaired is viewing the website, and the text is read aloud. Search engines also gather information on images, so alt text can also contribute to SEO.
CMS (Content Management Systems) such as Wordpress or Springly often automatically optimize content to improve SEO. If you're just beginning to learn about SEO, you can use a CMS to create your website, so that you have some guidance with meta description, H1 and H2 tags, and alt text for images.
SEO Factor #3: "Agnostic Features"
These are some other main features of your website that also affect your website's SEO. These are "agnostic" in the sense that these are not directly on your website, but are still present.
Loading Speed
In a 2018 study, Google found that if the page takes longer than 3 seconds to load, website visitors leave the website.
Because of this, your page loading speed needs to be as fast as possible. We recommend you resize images to under 150KB each, so they won't take too long to load.
To analyze your website's loading speed, check out Google's PageSpeed Insight.
Mobile-Friendly and Responsive Website
Did you know that Google penalizes websites that aren't adapted to mobile devices? When a website has a mobile-friendly version, it is a "responsive" website that responds to the screen size.
Many nonprofit's websites are not yet adapted for smartphones, but this is a big mistake. Most internet users do a lot of web browsing on their smartphones, so make sure your organization is ready for those visitors!
To find out if your nonprofit's website is responsive, use Google's Mobile-Friendly Test.
Audrey is making sure her website
is mobile-friendly
HTTPS
The HTTPS adds protection and security to protect the website visitor's personal information.
This element is largely taken into account in the referencing of sites by Google. Clearly, anything that goes in the direction of better protection of the Internet user is valued by search engines.
Site Map
This is a map of your website that the search engine uses to navigate the website structure. It lets the search engine know which pages are the most important, and how the pages relate to each other.

Most Content Management Systems (CMS) produce a site map for your website automatically.

You should add internal links that connect between your pages. Don't pass up the opportunity to link to another page on your website!
Unique Page Content
Google penalizes "duplicate content," so always try to create your own unique content for your organization's website! The search engine can detect if you are copying content from elsewhere on the internet, or replicating two pages.
If you have to have duplicate content, use a canonical URL to make sure the Google Search engine registers this. Otherwise, your SEO might be mistakenly punished by the duplicate content. (This option is available if you are using Springly as your organization's CMS for your website and blog.)
SEO Factor #4: Visitor Behavior
You can analyze how visitors are reacting to your website by looking at some statistics on visitor behavior:
Click-Through Rate
The click-through rate (CTR) indicates how relevant your audience finds your content, and how optimized your content is.
To calculate the CTR, divide the number of clicks by the number of times your page is displayed on the Google Search engine.
A high CTR is a good thing! It shows that you have done a good job on your meta descriptions and title tags.
Bounce Rate
The bounce rate shows the percentage of users who visit your website and leave immediately, without visiting any other pages.
If the visitor arrives at your homepage, the bounce rate should be as low as possible. Google will register that your content is interesting for your website audience.
On the other hand, if a user is checking out a blog article, a high bounce rate is not necessarily bad. A visitor who reads your article for 3 minutes, and then leaves your site. This probably means that they found the information they were searching for. Great!
Always consider the type of page when you're analyzing your bounce rates.
Page Views Per User and Time Spent
These statistics measure how interesting your content is for website visitors. If people are clicking on a lot of pages, and spending more time on your website, this shows the Google search engine that your website has good content.
You can view this data for your website! All that is needed is an account on Google Analytics. Most CMS like Springly provide them directly.
How can you encourage website visitors to stay a little longer? Your organization should create website content that is interesting, engaging, and appealing to the eyes. Balance text and visuals throughout your website, and maybe even add a video here and there!


SEO Factor #5: Social Media
Most organizations use social media such as Facebook, Twitter, Instagram, and LinkedIn to connect with their communities. Although social media is not directly related to your website, search engines can detect how visible your organization is online.

A healthy social media presence means there are other links that match your organization's name and keywords.
To have greater visibility as an organization, you should consider the following for your social media:
Design: Post visually striking photos about your organization, staff, and events.

Content: Share some anecdotes, memories, or dig into your archive for historical facts that would interest your audience.

Interaction: Engage with your community online by asking questions in a poll, or creating a challenge.

Frequency: Publish new content regularly, to keep momentum going with your online presence.
Bonus: Geographic Location
Google Search algorithms are increasingly placing importance on geographic location. Your organization's location matters, but also the location of the person who is searching online!
If someone searches for "animal shelter San Francisco," your organization may appear first in the search results. Someone in San Francisco searching for only "animal shelter" would probably see your organization too.
This only works if you have entered your location on your organization's website, as well as on Google Maps.
Improving your organization's SEO and Google Search ranking is essential if you want to attract website visitors, and gain access to potential donors, members, and volunteers.

After all this talk about keywords, title tags, images, and links, you should also remember to prioritize your community -- the people who are visiting your website.
Does your organization create a website experience that is both pleasant and informative for visitors? Once they've clicked on your website link in the Google search results, will they be encouraged to stay a little longer and explore the content? Will they return another day? To learn more about this, read our articles related to website structure and designing your nonprofit's website.
With your heart in the right place, apply all the SEO tips in this article to propel your organization to the top of the search results!
Do you want to continue improving your nonprofit's digital communication? Springly is trusted by more than 15,000 nonprofits for their daily tasks.
To see how Springly can improve your SEO on your website and blog, request a free demo today!