>
How Nonprofits Can Use Social Media Strategically: Do's and Don'ts
Emily
Social media is a great platform to interact with your community, share photos, and manage your brand image. Between Facebook, LinkedIn, Instagram, Twitter, and Snapchat, there are plenty of methods for you to reach your online community.
You can easily share your nonprofit's mission and work with the whole wide world !
Social media is so important that there is a specific role for managing social media communications, commonly known as "community management."
Your nonprofit's communication strategy can benefit a lot from social media, but if not done properly, it can become a huge waste of time without getting the results you want.
Let's go over some points to help you succeed at social media for nonprofits:
Why Is Social Media Important?
Social media can help you accomplish many goals, including:
Raise awareness about your nonprofit and its mission

Connect with your current donors and potential donors

Publicize events

Interact with other nonprofits
What Do You Need?
To keep your social media active and engaging, you need:
Communication goals

High-quality content (photos, blog posts, videos)

Time commitment to interact with your followers (replying to comments, featuring content from followers, interacting with other nonprofits)
Questions to Help You Get Started
Which Communication Goals Do You Want to Achieve?
This may seem like a pretty basic question, but defining the goals you want to achieve by using social media is an important step in creating a communication strategy. Ask yourself this question before you start posting, this way you'll head in the right direction from the beginning!
Start off simple: define your communication goal(s). This will help you make sure you fully dedicate yourself to it.
Which Social Media Platform(s) Should You Use?
There are plenty of social media platforms out there, so you're probably wondering: which one should my nonprofit focus on?
To choose which social media platforms your nonprofit should focus on, go back to the communication goal you set. You should determine which platforms to use, based on whether they'll help you reach your goal. The platforms you select should make the most strategic sense with regards to your goal.
Is interacting with other organizations and sharing news your primary communication goal? Twitter is a good platform for your nonprofit to participate in conversations about global news and research that are specific to your sector.
LinkedIn is a great social media platform for connecting with other nonprofits and nonprofit professionals, and discussing about fundraising, donor management, events, and communication.
Keep in mind that social media accounts are not only used to reach out to new people. These platforms can also have more of an internal reach.

For example, your nonprofit can have an Instagram account which is mainly for connecting with your members and sharing good memories. This social media platform is therefore valuable for your nonprofit to keep, but remember to not spend too much time on it if it doesn't help you reach your communication goal.
How Should You Measure Success?
For each strategic social media chosen, you should quantify your communication goal.
Let's say your communication goal is to increase the number of people informed about your events. You can examine how many people are liking and sharing your Facebook posts, to measure how well you're meeting the goal.
This will allow you to work towards a target, and to be able to measure your progress. Additionally, you can share these goals with your team, so they can help you reach those numbers you want!
How about challenging yourself and your nonprofit to reach a higher number of followers on your Facebook page? Shout out in the office: "We currently have 950 likes. Our goal is to have 1000 in two months. Please invite your friends to like our page!" You might meet your goals sooner if everyone pitches in!
Suzanne is ready to boost
her nonprofit's social media!
Who's in Charge?
It is always helpful to have multiple contributors to social media, but if you have too many chefs in the kitchen, your social media might appear inconsistent.
You should designate one social media coordinator to lead strategy and consistency across all platforms. This coordinator would help unite all your content and goals, to maintain consistency.
What Are the Tasks That Need to Be Done?
For each platform, identify tasks and delegate them among your team members. The tasks include:
Publishing content: This responsibility can be shared between several people. Make sure everyone agrees on the tone you want to convey through your posts! Do you want to be professional, funny, or casual?

Managing comments: You can interact with your community by replying to comments. If you "like" comments and include questions in your posts, your followers will be encouraged to engage with your account.

Managing messages: Social media is another communication channel for your community. Sometimes, you will get great questions or inquiries through social media that require more thought. Set up a plan for messages that need an answer from another team.
How Often Should You Publish on Social Media?
It's better to prioritize quality over quantity. Keep your content top-notch, rather than posting a lot!
Which Type of Content Should You Share on Social Media?
To find the answer for your nonprofit, you should analyze your content's performance. What type of content receives the most reactions, comments and shares?
If you're reaching your communication goals already, keep doing what you're doing! Don't forget to mix it up sometimes, to see what changes your audience likes.
If you're not reaching the goals, try to identify which parts of your posts do well, and which don't get many reactions. Maybe the message was good but the image didn't reflect the content? Or your audience simply wasn't using social media at that hour of the day?
This is why reviewing the analytics for your content is important. Read on for more about this!
Who is Your Target Audience?
You're probably wondering, "Why do I need to define a target market for social media? Shouldn't my nonprofit reach as many people as possible?"
This may be true, but you need to define a target audience for one simple reason: if your messages are not targeted enough, they might not have the desired effect on anyone. By trying to appeal to everyone with your posts, you'll actually appeal to no one.
Don't be discouraged! There is a simple way to overcome this: you need to define who you want to reach.
To define a target market, you need to specify their:
Age Range

Geographic Location

Profession

Hobbies and Interests
Post Content Relevant to Your Target Market
Identifying who you want to talk to on its own is not enough, you also need to understand their social media habits and preferences.
Based on this information, you can then target your messages by adapting them to your audience. This will make your messages more relevant to your target market. You'd have a specific social media tone depending on whether you're targeting an older or younger audience.
The more info you have, the more effective your communication will be!
Thomas is brainstorming how to
reach his target audience


How Does Your Target Audience Use Social Media?
You can understand your audience more if you know:
Which social media platform do they use the most? Why do they use it?

What time are they checking social media? (e.g., during lunch breaks, evenings)

Are they seeking entertainment or information (news)?

Are they interested in seeing photos, videos, or interviews?

Do they usually comment or share posts?
Can't find your crystal ball? No worries, if you read on, we'll present two ways that will, just like magic, reveal the answers you seek!
You can read up on studies on social media usage. Plenty of articles and blogs talk about recent patterns among social media users.
You can also directly ask your target audience. For example, if you're trying to target current donors, how about asking a couple donors to gain insight on their social media habits? The more information you have, the more impactful your social media will be!
If you personally use social media on a daily basis, you already know how it works.
However, don't base your content solely on your experience and what you personally like. Keep in mind that social media preferences are subjective, and unique to each person! Post content based on what your target audience wants to see.
Stats 101: Analyzing Content Performance
Each social media platform provides data about your audience's interactions with your content.
Here are a couple elements to look out for when analyzing your social media activity:
Engagement
You don't need a degree in statistics to start measuring your engagement.
Social media engagement is measured by:
Number of reactions (hearts, likes, etc.)

Number of shares

Comments: Obviously, it's better if they are positive. However, don't take negative comments to heart, because you have an opportunity to engage users in a private conversation to find out why they commented this way!
Analyzing engagement will shed light on how effective your posts are, and see which ones work better than others (based on type of content and timing). Use this information wisely and plan your following posts accordingly!
On Facebook, you can easily view your nonprofit's engagement by going to your Facebook page, and click on "Insights" at the top.
Are You Reaching Your Goal?
You've done all the steps correctly: setting a goal, targeting your desired audience with tailored content, and you're posting regularly. But wait, how do you actually know if your post is going to help you reach the goal you set?
Let's say your main goal is to boost registration for an upcoming event. How do you measure how many people signed up through your posts?
By using your platform's available analytics, you can track the number of clicks on your posts. You can also ask your registrants directly! In your event registration form, include "How did you find out about this event?" and provide the social media platform as an option.
Have You Reached Your Target Audience?
The next step is to check that your posts have reached your target audience.
Have you begun to see an increase in likes and comments? That's great!
You should, however, make sure that you're truly reaching the target audience you defined in the beginning. To do so, you can use the tools offered by the social media platforms, which gather statistics on your followers.
For example on Facebook, in their Audience Insights tool mentioned earlier, you can find sociodemographic information on the people who follow your page, those who see your publications and those who react to them.
These analytics will help you confirm whether you're reaching your target market or not.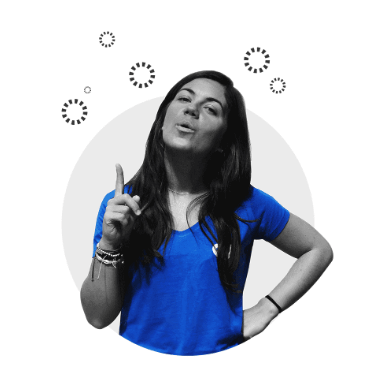 Sonia has an idea for how to boost her
nonprofit's social media engagement
In the End, Did You Reach Your Goal?
If your audience is in line with your target market and your goal, you're in awesome shape! If not, don't worry if you haven't reached the audience or seen the engagement you wanted! Try to rethink your strategy. It is possible that your target audience:
Is not very active on social media

Does not expect to find your content on social media

Does not respond to your content
An advantage of social media is you can try different approaches, so try publishing other types of content, at different times and on different platforms. And of course, keep checking your stats!
Helpful Digital Tools
It takes time and effort to create beautiful, informative, and useful content for social media. We want to make it easier for you, so we've compiled the best digital tools to help you!
Resize Your Images Like a Pro
Each social media platform has its own requirements for photo size and dimensions. To have them quickly accessible, here are some common visual sizes, updated to meet today's requirements:
Image of a Facebook post: 1200 x 630 pixels

Image in a Twitter tweet: 440 x 220 pixels (minimum)

Image in an Instagram post: 1080 x 1080 pixels (square), 1080 x 1350 (portrait), 1080 x 608 (landscape)

Image in a LinkedIn post: 1200 x 627 pixels
If you want to double check the sizes of your visuals to make sure they are up-to-date, you can check on specialized blogs. (Here are some updated photo dimensions here!)
Shorten Links Using Bitly
When you share links on social media, they're often too long and full of random letters and numbers.
Using Bitly solves this problem! Bitly shortens your URL link for you. Another big advantage: Bitly can track how many clicks your link gets, so sign up for an account if you want to see click traffic.
Create the Perfect Images for Your Posts
The world of social media is full of photos and videos, so you need to make sure your posts stand out! Use images to capture your followers' attention immediately, or else they might scroll right past.
To make your posts stand out, you should use:
High quality images (visually pleasing, good lighting, not pixelated)

Gifs

Interesting videos
We highly recommend creating your own original photos, because your social media should reflect your nonprofit! However, if you need royalty-free photos to get started, check out Unsplash or Pixabay. They offer royalty-free photos, which you can use for free.
If you want to add text or icons to your photos, Canva is an easy tool to use.
Schedule Posts and Follow Hashtags
Hootsuite is a social media management tool that can publish posts at certain days and times. This is super useful if your target audience checks their phone in the morning, but you'd rather work on your nonprofit's budget while sipping coffee. You can schedule posts in advance, once you know your target audience and best content.
Preview Your Posts
Before officially publishing your post online, you should check what it looks like. This will save you time when posting online as you won't have to readjust any previews that don't stand out once you've posted them.
To do so, we recommend this website to preview.
Do's and Don'ts of Social Media
4 Tips to Ace Social Media:
1. Post Regularly
Keeping your nonprofit visible on social media will build loyalty among your followers. They will expect to see content from you, and look out for updates.
You can create a schedule. For example, here's a possible plan:
On Mondays: Post news and announcements

On Wednesdays: Introduce someone involved with your nonprofit

On Fridays: Share a fun fact or photo from your archives
Your weekly schedule should be adapted to the amount of time you can spend on social media.
2. Plan Ahead
Creating a schedule and sticking to it allows you to save time and incorporate social media into your marketing and fundraising needs.
If you have a fundraising campaign that will support a specific project, you can use social media to share what the project does. You might reach potential donors by the time you announce your fundraising campaign!
3. Find Your Nonprofit's Voice
Choose which tone you want to have on your social media. You can choose to keep it strictly professional, or introduce some light-hearted humor and fun. This should match the image you want to portray of your nonprofit.
No matter what tone you choose to use, keep the tone consistent in all your content.
4. Build Your Community
The people involved with your nonprofit probably have personal social media accounts. Invite them to interact with your posts, and you could organically increase your audience.
You should always tag everyone, but remember to ask them for permission before posting the photos!
4 Mistakes to Avoid on Social Media
Besides providing some tips, we want to make sure you don't trip on some common mistakes, which can harm your credibility and image.
1. Low Quality Images

It's a well-known fact: social media doesn't like low quality photos and images.
So avoid posting them - at all costs! Before posting, look at each photo with a critical eye. If in doubt, leave it out - especially if the angle or captured moment is unflattering to anyone in the photo, or if the image is dark or blurry.
2. Low Quality Thumbnails

When you share a link on Facebook, Twitter, or LinkedIn, an image appears automatically with the post: the thumbnail.
This image allows people to quickly judge whether they want to find out more and click the image, or scroll on. So make sure this thumbnail is appealing!
Additionally, make sure the image is not too small or square, as people will be less likely to click through.
To avoid unpleasant surprises, preview your posts and change the image if necessary!
3. Radio Silence

Your nonprofit is on social media for a reason: to interact with followers and share news. If you don't post anything or reply to messages, this could reflect badly on you. It's never late to begin posting again, so hop back on the social media train if you've fallen off!
If you do have to take a break from social media, your transparency will be appreciated by your followers if you announce that your nonprofit is taking a (well-deserved) vacation. Bonus points if you mention when you'll be back online!
4. Spelling Errors

This is a big no no!
Spelling and grammar mistakes are not allowed. No matter which target audience, spelling mistakes lower credibility and professionalism.
You now have everything you need to manage your nonprofit's social media successfully.
Don't worry about planning hundreds of posts right away. You need to think about long-term goals, and set your posting schedule accordingly.
To keep your social media alive, it's better to keep it simple than to make it overly complicated and tedious!
One last thing: If you're enjoying posting content on your nonprofit's social media and trying out different posts, your audience will feel the energy. So have fun with it!
Springly is trusted by over 15,000 nonprofit's to help them run their organizations on a daily basis. See if it could work for you with a free 30 day trial!



Communication
Social Media