The State of Nonprofit Technology 2020: A Comprehensive Report
Trish
We won't be the first (or last) to say that 2020 was a challenging year. Many nonprofits, businesses, and associations have successfully waded through endless uncertainties. While brainstorming what kind of membership management software content would be most impactful for the end of the year, our team got curious about one major question: How are nonprofits using technology, especially during a time that forced us all to move online in an unprecedented way?
Wanting to find the answer to these questions, the State of Nonprofit Technology Report was born. Shortly after we began our weeks of interviews, calls, emails, and surveys to truly understand the scope of nonprofit technology in the United States.
Here is what we will cover:

About The Report
The State of Nonprofit Technology 2020 Report is an annual research report that seeks to help nonprofits better understand the benefits of digital transformation. The report examines how nonprofits are using technology in different ways to further their missions, including an analysis of technology budget allocation and what types of nonprofit technology are the most effective.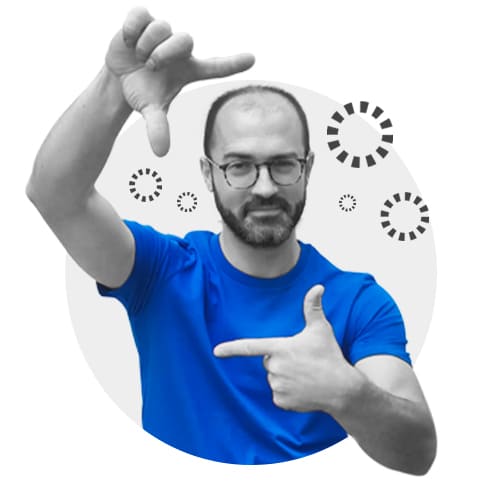 Oliver wants to know more about nonprofit technology!
This is the first edition of this report, our team focused on tax-exempt organizations across all sectors located in the U.S. How did we do it exactly? Let us show you.

The Methodology
The nonprofit technology report was formulated after surveying 1,152 organizations across the United States. As stated above, we did not focus on one size or area of interest in particular in order to have diverse data that would shed light across the entire nonprofit sector.
The survey was first promoted on social media from October to December 2020. While the survey responses were thorough, a lot of our detailed statistics came from 230 phone interviews conducted in November.
It is important to note that all surveyed organizations had the possibility to remain 100% anonymous and were able to give consent to what information is for public and/or private use.

The Major Findings
Let's get down to why you're here, the results. While the infographic is a summary of the information we collected, we will be breaking down every section for further detail on each statistic.
Part 1: General Information
In this first section, we acquired knowledge on the kind of organization that was participating. A few examples of supplementary questions asked in this section were:
How many employees does your organization employ, and in what capacity?

What is your NTEE classification?

What is your nonprofit's annual operating budget?

In your opinion, how many hours per week is your staff spending on administrative tasks?

How many contacts do you have in your current database?
These questions allowed our team to get supplemental information on not only the size, sector, and mission of the responding organization but also gave us a comprehensive overview of how much time was being spent on administrative tasks with or without tech support.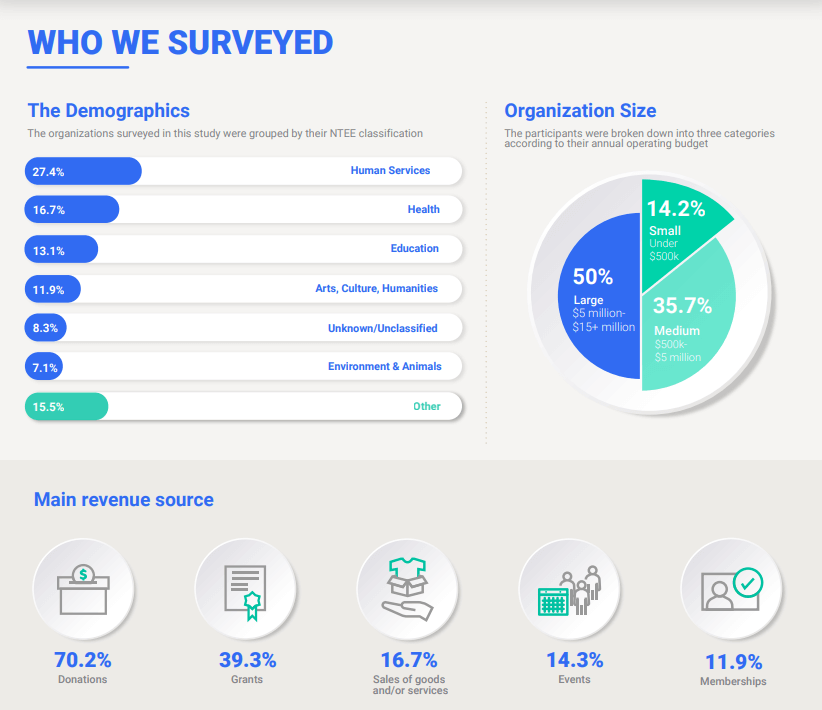 Based on the annual operating budget, you can see that more organizations are large in size, from the Human Services sector, and have their mainstream revenue coming in from donations.
Part 2: How Your Nonprofit Works
Part two included a large section of questions on how the respondent's nonprofit was set up and organized. Based on the answers given in part one, we used conditional questions that were relevant to their organization which allowed us to better understand what digital tools they were currently using.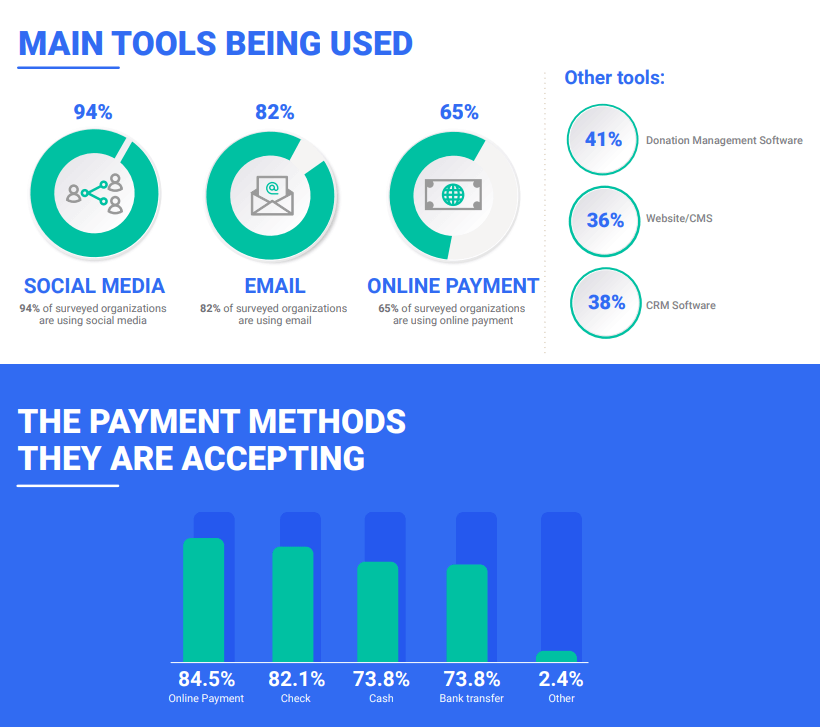 For the second half of this section, we wanted to focus on payment methods and which are the most popular among organizations. As online payment has been growing steadily over the last decade, we were curious to see how nonprofits adapted to this growing trend, particularly over the past year. With 84.5% of nonprofits accepting online payment, the most popular tools used were Stripe and PayPal.
Part 3: Concerning the Digital Transformation of the Nonprofit Sector
In the third and final section, the questions inquired about the digital transformation of the nonprofit sector. Among the statistics shown in the infographic, some auxiliary questions asked were:
Do you have a team member that is dedicated to trying, testing, and optimizing digital tools as part of their job description?

Do you believe nonprofits have a slower digital transformation than other, for-profit, businesses because of budgetary restrictions?

Does your organization calculate the return on investment of your digital tools?

What is one digital tool that you have, that you cannot live without?
This section was about the discovery of the maturity of the sector in total, and to better understand the perception of technology in the nonprofit world.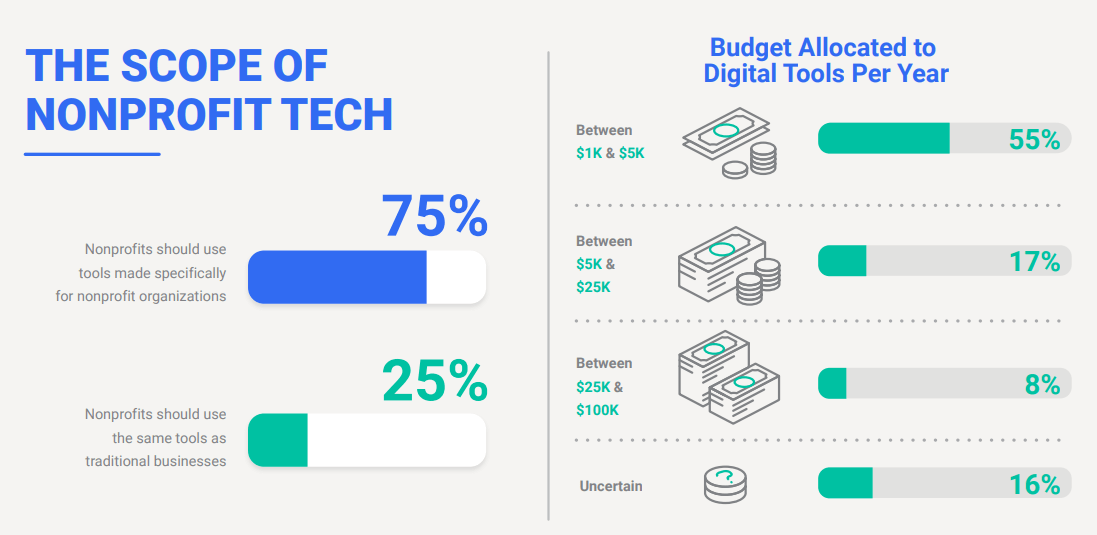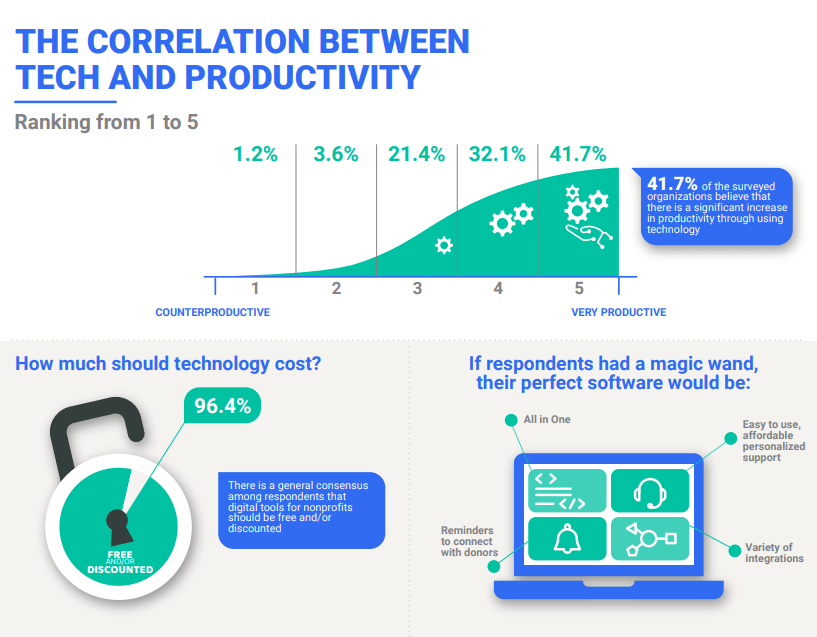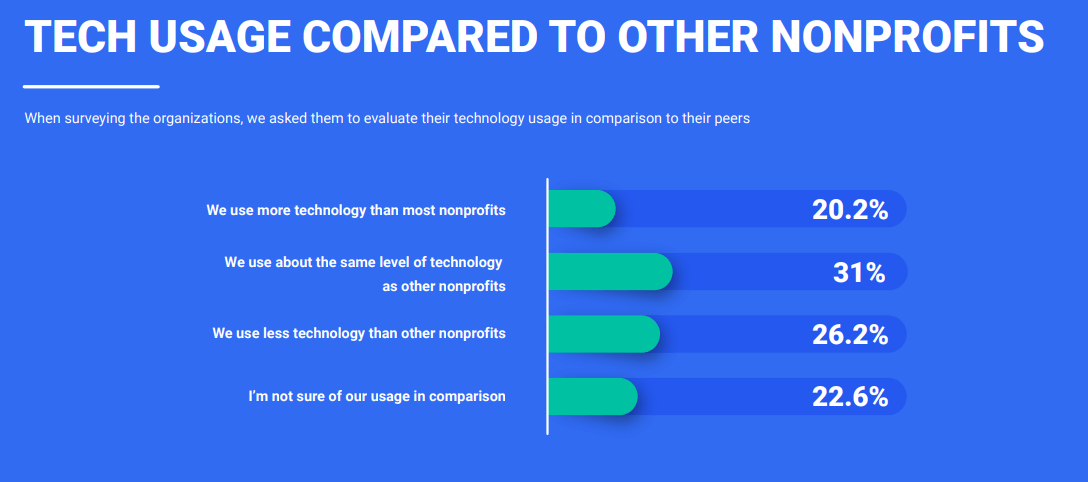 In general, 75% of nonprofits believe that they should be using technology made specifically for their needs, that are free and/or discounted, and that this software should be all-in-one, easy-to-use, and have a variety of integrations.

How The Information Will be Used
As a software company, we know that technology can be the key to running and growing an impactful nonprofit organization. With the proper implementation and use of powerful, affordable, and easy-to-use digital tools, teams spend less time on small administrative tasks and more on what they truly care about: their mission.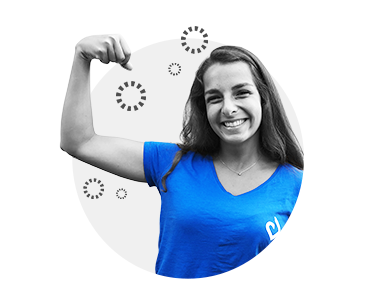 Nina wants all organizations to benefit from a digital transformation!
After writing up this report and analyzing the data, we are more convinced than ever that tech can help you save the world. So, what is to be done with all of the data collected?
Advocate For Digital Transformation
Nonprofit organizations often get left behind in a now technologically driven world. Regardless of the fact that the nonprofit sector makes up nearly 6% of the United States GDP, organizations lack a proper understanding of how technology can help them succeed.
One of our principal goals for this report is to equip ourselves, teams, clients, and community with proper, up-to-date statistics to be the best advocates for digital transformation possible. We will use our research for several specific reasons:
Boost nonprofit's revenue: When 41.7% of nonprofits believe that technology has a positive impact on productivity we know that all of the time saved using proper tools can be focused back on boosting revenue.

Save time: 75% of nonprofits believe that they should be using software made specifically for them, and we agree! Many traditional tools (ex: spreadsheets) are not equipped to deal with nonprofits' particular needs, nor are safe to use for sensitive data.

Smooth operations: Many of the respondents answered that their ideal software would be an all-in-one tool, much like an ERP software. While this is a bit of our specialty at Springly, we know how important smooth operations are in any business, but particularly in a nonprofit setting where people tend to wear several hats and do different jobs. An all-in-software smooths over processes because everyone is using the same software, for everything.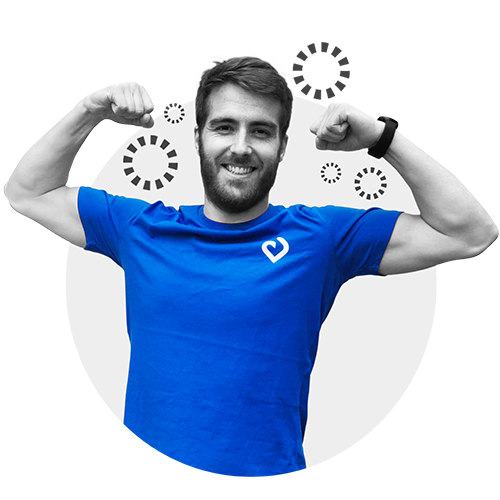 Anthony is happy to have found the perfect all-in-software!
Last but not least good technology practices can make or break an organization during difficult times. Nonprofits are resilient and go through many phases of change, but a global pandemic was something none could have predicted. Those who were used to having technology in their daily routines hit fewer roadblocks while transiting to full work from home, or online fundraising.
Help Nonprofits Benchmark Their Nonprofit Technology Usage
Many organizations aren't sure of how their technology usage compares to their peers. While not generally a hot networking topic, it is important to understand your place in the sector and see where you may be able to improve.
These days there is a tool for nearly everything, from emailing, prospecting, fundraising, or membership management. There may be a software solution for you out there that you may not be aware of. Part of this report is to show what are the most common tool types being used and how many of those in your sector are using them.
Learn Good Tech Practices
Last but not least, learning the best tips on how to use technology was high on our priority list while creating the 2020 report. Technology is inefficient and cumbersome if it isn't what you need or if it is too difficult to use.
A great example of this is moving to online payment for membership dues or donations. If your organization is using mainly manual payment in the form of checks or cash, there may be an opportunity to add online payment to your strategy to attract more prospects. With nearly all organizations moving in this direction, it could be a good indicator to move toward a digital solution.

The next edition of the State of Nonprofit Technology Report will be available in January 2022. If you would like to participate or learn more about the methodology, or other data points not indicated in the infographic, please contact: patricia.seidel@springly.org.
Springly is trusted by over 15,000 nonprofits to help them run their organizations on a daily basis. Try it, test it, love it with a 14-day free trial!
Trish
Recommended articles
How To Use A CRM For Nonprofits For Better Daily Management
Trish
Communication
Social Media
A Comprehensive Guide To Instagram For Nonprofits
Trish
How to Analyze Your Nonprofit Email Marketing Statistics

Danica