The Ultimate Checklist Every Nonprofit Treasurer Should Use
Antoine
Being a treasurer for a nonprofit organization is an important responsibility. Various job duties such as preparing and presenting the monthly nonprofit treasurer report, management of the nonprofit treasurer software, and intimate knowledge of (and potentially a key contributor of creating) internal controls and financial accountability for your nonprofit board, prepare treasurers well for other future financial-related positions.
From preparing tax documents to compiling and presenting financial reports for the board of trustees, the position requires a methodical nature, organization, and accuracy. The learning journey can be exciting, particularly when there is easy access to information sources and documented procedures that simplify the process.
To make it easier to excel in your role as nonprofit treasurer, here are 6 concrete and simple steps (with checklist items for each) to make your job easier:

1. Learn About the Current Financial Department
One of the most important aspects of a treasurer's preparation is familiarizing yourself with the current financial department structure and any information in the existing nonprofit policies and procedures manual.
Being able to review how everything is done with an eye for detail will give you the ability to evaluate each process and find ways to improve or streamline them to improve efficiency and accuracy. As you begin your investigation into current processes, utilize the checklist in this section to ensure you cover all of the key topics.
Procedural Task Analysis
If you have been appointed but have not started your new position, the most helpful place to start to learn your role as treasurer is by understanding the differences between reports used by for-profit corporations and those used by nonprofit organizations.
With an understanding of the general financial needs of nonprofits, you will be positioned well to better understand your role. The board of directors should provide an outline of specific duties you are responsible for, leaving you some space to analyze the current status.
This space allows you to create a "how-to" guide for accomplishing each task, such as updating the nonprofit treasurer report template. In addition, you are well-positioned to make observations about the process itself and recommend changes that may simplify the methods involved or produce greater results.
Utilize Previous Organizational Resources
One of the greatest resources available to you is the former treasurer of the organization. Ideally, you can work with the person you replaced or someone else who performed the job in the past.
Try and learn from this person as much as possible because they can provide a wealth of knowledge which you can use to learn the job responsibilities faster so you can spend more time making a difference rather than simply trying to keep your head above water.
The best advantage you can have is if the former treasurer can sit down with you and walk you through each task and explain how this is done, preferably throughout the course of the job so you can request advice or reminders as needed.
Pro Tip: As you work through each new activity, write yourself notes on your guide so that you can remember how to do it the next time. Even if you think you will remember, write it down anyway! It's always better to ensure you have a record of "how to's" before the outgoing treasurer leaves the organization.
If the former treasurer has already left the organization, see if they are available to spend half a day with you to get valuable advice. As they were previously in your situation, they will likely be sympathetic and more than willing to share their knowledge.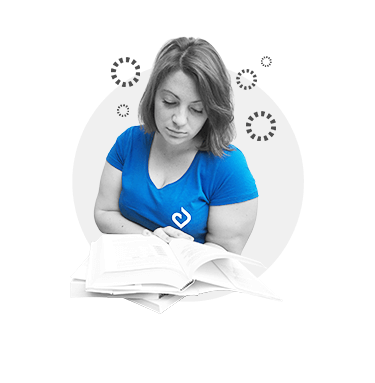 Alvina is checking the books on her finance department.
Alternatively, you can always ask members of your board or officers what resources they have available to help you learn and organize your responsibilities and whether they know a person with experience (or a treasurer at another nonprofit) who can serve as a mentor for you as you establish your own procedures.
Acquiring Access
Remember that to perform your job, you will need to have access to financial software, documents, bank accounts, credit cards, other important information, and secure databases.
Whether you are a bonded nonprofit treasurer or not, it's important to have permissions transferred to you from the former treasurer as soon as possible. Otherwise, you may not be able to access what you need for your preliminary research and initial attempts to perform job duties.
The former treasurer or important board leaders can help you determine everything that you need to access and get the ball rolling.
Checklist of New Treasurer Preliminary Tasks
Here's a simplified glance at what you need to do to begin the handover of responsibilities.
Verify that the election is official with new bylaws

Reference the list of treasurer policies and procedures provided by the board; consider reviewing our sample financial policy for nonprofit organizations with an eye for the roles and responsibilities that would naturally fall to the treasurer)

Acquire access to essential services:

All bank records

Bank accounts

Credit card authorizations

Checkbooks

Financial documentation

Software and Training Tools

Learn nonprofit treasurer terminology and security precautions

If not already familiar, research applicable tax regulations and tax-exempt status

Learn about the outstanding debts

Evaluate processes involving:

Accounting and auditing

Reporting

Tools, software, and processes

Other areas which can be improved
Review previously submitted reports (such as last year's budget)

2. Review the Previous Year's Budget
The nonprofit budget is an extremely valuable tool the board uses to make financial decisions to help the nonprofit or charitable organization to grow and perform duties to accomplish its mission.
Reviewing the previous year's budget report can give you an example of how it was prepared and provide insight into how the organization's finances have been managed in the past, which is useful to create your own annual audit.
This (as well as other formerly prepared documents) can prove important tools to help you learn how to create these financial reports yourself and give you a chance to evaluate how it was done to optimize your own process.
It may also give you some new ideas, especially since coming in with a fresh set of eyes, you will be able to see which parts are confusing, vague, or lack efficient organization.
As you review the previous budget, keep the following checklist items in mind.
Checklist of Items to Evaluate on Yearly Budget
Here are some standard topics included on a yearly budget that you want to familiarize yourself with and discover methods to improve upon:
Revenue Data

Information on restricted and unrestricted donations

Revenue classified by type relating to the following:

Events

Grants

Appeal

Interest

Other miscellaneous revenue sources
Expense Data

Staff related

Payroll

Benefits

Taxes

Contracting

Program Expenses

Equipment

Supplies

Materials

Mileage and similar expenditures

Facility Maintenance

Rent

Utilities

General maintenance
Administrative Expenditures

Software and technology

Licenses and permits

Registration fees

Dues and subscriptions

Office supplies and printing

Marketing

Professional services

Staff and volunteer appreciation

Phone and internet

Filing fees

Fundraising

Insurance

Miscellaneous fees

3. Note the Main Deadlines of the Year
Create a calendar that is specialized for you to track when deadlines are due, with notifications in advance. Everyone hates a missed deadline (no one more than our editor, trust us!)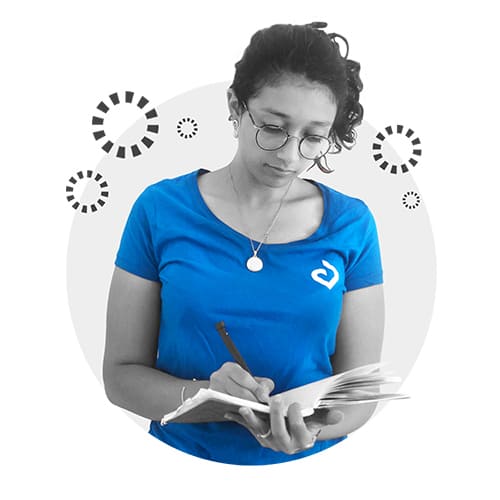 Salma is writing down deadlines!
It's easy to get caught up in day-to-day tasks and incoming requests. With all the responsibilities you are juggling, you may miss something important.
How much you want to organize on your calendar is up to you. We suggest a reminder on your calendar with enough time to actually complete the deliverable at hand. A week may be enough notice in many cases. For tasks that have a long duration e.g., working with accountants to prepare, review and obtain board approval on tax returns, ensure the date of your reminder leaves you enough time!
Pro Tip: Last year's calendar can prove invaluable when creating your own new calendar. It may not provide an exhaustive list of all deadlines and dates which are important for a treasurer, but it can provide a head-start and simplify the process to save you time. If your board does have an exhaustive list of important dates, that will also make a great reference for your calendar and help create a timeline!
Checklist of Important Dates
This is not an all-inclusive list of dates you may want on your treasurer calendar, but they are some important ones you may want to consider monitoring!
Fiscal end-of-year

Year-end tax deadlines

Annual meeting

Budget approval date

Board meetings

United way blackout (if applicable)

Major fundraising events

Newsletter dates

Dates for major appeals

Slower periods (great for catching up on paperwork)

Giving Tuesday (a significant time for donations!)

The holiday season and other big donation periods

4. Surround Yourself with a Reliable Team
It's recommended to have a reliable team to help you with accounting and transaction records if nothing else. Once you are familiar with your duties, you will be able to determine where help would be beneficial.
If possible, create a team to help fulfill the requirements of the nonprofit's internal control policy. Having segregation of duties among multiple people for bank reconciliation and other important tasks sets you up for greater transparency and overall accuracy.
If a team is not a viable option, consider delegating tasks or working collectively with other board members, but remember, whether you delegate tasks to a financial team member or someone on the board, you are ultimately accountable for any delegated materials.
Given your personal responsibility in ensuring the accuracy of all work products, use the following checklist when determining who to include in your committee. Also, remember to have a quick check of the materials when they are complete!
Checklist for the Ideal Committee
When deciding on attributes that make a great team, here are some items to consider:
Few traits are going to be as important as having members on your treasurer accounting team who can be trusted with confidential information. Any time you have people who will be collecting or handling money or sensitive financial data, there are security risks.
Sadly, nonprofits are under great scrutiny by the IRS due to a few bad apples ruining it for the bunch. Consequently, maintaining accuracy and transparency is important, as is reducing opportunities for nefarious actions to take place.
If you have ever heard the term "measure twice, cut once" you know that some mistakes cause extra time, effort, and expense to remedy. Errors while performing transactions, bookkeeping, or accounting can cause you headaches down the line. Assigning a team with the skills required to accurately perform the required duties will go a long way in preventing rework or compliance issues.
Particularly anyone involved in accounting and tax preparation should have the proper qualifications or training to allow them to perform those duties proficiently.
Nonprofits and charities are rooted in a passion to help others. In the same vein, anyone who represents your organization should embody this passion and desire to make a difference.
These individuals will work harder and prove valuable assets because they are representative of your organization's mission and they are doing the work because they love it and believe in the goals of your nonprofit.
With as many nuances and varieties of reports, transactions, and events, it's important that people on your team be able to communicate effectively, both in-person and online.
People who are not afraid to ask questions when they are unsure of something can be highly valuable because they are less likely to make mistakes due to assumptions.
Also, having the ability to properly explain complex concepts to the average person is a skill that not most have and can prove useful when preparing documents or presentations.
Having the drive to succeed and motivation to not only perform duties well but offer insights and possible solutions can make your job as treasurer considerably easier.
It always helps to have another set of eyes evaluate a procedure or process to help find new ways to improve, and motivated people are more willing to seek out new and better methods. They can help develop plans, strategies, and can be given any sort of job and will prove invaluable in the overall scheme of your organization.
A leader is a true asset to any organization. Finding members of your team who are willing to take charge, and can be trusted to spearhead projects or receive delegated responsibilities, will make your life much easier. Having additional responsible parties helps to relieve some of the burdens from the treasurer role.
Treat these volunteers or staff members well. They are truly shining beacons of light for you and may serve as a backup when you are unavailable.

5. Create and Share Internal Policy and Procedures
Due to the legal concerns with financial reporting, not to mention tax-related documents such as IRS Form 990, there must be a set of policies and procedures in place to ensure the accuracy of financial information. Note that small organizations may have specific needs. If that sounds like your organization, consider including our top five internal controls for small nonprofits.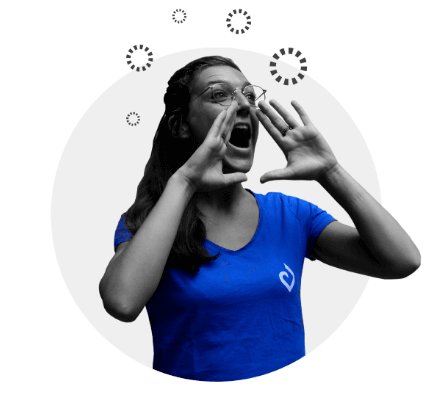 Corinne is sharing internal policies the old-fashioned way!
Financial documents provide snapshots of your organization's growth and well-being. Getting it right is important for annual budgets and planning as much as to assure legal compliance.
Remember also that due to transparency requirements, your donors and potential donors will be able to evaluate your income and expenditures and judge how well your organization manages its finances to fulfill its mission.
If your reports are confusing, inadequate, or inaccurate, it will reflect poorly on your organization. Alternatively, an attractive and informative document can actually encourage new donors to jump on board. They will be pleased that your nonprofit appears to be knowledgeable and experienced and able to manage itself adequately.
Pro Tip: Don't forget that this is just the beginning! You can't do everything perfectly right away. You will continue to improve with time. Using the resources at your disposal, do the best you can and create a V1 that you can share with the board members. Then spend your time adapting and improving your template, taking into account feedback and advice from resources or other treasurers to create the most effective digital and physical reports possible.
Checklist of Possible Policies
Here are some topics in which you may want to have set procedures:
Cash handling

Transaction reporting

Fund accounting

Classifying donations

Donation data collection

Use of software

Completing specific reports

Bookkeeping report timing

Security and transparency

Quorum procedures

Funder details

6. Establish Recurring Financial Reports
The heart of your job is compiling recurring reports, which can be used to evaluate the nonprofit for budgeting purposes, growth, success, and trend analysis.
In order to easily compare and analyze data, it is recommended to set up monthly reports. If your organization deals with a high quantity of transactions or donations, you may even consider a weekly report to ensure accuracy and better results.
It is not recommended to choose a term for reporting that exceeds a monthly timeline as it makes it difficult to evaluate the accuracy and trends over larger periods of time, plus the amount of information can make it difficult to process the data.
Checklist for a Standard Treasurer Report
On a monthly report, there are certain expected data you will present and procedures that you will need to follow. Here is an example of what one of these reports should contain.
The organization's name

The time period which the report covers

Initial account balances

Income received during the period

Expenses incurred or paid during the same timeframe

The final balance at the end of the month

Your signature to confirm the validity of the report
Whatever else you include in your report may be based upon the needs of the board or organizational focuses, but the current state of finances is always going to be of great interest.

Management Software For Time Savings
We just covered six key steps for the nonprofit treasurer. The fact that each of those steps contains numerous substeps that, added together, equates to a great deal of responsibility is not lost on us. With the significant responsibilities comes a corresponding time commitment.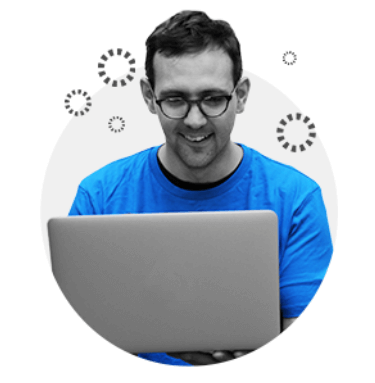 Matt is loving his new management software!
No matter how skilled a treasurer you are, or how proficient the accountants and other members of your team are, you are not infallible. People make mistakes. Fortunately, there are options to improve the accuracy of your data, reduce the risk of errors and save time through task automation.
Consider software that can automate, calculate, and facilitate easier data entry and organization, as well as improve communications within your team. For example, at Springly we have an all-in-one software for nonprofits, which includes a full accounting suite to help not only treasurers (as much as we love you), but also to facilitate the entirety of nonprofit management from A-Z.
A treasurer has a lot of responsibilities. Finding easier solutions will give you time to focus on more important matters. Freeing up time to focus on fundraising and getting the most value out of the funds your organization has allows you to help more people in need.

Springly is trusted by over 20,000 nonprofits to help them run their organizations on a daily basis. Try it, test it, love it with a 14-day free trial!
Antoine
Recommended articles
How To Use A CRM For Nonprofits For Better Daily Management
Trish
Communication
Social Media
Marketing
A Comprehensive Guide To Instagram For Nonprofits
Trish
How to Analyze Your Nonprofit Email Marketing Statistics

Danica