>

How To Set Up Twitter For Nonprofits: 7 Steps To Follow
Emily
Twitter is a tried and true social media platform, and plenty of businesses, nonprofits, and other organizations take advantage of it to help keep their audiences engaged. We even have an account here at Springly!
There are multiple benefits of creating a Twitter account for your nonprofit, including:
Increasing your visibility with potential new members or donors

Increasing your visibility with potential sponsors, and having a platform to promote them

Keeping your audience up-to-date with any news you may have

Making your nonprofit known to the press and influencers

Improving your online credibility
Publishing quality content on Twitter is simple! If you have ever used Facebook, or a different social media platform, you already have the main idea.
Twitter also allows you to better target your audience and improve your social media management. Additionally, the number of users is lower than say Facebook, so it is easier for you to stand out from the crowd.
Here is, in 7 steps, the best way to set up your nonprofit's Twitter account:

Step 1: Understanding Twitter Vocabulary
A beginner may be a little overwhelmed with all the jargon on Twitter, but don't worry! We will break it down for you, and you will be a pro in no time.
Here are some main terms to know:
Followers: The followers of your nonprofit are simply your subscribers. This means that they have chosen to show your publications in their news feed. Your followers are key in helping you find your target audience!
Hashtag (#): Hashtags are ways to create a theme on your post, or give relevant information. Many hashtags are created for a specific purpose, like a world event.
The # sign is placed on a word or group of words: #Example #SecondExample
Using hashtags will also display your post for users searching for similar content. For example, if you use '#nonprofit', anyone browsing tweets with '#nonprofit' may very well stumble across your post! It is a great way to increase your visibility. This technique also works for instagram!
Mention (@): You can address another user, which will in turn send them a notification, by using the "@" symbol. Usernames on Twitter are always preceded by this symbol.
Tweet: Your bread and butter! A tweet is a posting on your page that you have created. This is where you can include hashtags, photos, links, etc.
Retweet: This is the equivalent of "sharing" a post on other social media platforms. By retweeting a tweet of somebody else, you make it appear on your own profile, and your follower's newsfeed.
RT: Short for retweet.

Step 2: Get Familiar With The Interface
Twitter's interface is pretty simple, but we suggest that you master the use of two types of pages: the home page and profiles.
The Home Page
This is a typical home page you will find on Twitter.
It is composed of different elements, including:
The Action Bar
The action bar allows you to navigate through Twitter. It stays the same no matter what page you are on.
From here you can:
Go to your home page or refresh content with the home button

See who liked or retweeted your publications, who mentioned you, etc. with the notifications button

Access private messages that other users have sent you with the messages button

Easily search hashtags with the hashtag button

View your nonprofit's Twitter profile settings by clicking on the profile button

Publish a tweet with the 'Tweet' button
The Profile Summary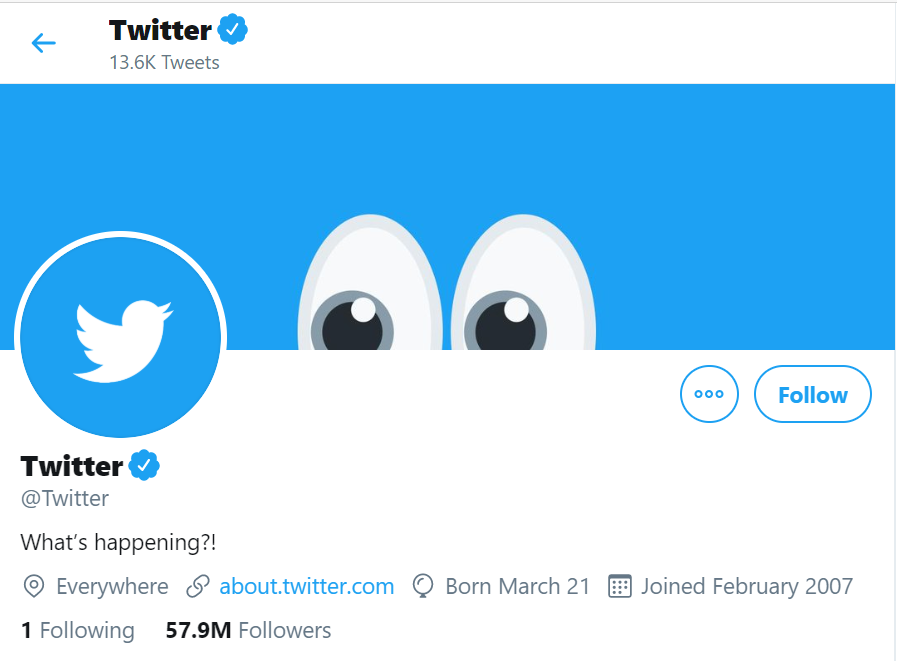 The profile summary is exactly what it sounds like! It gives you a glance at the essential information of your account, like the amount of followers you have, how many accounts you follow, how many tweets you have, when you were created, etc.
You will be able to find this information on all Twitter profiles!
Current Trends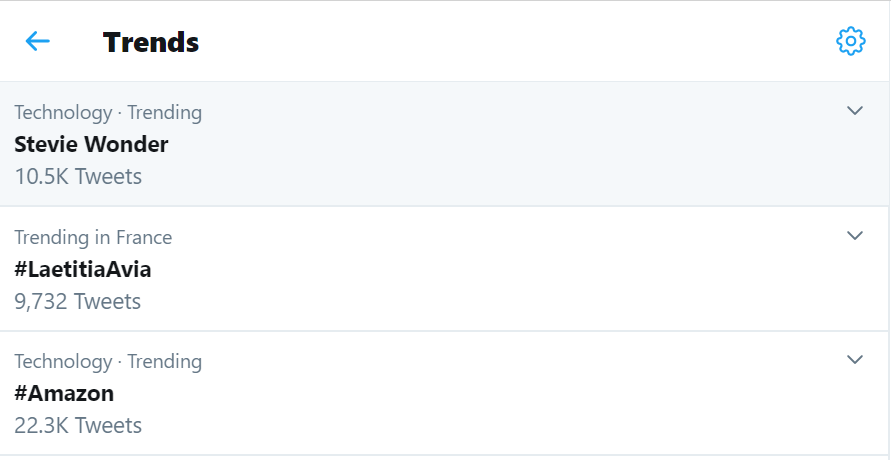 The "Trends" list shows you what subjects and hashtags Twitter thinks is relevant to you, based on your activity, location, who you follow, etc. It is an easy way to find new pages and hashtags to follow, and if you are using hashtags, it is also a great way for people to find your profile.
The News Feed

This is the main element of your homepage. Your news feed is all the posts of the accounts you follow, including retweets. It is the place to catch up on any and all of the news in your circle.
The most recent tweets will appear first on your news feed, which keeps a very neat, chronological order.
There are three small icons under each tweet:
Reply button : Reply to tweet with a comment, photo, link, etc.

Retweet button : Retweet so it will appear on your profile and your followers' news feed

"Like" button : Show that you "like" the tweet
Suggestions
The Suggestions or "You might like" section is a great way to find new accounts to follow. Twitter will automatically generate these suggestions based on your interests.
Now that you have the basics of the homepage down, let's move on!
Profile Pages
This is how profile pages look. Here we are using the United Nations Twitter page as an example.
You may notice the large cover photo on the top of the page. This allows you to display your nonprofit in a big way!
Under the cover photo is all the information you need to know about the profile you're looking at.
There is the bio, location, links, amount of followers, etc.
To the right you will get an overview of recent photos posted on the page.
You will also find the "You might like" and "Trends" section that are on the homepage on profile pages as well.
In some cases, a blue check mark appears next to the user's name, like in the example of the UN. This means the account is verified by Twitter, and is an official account. This usually occurs with accounts with a big following, like news sources or celebrities.

Step 3: Understand the Specifics
Before moving forward, it is important to get a better understanding of who is using Twitter. Twitter is a favorite for many news sources, influencers, journalists, and the like.
Twitter is clean, simple, and the posts are always concise (there is a character limit!) so it is a great way to catch up on current events quickly.
According to this article, there are 330 million Twitter users today. It is a predominantly male social media platform, as they make up about 66% of the user base.
80% of users connect regularly using smartphones, and 63% of users are between the ages of 35-65, which makes its audience a bit older.
Over 20% of internet users in the United States access Twitter on a monthly basis, so make sure you aren't passing up this potential audience!

Step 4: Adopt an Editorial Line
Each social media platform is different, so your editorial line must be different for each of them.
An editorial line is defined by thinking about accessing your target audience from start to finish. Ask yourself what interests they may have, what they may need, how best to keep a relationship, etc.
Always try to make sure that what you are talking about still falls in line with your nonprofit's mission and values.
If you provide educational support and guidance to students in disadvantaged neighborhoods, for example, you can focus on articles and content that relate to guidance, success, studying tips, etc.
Try to stay focused on your nonprofit's mission, adding potentially unnecessary posts or links on your newsfeed may be discouraging to potential followers who are interested in your nonprofit's sector.
Our best advice is to try to keep everything relevant to what you do!
Let's look at some examples of nonprofit tweets that keep in line with their mission:
This is a well structured tweet because it is relevant, has hashtags, and includes a photo. They are showcasing some of their members ahead of an important week that relates to their nonprofit.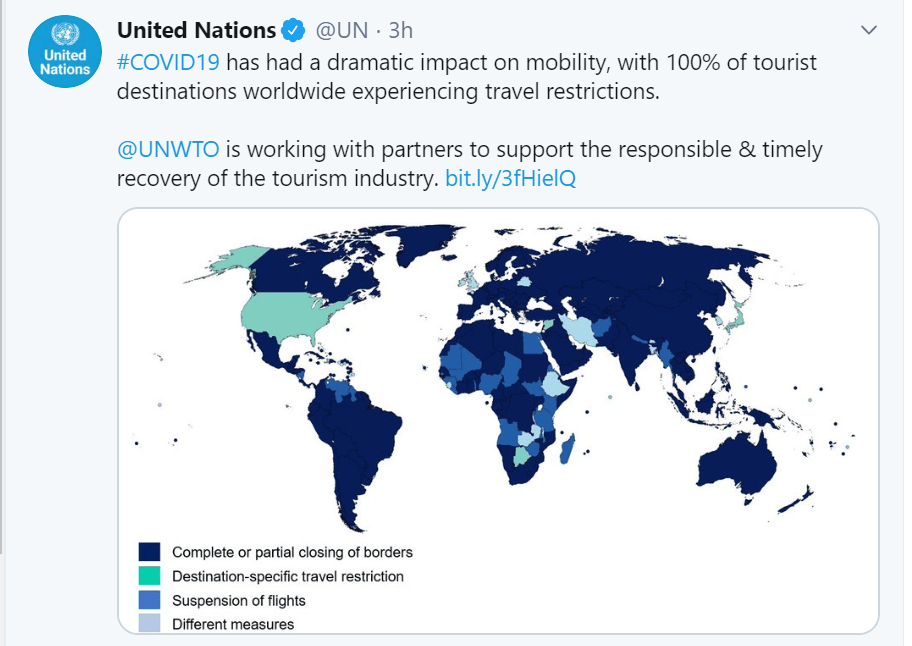 This is another great example because it shows an informative and eye grabbing image, as well as showing the action they are taking to tackle COVID-19. The information is clear and absolutely relevant to their organization.

Step 5: Decide On the Best Way to Use Twitter
Now it is time to ask yourself, "is creating a Twitter for my nonprofit a good idea?" Depending on your audience, communication strategy, and personal opinion, it should be pretty easy to answer this question.
If you are ready to make the leap, it is important that you are committed to staying active on the platform and posting regularly!
If, after some thought, you think that Twitter might not be the best fit for your organization, that's fine! There is another solution.
You can create a personal account for yourself, meaning that you won't be obligated to post regularly or create content but still enjoy all the benefits Twitter has to offer.
This way you can keep up with the latest news in your sector, check out other nonprofit pages, and any other information you are interested in!

Step 6: Gain Followers And Grow Your Audience
There are three main things to focus on if you want to maintain an online presence: Being active, being social, and being proactive.
Being Active
The key to gaining followers is consistency. Communicating with your audience regularly is essential!
If you decide to follow someone and they check out your page, or if someone stumbles upon you in the "Suggestions'' column, you want them to see your page as being active and full of content! This will make it a lot more likely that they will want to follow you.
Being Social
Twitter is, after all, a social network. It is important to follow suit by starting dialogue with other users, maybe even popular accounts, retweeting interesting content, and replying to any mentions or notifications you may receive.
Being Proactive
Keep track of relevant accounts that may be similar to yours. Thanks to the "Suggestions" column, this is easy to do! By following accounts that are in the same sector as you, you increase the chances of gaining followers.
Take care of your profile page! Having high-quality images, all biographical information filled out and up to date, and relevant content on your profile will help give a level of credibility to your page.

Step 7: Follow Relevant Accounts
As we discussed as a part of being proactive, following relevant accounts is a great way to become more involved and visible on Twitter!
We have rounded up a few nonprofit Twitter accounts that we think are a perfect place to start:
National Public Radio: @npr

United Nations: @un

American Red Cross: @redcross

Human Rights Watch: @hrw

World Wildlife Fund: @wwf

Amnesty International USA: @amnesty

Public Broadcasting Service: @pbs

Bill and Melinda Gates Foundation: @gatesfoundation
This is just a general overview, depending on your sector there might be more relevant accounts for you.
We suggest that you do some digging with the search bar to find what you are looking for.
Also, the more accounts you follow, the more accurate Twitter's suggestions will become!

That's all there is to it! We hope this has been helpful to you in making a decision on creating a Twitter for your nonprofit. Next stop, LinkedIn!
Springly is trusted by over 15,000 nonprofit's to help them run their organizations on a daily basis. See if it could work for you with a free 30 day trial!
Communication
Social Media