>

Volunteer Onboarding Checklist: Before, During & After Arrival
Trish
If your nonprofit has a volunteer program, the focus of your volunteer management should be to welcome your volunteers from the moment they join.
After you've worked so hard to find new volunteers who are eager to contribute to your organization, the first step is to welcome them into the community. Even better news, you can apply the same checklist for your members, donors and board members.
In this article, we'll go over:
Our team at Springly has a great onboarding process for each new team member. When I joined, I felt immediately a part of the team. You can create this friendly environment for your new volunteers too!

Why is Welcoming New Volunteers Important?
Volunteer recruitment takes a lot of time and resources, so it's great when you do find new volunteers. After all, volunteers contribute to nonprofit organizations with their time and expertise, which help lower staffing and budget demands. This is a huge contribution to nonprofits!
If you remember the first day of school as a new student, it can feel stressful and uncomfortable as the new person in class. You can minimize this feeling by staying organized and by creating a warm and friendly environment where they quickly feel confident and comfortable.
Volunteers can be very loyal if they feel included and appreciated. Let's talk about some ways you can help ease the transition for new volunteers at your organization!

Checklist For Successful Volunteer Onboarding: Before, During & After Arrival
There are 3 phases of volunteer onboarding for your nonprofit: before, during, and after the volunteering commitment.
To illustrate this, we will take a look at how Springly welcomes new team members! Maybe it'll inspire you to use some of our methods.
Before the Volunteer Arrives
Let's say you have new volunteers signed up to help your nonprofit this month, season, or year. The first thing to do is to dig into your CRM and communicate all logistical details that they need to know before arriving at your organization's doorstep!
You need to send them information on what to expect, any documents needed from them for your organization's records, and when their first volunteering date or orientation would be. If you are leading an orientation meeting, send advance notice for them to save the date.
Each nonprofit has a specific working style and mission, so you can help your volunteers understand your nonprofit quickly.
Make these points very clear to your volunteers:
Role of volunteers within nonprofit

Volunteering responsibilities and objectives (to welcome event attendees at the door)

Perks of volunteering (access to special events, newsletter, or swag)
If you send information in advance, the volunteers know you value them, and that your nonprofit is well-organized. Volunteers need plenty of management too, so your organization of these details will be a sign to them what to expect during their volunteering commitment.
You should also update your current team about the new incoming volunteers. You can send an email to your team to introduce new volunteers and some information that you collect about them, such as why they signed up to volunteer or a fun fact. This will encourage your team to introduce themselves!
"Before" Checklist
Communicate all logistical details like: start date, arrival time, office location, wifi codes, dress code.

Communicate physical items they may need to bring: personal identification, computer, mouse, charger, water bottle, etc.

Send any documents that need to be signed: contracts, waivers, or confidentiality agreements.

Technical tools: open up an email access, share-points, shared calendars, collaborative tools (i.e. google drive), or password generators.

Send a written copy of their responsibilities, objectives and any perks they may have.

Any information you can easily send about your mission: PDF's, marketing materials, website link.
During the Volunteering Commitment
When they arrive, you can share some key information to help them understand your organization better:
History of your nonprofit

Mission and values

Organizational structure

The team and roles in the organization
Knowing this information will help them understand where to direct any questions.
To keep new volunteers engaged with your nonprofit:
Invite volunteers to public or team-wide meetings, in case they'd like to be informed and learn more about the organization

Share the values of your organization with them, so they know how to further those values in their volunteering work
While you're managing your nonprofit's volunteers, keep in mind that you should also consider what would make volunteering fun for your community. Having fun is a big perk of volunteering for causes!
"During" Checklist
Share the history, mission and values of your nonprofit either in written or oral form

Share your organizational structure and the different roles and responsibilities of each team member

Create a team-wide event (i.e. breakfast) to help your new volunteer learn more about your nonprofit's culture

Follow up on their objectives, monthly or quarterly
After the Volunteering Commitment
Once your volunteers have finished their volunteer work or commitment, you can ask for feedback on the volunteering program. If it's your first year of managing volunteers, you may need help understanding how to improve for your second year.

Onboarding new volunteers doesn't have to be your job! You can organize overlapping volunteering schedules with outgoing volunteers who are ending their volunteering commitments.

The outgoing volunteer can help you train and onboard new volunteers, by answering questions and supervising tasks.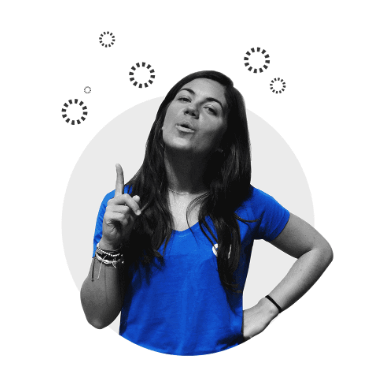 Sonia is excited to welcome new volunteers and get
feedback from outgoing volunteers
"After" Checklist
Ask for feedback either written or oral

Ask for photos taken during their commitment (if you have their legal approval, of course!)

Ask for a referral to their networks for more volunteers

Write a recommendation letter

Endorse them on LinkedIn

Trello for Volunteer Onboarding
There are plenty of free digital tools for nonprofits to take advantage of. Volunteer onboarding doesn't have to be stressful!
At Springly, we use Trello to manage onboarding for new team members. It's an excellent collaborative tool that tracks action items, and can integrate with Springly's online software.
This tool allows you to organize action items by theme and by person. You can prioritize by adding color labels and deadlines.
Volunteers going through the onboarding process can drag completed items to the "Done" column. It's very satisfying to do, which will encourage volunteers to complete their onboarding!
There are plenty of advantages to using Trello for volunteer onboarding:
New volunteers can read documents and complete training exercises or tasks on their own time

Volunteer managers can keep an eye on onboarding progress, and step in to help if necessary

You can reuse and improve the onboarding Trello "boards" from one year to the next
After the volunteers are done with reading and learning about their roles and responsibilities, and all about your organization, you're ready to have a fantastic and passionate group of volunteers to help take your nonprofit to the next level!

A "Buddy" System for Your Volunteers
We have a "buddy" system at Springly. Each new team member has a buddy who facilitates welcome events and onboarding.
When I first arrived, my buddy was in charge of organizing a welcome breakfast to introduce me to the whole team. She took me out to lunch, and checked in after my first week to ask how my onboarding was going.

Although it has been a couple months, I still keep in regular contact with my buddy. Even when I leave the team, I will treasure everyone who made me feel so welcome. This is the type of memory you want to create for your volunteers!

Volunteers are very important to nonprofits because of the energy and passion they bring. If you welcome volunteers so that they feel supported and appreciated, they'll be happy they signed up.

The first step to having happy volunteers is to make volunteering onboarding as smooth and easy as possible for them!
Springly is trusted by over 15,000 nonprofit's to help them run their organizations on a daily basis. See if it could work for you with a free 30 day trial!