>

Recruiting Volunteers for Nonprofits: 7 Of Our Best Tips
Trish
Donors, Members and Board Members are great, but volunteers are often the core of many nonprofits. They not only contribute to your cause, but are a great resource for your organization to support you with various projects, events, or programs. You may be asking yourself, "How do I boost my nonprofit's volunteer recruitment strategy?"
If people support and believe in your mission, they will ask to contribute or help without needing to be asked!
You need to figure out how to reach people who are passionate about your organization's cause and work, so you can run a great volunteer program.
In this article, we'll share 7 tips to recruit more volunteers for your nonprofit:
Let's jump right in!

#1) Offer Flexible Volunteer Opportunities
When you define your volunteer opportunities, you should clearly state the expected commitment of the volunteer position.
Is it a volunteering commitment for three months? Or six months? You should clarify this at the beginning, so that the volunteer can make informed decisions.
This way, potential new volunteers can know early on how much time is expected of them.
You can offer short-term volunteering opportunities too. For example, your nonprofit might decide to recruit a volunteer for 8 hours per week, for just one month. This is perfect for someone who has fluctuating availability throughout the year.
Some volunteers prefer shorter volunteering commitments. However, some community members who are between jobs, or donors who are retired may have a lot of time and energy to contribute. Feel free to find out if your community has untapped potential, expertise, and time!
Flexibility is key. You could determine your nonprofit's volunteer needs for upcoming events or projects, and send out a poll to all volunteers to ask who is available. Instead of holding your volunteers to unrealistic expectations, you invite them to join you on furthering your nonprofit's mission.
Pro Tip: Don't get lost in your volunteer management. Note all of their interests, availabilities, and skills down in your database for better organization and targeting.

#2) Be Specific
You should keep your doors open to anyone who feels strongly committed to your nonprofit's mission. However, some volunteering roles require specific skills. Greeting and welcoming event attendees at the door seems like a role anyone can do, but it actually requires a lot of emotional intelligence and extrovert qualities. If you match the right volunteer to your volunteering needs, magic happens.
When you publish and share the volunteering position, include specific details on the skills you're looking for in the volunteer.
If the volunteering position doesn't require any technical or hard skills, that's great! Envision the type of volunteer who your nonprofit wants as an ambassador. Someone who is empathic, able to listen with open ears, and very helpful to everyone would surely be a great greeter at your nonprofit's event.
The more people recognize themselves in the volunteer profile you describe, the more likely they are to offer their time and energy.

#3) Offer Support and Training for Volunteers
Your work doesn't end when you recruit volunteers. If you let your volunteers work by themselves without any supervision and resources, the volunteer may feel unneeded and unappreciated.
The volunteers should be welcomed and trained properly. Your mission should be to make sure their onboarding is smooth, efficient, and even educational.
By planning a process for welcoming and training volunteers, you make sure that you organize volunteer management before they arrive. Volunteers are important ambassadors and contributors to your organization. The amount of planning you invest should reflect how important they are!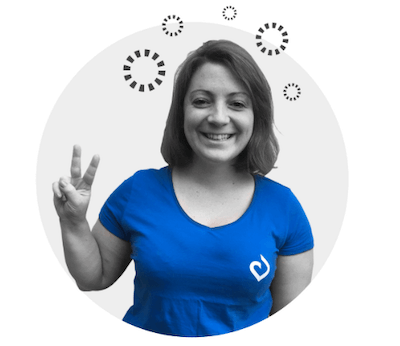 Alvina is ready to welcome her volunteers and welcome them to the organization

#4) Highlight the Impact of Volunteers
Working for free is not a problem for many people, as long as they know that their time is spent on a good cause, and it is making an impact.
You can measure volunteer impact in 3 ways:
Quantitative impact. For example, one volunteer will be able to assemble 100 hygiene kits for the homeless community per month.

Qualitative impact. Thanks to your nonprofit's volunteers, 250 children will improve their reading skills.

Local impact. By helping your nonprofit answer the phone and welcome visitors at the reception desk, the volunteer will help neighborhood residents find local mental health resources.
When you make the impact clear in your volunteer recruitment, it will be easier for prospective volunteers to envision how they'll contribute to your organization.

#5) Feature Your Volunteers on Social Media
One powerful way of recruiting volunteers is to feature volunteers already involved in your organization.
Use your Facebook page, Instagram account, website, and blog to feature your current volunteers.

You can interview them to ask how they heard about the volunteering opportunity, why they volunteer, and what their favorite part of volunteering is.
If everyone sees that you have happy and supportive volunteers, they'll be encouraged to sign up to volunteer too!

#6) Recruit through Your Current Volunteers
If someone you don't know asks you to volunteer, you'd likely turn them down. However, if a friend asks you, you're more likely to consider it. This is why you can utilize this tactic, and ask your current volunteers to invite their friends to join them!
Offer incentives for volunteers to invite their friends to also volunteer at your next event. It helps to know someone when volunteering for the first time.
To encourage people to invite their friends, you can include a note in your communication to forward the information to their friends.
If your mission requires a lot of volunteers, you can present a little contest. The volunteer who recruits the most volunteers wins a special prize or an honorary title!

#7) Post the Volunteer Opportunity Online
There are a lot of tools available to help spread the word about the volunteer opportunity. You can post your call for volunteers on LinkedIn and social media, to maximize your reach.
When you describe the opportunity, remember to apply the tips discussed in this article! Be specific with the time commitment and skills required, and include the impact and importance of the volunteer role in the organization.

Now that you know how to attract new volunteers to help your organization, the next step is to keep them involved with your organization.
Recruiting volunteers is important, but your nonprofit should also make sure to focus on volunteer retention, to keep your organization in good shape!
Springly is trusted by over 15,000 nonprofit's to help them run their organizations on a daily basis. See if it could work for you with a free 30 day trial!